San Francisco Gardens: Where to Find Colorful Flowers and Beautiful Plants throughout SF

by Jill Loeffler  •

Updated: March 14, 2022
One of my favorite things to do is photograph the beautiful San Francisco gardens. I love the color and variety of the gardens throughout the city.

There is a large concentration of them in Golden Gate Park. However, you will also find colorful displays in places that you may not have thought about such as on Alcatraz Island and Lombard Street.
This is where you will find the most beautiful gardens in SF.
I've also included photos and the best times to visit each one! 
Disclaimer: I receive a small commission from some of the links on this page.

1. Alcatraz Island

Alcatraz has a long history of maintaining gardens on the island. The military first brought in soil and colorful plants in the mid-1800s in order to make the island seem more habitable.
Once it moved over to a federal prison in the 1930s, the inmates continued to maintain the gardens. From everything I've read, it was one of the best jobs on the island.
Today, the Golden Gate Parks National Conservatory maintains these gardens along with several volunteers. You will find hundreds of colorful flowers in bloom almost all year long. You can also visit them during your trip to Alcatraz.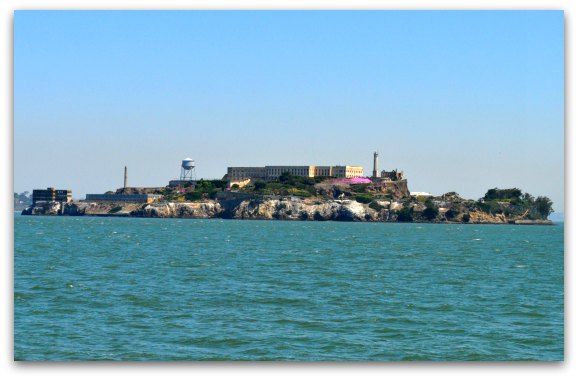 Best Time to Visit: My favorite time to see the gardens is in the late spring. This is when the gorgeous pink Snapdragons and pink and yellow Columbines are in bloom. In the summer, you will find the Snapdragons still in bloom as well as purple Lily of the Nile and white and pink Yarrow. The winter is when the African Daisies and the yellow Hen and Chicks show their beautiful colors.
>> Tips to Visit Alcatraz Island
2. San Francisco Botanical Garden at Strybing Arboretum

You will find this hidden gem on the eastern side of Golden Gate Park. With more than 60,000 plants, I find it's a different experience every time I visit.
Another thing I enjoy about the Botanical Garden is that they aren't very crowded. You have plenty of open space to roam around without having to push through the crowds.
You can also visit any time of the year, as there is always something in bloom!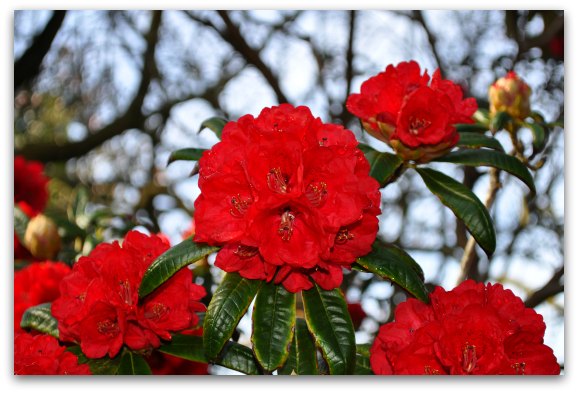 You will find acres of beautiful gardens here with both international and native plants. These are just a few of my favorite places to explore: 
Fragrance Garden (also sometimes referred to as the Garden of Fragrance)
Mesoamerican Cloud Forest
Zellerbach Garden of Perennials
This location is one of many gardens of Golden Gate Park, so make sure to visit others in this park that are on my list as well! 
Best Time to Visit: My favorite time to go is in the spring when I find a number of gorgeous plants in bloom. Another great time to visit is in the winter months (usually from December to early March) when their Magnolia collection of trees are in bloom. The Botanical Garden staff hands out a self-guided walking tour map at this time, so you don't miss any of these beauties during your visit.
They offer free admission on the second Tuesday of the month and certain holidays. Find a full calendar of free admission days to our local museums here.
>> More Pictures & Tips to Visit
3. Conservatory of Flowers

The Conservatory of Flowers offers a beautiful display of colorful plants and flowers both inside and out. They often switch out the flowers in their outdoor area to make sure their outdoor gardens are always in bloom.
Inside this living museum, you will find five special temperature-controlled areas with plants from around the world. You can see everything from Orchids to Carnivorous plants.
Make sure you don't miss their special exhibits. I love them as range from butterfly gardens to beautifully sculptured objects made out of flowers.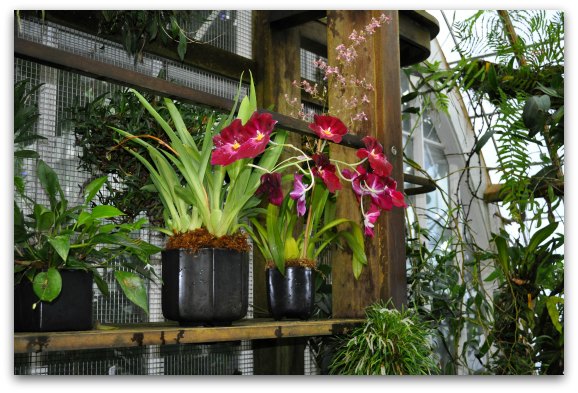 Best Time to Visit: You can visit all year long. Since each room is temperature-controlled, you will always find something in bloom. You will find several types of plants in bloom all year long. 
You will also find special events throughout the year including both temporary exhibits and ticketed events. Both offer additional ways to explore the different kinds of plants in this beautiful SF attraction.
It's right on John F. Kennedy Drive, so is easy to access once you enter the park.
>> Additional Pictures and Details on What You Will See
4. Dahlia Garden

Just a few steps from the Conservatory of Flowers is where you will find one of the most gorgeous San Francisco gardens. It's filled with colorful Dahlias.
It's free to visit and the perfect stop after you see the Conservatory of Flowers.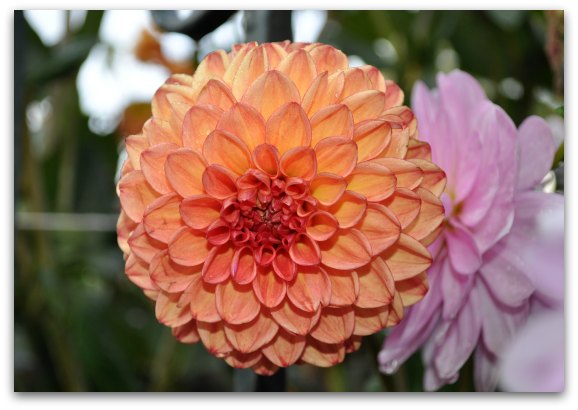 Best Time to Visit: The best time to visit is from mid-May to the end of October.

5. Japanese Tea Garden

The Japanese Tea Garden is another one of the beautiful San Francisco gardens. It's on the eastern end of Golden Gate Park just steps from the Botanical Gardens. It's also the oldest public Japanese Garden in the United States.
This Zen retreat offers several colorful flowers and peaceful gardens. It's also filled with beautiful and historical Japanese structures. It's a great place to step away from the bustle of the city.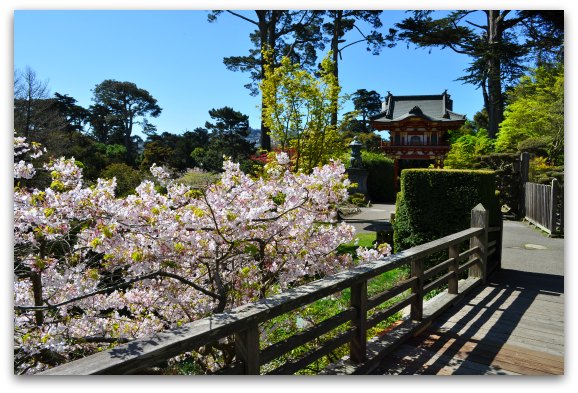 Best Time to Visit: My favorite time to come here is in the early spring when the Cherry Blossoms are in bloom. It adds additional beauty to the gardens from late March through the end of April.
It's also just steps from the de Young Museum, the California Academy of Sciences, and the Botanic Garden, so you can visit more thane of lovely place while you are in Golden Gate Park.
>> More Pictures and Tips to Visit
6. Lombard Street

This popular attraction comes to life in the spring, summer, and early fall when its flowers are in full bloom. They add a pop of color and make this crooked street even more beautiful.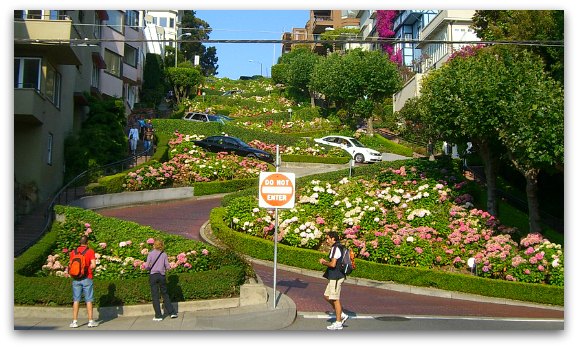 Best Time to Visit: You will get the best photos from April to September. Also, visit in the morning when the sun shines brightly on this fun stretch of Lombard Street.
>> Find More Pics & Visiting Tips
7. Mission San Francisco de Asis Cemetery

I didn't quite notice the gorgeous rose garden in the cemetery at the Mission San Francisco de Asis until my last visit. The size and quality of the roses in this part of the mission are amazing.
This old cemetery is where several of the pioneers of San Francisco are buried. Many of the gravestones look aged, but the beautiful roses add a touch of color to the experience.
Best Time to Visit: The great thing about roses is that they stay in bloom for a long time. The best time to see them here is between mid-April and the end of September.
>> See Pictures & Find Visiting Tips for the Mission
8. Rose Garden in Golden Gate Park

Another great place to see roses is in Golden Gate Park. There is a large rose garden near Park Presidio Boulevard and Fulton Street specifically for these beauties.
It's free to walk through this area of the park. If you love roses, this is one of the San Francisco gardens that will excite you!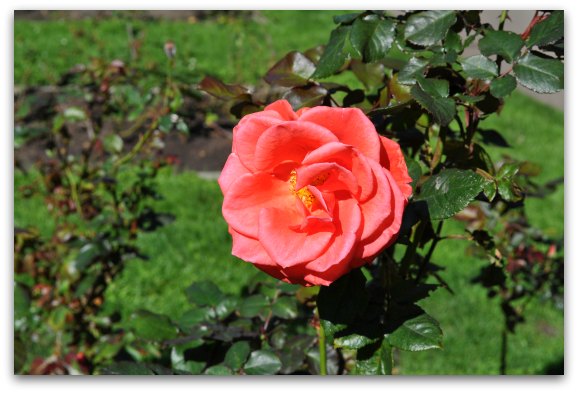 Best Time to Visit: The best time to visit is from mid-April to September. My last stop here was in mid-October and there were still a few roses in bloom, but their petals were starting to fall to the ground.
>> More about visiting Golden Gate Park
Segway Ride through Golden Gate Park
Many of the gardens mentioned above are in Golden Gate Park. A fun way to learn more about all of them is by taking a Segway Tour through the eastern side of the park.
You won't stop and visit them but will glide on by as you learn more about their history and what you get to see inside. It's the perfect way to learn more about the park and all of its fun attractions.
Do you want to learn more about this fun adventure? Click here to read my experience and what you can expect on this tour.
Muir Woods National Park

If you love seeing unique plants and flowers, then you might enjoy a visit to Muir Woods National Park. This lovely forest is about 45-minutes north of the city and features Coastal Redwoods trees up to 1,200 years old.
You can spend some time learning about the forest, the Coastal Redwoods or even getting in some exercise on a hike around the forest. Click here for additional details including pictures and tips to get here.
Other Pages You Might Enjoy

Comments? Questions? Suggestions?
I would love for you join me in my private Facebook group! 
It's a great place to interact with me and others that know the area well.
You can ask questions, get advice for your upcoming stay, and then share your photos and advice with others when you return home. It's a great community and the fastest way to get answers to those nagging questions about your visit!