SS Jeremiah O'Brien: Tips to Visit this World War II Liberty Ship


by Jill Loeffler  •

Published: April 25, 2023
The SS Jeremiah O'Brien is a Liberty ship that sits along San Francisco's Embarcadero in Fisherman's Wharf. It's open to the public for tours and just recently moved over to Pier 35.
It is incredibly rare and unique as it's one of only two surviving operational Liberty ships that still survived after being built for World War II. It's also a National Historic Landmark.
This warship was built in just 56 days in South Portland, Maine. Its first mission began on June 19, 1943. It completed seven tours during the war.
It sits in the waters of the San Francisco Bay and also offers some cruises around the bay during special events, including the annual Fleet Week airshows in October.
For years, it called Pier 45 home but moved to its new location in Fisherman's Wharf in the spring of 2023.
Disclaimer: I receive a small commission from some of the links on this page.

Visiting the SS Jeremiah O'Brien
I love that you can visit this vessel on your own and use their brochure for your self-guided tour. This will lead you to the important places on the ship and give you a little information about each one.
Once you reach the main deck of the ship, your self-guided tour starts by taking you down a set of stairs into the cargo holds.
Note: The stairs down into the cargo holds are steep. Take your time on your way down. If you think you will have problems getting up or down these stairs, you might want to skip this portion of the visit.

In the first area you enter, you will find a video running that describes the history of the ship, including its missions during the war. It is a great place to take a seat and learn more before you continue your visit.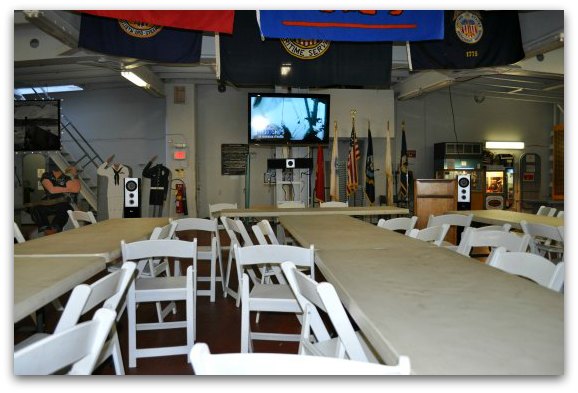 When you are here, make sure to check out the right wall, as you will also find a number of photos showing the construction and how these types of ships were used during the war.
From this room, you will enter my favorite part of the visit - the museum. You will first encounter this large display case which shows the Normandy Invasion Site. It was given to this museum from France about six years ago.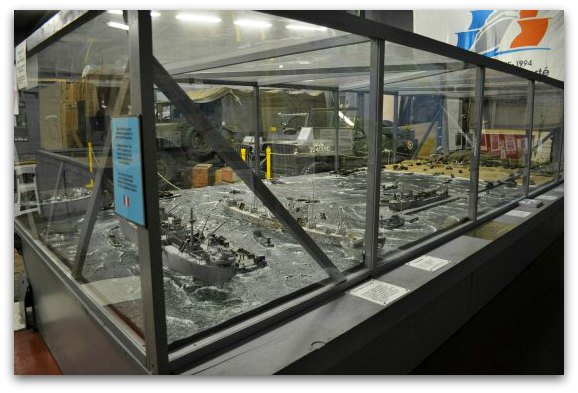 Here is a closer look at the liberty ship in this display.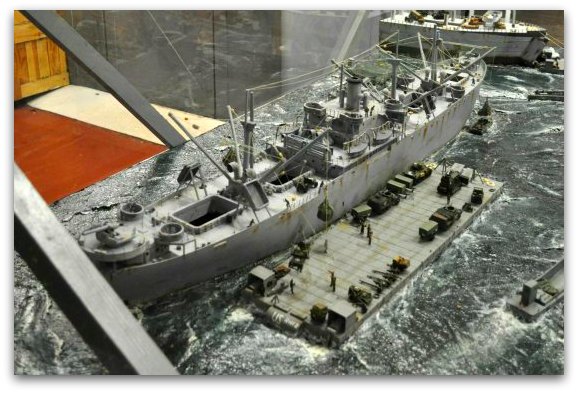 In the museum, you will also learn more about how the Liberty Ships were used in WWII.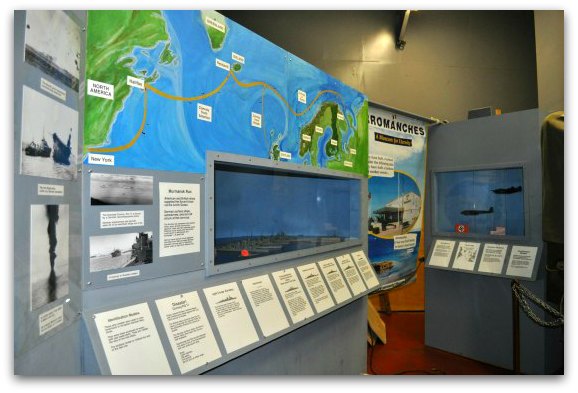 As you leave the museum, you will also find this map that shows all the missions that were taken by the SS Jeremiah O'Brien.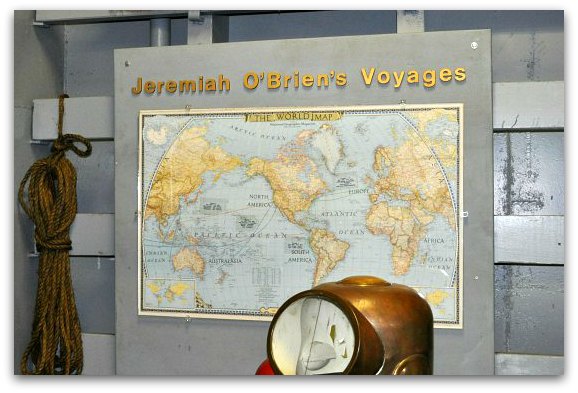 After a visit to this National Liberty Ship Memorial, you head back up the stairs to the main level of the ship. Here are a few highlights on the main level.
 This is one of the guns on the main deck. You can climb up the ladder to take a closer look.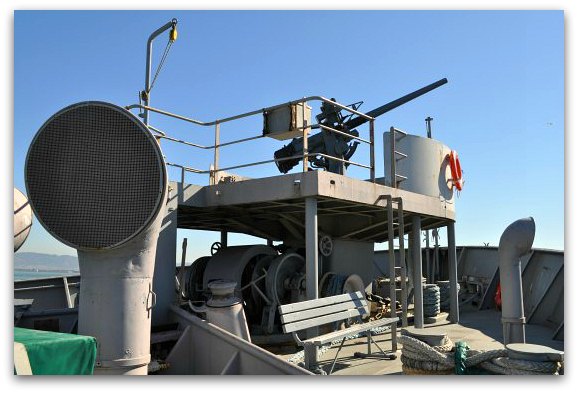 You can also peek in at the small living quarters. This ship usually housed about 45 people.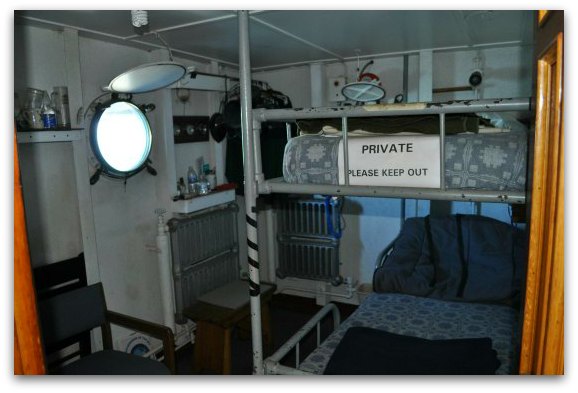 You can also walk through the Officer's Mess Hall on the SS Jeremiah O'Brien.
After you walk through this room, you are back at the beginning of your visit. You can either continue to look around or exit the boat at this point.
Additional History & Facts About the SS Jeremiah O'Brien
The SS Jeremiah O'Brien is the only surviving ship from the 6,000-ship fleet that stormed Normandy on D-Day in 1944.
It's 441 feet and 6 inches long.
Its gross tonnage is around 7,100, and its displacement tonnage is 14,300.
It crossed the English Channel eleven times with both personnel and supplies in preparation for the D-Day invasion.
After the war, it was "mothballed" and housed in the Reserve Fleet in Suisun Bay, across from San Francisco.
In 1979, it was restored and returned to the waters of the SF Bay in working order.
It's one of only two Liberty ships that are still fully functional.
It's the last unaltered liberty ship so you will get a historically accurate experience during your visit.
It made its home on Pier 45 for several decades until it was moved to Pier 35 in the spring of 2023.
Sources
More Visiting Information: Ticketing and Hours
Tickets are available in person at the SS Jeremiah ticket booth.
Ticket Prices

Adults (13 - 61): $25
Seniors (62+): $15
Juniors (5 - 12 years old): $10
Students with (ID): $15
Children (ages 4 and under): Free
Family Pass (2 Adults and 2 Juniors): $50
Active US Military with ID: $10
Hours

Wednesday through Monday from 10 am to 5 pm
Except for Thanksgiving, Christmas Day, and New Year's Day
Most people visit in the afternoon, so come early if you want to beat the crowds.
How to Get to the SS Jeremiah O'Brien
Its new location is just as easy to get to as its old location on Pier 45. It's now on the far eastern end of Fisherman's Wharf next to Pier 39.
You can easily walk from any place in Fisherman's Wharf.
From Union Square, you can take the F Streetcar to the stop at The Embarcadero and Bay Street. This drops you off right in front of Pier 35. This ride takes about 25 minutes.
More Things to Do in Fisherman's Wharf
Comments? Questions? Suggestions?
I would love for you to join me in my private Facebook group! 
It's a great place to interact with me and others who know the area well.
You can ask questions, get advice for your upcoming stay, and then share your photos and advice with others when you return home. It's a great community and the fastest way to get answers to those nagging questions about your visit!