Crissy Field in San Francisco: Tips to Visit this Beach & Trail Waterfront Attraction

Crissy Field in San Francisco offers both a beach and trail and is goes along SF's northern waterfront. During your visit here, you can spend some time relaxing on the beach, go biking, or do a bit of walking along the trail.

This free SF attraction stretches between the Marina Green (on the east) to the entrance of the Fort Point National Historical Site (on the west). The western side ends under the Golden Gate Bridge and those walking west bound get magnificent views of this towering structure.

Disclaimer: I receive a small commission from some of the links on this page.

History of Crissy Field in San Francisco

Crissy Field in San Francisco was originally a US Army airfield and part of the Presidio. During its time as an airstrip, the US Army dumped hazardous materials. The airstrip closed in 1974 and it sat abandoned for years.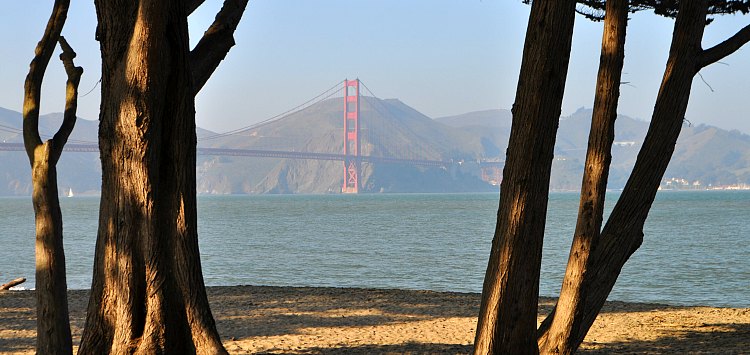 In 1994, the National Park Service took over and began to clean the property to use it as a park. They worked with the Golden Gate National Parks Conservatory to clean it up and they opened it to the public in 2001.

Weather at Crissy Field in San Francisco

You will want to prepare for the weather before you visit here since Crissy Field in San Francisco sits right on the waterfront and its often cool and windy.
This area is often 5 to 10 degrees cooler than Union Square and more central districts around SF. Make sure to bring along layers, so you can add and remove items as it warms and cools throughout the day.
Here is what you can expect from the weather in San Francisco each month.
About the Crissy Field Trail

The Crissy Field Trail along the waterfront is about one and a half miles long. It connects to the Marina Green and trails up to the Golden Gate Bridge, so you can walk or run even further.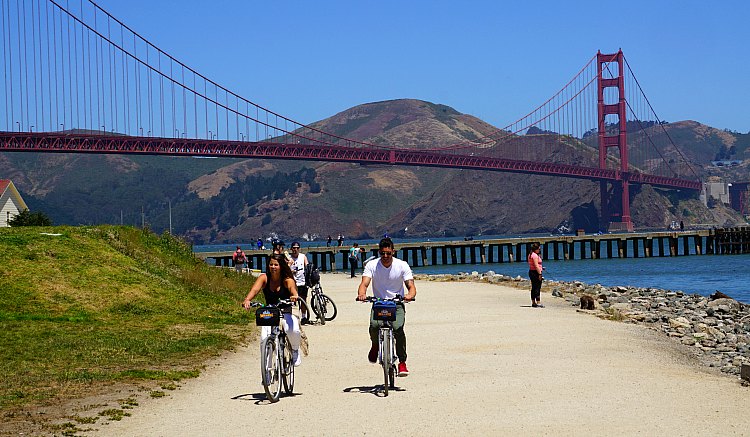 The trail is mostly flat, which makes it popular with both visitors and locals. The trail is made from dirt with some gravel, which makes it easy on your legs and feet.
You can start the trail at either end. Most people park or start on the eastern side and head west. This path will offer you wonderful views of the Golden Gate Bridge as you head west.
Parking is available on the eastern end. You can access the parking lot by taking Marina Boulevard west. This turns into Mason Street and the entrance is off Mason.
Biking Tours & Rentals

One of the best ways to experience Crissy Field in San Francisco is by bike. All of the Golden Gate Bridge Biking Tours ride through part of this trail. You can also rent a bike and head out on your own adventure.

Most companies offer either electric or standard pedal bikes. Even if you opt for an electric bike (which I recommend as there are several steep hills), you will need to self-power the bike over the bridge since electric vehicles are prohibited on the Golden Gate Bridge. There are also age specifications on some of these tours, so make sure to check for age limitations before booking.
Here are a few top options:
Golden Gate Bridge Guided Tour: This 3-hour tour takes you along SF's waterfront, along Crissy Field in San Francisco, over the Golden Gate bridge and over to the beautiful seaside town of Sausalito. Standard and electric bikes are available. This tour runs daily and leaves at 10am and 1pm. Check for availability for this tour.
Ultimate San Francisco Biking Tour: This 4-hour tour takes you all over the city. Not only will you ride along Crissy Field in San Francisco, but you will also visit The Painted Ladies of Alamo Square, the Haight-Ashbury District, Golden Gate Park, Chinatown, and others. This tour includes around 20 miles of riding--all on electric bikes. It leaves from Fisherman's Wharf most days at 11 am. Visit GetYourGuide for more details and to book your tour today.
24-Hour Bike Rental: If you prefer to venture out on our own, you can also do a 24-hour bike rental. You will pick your bike up in Fisherman's Wharf and cruise around town and even over to Sausalito on your own. With the bike rental, they include a helmet and several self-guided tours, allowing you to easily find fun attractions. Check out the details for renting a bike on your own in SF.
>> Find additional tours around SF
Battery East Trail to the Golden Gate Bridge

If you want to make your way from Crissy Field in San Francisco to the Golden Gate Bridge, take the Battery East Trail which connects the two.
This trail is quite a bit different from the flat one on Crissy Field. It's a steep trail with dozens of steps.
If you start at the Golden Gate Bridge, you will walk downhill. If you start at Crissy Field and want to go to the bridge, you will walk uphill.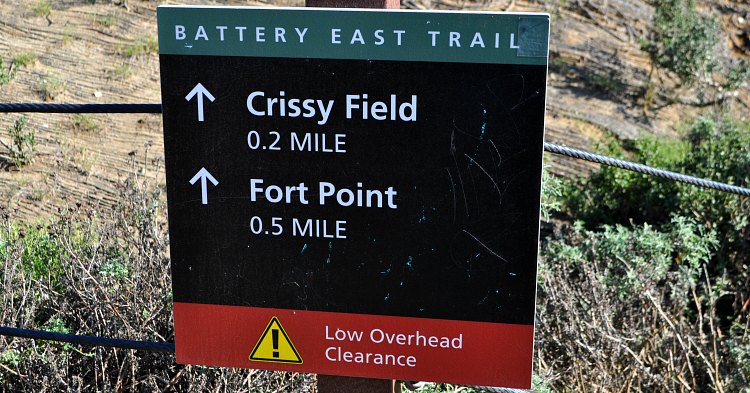 As you can see, the last time we visited, we took the trail from the top and walked downhill. It isn't very long (only about a half mile), so it's an easy way to get between these two SF attractions.
If you decide to go up the trail, just make sure to allow some extra time for photo stops along the way so you can catch your breath.
You can access the trail on the pavement that takes you into the parking lot to the Fort Point National Historical Site. It's past the Warming Hut, the bathrooms and across the street from the SF World Monument. It is a little hidden, so ask around and watch for people to enter or leave a trail heading straight up into the hill in this area.
You will then find signs along the way that will take you up to the bridge.
Hotels Nearby
Here are some of the hotels within walking distance or a short drive to Crissy Field in San Francisco.
Travelodge Presidio (2755 Lombard St): 2-star hotel in the Marina District, free parking and breakfast included, visit here for more details and room availability.
Inn at the Presidio (42 Moraga Ave): 3-star hotel in the Presidio, quiet and peaceful setting with 22 total rooms, 17 of the rooms are suites, click here for recent guest reviews and booking information.
Hotel del Sol (3100 Webster): 2.5-star hotel with a funky and colorful vibe, a great pick for those traveling with kids as they have an outdoor swimming pool, clean and affordable in the Marina District, visit here to read reviews and find out how to book the Hotel del Sol.
>> Additional places to stay and things to do in the Marina
Nearby Attractions

Palace of Fine Arts: This gorgeous building is just steps from Crissy Field in San Francisco. It was originally built for the 1916 Panama Pacific Expo and is a free attraction. See pictures and learn more about visiting.
Fort Point National Historic Site: This site was part of the old Army base that called the Presidio home for many years. This historic building was completed in the late 1800s. The design for the Golden Gate Bridge was changed in order to accommodate this gem and make sure it wasn't torn down during construction. Learn more about it here.
Additional Things to Do in San Francisco

Comments? Questions? Suggestions?
I would love for you to join me in my private Facebook group! 
It's a great place to interact with me and others who know the area well.
You can ask questions, get advice for your upcoming stay, and then share your photos and advice with others when you return home. It's a great community and the fastest way to get answers to those nagging questions about your visit!