Boudin Bakery: Sample Some of the Best Sourdough Bread in SF

by Jill Loeffler  •

Updated: June 8, 2022
San Francisco is famous for its sourdough bread and the bakery that made it famous is Boudin Bakery. Their flagship location is right in the heart of the Fisherman's Wharf neighborhood.
You will find this large bakery on the main street of this SF District which is Jefferson Street. It is about half-way between Pier 39 and Ghirardelli Square
Boudin bakers have been crafting their breads in San Francisco from a similar recipe since 1849. 
How do you pronounce Boudin? The first part is "boo" and the second part is "deen." With the emphasis on the second half, you pronounce it "boo-DEEN." 
Disclaimer: I receive a small commission from some of the links on this page.

Boudin Bakery at Fisherman's Wharf
Just one example of the creative breads you will see on sale in their Fisherman's Wharf location.
Some of the reasons I love stopping by here is to watch them making their bread in person at the Fisherman's Wharf location. Now, that may sound a bit boring, but there is way more to this experience than just seeing the bread kneaded and cooked.
You might be wondering how making bread can be exciting and interesting at this point. The reason is that the Boudin bakers pride themselves on not only making the best sourdough anywhere, but also making their bread into true pieces of art.
How can bread become pieces of art? Instead of just cooking loaves of bread that look like any other you can find, they make bread in the shapes of teddy bears, scorpions, and lobsters among others! If you love bread as much as me, a stop here is a real treat! 

There are four things to do at this location of Boudin Bakery in Fisherman's Wharf: 

Watch the Bakers Perform Their Magic: On Jefferson Street, you will find a 30-foot-high observation window right into the kitchen. Here you will see several bakers working away. They also like to display their creations for everyone to see. Sometimes when I stop here, one of the bakers has a microphone on and is describing the process to the group of people outside the window. You can also ask them questions as it's a two way intercom system.
Discover the History of Boudin Bakery: This location also includes a small, free history museum. You can walk through their interactive museum as you learn even more about the bread making process. From the museum, you also have additional views into the main baking area. It only takes a few minutes to walk through and is perfect if you love sourdough bread or want to learn more as you wait for your table. The museum is open Wednesday - Monday from 11:30am to 6pm.
Grab Some Goodies on The Go: Next to the kitchen is a large retail shop called Baker Hall. Here you can grab some bread and other local gourmet gifts. You can pick up a quick sandwich for lunch and find a spot at one of their outdoor tables too. It's also a great place to grab a cup of Peet's Coffee to get your day (or afternoon) moving along.
Sit Down for A Full-Service Meal: In addition to the grab and go sandwiches, you can also head up the stairs and eat at their full service restaurant. It's always busy, but it's one of the best places to grab some clam chowder in their famous sourdough bread bowl. You will also find other options on the menu such as fresh oysters, dishes with Dungeness crab and several sandwiches featuring their mouthwatering bread. If you are lucky, you might even get a table with some amazing views of the San Francisco Bay and Alcatraz Island.
>> More great places to eat in Fisherman's Wharf
Some of My Favorite Items
This is what you can expect from the soup in a bread bowl at Boudin Bakery in Fisherman's Wharf.
I just love stopping by Boudin Bakery for some bread or when I have time for a full, sit down meal. Some of my favorite items on their menu include: 
Soups: As you can imagine, their soups are one of their top selling items and one of my favorites. They feature New England Clam Chowder (white, creamy) inside their famous sourdough bowls. If you aren't a fan of clam chowder, you will also find some other great soups served in their famous bread bowls. My other favorites include their tomato and broccoli cheddar. 
Sandwiches: I love, love, love sourdough bread with my sandwiches, which is another reason I love stopping at Boudin Bakery in Fisherman's Wharf. My favorites here include their Tuna Melt (LOVE the Havarti) and the BLTA (the only way to eat a BLT is to add some avocado!). 
Salads: The great thing about the Fisherman's Wharf location is that they also have some healthy and tasty salads. All are served with some of their bread, so you can enjoy both. My favorites here include the Sear-ious Steak Salad, Hello Portobello Salad, and the Quin-WOW. 
Pizzas: One of the staples on their menu that is now starting to get a lot of attention is their sourdough pizzas. These pizzas made with their famous mother sourdough bread are pretty fantastic. One of my visitors recently asked about where to find "San Francisco Pizza." Although I've never heard this type of pizza called that, I guess you could call it that given that San Francisco is famous for our sourdough bread. So, if you are looking for "San Francisco style pizza" head to Boudin Bakery! 
Hours

This is Boudin Bakery's 30-foot-tall window display. This was during the holidays and where you can see the bakers at work all year long.
The Boudin Bakery in Fisherman's Wharf is open daily from 8 am to 8 pm.

Boudin Bakery History
Most people think of Rice-A-Roni as the "San Francisco Treat", but locals know that the real treat is Boudin's Bakery's sourdough bread. Supposedly Isidore Boudin was given some of the "mother dough" from a miner on his way to the mountains during the gold rush in 1849.
Why is this important? Because most bakeries use Fleishman's cake yeast, but the Boudin family wanted to stay pure and honor the original style and taste.
Fun Fact: Boudin Bakery in San Francisco is the oldest continuously running business. And that means not just restaurants, but of all the businesses in the city!
How to Get to Boudin Bakery in Fisherman's Wharf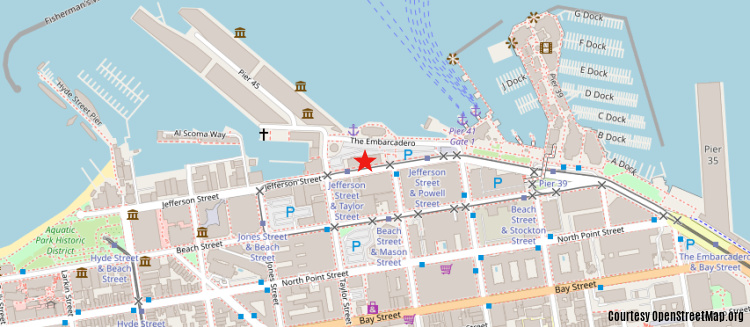 Boudin Bakery is at 160 Jefferson Street about two blocks west of Pier 39 (the red start on the map above). It's easy to walk here from any location in Fisherman's Wharf.
From Union Square: The easiest way to get to the main Boudin Bakery location in Fisherman's Wharf from Union Square is by taking the F Streetcar. This streetcar picks up at several locations along Market Street and makes its way along the waterfront over to Fisherman's Wharf.
You will get off at the second stop in Fisherman's Wharf - at Jefferson and Taylor Streets - and walk less than half a block back. This ride takes about 20 to 25 minutes.
More Fun Things to Do in Fisherman's Wharf
More Things to Do Nearby
Other SF Locations

In addition to their flagship location in Fisherman's Wharf, you can also find several smaller cafes throughout the city. If you love sourdough bread, then check out the menu at one of these smaller locations.
Pier 39: You will also find another small restaurant about two blocks away on Pier 39 also in Fisherman's Wharf. It has a smaller selection of items, but still features their classic soup in bread bowls, some of their salads, sandwiches, and pizza. 
Macy's Union Square Café at 251 Geary Street: If you happen to be in Union Square and are craving locally baked bread, then head over to Macy's. There are two places in Macy's you will find Boudin Bakery. One is in the Cellar (on the fourth level) and the other is a smaller kiosk on level 1. 
Embarcadero 4 Bakery & Cafe: This one is located near Justine Herman Plaza at 4 Embarcadero Center. It's a small spot open mostly for lunch and offers just outdoor seating. It's mostly for those working in this area as a grab and go spot, but if you are nearby and want some sourdough, make sure to stop by for lunch.
SFO SF Airport: You will find this location inside the International Terminal. It's all made to order items including their soups, sandwiches, salads, and pizza. It's inside the boarding area, so you can only enjoy this one when flying in and out of SFO.
You will also find others in and around SF as well as in the Bay Area, but these are the main options for those visiting the area.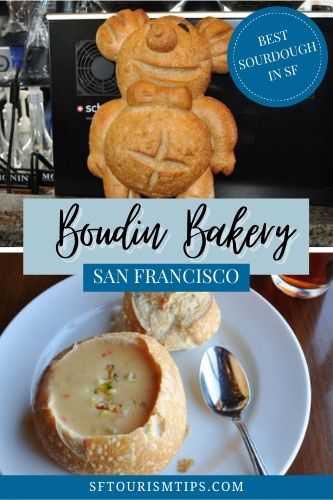 Comments? Questions? Suggestions?
I would love for you to join me in my private Facebook group! 
It's a great place to interact with me and others who know the area well.
You can ask questions, get advice for your upcoming stay, and then share your photos and advice with others when you return home. It's a great community and the fastest way to get answers to those nagging questions about your visit!