SF Museum of Modern Art
Tips to Visit & Other Details About this Newly Remodeled Gem
The SF Museum of Modern Art is a one of the most popular museums in San Francisco. It's located steps from Union Square in the South of Market (SOMA) District.
This museum just did a major expansion and reopened after being closed for three years. Inside you will now find 10 floors of artwork, which makes it almost two times its original size. I also love that they added about six times more public space with several pieces you can see at no cost.
The museum houses more than 30,000 works of art. In its permanent collection, you can see pieces from well-known artists such as Henri Matisse and Diego Rivera. You will also find beautiful photography, modern architectural pieces, and several other modern paintings.
The front of the SF Moma from the Yerba Buena Gardens.
Exhibits
The newly expanded SF Museum of Modern Art currently has 19 exhibits. Four of them are ongoing. The others are temporary exhibits. New exhibits will be brought into these spaces regularly.
The four ongoing exhibits are:
Approaching American Abstraction, The Fisher Collection


German Art After 1960, The Fisher Collection


Pop, Minimal, and Figurative Art, The Fisher Collection


Open Ended: Painting and Sculpture Since 1900
>> Visit my exhibit calendar page for a list of all of their current and upcoming temporary exhibits
Visiting Details
The SF Museum of Modern Art galleries are now open Friday - Tuesday from 10am to 5pm. The MOMA stays open later on Thursdays, until 9pm.
The free public spaces open an hour earlier than the galleries, at 9am.
The museum is closed on Wednesdays.
The museum is closed on Thanksgiving and Christmas Day. Last admission is half an hour before closing.
The cost to visit is:
Adults: $25
Seniors (65 and older): $22
Age 19 - 24 (with ID): $19
Age 18 and under: Free
Members: Free
If you plan to visit many of SF's museums and attractions, then check out the Go Card. This discount card includes admission to the SF MOMA as well as several other top museums and attraction. I do get a small commission when you buy through me, but it won't cost you anything more.
>> Click here for details and to build your own discount card for your visit
Pictures of the SF MOMA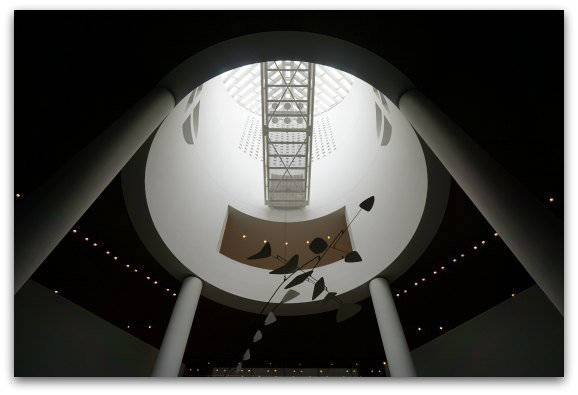 The skylight in the new lobby at the SF Moma.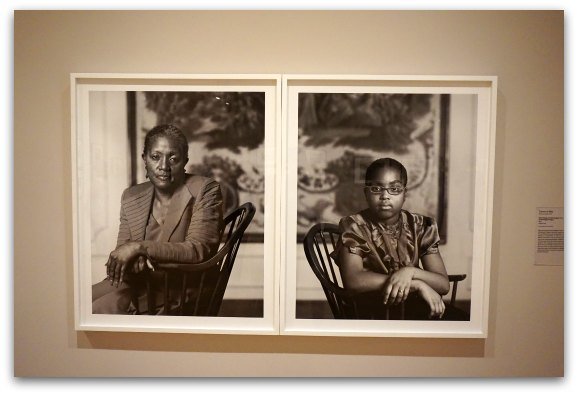 A sample of a photography exhibit.
One of the pieces in their outdoor collection
A large piece of art in their free exhibit space on the first floor of the building
Other Museums You Will Enjoy
Top Tours for San Francisco
One of the best ways to get to know San Francisco like a local is by taking a tour during your visit. The tour options are endless.
Walking Tours: The great thing about taking a walking tour is that you get the chance to get up close. You cover a smaller area, but you get to know that area really well. Some of the most popular walking tours including those around North Beach, Chinatown, and Fisherman's Wharf. You can also take a guided tour over the Golden Gate Bridge, through the colorful murals in the Mission, or around SF's most haunted sites.
Food Tours: Another way to experience San Francisco is on a food walking tour. The city has an amazing variety of cuisines and the best way to try it all is on one of these food walking tours. Stroll through the streets to taste the delicacies of North Beach, try the gourmet samples at the Ferry Plaza, or enjoy the amazing treats of the Mission District.
Helicopter Tours: One of my FAVORITE ways to see the city is from above. These helicopter tours offer you that chance! You will fly high above the SF Bay, including the Golden Gate Bridge and Alcatraz Island, while enjoying great views of the city skyline. If you've never been on a tour such as this, I highly recommend it. It's an experience you will never forget!
Wine Tours: Napa Valley and Sonoma County are two popular wine regions that are only about an hour away from San Francisco. The best way to see them is on a guided tour, since you don't have to worry about driving. All of these are one-day tours that offer you the chance to sample some of the renowned local wines. As you cruise through these regions, you will learn more about their history, the grapes that grow there, and the wineries that serve up these delightful treats.