Baker Beach San Francisco
Tips on Visiting this Gorgeous SF Beach
NOTE: Click here to stay up-to-date with what's open and opening soon.

Baker Beach San Francisco sits along the water where the Pacific Ocean meets the SF Bay. It's in the historical Presidio on the northern end of the city.
This SF beach is popular with locals. We love spending time and enjoying the beautiful surroundings.
From its sands, you can see the Marin Headlands (across the water) and the western side of the Golden Gate Bridge. It is surrounded by cliffs making it one of the most beautiful locations in SF.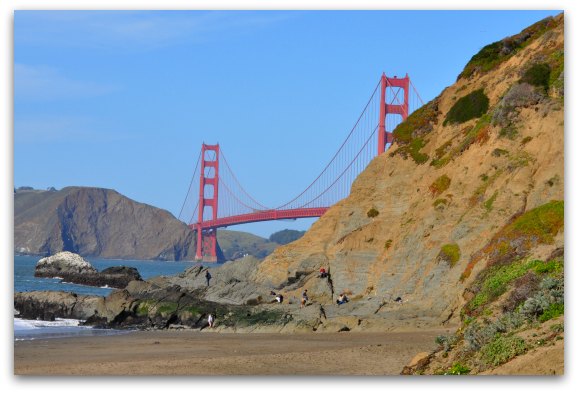 The San Francisco beaches are not your typical beaches. With the weather hovering around 55° to 65°F most of the year, it's not common to find 'beach weather' while you are in the city. However, many people still visit them to soak in the scenery, have a picnic lunch and just relax.
Insider's Tip: On the few days where it is warm enough to get a tan, you will find this one PACKED! This is when you should head over to China Beach, which is also busy on sunny days, but not as bad as Baker Beach.
The only services at this location are restrooms. There are no restaurants or food stands.
This creates a nice, quiet retreat from the city.
We often walk along Baker Beach San Francisco while hiking the coastal trail. This is a amazing trail you will find right next to Lincoln Boulevard throughout the Presidio.
Here is a view from high above it along the coastal trail.
To get to the waterfront, we usually take the Sand Ladder. This is a set of stairs completely covered in sand. They are a little tricky to walk down, but they create a fun experience.
Here is a look up at the Sand Ladder from Baker Beach.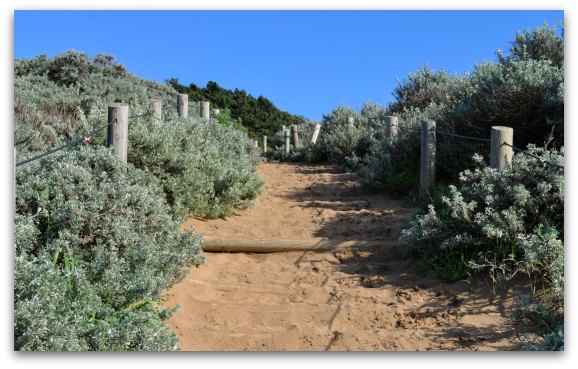 Nude Beach in San Francisco
Is this a nude beach here? Yes and no. There is a small nude area here, but it's up and over the cliffs on its eastern side. This makes it more private than the larger Baker Beach San Francisco.
You might also find a few bathing in the nude on the eastern side of this one.
Up until November 2012, nudity was legal in San Francisco (and is still legal in the state of California). This was when a new and highly controversial ordinance was signed that made nudity illegal in the city.
I'm not sure what this means for people wanting to bath nude here now. I would just caution you that it's now illegal, although I'm not sure how well it will be enforced.
Bath nude at your own risk!
Other Pages You Might Enjoy
Tips to Get Here
Baker Beach San Francisco has a large parking lot. You can easily drive to this site and not worry about trying to find a place to park.
You can also take the bus to the Presidio (learn more). You can then hop on the free, local Presidio bus called the PresidiGo. It runs about once an hour and drops you off about a block from the entrance.
You can also walk from one of the main gates. Yes, it's quite a walk, but you will see some amazing things along the way.
Here is a map that shows its location. You will also see the Sand Ladder, the PresidiGo stop, the parking lots, and the location to access the Sea Cliff neighborhood from it.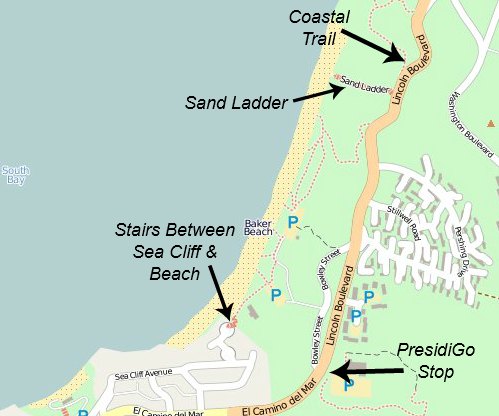 Here is a map showing where it's located within the Presidio.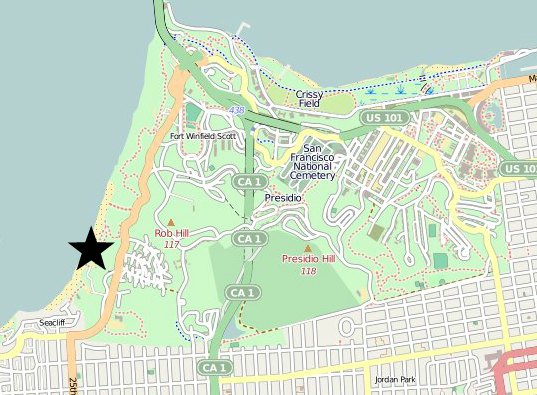 If you are looking to get away from the chaos of the city (or the crowds), then head over to Baker Beach San Francisco!
Disclaimer: I receive a small commission from some of the links on this page.
Hotel Recommendations
Don't get stuck in a bad hotel during your stay. Use these recommendations to find a great place to stay while still sticking to your budget.

Follow SFTourismTips on Facebook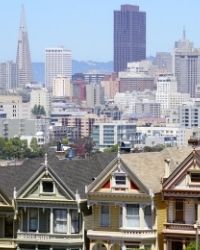 On my Facebook page, you will find more great information about planning your San Francisco vacation.
It includes tips, must see attractions, and other fun details.
Click the link below to check it out. If you enjoy the page, give us a like.