Baker Beach in San Francisco: Tips on Visiting this Gorgeous SF Beach

by Jill Loeffler  •

Updated: June 6, 2022
Baker Beach in San Francisco sits along the water where the Pacific Ocean meets the SF Bay. It's in the historical Presidio on the northern end of the city and is about a mile long.
This SF beach is popular with locals. We love spending time here enjoying the beautiful surroundings.
From its sands, you can see the Marin Headlands (across the water) and the western side of the Golden Gate Bridge. If you are looking for an amazing place to photograph the bridge, this is one of your best bets.
As you can see from the picture below, you can find several spots with dramatic views of this golden gem. 
It also makes for the perfect setting since it is surrounded by cliffs which add to the beauty. In my opinion, it's one of the most stunning locations in SF.
Disclaimer: I receive a small commission from some of the links on this page.

What to Expect When You Visit Baker Beach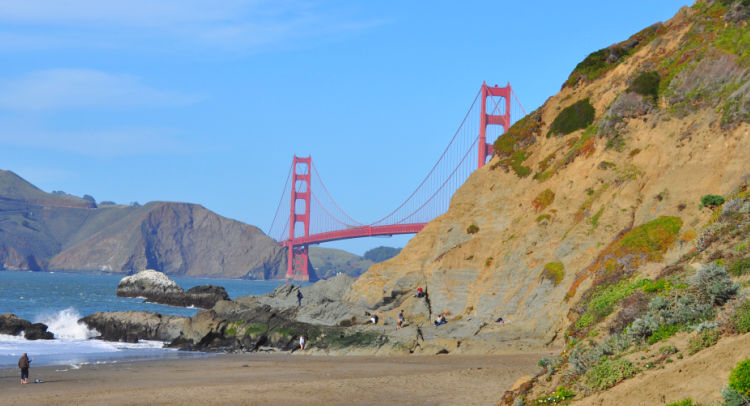 A picture of the Golden Gate Bridge from the eastern edge of Baker Beach.
It is important to know that Baker Beach in San Francisco is small and only has a few services. You will find a restroom that is open most of the time, but there are no restaurants, bars, or shops that are near it.
Because of this, you will pretty much only find the beach when you come here. 
So, what's the big deal and why should you visit?
One of them is that it's a great place to unwind and relax. You can bring along a picnic lunch, photograph the bridge, and just hang out. 
You will also find a lot of people just passing through as they hike the nearby Coastal Trail.
Just so you know, it is packed here on those rare days where it's warm enough to throw on a bathing suit and soak in some sun.
Is Baker Beach dog friendly? YES! It's just one more reasons the locals love this place! 
Sand Ladder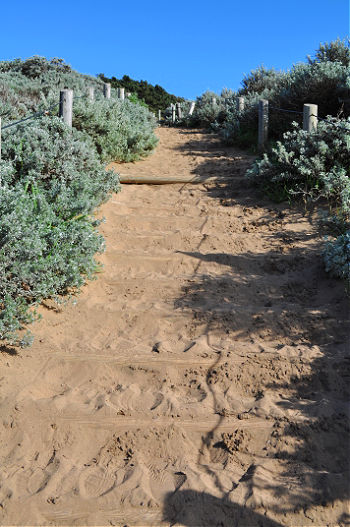 This is a view from the bottom of the Sand Ladder with the sand almost completely covering the stairs.
Another one of the things we love about this beach (and another reason it's famous locally) is because of its sand ladder. This is a set of stairs that leads from the Coastal Trail down to the beach that is covered in sand.
It's a bit tricky to walk up and down, but it's a fun experience. You will find steel ropes on both sides, but they are tough to use while walking up and down. Just make sure to take your time getting up and down and plan to stop to clean out your shoes when you reach the end. 
Fun Fact: Some of the more difficult running races in SF will have their participants run up or down the sand ladder as part of their race.

Battery Chamberlin
Baker Beach in San Francisco sits on an old army base. This means that you will find several historic military attractions nearby.
One that sits right above the beach is Battery Chamberlin which was built in 1904.
The interesting thing about this battery is that in 1977, the National Park Service installed a 6-inch "disappearing gun" here. It's one of the last of its kind on the west coast and draws in military enthusiasts from around the world.
It's open for you to check out at any time, but if you want to learn more about it make sure to visit during one of their demonstrations. They usually do the demonstrations on the first full Saturday and Sunday of the month between 11 am and 3 pm. Make sure to call ahead if your reason for visiting is this demonstration as at times, they are canceled or postponed (not often, but you do want to confirm). You can call the park at (415) 561-4323. You can also usually find times posted here. 
More Things to Do Around San Francisco
Swimming at Baker Beach
If you do want to go swimming at Baker Beach, there are a few things you will want to keep in mind:
Water Temperatures: The water is cool and/or cold throughout the year. It's typically around 50o to 60o F most of the year. If you plan to swim here, make sure to bring along a wet suit to stay warm. If you plan to do just a quick dip in the water, make sure to have some warm towels or clothes to warm you up quickly afterwards.
Rip Currents & Undertow: Even though the water here may seem calm at times, this is a difficult place to swim. Due to its rip currents and undertow, many people consider it unsafe -- even for experienced swimmers. If you do plan to swim here, make sure you know how to swim out of these dangerous conditions.
Waves: At times, there are also large waves that come up to the beach. It's another reason that Baker Beach San Francisco is a difficult place to swim. 
Baker Beach in San Francisco Weather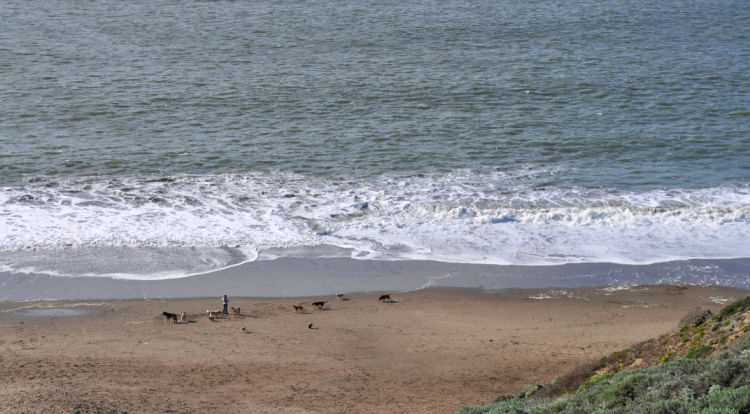 A view of Baker Beach from the Coastal Trail in the Presidio.
One of the reasons that this area isn't as built up is that the weather at Baker Beach in San Francisco is usually somewhat chilly and a bit windy. Here is a breakdown of the weather by season:
Spring: The spring weather at Baker Beach San Francisco is cool and windy. Highs this time of year are in the lower to mid-60s F (17o - 18o degrees C). It will be cool, so bring along a jacket. 
Summer: The summers are just a little warmer with highs in the upper 60s. This is also when you will see more fog near the beach and around the Golden Gate Bridge. It's a fun time to photograph this area. The fog is usually hanging around in the mornings, will burn off during the day, and then will flow in again at night. 
Fall: This is the best time of year to visit Baker Beach in San Francisco. This is our "summer" when the days reach up to the lower 70s and there is very little fog. You will find some days in September and October that you might be able to soak in some rays at the beach. 
Winter: This is our cool and rainy season. If you come to the beach in the winter, make sure to wear warm clothing and bring along a blanket to stay warm. It's also a fantastic time to photograph that bridge as you will get some beautiful views of it through the rain and clouds. We also have fog this time of year, which is lighter than the summer fog. 
>> Visit this page for more details about the weather all around San Francisco by month
Nude Beach in San Francisco

Is this a nude beach? The answer to that is both yes and no. Most of those who bathe nude here head just a little further east over to Marshall's Beach. It's a bit more private than Baker Beach in San Francisco. 
However, don't be alarmed if you do see a few people bathing in the nude on its eastern end. The beach is long and narrow, so if you are coming with your family, just stick to the center or western side of the beach and won't be able to see a thing. 
Up until November 2012, nudity was legal in San Francisco (and is still legal in the state of California). This was when a new and highly controversial ordinance was signed that made nudity illegal in the city.
However, you are still legally allowed to bath here naked and the police will not bother you.
Other Pages You Might Enjoy

Restaurants Near Baker Beach in San Francisco

Warming Hut: This little café is a wonderful place to have a bite to eat or a bit to drink while checking out their cute gift shop. It is also a perfect stop when you are doing some walking, hiking, or taking a bike ride around the area. You will also get a great view of the bridge and over to Marin from it. It is located at 983 Marine Drive
Pizzetta 211: We love going here since it is a highly underrated pizza joint in the city. We also love that the menu changes fairly often, so we always have something new to try. They have a wonderful outdoor area for when the sky is clear. FYI: It is a small place, so you may have to wait a bit during the busy times. 211 23rd Avenue
Lokma: If you like Middle Eastern food, then you will have to try Lokma. The name means "a bite" in Turkish, you will be able to find more than enough to fill you up. Even though they just opened in 2018, they have already been featured in the Michelin Guide and in Forbes Magazine. 1801 Clement Street
More Options in the Presidio: In addition to these three, you will find some of our other favorites here. Some of these include Sessions at the Presidio, Presidio Social Club, and Presidio Café.
More Options Along Clement in the Inner Richmond: There are loads of other great choices just outside the Presidio on Clement Street. Some of these include Bistro Mediterraneo, Garden House Café, and Harajuku Sushi. Learn more about the Inner Richmond District.
Hotels Near Baker Beach in San Francisco

Inn at the Presidio: Located in an old U.S. Army barrack building, this is one of the nicest places to stay anywhere. You have hiking trails and open spaces all around you, and yet you are close to everything. There are only 22 rooms, so you'll want to plan ahead. They offer complimentary breakfasts, an evening wine and cheese happy hour, and a wonderful outdoor deck area. 42 Moraga Avenue. Find rooms and reviews for Inn at the Presidio.
The Laurel Inn: With a gorgeous view of the city, you will love staying at this boutique hotel. One of the many benefits of staying here is they are close to everything while you will still have all the privacy you want. The rooms are all gorgeous and they have a fun 3 pm cookie time if you want to relax during the day. Another benefit is that they have discounted long-stay rates. 444 Presidio Avenue. Visit here to find rooms and book them for your trip.
Travelodge by Wyndham at the Presidio: If you are looking for a comfortable and inexpensive place to stay, then this might be perfect for you. It is just one block from the Lombard Gate and a short drive to the Golden Gate Bridge or Crissy Field. Unlike many of the other hotels in San Francisco, it has free parking. 2755 Lombard Street. Find rooms, reviews and book rooms.
Baker Beach San Francisco History & Burning Man

Most people don't realize this, but the now famous "Burning Man" started right here on Baker Beach in San Francisco in 1986. The original man was made of wood and stood 8 feet tall. Within 3 years, the man grew to over 30 feet tall!
This event was designed by several artists, musicians, and free thinkers who wanted to have a gathering on the beach at night. It originally had about 20 to 30 people there.
As the event grew, the organizers realized that it would be too many people to have at the beach and started looking for a new location. They eventually settled at Black Rock Desert in Nevada. As news of the event grew, it became more and more popular, and more and more people wanted to go to it.
It has now become a major event every year and the actual Burning Man has now grown to over 100 feet tall and attracts more than 60,000 people a year.
Parking & How to Get To Baker Beach in San Francisco

Baker Beach in San Francisco has a large parking lot with a few others nearby. You can easily drive to this site and not worry about trying to find a place to park. You will see the parking lots marked with the blue P's in the map below. 
You can also take the bus to the Presidio (learn more). You can then hop on the free, local Presidio bus called the PresidiGo. It runs about once an hour and drops you off about a block from the entrance.
You can also walk from one of the main gates. Yes, it's quite a walk, but you will see some amazing things along the way.
Here is a map that shows its location. You will also see the Sand Ladder, the PresidiGo stop, the parking lots, and the location to access the Sea Cliff neighborhood from it.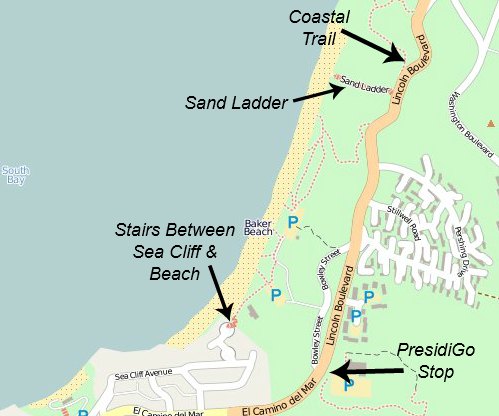 Here is a map showing where it's located within the Presidio.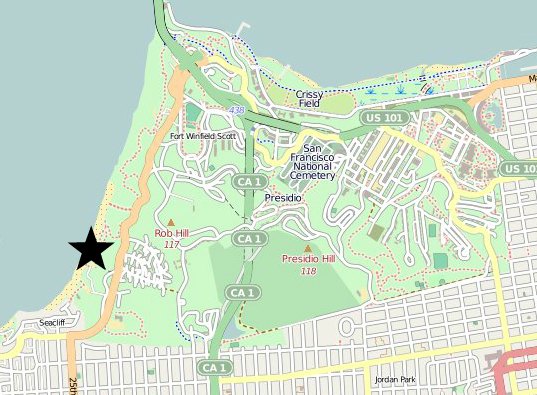 If you are looking to get away from the chaos of the city (or the crowds), then head over to Baker Beach in San Francisco!

Things to Do Nearby

Golden Gate Bridge: Baker Beach is the perfect place to see the Golden Gate Bridge. We also love that it is such a nice walk, or bike, from the beach up to the bridge. If you decide to go up to the Golden Gate, you can then check out the gift and information shop, have a snack, and go across the bridge. Baker Beach also affords some of the nicest places to photograph the bridge during sunset. Learn more about visiting the Golden Gate Bridge.
China Beach: This cute little beach is named after the Chinese fisherman who used to live and work here. Being that it isn't as well-known as other beaches in SF, it is usually not as crowded. When you get to it, you can see a great view of the Golden Gate Bridge. Parking is free and you can usually find a spot. FYI: Do be careful when you swim here as the riptides can be very dangerous. More about China Beach.
Disney Museum: This is where you can see what inspired Walt Disney way back in the day. From the first drawings and cartoons in black and white, to experimenting with color, sound, and other techniques, you will learn so much about the man, and his art, that you will want to come back again and again. They change exhibits so you can find something new each time. This is the perfect stop for kids of all ages! 104 Montgomery Street in the Presidio. More about visiting the Disney Museum.
Lands End: If you want to check out a bit of the lesser-known areas of San Francisco, then this beauty in the Richmond District is perfect for you. You can visit Mile Rock Beach, check out the old shipwrecks, and soak in the great views including the remnants of the once incredible Sutro Baths and so much more. There is a nice visitor center and café where you can learn more about the history of this area. Find out more here.
Comments? Questions? Suggestions?
I would love for you to join me in my private Facebook group! 
It's a great place to interact with me and others who know the area well.
You can ask questions, get advice for your upcoming stay, and then share your photos and advice with others when you return home. It's a great community and the fastest way to get answers to those nagging questions about your visit!