San Francisco Word Scrambles Printables for Adults

Enjoy these fun, yet challenging San Francisco word scrambles for adults. These printable puzzles feature words related to SF's attractions, activities, and free things to do. You will also find some about movies & TV shows filmed in SF as well on topics such as SF Bay Area Sports, Napa, Monterey and more.

You will find both books with several puzzles as well as inexpensive individual puzzles. You can buy one or more or pick up a book with 5 to 10 puzzles.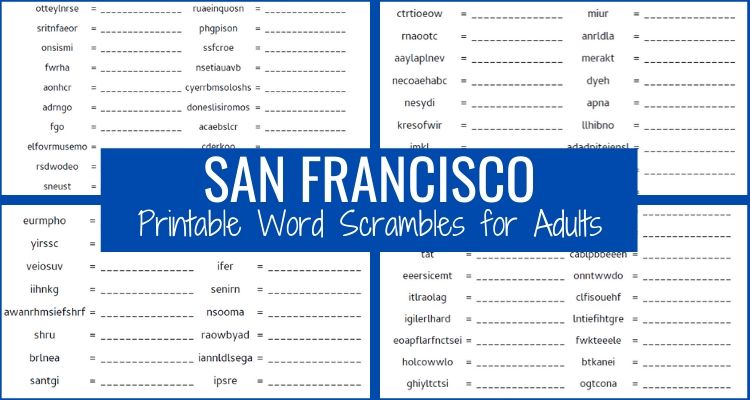 I've also includes a few free puzzles, so you can enjoy one or two before you buy. 
They are all downloadable and printable, so you can buy them today and start working on them instantly! 
Word Scramble Books

The three books below offer multiple word scrambles. Inside the book of 10, you will find themed puzzles with topics such as attractions or museums.
The Book of 5 includes five word scrambles. They are all generic, so include words about SF Bay Area Sports as well as our top attractions.
The final book offers a variety of puzzles and games. Inside you will find 5 word searches. You will also find 5 crosswords, coloring pages, and more.

Individual Word Search Puzzles

These individual word search puzzles are the 10 games you will find inside the Book of 10 above. I broke them out, so you can buy just one or two instead of the entire book.
You will also find two unique word searches for free. You can download them also for additional fun.
FREE WORD SCRAMBLE PAGES: To get these free puzzles, simply add the puzzle to your card. You will then be led to a screen where you can enter your name and email address. Once you submit those, you will be taken to the page to download these free puzzles.

Enjoy and let me know what other topics you would like me to cover in my next set of games!