Things to Do in San Francisco in the Winter: 25 Fun Cool Weather Activities
Things to do in San Francisco in the winter include both indoor and outdoor activities. While the weather is generally cool during this time of year, you might find it pleasant one day and too cold out the next.

My list will give you plenty of options so you can select the right activities for your stay. They include top museums, cruises, and shows. You will also find some great ideas if you plan to be here during the Thanksgiving, Christmas, or New Year's holidays.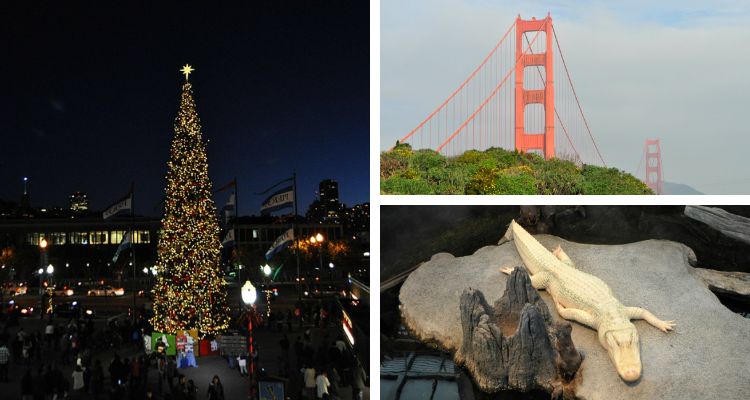 Disclaimer: I receive a small commission from some of the links on this page.

1. California Academy of Sciences

A great way to escape the winter weather and spend the day indoors is by marveling at the wide range of cool exhibits at the California Academy of Sciences. SF's most visited museum contains a planetarium, an aquarium, a four-story living rainforest, and a natural history museum, all in one. Plus, you'll get to meet Claude, the rare white alligator, and see the huge skeleton of a T-Rex.
The Cal Academy of Sciences is located on the eastern side of San Francisco's beautiful Golden Gate Park, right across from the de Young Fine Arts Museum. You can take the N-Judah or the 5-Fulton Muni bus to get here or stop by on your Hop-On/Hop-Off tour.
>> Find skip the line tickets for your visit
>> See pictures and learn more about this top ranked SF museum
2. Theater Performances

When it's cold out, it's an especially nice treat to spend the evening at the theater. In San Francisco, you'll find several performances a month at different venues. Broadway musicals like Hamilton, The Lion King, and Finding Neverland are very popular, but you can also watch other stage plays and alternative dramatic productions. During the holidays, you may opt for a show like A Christmas Carol.
San Francisco's Theater District encompasses an area near downtown, spread among the Civic Center, Union Square, and Tenderloin neighborhoods. Here, you'll find grand, historic theaters like the Orpheum, and smaller, independent spaces like the SF Playhouse.
>> Find a full schedule of upcoming performances
3. Christmas Lights & Tree Lighting Ceremonies

One of my favorite things to do in San Francisco in the winter is attend the various tree lighting ceremonies (many of which also offer refreshments and live entertainment) and admire the twinkling decorations all around town.
This is the time of year when SF really comes alive with beautiful lights and holiday spirit, some public spaces bringing in Christmas trees that are several stories tall, and others displaying life-size gingerbread houses.
Among the top spots to watch a tree lighting ceremony are: Union Square, Pier 39, and Ghirardelli Square. You'll also find lots more decorations throughout the city, including lights on the Embarcadero buildings, the boats and bridges, and in residential neighborhoods.
>> Tips to find some of the best displays around town
>> Schedule of tree lighting ceremonies and other holiday events in SF
4. City Bus Tours

If you want a convenient way to see all the major attractions and learn more about San Francisco, consider a city bus tour. You have several options that vary in price and duration, but they all allow you to skip figuring out how to get from one place to another.
This is especially popular for cool weather days, when people prefer not to walk or wait a lot outside.
Almost all the bus tour options hit the Golden Gate Bridge, Chinatown, and Fisherman's Wharf along their route, and some include up to 19 stops. You can choose from the tour that lets you self-pace and hop on and off at your preferred sights, another tour that includes a visit to Alcatraz, an evening tour, and others.
>> Visit Viator for a list of the best city bus tours and to find tickets today
5. Alcatraz

While the ferry ride over to the island may be chilly, most of the tour of the prison is actually indoors. Plus, no matter what season you visit San Francisco, touring Alcatraz is a must.
This fascinating ex-federal prison that once housed the worst of the worst criminals in the middle of the bay is one of SF's most popular attractions, so tickets go quickly.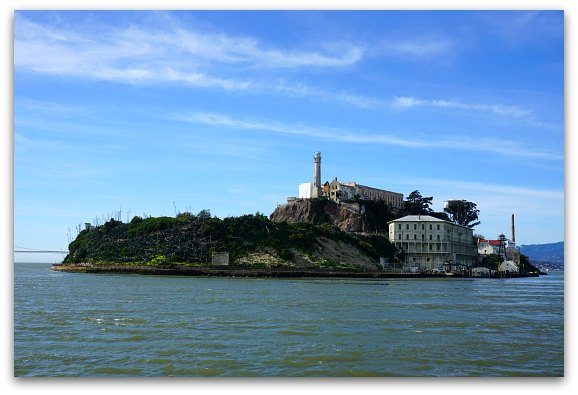 Tours to Alcatraz run seven days a week, and in the evenings from Thursday to Monday. To board the ferry, head to Pier 33 on the Embarcadero near Fisherman's Wharf.
Dress in warm clothes for the 20-minute boat ride, then enjoy your audio tour and walk around the grounds on the island.
>> See what it's like to visit during the day
>> Get tips for the night tour to Alcatraz
6. Exploratorium

The Exploratorium is a fantastic science museum for adults and kids of all ages, as all of its exhibits are interactive. Explore five large galleries each based on a different topic: sound and vision, the structure of living things, weather, mechanics, and human behavior.
You'll have so much fun as you learn first-hand how things work.
The Exploratorium is located on Piers 15 and 17, about a half mile north of the Ferry Building along the Embarcadero. The museum is spacious and well-designed, and a great indoor stop from the winter weather.
>> Pick up your tickets before your trip
>> Learn more about what you will see during your visit
7. Chronicle Wine Tasting Event

One of the best things to do in San Francisco in the winter takes place every February and gives you the opportunity to sample over 800 award-winning wines. It's the annual Chronicle Wine Competition, which selects the very best American wines among some 5,000 entries to share at this public tasting.
You can attend this delicious event at the Fort Mason Center on the waterfront in the Marina District, not far from Fisherman's Wharf. The large festival pavilion is indoors, and the wine will be sure to warm up your Saturday afternoon.
>> More details on this year's event
>> Calendar of all of our best wine tasting events
8. Golden State Warriors Basketball Games

Another great winter activity in the SF Bay Area is attending a home game of one of the hottest teams in basketball, the Golden State Warriors. There is nothing like being in the arena filled with blue and yellow and the energy of the proud and devoted fans of this recent NBA championship team.
The Dubs play at the Chase Center in San Francisco's Mission Bay District. It's easy to get there from any location around town.
>> Check for tickets to upcoming games in SF
>> A full schedule of games at home plus tips to attend a game
9. Film Festivals

San Francisco is home to nearly 50 film festivals a year, each featuring a different theme, genre, or culture. The annual winter festivals include the American Indian Film Fest, the Transgender Film Fest, Save the Waves, Noir City, the SF Indie Fest, the Mostly British Film Festival, and more.
You'll find these film festivals all over SF, with screenings at the Roxie Theater in the Mission, the Castro Theater in the Castro, and other venues. Visit the individual festival pages to find out their scheduled films and locations for this year.
>> Find a full calendar of film festivals each year in SF
10. Special Holiday Activities

Some of the best things to do in San Francisco in the winter occur during the holidays. Every year, you will find plenty of fun things to do on Thanksgiving Day and all weekend long. Find out more here.
If you plan to visit during Christmas, you will find quite a few special holiday shows on Christmas Eve. You will also get the chance to visit many of our free attractions on Christmas Day. Get my tips on what to see and do here at Christmas time.
Things really light up around NYE with the large fireworks display at midnight and dozens of fun parties. You can also head out on a cruise or see a concert. Find a full schedule of events for this important holiday here.
>> Get tips on what to do each holiday in SF
11. Holiday Lights Tours

One of my favorite things to do in San Francisco in the winter is to head out on a holiday lights tour. You will find several fun options, and all take you to the hot spots around town.
My favorite places to stop include City Hall, as it's decked out in red and green and Pier 39 with its large annual Christmas tree at the entrance.
My favorite is the holiday lights tour on a shiny red fire engine. It has seating for 12 and offers unobstructed views all around town. Don't worry, they also bring along some blankets to keep you warm during the journey.
Find tickets for this tour here.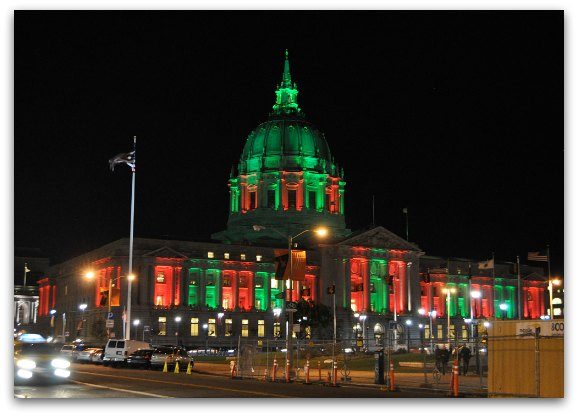 You can also cruise around town in a colorful 70s VW bus. This 2-hour tour takes you around Union Square, Chinatown, Fisherman's Wharf and other places around SF.

12. Concerts & Live Music

Another one of the best things to do in San Francisco in the winter is enjoy a concert. SF not only attracts the biggest names in all music genres, but also has a lot of local talent, emerging bands, and local jazz ensembles.
San Francisco has a fantastic live music scene, with large concert halls like the Warfield and the Fillmore, and intimate venues like Bimbo 365 and Cafe du Nord. You'll find them all over the city, in the Civic Center District, North Beach, and more. In addition, the biggest stars in pop and rock tend to have their concerts at sports arenas in nearby cities like Oakland or San Jose.
>> Get a full calendar of upcoming concerts in SF and the Bay Area
13. City Hall

San Francisco City Hall is not only an important government building, but an elegant work of architecture that shines as the centerpiece of the Civic Center District.
Its gold dome is the tallest in the nation, containing ornate carvings, staircases, and columns beneath it. If you visit during the holidays, you'll see the building lit up green and red at night.
You can easily reach City Hall by getting off at the Civic Center station on Muni or BART. It's located just two blocks north of Market Street, where the large plaza marks the entrance. City Hall is surrounded by the Asian Art Museum, the Orpheum Theater, and the War Memorial Opera House.
>> Tips to visit this wonderful attraction
14. Whale Watching Tour

The coast of San Francisco offers fun, exhilarating whale watching experiences all year long. During the winter months from December to May, you have the chance to see gray, sperm, and killer whales migrating in these waters. You might also spot dolphins, leatherback turtles, and sea lions.
The whale watching tours depart from Fisherman's Wharf on weekday mornings and afternoons. On your 2.5-hour tour, you'll cruise under the Golden Gate Bridge and out to the Pacific Ocean, where you may venture up to 8 miles out looking for whales.
>> Tips to head out on a whale watching cruise

15. Sample Local Wines

Nearby Napa Valley and Sonoma County produce some of the best wines in the world. While you're in San Francisco this winter, take advantage of tasting these delicious local wines at a variety of wine bars, tasting rooms, weekly seminars, and festivals around town. Or, take a day trip over to wine country to sample from the source!
A few wineries are located right in the city and offer tasting rooms at Fisherman's Wharf, in the SoMa and Dogpatch Districts, and on Treasure Island. Great wine bars are located all over town, and the large tasting events often take place at the Fort Mason Center in the Marina.
>> More about these and other fun wine tasting activities in San Francisco
Save on Your Stay with these Hotel Deals

If you plan to enjoy several of these things to do in San Francisco in the winter, then you will most likely be staying a few nights to take them all in. If so, make sure to check out these great hotel deals. You will find some great discounts on Booking.com. You will also find deals on TripAdvisor.
Both serve up the latest guest reviews, so you know you are finding the right place for you. Click the links below and start saving today.
Booking: Find great deals all around San Francisco for your upcoming stay! 

TripAdvisor: What's the #1 hotel in San Francisco? Read reviews & find hotel deals on TripAdvisor!
VRBO: In addition to hotels, you'll also find some great places to stay locally through VRBO. Book an apartment or a room and feel more like a local. Find some great places to stay on VRBO here. 
16. New Year's Eve Fireworks Display

One of the most anticipated things to do in San Francisco in the winter is spending a night out on New Year's Eve watching the annual fireworks display.
Bundle up and head toward the bay to see them light up the sky or check out my list of best restaurants with fireworks to watch the show as you enjoy a special meal.
The annual fireworks show launches over the water near the Ferry Building and the Bay Bridge, and it's definitely worth making your way early to the waterfront along the Embarcadero to get a seat, taking a cruise on the bay to see them up close, or watching from one of my recommended restaurants. You can also view them from Treasure Island.
>> More about watching this year's NYE fireworks display
17. Comedy Shows

There's nothing like a good laugh to warm you up and get you out of the winter blues. In San Francisco, there are comedy and improv shows nearly every night of the week, and you often have the chance to see some big names in stand-up, like Russell Peters, Dave Chappelle, and Dana Carvey.
The two main comedy clubs are Cobb's in North Beach and the Punch Line in the Financial District. San Francisco's favorite musical comedy, Beach Blanket Babylon, also plays in North Beach. In addition, you'll find other venues in Union Square and the Mission.
>> Upcoming shows and top comedy clubs in SF
18. Shopping

Whether you are holiday gift hunting, picking out souvenirs, or just like to browse, San Francisco has lots of great shopping options for you. There are a few large malls with brand-name stores, areas like Pier 39 and Ghirardelli Square with local shops and dining, and strips of upscale neighborhoods lined with boutiques.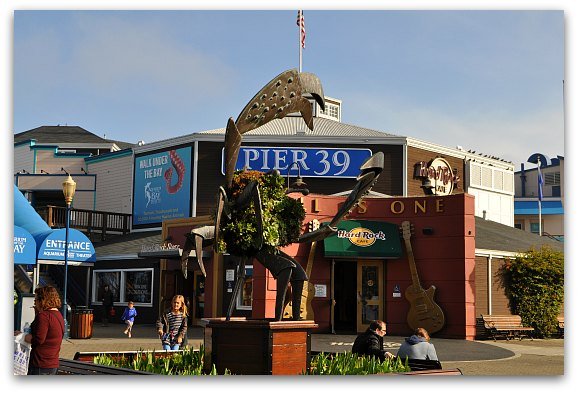 Many people like to experience the excitement of downtown and hit the big stores in Union Square. For something a little more relaxed and personalized, try Union and Chestnut Streets in the Marina, or head to the Ferry Building for gourmet treats. And don't forget that the best bargains on trinkets of all sorts are in Chinatown!
>> My list of the top places to go shopping in SF
19. Walking Tours

Though you may have to bundle up a bit more, San Francisco's winter weather is often still sunny and crisp, and perfect for taking a walking tour in the city. There are wonderful free tours offered by SF City Guides every day of the year, and there are also paid tours that offer an intimate look at neighborhoods like the Castro, North Beach, and Chinatown.
Some of the most popular walking tours show you around the Japanese Tea Garden, Fisherman's Wharf, areas with Art Deco or Victorian architecture, and the city's legendary murals. There are tour routes in practically every part of SF, and the meeting place is usually the closest landmark.
>> Read more about the best walking tours around SF
20. Nutcracker Ballet

One of the most classic things to do in San Francisco in the winter is to attend a special seasonal performance of The Nutcracker.
The renowned SF Ballet was actually the first company in the US to produce this beloved Christmas story on stage and remains one of the most popular today.
The SF Ballet performs at the beautiful, historic War Memorial Opera House behind City Hall in the Civic Center District. You can easily get here by taking BART or Muni to the Civic Center station and walking west on Grove Street from Market.
>> More about this year's performances and ticketing information
21. Ice Skating

Each winter, San Francisco brings a little holiday magic right to the heart of Union Square, where you can strap on your skates and enjoy a wonderful time on ice, surrounded by a towering Christmas tree and decorated buildings.
There is also another, larger outdoor rink at the Embarcadero Center, right across from the Ferry Building.
Both rinks will be open from early November to the first week of January, making for the perfect refreshing break from a long winter day of shopping or sightseeing. You can rent skates on the spot, and your admission ticket will get you a session for 1.5 hours.
>> Ice skating rinks all around the SF Bay Area
22. Chinese New Year

A little later in the winter, around February of each year, San Francisco celebrates Chinese New Year with almost a month long of events, the biggest of which is the parade that brings colorful dragons, lion dancers, drums, and lanterns through the downtown streets.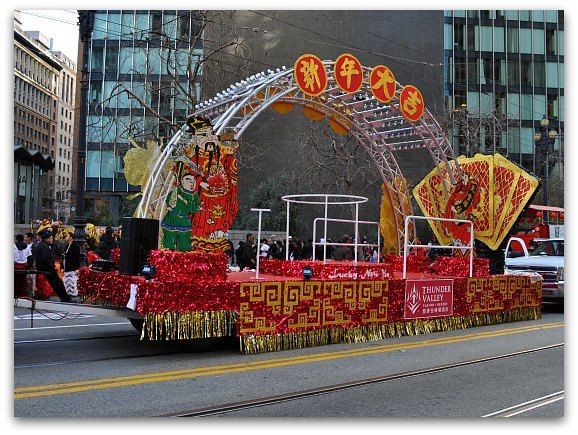 In addition to the large parade, the Chinese community hosts a flower market fair, basketball jamboree, Miss Chinatown pageant, street fair, and a 5K-10K run to celebrate the new lunar new year. All events are based in Chinatown, which lies north of Union Square and south of North Beach.
>> More about this large annual parade in downtown SF
23. The Great Dickens Christmas Fair

Every holiday season since 1970, you'll find this fascinating period Christmas party abuzz with colorful characters from literature and history, inviting you to enjoy the quaint cobblestone lanes of Victorian London. 
During this fun tradition, let yourself be led by the flickering candlelight, the variety of unique handmade gifts, and the aroma of freshly roasted chestnuts and other holiday delights.
There is so much to explore from 10 am to 6 pm over the five weekends after Thanksgiving. At the moment, tickets are only available online, so plan ahead. You'll find this annual winter event at the Cow Palace in Daly City.
24. Diego Rivera Murals

Diego Rivera was a famous painter from Mexico who left his legacy in the US through colorful, socially provocative murals. As a loyal communist, his works were often controversial but nevertheless revered, and San Francisco is fortunate to have three of his large frescos open to the public.
You'll find the three Diego Rivera frescos at the City Club in downtown SF, the San Francisco Art Institute near Fisherman's Wharf, and at the City College of San Francisco on the south side of the city.
>> Tips to find all three in SF
25. SF Giants Fan Fest

Winter can be a long season to get through for baseball fans without any games. But luckily SF Giants fans get to start each new season early with the annual Fan Fest, an event that allows you to meet the players, get their autographs, pick up new merchandise, and play catch on the field.
The Giants Fan Fest takes place in February. It is one of the signals that winter is finally coming to an end and baseball season is soon to start. Head over to Oracle Park on the water in SoMa, just south of the Bay Bridge, to enjoy the festivities.
>> More about this annual event at Oracle Park
More Fun Things to Do in San Francisco in the Winter

Comments? Questions? Suggestions?
I would love for you to join me in my private Facebook group! 
It's a great place to interact with me and others who know the area well.
You can ask questions, get advice for your upcoming stay, and then share your photos and advice with others when you return home. It's a great community and the fastest way to get answers to those nagging questions about your visit!