Buena Vista San Francisco World Famous Cafe in Fisherman's Wharf

Buena Vista San Francisco is a legendary cafe in the Fisherman's Wharf neighborhood. This cafe is famous for bringing Irish Coffee to the US.

Even though I've lived in San Francisco for more than 10 years, this was my first visit to the Buena Vista Cafe. I've heard a lot of about it and was excited to check it out.
Here's just a little history on this cafe and how it became so famous.
The Buena Vista San Francisco opened as a saloon in 1916. In Spanish, the words 'buena vista' translate to 'good view'. The cafe is just a block from the San Francisco bay and was named for its great views of the water.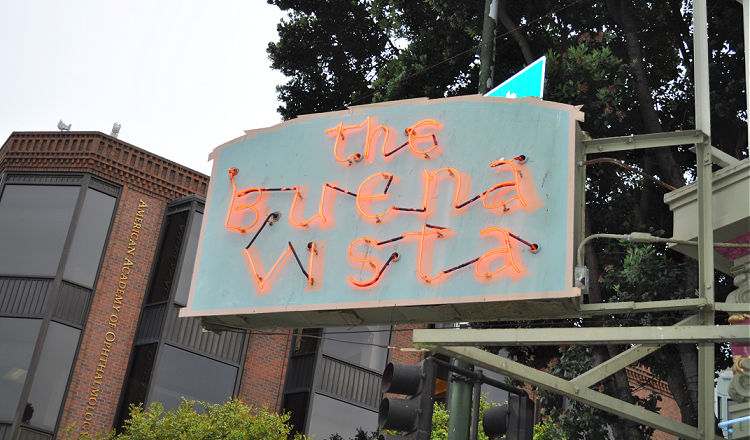 For years, it was a popular spot for the local fishermen and others working along the San Francisco bay. However, the introduction of the Irish Coffee here was what made it famous throughout the US.
Irish Coffee was originally created by Joe Sheridan at the Shannon Airport in Ireland. In 1952, the owner of the Buena Vista San Francisco, Jack Koeppler, wanted to serve it in his cafe. He enlisted Stan Delaplane, an international travel writer and another lover of the famed cocktail, to help him recreate the recipe.
For months, the two worked together without success. After one more visit to the Shannon Airport, the two had what they needed. Their Irish Coffee recipe was officially introduced in November of 1952.
People loved the new cocktail and the reputation of the cafe grew.
Today, people still flock to the Buena Vista to try its famous Irish Coffee.
This plaque is near the front doors of the cafe. It states "America's First Irish Coffee was made here in 1952. It was an inspiration invented at Shannon Airport by Joe Sheridan. It was fortuitously introduced here by Stan Delaplane. It was nurtured to a national institution by Jack Koeppler."
Visiting the Buena Vista Cafe
As you step into the Buena Vista Cafe, you are greeted by a beautiful wooden bar. It still feels like an old-fashioned saloon.
There are a couple of rules for seating at the cafe. The bar stools are just for those wanting to sample one of their Irish Coffees (or other cocktails). The shared tables throughout the cafe are for those also wanting to grab a bit to eat. You don't need to wait for an empty table, just grab any seat that is available.
Even though I stopped in for breakfast, I had to try one of their famous Irish Coffees.
And here it is! Not only do they use the original recipe from decades ago, but they serve it in these fun, old fashioned glasses.
It only took one sip for me to realize that there was more 'Irish' than 'Coffee' in it! All I can say is you won't be disappointed.
The Buena Vista San Francisco also has some great food. I recommend trying a dish with crab. It's caught fresh everyday by local fisherman from the waters around San Francisco.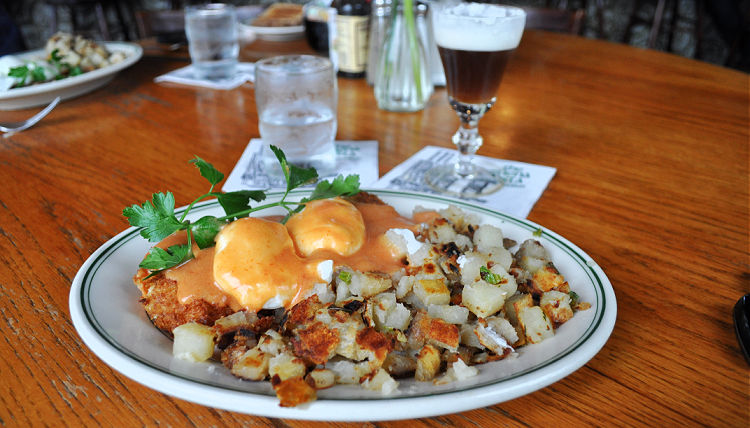 I tried the crab benedict and it was amazing! They also don't skimp on the portions. As you can see, my plate had enough food to fill me up for both breakfast and lunch.
If you are not a fan of crab, you will still find plenty of options on the menu. For breakfast, you will find favorites such as scrambled eggs, corn beef hash, cinnamon French toast and a variety of omelets.
The lunch and dinner menus include everything from burgers to pasta to steaks. You will not leave here hungry!
The Buena Vista San Francisco is on the corner of Hyde and Beach Streets. This is on the western side of Fisherman's Wharf near the cable car turnaround. It is open every day.
Monday - Friday from 9am to 2am
Saturday - Sunday from 8am to 2am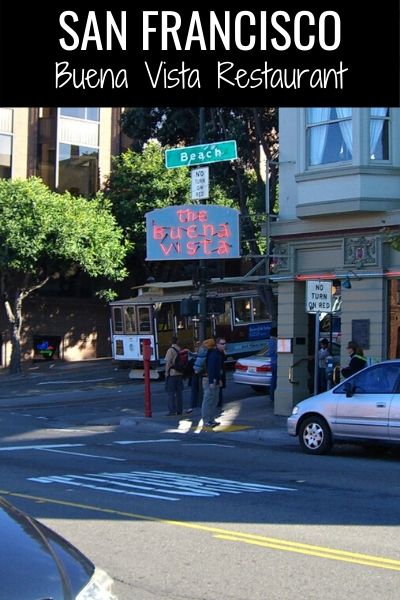 BACK TO TOP