Buena Vista San Francisco World Famous Cafe in Fisherman's Wharf


by Jill Loeffler  •

Updated: January 2, 2023
Buena Vista San Francisco is a legendary cafe in the Fisherman's Wharf neighborhood. This cafe is famous for bringing Irish Coffee to the US.

It's a great place for a late breakfast, lunch, and dinner. They also serve their breakfast dishes until 2 pm daily.
Their menu includes mostly comfort food. Some of my favorites here include their benedicts, the Rueben on rye, and the fried chicken and waffle for dinner. 
The other thing that's so great about this place is the friendly staff and the welcoming environment! 
Disclaimer: I receive a small commission from some of the links on this page.

Buena Vista History
Now that you know a little about what to expect, here is a bit more on their history and how they became so famous.
The Buena Vista San Francisco opened as a saloon in 1916. In Spanish, the words 'buena vista' translate to 'good view'. The café is just a block from the San Francisco Bay and was named for its great views of the water.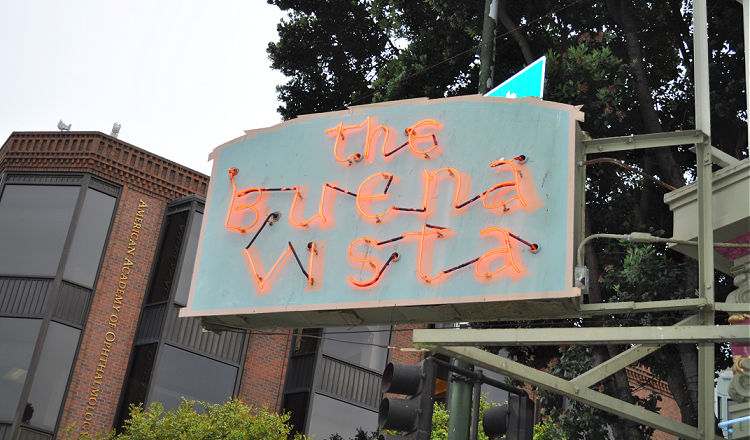 For years, it was a popular spot for the local fishermen and others working along the San Francisco Bay. However, the introduction of the Irish Coffee here was what made it famous throughout the US.

Irish Coffee was originally created by Joe Sheridan at the Shannon Airport in Ireland. In 1952, the owner of the Buena Vista San Francisco, Jack Koeppler, wanted to serve it in his cafe. He enlisted Stan Delaplane, an international travel writer and another lover of the famed cocktail, to help him recreate the recipe.
For months, the two worked together without success. After one more visit to the Shannon Airport, the two had what they needed. Their Irish Coffee recipe was officially introduced in November of 1952.
People loved the new cocktail and the reputation of the cafe grew.
Today, people still flock to the Buena Vista to try its famous Irish Coffee.
This plaque is near the front doors of the cafe. It states "America's First Irish Coffee was made here in 1952. It was an inspiration invented at Shannon Airport by Joe Sheridan. It was fortuitously introduced here by Stan Delaplane. It was nurtured to a national institution by Jack Koeppler."
Eating & Drinking at the Buena Vista Cafe
As you step into the Buena Vista Cafe, you are greeted by a beautiful wooden bar. It still feels like an old-fashioned saloon.
There are a couple of rules for seating at the cafe. The bar stools are just for those wanting to sample one of their Irish Coffees (or other cocktails). The shared tables throughout the café are for those also wanting to grab a bit to eat. You don't need to wait for an empty table, just grab any seat that is available.
Anytime of the day is a good day to try their famous Irish Coffees. Below is a picture of my drink from my last visit! 
The famous Irish coffee at the Buena Vista Cafe in San Francisco
Not only do they use the original recipe from decades ago, but they serve it in these fun, old fashioned glasses.
One other good thing is that there is usually a a little more 'Irish' than 'Coffee' in it! All I can say is you won't be disappointed.
The Buena Vista San Francisco also has some great food. I recommend trying a dish with crab. When it's in season, it's caught fresh everyday by local fisherman from the waters around San Francisco.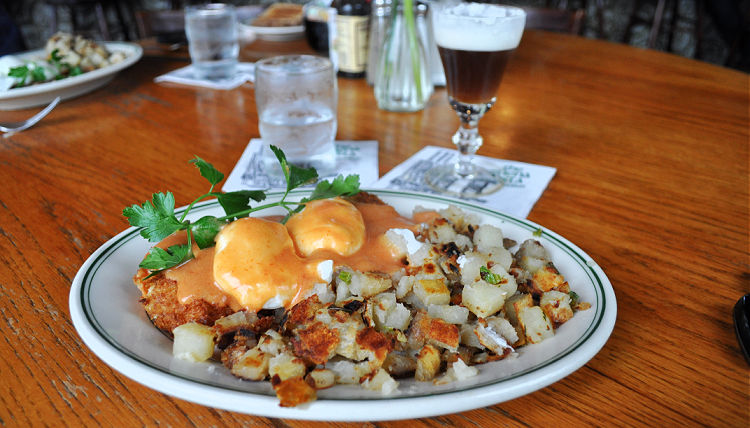 A breakfast of Crab Benedict from Buena Vista Cafe in San Francisco.
As I mentioned above, I love their benedicts and my favorite is their crab benedict, It's simply amazing! They also don't skimp on the portions. As you can see, my plate had enough food to fill me up for both breakfast and lunch.
If you are not a fan of crab, you will still find plenty of options on the menu. For breakfast, you will find favorites such as scrambled eggs, corn beef hash, cinnamon French toast and a variety of omelets.
The lunch and dinner menus include everything from burgers to pasta to steaks. You will not leave here hungry!
>> More great restaurants to try in Fisherman's Wharf
Where is the Buena Vista Cafe Located?
The Buena Vista San Francisco is on the corner of Hyde and Beach Streets. This is on the western side of Fisherman's Wharf near the cable car turnaround. 
The blue star below is the Buena Vista Café. The red star is Pier 39. They are less than a mile apart.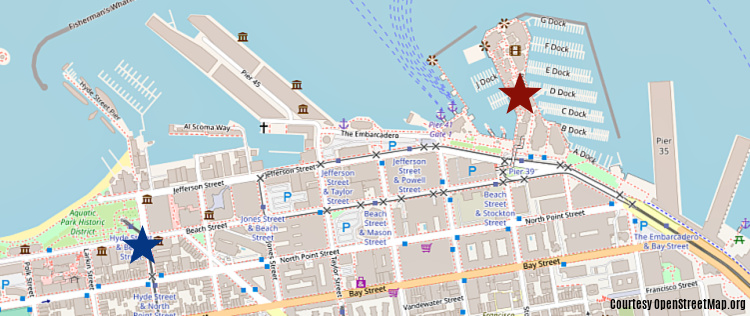 Hours for the Buena Vista Cafe
It is open every day.
Monday - Thursday from 10 am to 11 pm (kitchen closes at 9:30 pm)
Friday from 10 am to 12 am (kitchen closes at 9:30 pm)
Saturday from 9 am to 11 pm (kitchen closes at 9:30 pm)
Sunday from 9 am to 5 pm
Hotels Near Buena Vista Cafe in San Francisco
Argonaut
This 4-star hotel has over 250 rooms with incredible views of Alcatraz and the Golden Gate Bridge. One of the more stylish hotels in the city, the Argonaut was originally a brick warehouse which as been remodeled into a luxury hotel with a spa, restaurant and more.
Some of the amenities include extra long beds, walk in showers, and complimentary bicycles. Located just a few minutes from Fisherman's Wharf, Ghirardelli Square, and Lombard Street, you will love staying here.
They also have valet parking. 495 Jefferson Street.
Check for availability and reviews of rooms at Argonaut.
Hyatt Centric Fisherman's Wharf
Another 4-star hotel in this area is the Hyatt Centric. Depending which room you have, you can get amazing views. Since you are in the heart of Fisherman's Wharf and there is so much to do here.
The hotel has over 300 rooms, an outdoor pool, a hot tub and a full gym onsite. You are basically in walking distance to everything, and they also provide free bicycles.
Their restaurant, The Brick & Beam has been voted the #1 sports bar in the whole city!
555 North Point Street.
Check for availability of rooms during your stay in San Francisco.
San Francisco Marriott Fisherman's Wharf
Another one of the 4-star hotels in this area includes this beauty which has almost 300 rooms on five floors. Features include a 24-hour fitness center.
In case you want a bite to eat, they also have a full restaurant.
It is easy to get to many of the favorite places such as Ghirardelli Square, Lombard Street or Fisherman's Wharf. You can also easily hop on one of the cable cars that stops by it if you want to venture further into the city.
1250 Columbus Avenue.
Click to read reviews and find rooms for your visit here.

>> Find additional great places to stay in Fisherman's Wharf
Things to Do Near the Buena Vista
Cartoon Art Museum
You may think this is only for youngsters, but it is for kids of all ages. This museum houses over 7,000 original pieces so you can always find something new to see no matter how many times you visit it.
Some of the exhibitions will allow you to learn more about the cartoons, the artists that drew them, and what was happening during the times to inspire them. Some are political, some are just to laugh at, and some others highlight specific artists so you can see more of their work. 781 Beach Street.
Ghirardelli Square
This is always a great place to hang out and just have fun when you are in the city. One of the reasons San Francisco is because it is home to Ghirardelli Chocolate. As they grew, they decided to build a whole area dedicated to it and bring in restaurants and more.
The Square offers visitors' numerous places to eat, shop and play. And, of course, if you love chocolate, make sure to take a tour of the factory while you are here! 900 North Point at the corner of Beach & Larkin Street.
Hyde Street Pier
Located on the western end of Fisherman's Wharf, this is a must visit area. It may not be as famous as Pier 39, but this is home to five different ships that are on the National Historic Landmark list.
The cool thing is that you can walk along it for free and see the ships and boats, and if you want to know more about them, you can take a paid tour inside some of them. It is really fun to see so much history right in the water in front of you.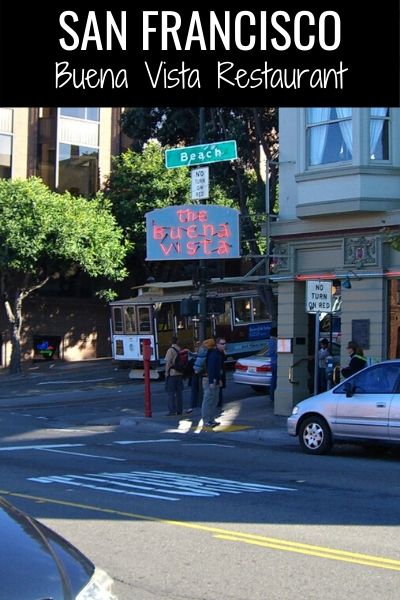 Comments? Questions? Suggestions?
I would love for you to join me in my private Facebook group! 
It's a great place to interact with me and others who know the area well.
You can ask questions, get advice for your upcoming stay, and then share your photos and advice with others when you return home. It's a great community and the fastest way to get answers to those nagging questions about your visit!