San Francisco Happy Hour: Ten of My Favorite Places

by Jill Loeffler  •

Updated: February 5, 2023
Almost every day of the week, you will find some amazing San Francisco happy hour specials. They range from the drink-only specials at the quirky Noc Noc in the Lower Haight to the yummy pizza and wine specials at Fly Bar in Alamo Square.

After doing back-breaking "research" just for you (wink, wink), here is a list of my ten favorites.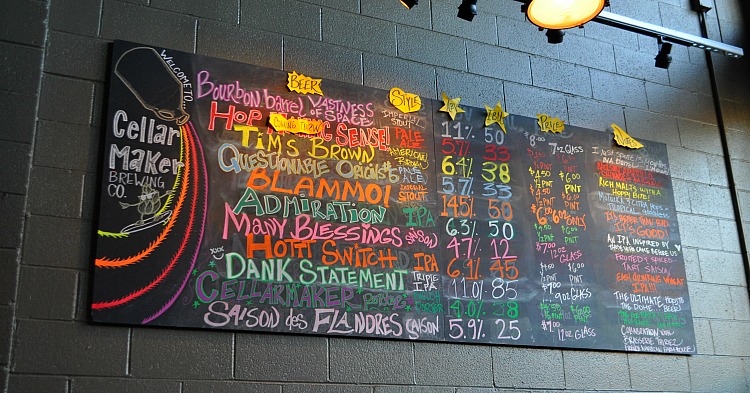 Disclaimer: I receive a small commission from some of the links on this page.

1. El Techo

Address: 2516 Mission Street
Neighborhood: Mission
Hours: Tuesday - Friday, 4 - 6 pm
As the name implies, this popular joint is a rooftop bar with great views. That is the main attraction, but one more great reason to come here is their happy hour specials. 
True to the Mission neighborhood, they specialize in Latin American drinks and street food. The prices during happy hour in San Francisco are half-off. You can get draft beer for as little as $5, a margarita for $7, or a pitcher of sangria to share for $18. 
It's pretty hard to resist the finger food to share, ranging from guac and chips to empanadas and fried chicken. With a limited menu, you know everything you order here will be excellent.
This is the perfect place to sit back, grab a drink, and enjoy the views!
2. Fly Bar

Address: 762 Divisadero Street
Neighborhood: Alamo Square/NoPa
Hours: Monday - Friday, noon - 6 pm
The Fly Bar is one of my overall favorite bars. Their San Francisco happy hour is just another excuse for me to walk through their doors. This bar has a local vibe with well-priced items
On weekdays, all afternoon long, you can take advantage of both their drink and food specials. They offer pizzas for just $8, house wine for $6, and sangria for $4, as well as $1 off pints.
During this time, I often order one of their draft beers and their hummus, pita, and veggie dish (I crave this stuff). Their pizzas are also pretty amazing (the caramel blue with blue cheese is my favorite).
It's the perfect way to kick off your afternoon or unwind after a long day at work or play!
3. Noc Noc

Address: 557 Haight Street
Neighborhood: Lower Haight
Hours: Every day, 5 pm - 7 pm
This funky bar typically serves the late-night crowd, so it's the perfect place to relax with a cold beer during happy hour.
They have a variety of select beers on tap and in the bottle. They focus on craft beers, so you will not find any Coors, Bud Light, or PBR. Their beer selection also rotates, so you can always try something new.
Noc Noc's specials starts when they open and lasts until 7 pm. During this time, you get draft beers for $5 and $2 off sour drafts.
As you sip on your drinks, take a look around the bar. The entire place is covered with interesting artwork.
4. Sens Restaurant

Address: 4 Embarcadero Center (on the Promenade Level)
Neighborhood: Financial District/Embarcadero
Hours: Monday - Friday, 3:30 - 8 pm
The Sens Restaurant is popular spot with the downtown crowd and those waiting to catch their ferries home. I recently joined a friend here during this time and was surprised at what I found.
The first thing I love about their happy hour is that it lasts a long time. You don't have to rush right over from work.
It also starts early, so you can head over mid-afternoon for a nice drink and some of their yummy appetizers.
Speaking of appetizers, I love the depth of the specials on their food menu during this time. You will find discounts on everything from their Mediterranean spreads (my favorite) to their New Caledonia blue prawns. I also love their crispy parmesan polenta and chicken wings.
They also offer a few drink specials. These rotate daily, so ask your server for them when you arrive.
Cheap Eats: Looking for some additional places to eat on a budget in San Francisco. My list of cheap eats offers a wide variety of options all around SF.
5. Jaranita

Address: 3340 Steiner Street
Neighborhood: Marina District
Hours: Monday - Friday, 4 - 6 pm
At this colorful and lively restaurant and bar, you'll find some of the best Peruvian food in town, and a great spot for SF happy hour.
They offer a selection of wine and beer, but the most popular drinks here are their signature cocktails, many of which allow you to appreciate different types of sake: tequila, rum, vodka, and Gekkeikan sake.
During happy hour, each costs just $8, or you can order a flight of three for just $15. 
For a fun Latin afternoon snack, try their delicious empanadas to go with your drinks.
6. Lush Lounge

Address: 1221 Polk Street
Neighborhood: Lower Nob Hill
Hours: Monday - Friday, 3 - 7 pm; Saturday - Sunday, 1 - 7 pm
Lush Lounge used to be my favorite neighborhood bar (until I moved to a new district!). However, I still head back here often for their amazing San Francisco happy hour specials.
The name of this bar says it all: Lush Lounge. This bar lives up to its name by pouring some of the strongest drinks in town. Believe me, you will only need a couple if you come here at any time.
The owners love to please their customers and have one of the best in town. They feature $3 can beers, $7 glasses of select wines, $8 glasses of select champagnes, and a variety of $8 - $9 cocktail specials.
Another pleasing part of it is that it is 7 days a week!
7. Beach Chalet

Address: 1000 Great Highway
Neighborhood: Outer Richmond
Hours: Monday - Friday, 3:30 - 6 pm
Beach Chalet is on the western side of Golden Gate Park just across the street from Ocean Beach and the Pacific Ocean. Even though it's far away from the heart of the city, it's one of the best places to enjoy San Francisco happy hour specials on a warm, sunny day.
The Beach Chalet's discounts include specials on pints of ale, cocktails, and a selection of wines. For things to munch on, try their delicious sliders, the crispy fried chicken wings or calamari, or their "burger-and-a-beer" special.
I love to trek all the way out here because of their plentiful and peaceful outdoor seating. It's unbeatable on a gorgeous day.
Even though they have free parking, the best way to get here (especially if you plan on having a drink or two) is on the 5 Fulton bus or the N Judah light rail train. Both stop about two blocks away from the Beach Chalet.
>> More great breweries around SF to check out
8. Bar Crudo

Address: 655 Divisadero Street
Neighborhood: Alamo Square/NoPa
Hours: Monday - Saturday, 5 - 6:30 pm 
Bar Crudo is the perfect place for San Francisco happy hour for those who love seafood. This cute bar and restaurant is just a block from Alamo Square in what is often referred to as the NoPa area.
It is from 5 pm to 6:30 pm Monday through Saturday. On their menu, you can order a select beer for just $5. You can also choose a glass of select red or white wines for just $7.
The food menu is why I like this place. They offer select oysters and mussels for just $2 a piece. Other favorites on their menu included their Chile Toreados for $7 and the seafood chowder for $9.
It's usually less crowded at Bar Crudo than many other places on this list, so it's a great spot to enjoy the evening out on the town.
9. One Market

Address: 1 Market Street
Neighborhood: Financial District/SoMa/Embarcadero
Hours: Tuesday - Friday, 4 - 8 pm
This is a very popular place for happy hour during the week for those working downtown. One Market is also a lovely, upscale restaurant, but note that it is only available in the bar and lounge.
Their specials include $6 draft beers, $8 glasses of select wines, and cocktail specials for $9. You can also enjoy small plates from their bar menu.
It's best to arrive early if you want a seat. We try to arrive no later than 4 pm (it's fairly packed by 5 pm). However, even if you don't get a seat right away, it's still a fun place to come and enjoy their specials. It's also a great place to meet people from San Francisco and around the Bay Area.
10. Santeria: Margarita Bar

Address: 2251 Market Street
Neighborhood: The Castro
Hours: Monday - Friday, 3 - 6 pm
Apart from the tasty drinks, one of the best parts about this one is that you can make reservations Monday through Thursday from 3 pm onward.
That way you get the best of both worlds: a guaranteed table in a lively joint, and the specials for food and drink. 
This place is famous for their homemade agave spirits, delicious infusions made from blue agave tequila with flavors ranging from prickly pear to guava. They make colorful margaritas that will instantly lift your spirits.
From the tacos to churros, this can easily become dinner before hitting the other fun Castro joints.
*All San Francisco happy hour specials mentioned above are subject to change.
Other Fun Things to Do

Comments? Questions? Suggestions?
I would love for you to join me in my private Facebook group! 
It's a great place to interact with me and others who know the area well.
You can ask questions, get advice for your upcoming stay, and then share your photos and advice with others when you return home. It's a great community and the fastest way to get answers to those nagging questions about your visit!