10 Places to Get Engaged in San Francisco: Special Places for that Very Important Moment

by Jill Loeffler  •

Updated: May 23, 2022

Are you looking for some lovely locations to get engaged in San Francisco? If so, you will find a number of cool spots on my list. They include bars with a view, gorgeous attractions, and a few waterfront restaurants.

There are an unlimited number of interesting places to choose in SF. These are my favorite and a great starting point that will inspire you and the love of your life!

Disclaimer: I receive a small commission from some of the links on this page.

1. Golden Gate Bridge

The Golden Gate Bridge is the first attraction that comes to people's minds when they think about getting engaged in San Francisco. I love this idea but recommend finding a spot off the bridge that is a bit quieter, and that allows for the bridge to be in the background.
The pedestrian walkways on the bridge are really busy, and it's often quite windy too, so that may detract from the beauty of your proposal. When you look at it from far away, it seems like the perfect place to propose, but I think it will be a bit too chaotic for such a romantic and important moment in your life.
What I would recommend is to find a great spot specifically near the southern end of the bridge. This is on the San Francisco side. There are several paths, some with benches, that would make a nicer, more private spot for you to pop the question.
This view would make for the perfect backdrop and a great place for an after-engagement photo.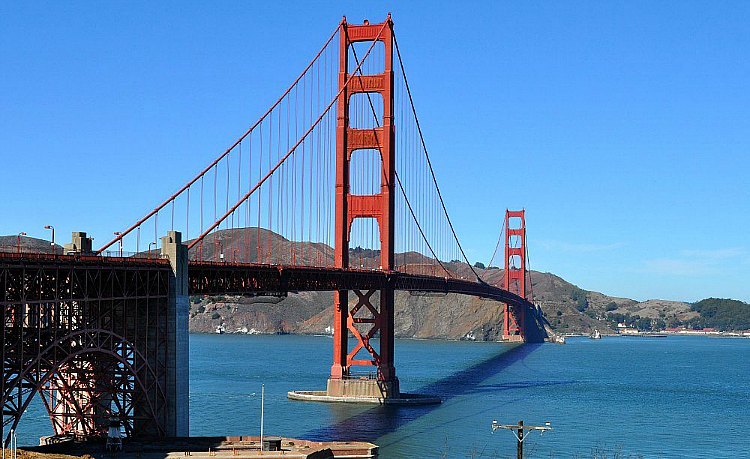 You will find this spot just past the Welcome Center on the southern end. There is going to be some foot and bike traffic here, but it will be nothing like you would deal with on the bridge itself.
>> This list will give you some great ideas
2. Twin Peaks

Twin Peaks is another cool place to get engaged in San Francisco. When you propose at the top of it, you will find some of the most gorgeous and unobstructed views of the city.
Looking east, you will see all of downtown including City Hall and Alcatraz Island. You can also see parts of the Golden Gate Bridge on the northern end.
The views are amazing, and it's not often crowded, which would give you a little private time to propose without people walking by you and your loved one.
3. Palace of Fine Arts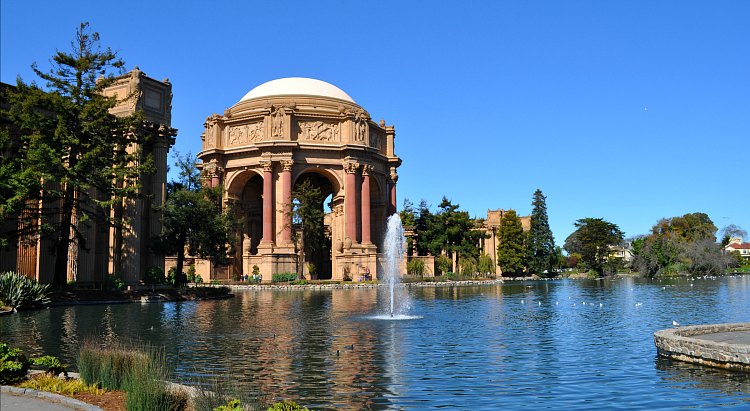 One of the best places to get engaged in San Francisco is on the lawn of the Palace of Fine Arts. This SF attraction was originally built for the 1915 Panama Pacific Exposition. It offers a nice place for a picnic lunch with or after an engagement.
Although you will find others around you as the stroll by around it, it still isn't a very crowded place. You can grab a blanket, bring along a picnic lunch (find places nearby to grab a nice grab and go lunch) and propose with an amazing backdrop.
The Palace of Fine Arts is on the northern end of town near (but not along) the waterfront.
4. Sunset Sail on the Bay

You could also head out on a sunset sail around the SF Bay for your proposal. This might sound expensive, but you would not have to rent your own boat. Several companies offer smaller tours which would allow you to propose with a small audience.
There is also plenty of room on the boats so you can escape for private moment on most sunset cruises.
The sunset sails usually offer a few drinks, and some offer light refreshments. You could propose on the deck as your boat is making its way towards or away from the Golden Gate Bridge and during gorgeous sunset views.
It would be a romantic gesture that wouldn't cost you too much money and would make for a nice story for years to come.
Here are a few options. Check the fine details to make sure it's the right experience for your proposal.
5. Top of the Mark

The Top of the Mark is a high-end cocktail bar at the top of the Intercontinental Hotel in Nob Hill. It's also another wonderful place to get engaged in San Francisco.

The bar is magical because it offers gorgeous views of the SF Bay and downtown. You can also see Alcatraz, the Golden Gate Bridge and other surrounding communities.
I would recommend calling ahead, booking a table and pre-ordering a bottle of champagne. Tell them your plans when you book your table and ask them to have the champagne chilling on the table when you arrive.
This might give it away a little but will make your significant other feel very special and loved.
6. Dinner Dancing Cruise

A dinner and dancing cruise is another fun way to get engaged in San Francisco. These cruises are a little more upscale, so you would have a good excuse to dress up for the occasion.
You would be served a nice three to four course meal during your cruise. They often offer a glass of champagne as you step aboard. You could propose either before dinner or after dinner on the deck.
You could also propose during dinner (maybe right before dessert) if you are okay with a few people around you both.
This is a wonderful romantic option for your important life changing moment.
Make sure to map out the departure point. Some leave from Fisherman's Wharf, while others leave from other piers such as Pier 3 and Pier 40 which are NOT in Fisherman's Wharf.
7. Painted Ladies of Alamo Square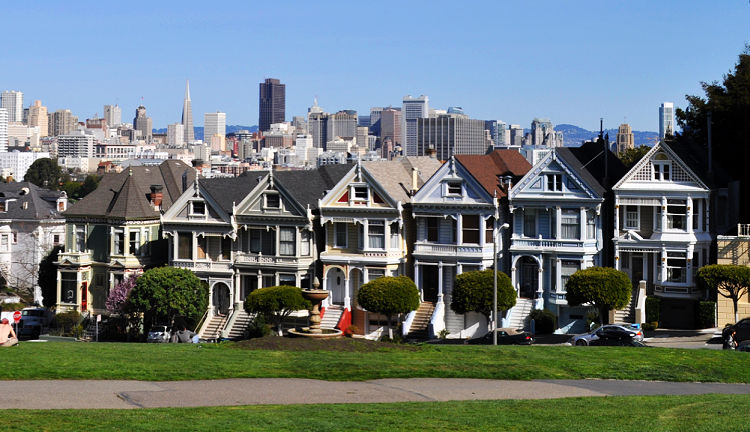 Painted Ladies of Alamo Square, the perfect places to get engaged in San Francisco.
Who wouldn't want the Painted Ladies of Alamo Square as a backdrop to pop the question? This is one of my favorite places and I think you will find there are several spots around Alamo Square Park where you can find a nice quiet place to ask your loved one to marry you. 
I recommend heading over in the afternoon. This is when the sun shines bright on these beauties and will make for the perfect, first engagement photo.
This place does get quite a bit of traffic so after you pop the question, you should easily be able to find someone to take a picture of you and your fiancé! 
>> More about visiting Alamo Square
8. Cityscape Bar & Lounge

The Cityscape Bar & Lounge is a bar on the 46th floor in the Hilton Hotel in Union Square. This gorgeous place is yet another perfect spot to get engaged in San Francisco.
The bar offers great views from all around San Francisco including window seats where you can see Alcatraz, the Golden Gate Bridge and the Bay Bridge.
There is also comfortable seating all around. It's a cozy, yet sophisticated atmosphere and a great find for your special day.
They feature tasty cocktails, wines by the glass including several bubbly options, draft beers, and small bites. They are open daily from 4:30 pm and close at midnight.
They do not take reservations, so you will want to call ahead and make sure they are not closed for a private event the day you plan to be there. If you get to the Cityscape Bar & Lounge right around closing, you can usually get a good seat along the windows.
You will find the Hilton Union Square at 333 O'Farrell Street.
9. Stow Lake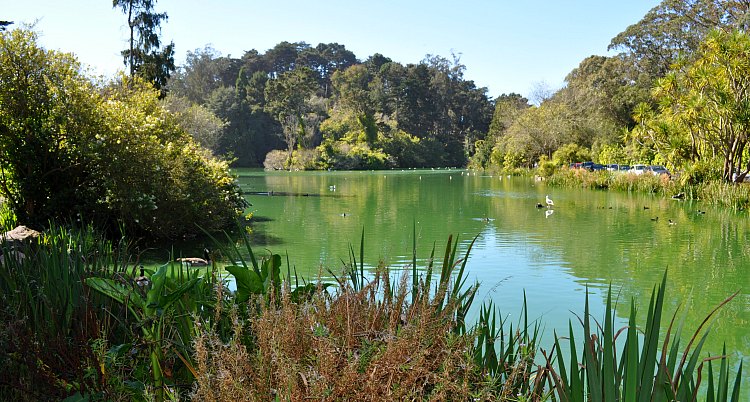 If you and your fiancé love the outdoors, you might want to consider renting a rowboat at Stow Lake. This option is best in the late spring, summer and fall when it is usually outside of rainy season.

Make the proposal perfect by being prepared by setting up in advance. Bring along a nice bottle of bubbly and something nice to snack on. Note that it must be non-alcoholic as you are not allowed to bring alcoholic beverages with you on it.
Also make sure to bring along a blanket in case it's a little cool on the water. Even though it's sunny in other parts of SF, it might be a little foggy here. You don't want a chill in the air to spoil your special moment.
The Stow Lake Boathouse is open most during the week from around 10 am to 5 pm. They are open from 10 am to 6 pm on Saturday and Sunday. They stop boat rentals about an hour before closing.
I recommend heading over in the early afternoon when the sun will warm up your occasion and you have fewer people on the lake.
They rent the boats by the hour and they are around $26 - $45 for each hour you use it. Trust me, it is definitely worth it!
Stow Lake is in Golden Gate Park on the western side of the city.
10. Romantic Restaurants

There are quite a few great restaurants that are ideal for getting engaged in San Francisco. Here are some of my top picks.
Waterbar: 399 The Embarcadero, high-end seafood restaurant with views of the Bay Bridge. Make a reservation and tell them your plan so you can get one of the best seats in the house near the windows by the water.
Epic Steak: 369 The Embarcadero, high-end steak house with views of the Bay Bridge. This restaurant is right along the waterfront also and right next door to the Waterbar. They focus more on high quality steaks. I would also call ahead and ask for one of the best seats with views.
Boulevard: 1 Mission St, another high-end choice for your special day. Boulevard is an elegant restaurant serving New American dishes.
Kokkari Estiatorio: 200 Jackson Street, has a cozy and intimate feeling and perfect for the occasion. Serves up Mediterranean and Greek dishes. You will find it in the Financial District.
Restaurant Gary Danko: 800 N. Point Street in Russian Hill near Fisherman's Wharf. American (new) and French dishes with a wonderful wine list.
Comments? Questions? Suggestions?
I would love for you join me in my private Facebook group! 
It's a great place to interact with me and others that know the area well.
You can ask questions, get advice for your upcoming stay, and then share your photos and advice with others when you return home. It's a great community and the fastest way to get answers to those nagging questions about your visit!