SF Asian Art Museum
Hours, Parking, Free Days & Tips to Visit
NOTE: As of August 6, San Francisco and Bay Area counties are slowing the reopening process due to a spike in cases. Many large events, theater performances, and concerts are cancelled or postponed. Click here to stay up-to-date with what's open and opening soon.
The SF Asian Art Museum is a personal favorite of mine. Inside this interesting San Francisco museum, you will get an up close look at more than 2,000 artifacts (from their collection of more than 18,000 pieces) created over the span of 6,000 years.
It also attracts a number of amazing traveling exhibits every year, so make sure to check these out too during your visit.
Brief History
What is the history of the SF Asian Art Museum? After a generous donation of artifacts from Chicago businessman Avery Brundage in 1959, a new wing was added to the de Young Museum to showcase his donated pieces.
Brundage continued to collect and offered the city of San Francisco an additional donation of pieces in 1969. However, he wanted SF to build a separate museum just to display these pieces. It was built in Golden Gate Park.
Upon Brundage's death in 1975, he donated the rest of his collection to the SF Asian Art Museum. His total donation was around 7,700 pieces over the years.
As the museum continued to grow, they needed a larger space to show their collection. They moved to their current location in March 2003.
Current Expansion Plans
In 2018, they started an expansion project which will allow them even more room at their current location. The SF Asian Art Museum will stay open throughout their expansion, but certain areas will close off from time to time.
This attraction in San Francisco sits about a block away from City Hall in the Civic Center neighborhood. It's only about a 10 minute bus ride from Union Square.
Disclaimer: I receive a small commission from some of the links on this page.
SF Asian Art Museum Visiting Tips: Hours, Tickets, & Tours
I absolutely love taking my time when I visit the SF Asian Art Museum. On average, I would allow for at least 2 to 2.5 hours to see all of the exhibits. Add on another 30 minutes to an hour if you plan to visit some of their temporary exhibits on the first floor.
Here are their current hours of operations.
Tuesday to Sunday: 10am to 5pm
Closed on Monday
During the busier season they are open until 9pm on Thursday nights with special programming and a chance to learn even more about the art and culture.
Ticket Prices & Discounts
$15: Adults
$10: Seniors (65 & older), College Students (with ID), & Youths (13-17) $10
FREE: Children (12 & under), SFUSD Students (with ID), Active members of the U.S. Armed Forces (& up to five family members with ID)
Most special exhibits cost about $10 extra per person
>> Pick up your tickets (they often offer a small discount on tickets for general admission)
You will need an additional ticket to see some of their temporary exhibits. You can pick up these tickets at the door when you arrive, so you can learn more about the exhibits before buying the tickets. Visit this page for a calendar of all upcoming exhibits at the SF Asian Art Museum.
Discount Passes that Include the SF Asian Art Museum
You can also save money on admission through one of SF's discount passes. These passes include admission to numerous museums and attractions around San Francisco. You can often save 40 to 50% vs. the cost of purchasing the tickets individually.
Here are a couple of the best San Francisco discount passes that include admission to the SF Asian Art Museum.
Go City: The Go City is a discount pass. It's a popular option. You have the choice to select the pass that is right for you based on the number of days you plan to use it. You can buy a 1, 2, 3 or 5 day pass. In additional to admission to the SF Asian Art Museum, you can also visit the California Academy of Sciences, the Aquarium of the Bay, or the SF Museum of Modern Art.
>> Visit their site to learn more
San Francisco Flexi Attractions Pass: Another San Francisco discount pass that includes admission to the SF Asian Art Museum is the Flexi Attraction Pass. Select 3 or 5 tickets for museums and attractions you want to visit to save up to 50% off their full retail price.
>> Visit GetYourGuide to learn more and pick up your pass
Free Admission Days to the SF Asian Art Museum
The SF Asian Art Museum is one of several San Francisco museums that offers free admission days once a month. Their free days are supported by Target and are the first Sunday of each month.
Free admission on these days include access to their permanent collection. There is still a charge to see some of their temporary exhibits.
>> Find a full calendar of free days at SF museums
Daily Guided & Multi-Media Tours
The SF Asian Art Museum also offers several free guided tours every day. These change frequently, so request a copy of their schedule for that day when you arrive.
You can also do a self-guided multimedia tour. The audio tour offers highlights of the exhibits in several languages. You can either download their app on your phone or borrow an iPod Touch for free at the front desk. These tours are offered in English, French, Spanish, Korean, Mandarin or Cantonese.
Enhance Your Visit with the Exhibit Videos
You will also notice several video players throughout the museum. Pick up the headsets and hit play to learn even more about the region, a specific country or the artifacts in a specific room.
Photo Policy
Many of the traveling exhibits do not allow photography. However, you are allowed to take photos in most of the rest of the museum (except where noted). Make sure you turn off your flash and leave your tripod at home.
SF Asian Art Museum Exhibits
You will find a large permanent collection as well as one to two amazing temporary SF Asian Art Museum exhibits. The floor space is well laid out and I have no doubt you will fall in love with their collection (like me!)
First Floor of the Museum
I recommend that you start your visit on the first floor of the SF Asian Art Museum. This is where they house the majority of the traveling exhibits.
After you enter, head to your left. You should see signs that direct you to the door where the special exhibit is located.
What are the current exhibits? Check the current calendar of exhibits for all SF museums by month.
Many of these exhibits do not allow photography, so make sure you ask before taking any pictures in this area.
After you view the exhibit or exhibits in this area, head to the other side of the gift shop. Here is where you'll find the escalator. Take it to the very top.
Third Floor of this SF Museum
The best flow for your museum visit is by heading up to the third or top floor. Once you exit the escalator, head into the door on the right.
The first exhibit you will view is the South Asia Exhibit. This is where you will see several works of art from India, Pakistan, Bangladesh and Sri Lanka.
Here is a photo from one of the six rooms that showcases this exhibit.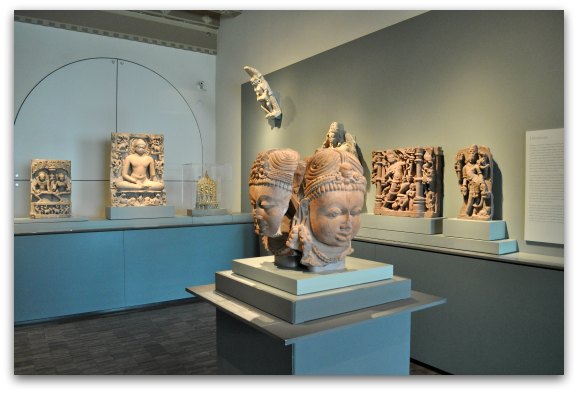 After you finish in these rooms, you'll see a small room off to the left featuring artifacts from Iran and the surrounding countries. This exhibit is called The Persian World and West Asia.
The next set of rooms is dedicated to Southeast Asia. The four rooms of this gallery include items from Cambodia, Thailand, Indonesia, Vietnam, Burma, Laos, Malaysia and the Philippines.
Here is just a sample of what you will see here.
You will then enter a small exhibit on The Himalayas and the Tibetan Buddhist World. From there, you'll enter the largest exhibit which includes hundreds of pieces from China.
The first room you enter is one of my favorites. It includes several small, yet intricate statues carved out of jade. It's officially known as the Chinese Jade Gallery.
There are three more rooms on the third floor showcasing larger statues from China.
Once you finish in the room shown above - continue down the hall and you will find a set of stairs. Take these stairs down to the second level. This is where you will find three additional rooms featuring more ancient artifacts from China.
Second Floor of the SF Asian Art Museum
The second to last room in the China exhibit is another one of my favorites. It shows you the intricacies of the written Chinese language.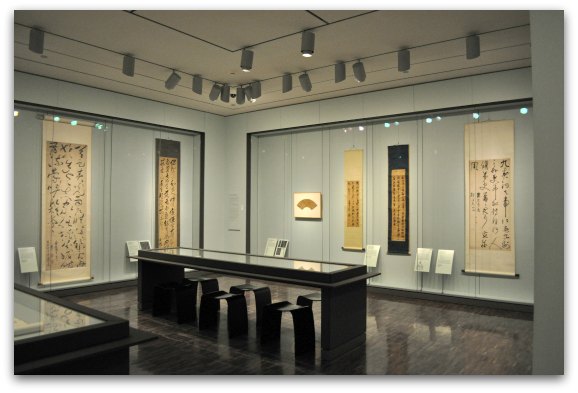 After you finish the exhibit on China, you will see three rooms with art from Korea. Some of the first pieces date back to 1392.
The next, and final, area is dedicated to art from Japan. Here you will see pieces depicting early Japanese life as well as porcelain, prints and tea related art.
Once you complete this exhibit, head out the doors and take the escalator back to the first floor.
Fun Fact: Which exhibit houses the oldest works of art? The China exhibit showcases pieces that are from around 221 BC.
Hotels Near the SF Asian Art Museum
You will find dozens of hotels near the SF Asian Art Museum. Here are just a few of my top picks.
Check out these pages for additional suggestions nearby.
Parking Near the SF Asian Art Museum
If you plan to drive, you will find plenty of parking near the SF Asian Art Museum. Here are a few options within a couple of blocks. All prices mentioned can change at anytime, so make sure to check with them when you pull in for that day's rates.
Civic Center Garage: This parking lot is under the Civic Center Plaza and right across the street from the SF Asian Art Museum. The rates range from $3 - $6 an hour based on when you are parked. The maximum rate is $35 for the entire day. It's at 355 McAllister Street.
UC Hastings College of Law Garage: Just a block up the street is another public parking lot. This one is $6 for your first hour and $3 an hour after that with the daily maximum at $29. It's a great place to park on Sunday as the rates are only $8 for the day. It's at 376 Larkin Street.
Fox Plaza: If both of those are full, my third choice is the lot in Fox Plaza at 1390 Market Street. It's my third choice because it's about 3 blocks away and you must enter off Market, which is a busy street. It's $7 an hour with a daily maximum of $25.
Tips to Get to the SF Asian Art Museum
From Union Square: The easiest way to get from Union Square to the SF Asian Art Museum is by taking a light rail Muni train or one of the street cars.
Light Rail: Pick up the light rail train at the Powell Street station at Powell and Market Streets. Take any of the outbound trains to the Civic Center stop. Once you reach street level, look for Hyde Street. Take this one block north to Fulton Street where you will take a left. Walk one block to Larkin Street and the museum is on your right.


F Street Car: The F Street car rides above ground along Market Street. Hop off at the Larkin Street stop. Head north two blocks to the museum.
Tip to Save: Did you know you can get three days of Muni rides with the San Francisco CityPass. Find out everything included with this great SF discount pass.
From Fisherman's Wharf: The easiest way to get from Fisherman's Wharf is by taking the F Street Car or the 47 Caltrain Bus.
F Street Car: You can pick up the F Street Car at the corner of Jones and Beach Streets in Fisherman's Wharf. You will then follow the same instructions as those above for visitors coming from Union Square.


47 Bus: This will take about the same amount of time as the F Street Car. Hop on this bus on North Point Street and take it all the way to the McAllister Street stop. Head across the street toward City Hall and continue for two blocks down McAllister Street until you see the museum.
BART to the SF Asian Art Museum: If you plan to take BART to the SF Asian Art Museum, take it to the Civic Center stop. This will get you within a couple of blocks of the museum and you can easily walk from any exit.
Caltrain to the SF Asian Art Museum: If you plan to take Caltrain to the SF Asian Art Museum, you will need to transfer to a local Muni bus. Pick up the 47 heading towards Fisherman's Wharf (ask the driver to confirm you are heading toward the Civic Center district). Take it to the Van Ness and McAllister stop. From here, head east three blocks to the museum. The bus trip takes about 20 to 25 minutes.
Hop On/Hop Off Bus Tour: Another great option to get here is the Hop On/Hop Off Bus Tour. It drops off less than a block away from the museum. Book your tickets today with City Sightseeing.
Local Secret: While you in the neighborhood, I also recommend a quick stop over at SF's City Hall. It's right across the plaza from the Asian Art Museum. It's free to enter and take a look around. You will not be disappointed. Find out more about this little known SF attraction.
What else do you want to know about the SF Asian Art Museum?
Other Museums You Might Enjoy