40 Things to Do in San Francisco Alone: Solo Travel Tips

by Jill Loeffler  •

Published: November 17, 2022
Are you planning to explore San Francisco alone? You will love the variety of attractions and other fun things to do here that are perfect for those traveling solo.
Some of my top picks include visiting Alcatraz, checking out the local bar scene, and soaking in the beauty of some of our Coastal Redwood trees.
On my list, you'll find options to meet others and truly explore on your own.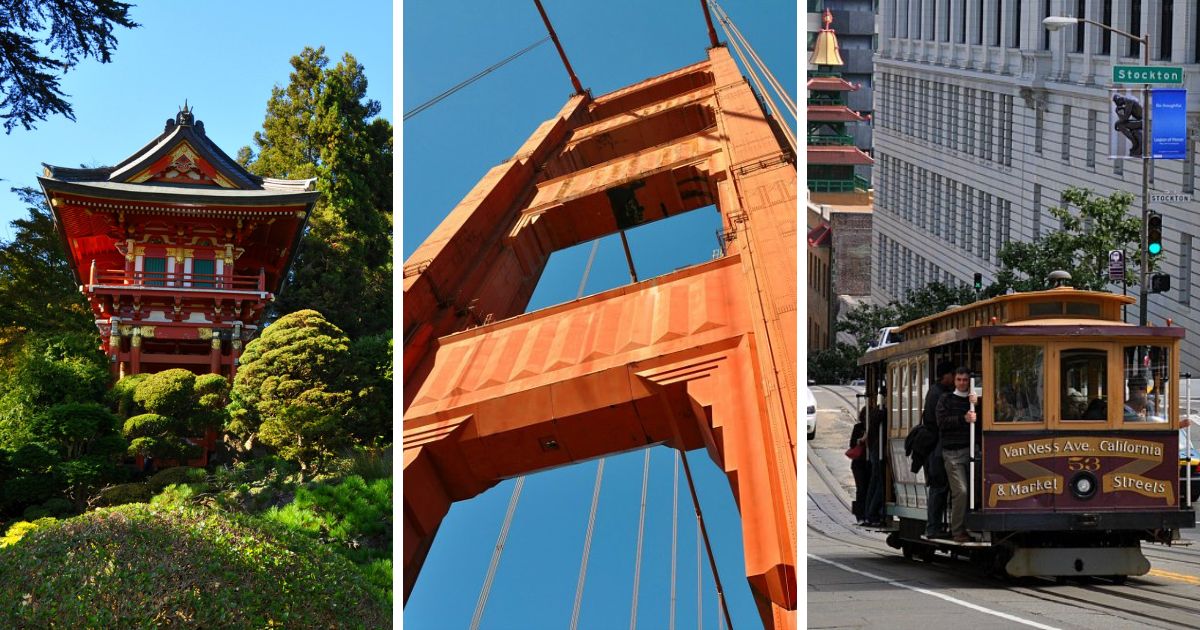 Disclaimer: I receive a small commission from some of the links on this page.

1. Alcatraz Tour

This one is easy to do alone, as the ferry will take you to the island. Once you get there, you'll take the 35-minute self-guided audio tour, leading you around the island and prison.
As you go around this attraction, you'll get amazing views of San Francisco, the Golden Gate Bridge, Marin to the northwest, and Angel Island to the east.
And, if you decide you want to talk to someone, there are rangers on the island who will give you lots of information. You can join a group tour or continue exploring on your own.
Strangely enough, since it is a prison, it is incredibly peaceful if you are on your own.
>> Find out more about the popular day tour
>> Read more about what to expect on the night tour
2. Ferry Building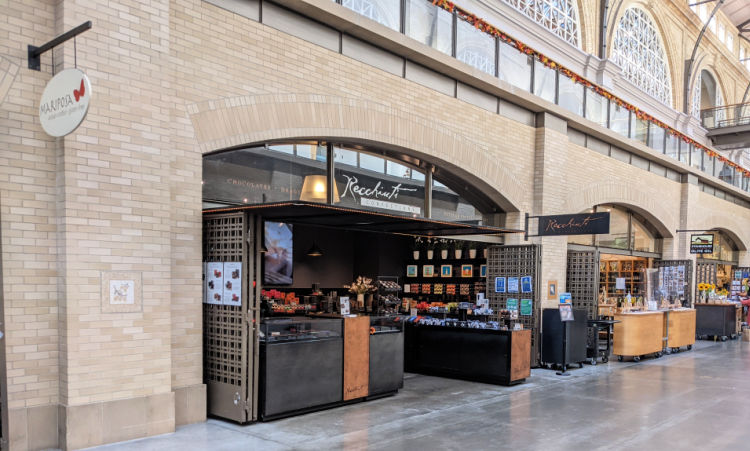 The San Francisco Ferry Building is always hustling and bustling, with loads happening every second of the day! So why do I recommend it to single people? For just that reason!
It is a total blast to sit there, either inside or out, and people watch as everything is going on. You can also take in the scenic views of the bay and the Bay Bridge as you enjoy the weather.
With so many amazing shops, it is the perfect place to shop for gifts for yourself or someone else. And, since there is so much great food, I often like to bring a book, buy something yummy, and just read and relax.
>> Check out this great Farmer's Market and Food Walking Tour of the Ferry Building
>> More about what there is to see and do here
3. Ghirardelli Square

The reason that I'm suggesting you check out Ghirardelli Square on your own is that you can taste and enjoy all the chocolate you want without anyone judging you! Just kidding (sort of).
I love that it's such a wonderful place to relax and enjoy a gorgeous area of the city. The courtyard is the perfect place to hang out, read, or watch the world go by.
It is a very safe area, so I usually don't have to worry about anyone bothering me.
This place offers a variety of local restaurants and other fun things to do. It also hosts special events, such as art shows, which I almost always enjoy going to alone so I can spend as much time as I want and not be influenced by others.
>> More things to do around Fisherman's Wharf
Additional Tours from Fisherman's Wharf
4. San Francisco's Cable Cars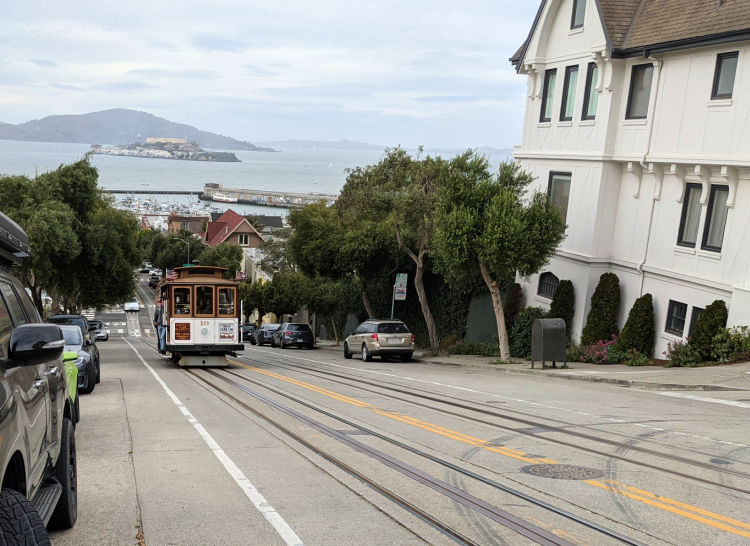 Why would I suggest going on a cable car by yourself? Because you will be able to get the full experience of the ride and see so much more than you would expect.
I often find that when I'm with friends, I miss so much of the scenery and what is happening around me as I'm talking and focusing on them.
However, when I'm on a cable car alone, I feel like I'm in a different world and can observe the people, the surroundings, and even the cable car itself.
This may sound a bit strange, but just looking around at the cable car lets me imagine what it was like back in the days when this was the main form of transportation. I think of the people, their clothes, where they were going, and their lives.
Taking a cable car by yourself may give you a little glimpse into how San Francisco used to be.
>> Find out more about our famous cable cars
5. Clam Chowder at Boudin Bakery

Most people think Fisherman's Wharf is utterly busy and full of tourists. And, to be honest, this can be true. But what most people don't realize is that Boudin is a perfect place to eat alone as you soak in the views.
I like sitting on the patio, outside the second floor that overlooks the San Francisco Bay, as I munch my Sourdough Clam Chowder Bowl.
It feels like such a treat to take in the view of the Golden Gate Bridge, Alcatraz Island, Marin, and so much more while enjoying one of the city's signature dishes.
I also enjoy watching the bakers make the bread and the conveyer belt that brings the bread around through the window on the first floor.
>> More great places to try out tasty clam chowder
6. Golden Gate Bridge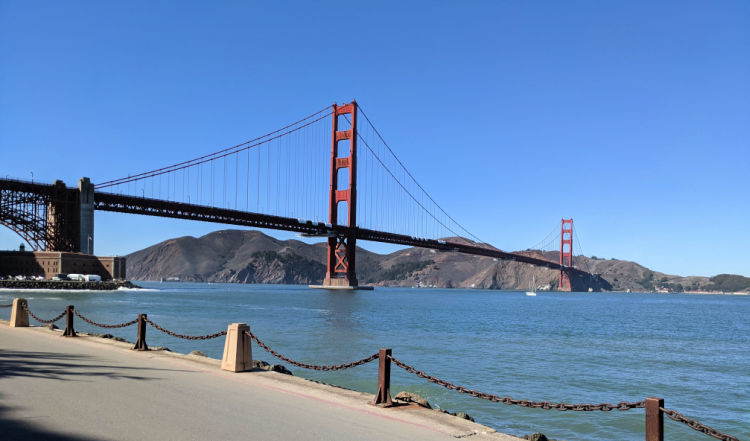 There is nothing like experiencing the Golden Gate Bridge on your own. There is just something magical about traveling solo across it, as you can see and focus on so much more than if you are in a group.
I like taking my time looking in all directions. Towards the bay, you'll spot Alcatraz and the sprawling metropolitan Bay Area in the background. Towards the Pacific Ocean, I can sometimes see birds, dolphins, or even whales.
When I'm with other people, we are usually too busy talking and might miss them. Alone, I can also pay more attention to the feel of the bridge beneath my feet as it moves depending on the weather.
There is no other place like it to see a sunset in San Francisco when you are solo.
>> Everything you need to know to visit
>> Best places to photograph the bridge around SF
7. Cable Car Museum

For the same reason, I suggested taking a cable car solo, I suggest visiting the Cable Car Museum on your own. You can step back in time and into a different world.
Here you will learn about how the San Francisco Cable Cars came to be and their unique variations.
You'll get to walk around, enjoy many exhibits, and see classic cable cars that you won't see anywhere else in the world. This includes some from the 1870s!
I love watching the engines and cable car wheels operating in real-time, with their massive cables pulling the cars across the city. They remind me of all the hidden work that goes into these elegant machines and what it must have been like back when they were built.
It always leaves me in awe of this beautiful city's power and grace.
>> Find additional visiting tips
8. Japanese Tea Garden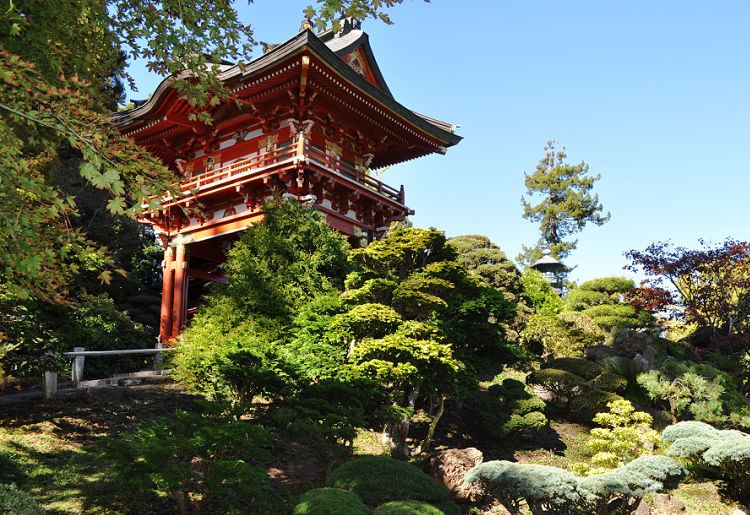 The Japanese Tea Garden is located in Golden Gate Park. As you would imagine, the park can get pretty busy and lively. However, the second you step in through the beautiful wooden gates of the Japanese Tea Garden, you'll think you've been transported to a different time and place.
I've always found it to be one of my favorite "getaways" when things get too busy. I love to walk around the perfectly manicured gardens, take a book, grab a seat, and read for a while.
I'm always amazed at how many different plants and trees there are here and how I almost always find something new when I come alone. It's a peaceful place to observe and meditate.
Without question, every time I visit this wonderful garden, I feel rejuvenated and relaxed.
>> More about what to expect when you visit
9. Pier 39

I think Pier 39 is highly underrated for those traveling solo. There are so many things to do here that I think you'll love adventuring on your own. In fact, between shopping, eating, seeing live shows, and more, you'll wonder where the time went.
It may sound funny, but almost every time I go to Pier 39, I take a ride on the carousel there. It is beautiful, everyone is smiling and enjoying it, and I feel like a kid again.
And, if you want to take a break from everything, you can walk to the end of the Pier and watch the sea lions bark and fight for space on the docks. The views are, of course, excellent too.
I also enjoy checking out the "Locks of Love" fence, where people put up locks with their names on them to signify their everlasting (I hope!) love for each other. It is fun to see new ones and guess where they are from.
>> More about what there is to see and do here
10. Muir Woods Tour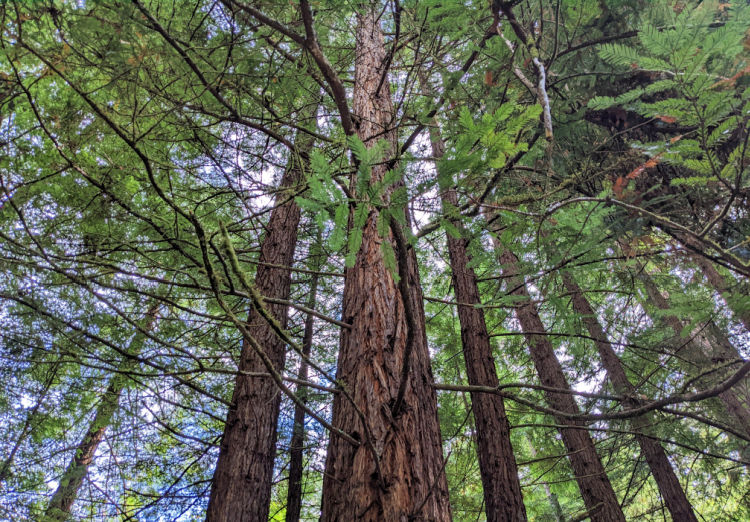 You might be surprised, but I often see people taking the Muir Woods Tour alone. I think this is because it is so relaxing, beautiful, and such a memorable experience that they want to enjoy it fully without distractions.
The tour starts in San Francisco, where you hop on a bus and go through the Marin hills. The bus driver will give you lots of information, and you can enjoy the views along the ride.
When you get to Muir Woods, the walk through the forest surrounded by these massive redwoods is so peaceful. You will feel like you have stepped back into a different era and will love taking it in without distractions.
I also like that the tour stops in Sausalito, which allows you time to explore this small, but cute town.
>> Learn more about one of the top-rated tours to Muir Woods
>> Find out more about visiting
11. Ferry to Sausalito

Sausalito is a quaint waterfront village on the other side of the Golden Gate Bridge. You can easily take the ferry here from San Francisco, which usually takes about 30 minutes.
The ferry is large enough that the waves shouldn't bother most people, and there are three decks. Depending on the weather, I usually sit at the top to get the best view.
I love Sausalito, whether I'm with people or flying solo. It is one of the most idyllic towns in the Bay Area. The main thoroughfare is right on the bay's edge, and you can see over to San Francisco as you walk by cute stores selling local goods.
It leaves every hour or so in the morning and evening but only every few hours in the mid-day, so you'll want to check the schedule.
>> Pick up tickets in advance for the Sausalito Ferry
>> Tips to take the ferry to Sausalito
12. Bay Cruise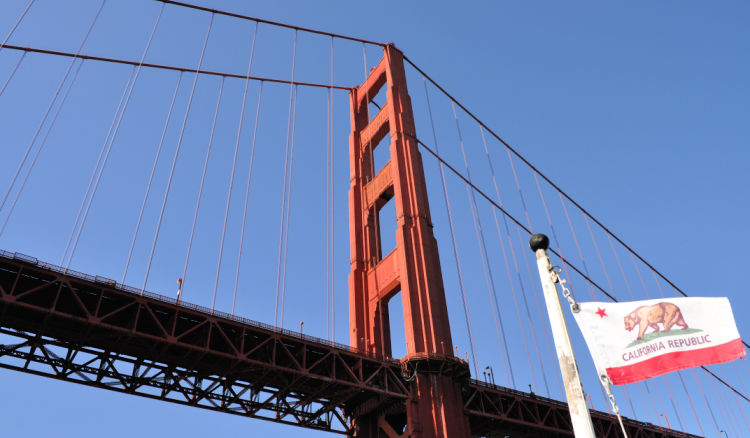 Bay cruises are the best when I want to spend time alone. I like that everything is planned out for me in advance, including when to arrive, where to arrive, what will happen on the cruise, and when I get back.
I've done most of the bay cruises, and they all offer a little different. Sometimes I'll do a basic daytime cruise, but if I'm in the mood to watch the sunset, I'll take a twilight cruise.
And depending on the day, I might even go on one of the champagne brunch or wine-tasting excursions. I like these since people are usually very friendly and open to talking if I choose to interact. It is also a safe way to meet people, as the staff is always nearby and ready to help.
>> Find details for the popular bay cruise
>> Additional bay cruise around SF
Additional Cruises I Think You Will Love
13. City Lights Bookstore

I mean, where else would you want to go if you travel alone and want an authentic San Francisco experience? City Lights is famous thanks to Beat writers such as Jack Kerouac, Lawrence Ferlinghetti, and many more.
The bookstore is loaded with books and other things you could spend hours just looking at and walking through. And, if you decide to read, you know you are in the perfect place. There is no chance anyone will bother you as this is considered sacred ground for book lovers.
I also love that there is a cool art exhibit of a bunch of "flying books" just across the street. I love to bring a book (or buy one), sit there, read, and look up at them every so often. Even if you are alone, you are always with your imagination!
>> Find some additional bookstores I love around SF
>> More about visiting North Beach
14. Vesuvio Cafe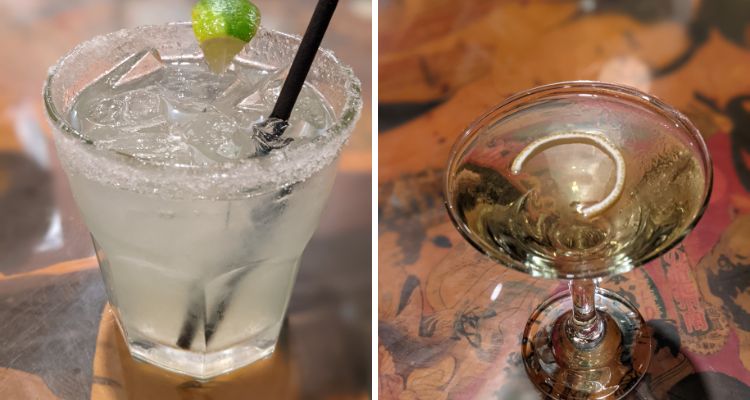 Right beside City Lights Bookstore is the classic Vesuvio Cafe. This cafe contains all kinds of memorabilia from the Beat Generation, including posters, paintings, and more.
I like coming here because the people-watching is terrific. Being so close to City Lights, this location brings in folks from around the world and from every walk of life.
It is enjoyable to come in and imagine how intense and exciting it must have been back in the day when the Beats were here, having their discussions about revolutions and how they'd change the world.
If you talk to some of the people here, you might find yourself in really interesting conversations!
>> Additional details about the Vesuvio Cafe
15. Chinatown

Chinatown is a bustling place, making it easy to explore on your own since there is always something going on.
I love coming here because there are various things to do. I can eat at a fantastic dim sum restaurant, do some shopping for friends or myself, or go to the Golden Gate Fortune Cookie Factory and watch as they make fortune cookies at lightning speed!
I also like checking out all the street art and murals throughout the area. It is incredibly safe, and the people are very friendly, but I never have to worry about anyone bothering me.
>> Check out this great guided tour around Chinatown
>> More of what there is to see and do here
16. Crissy Field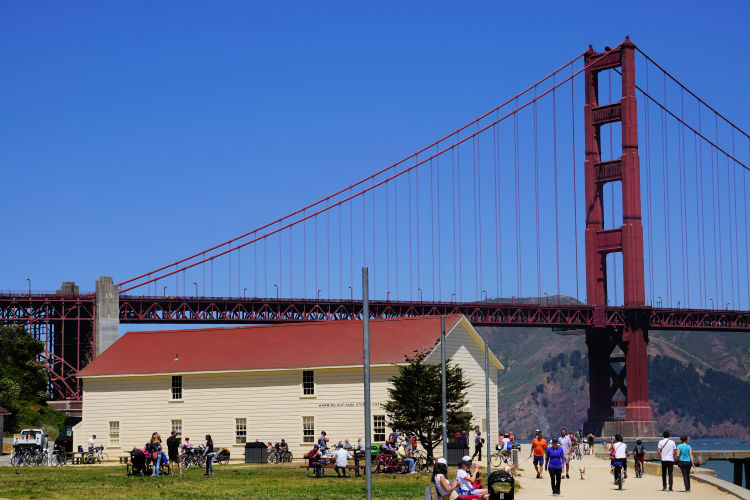 Crissy Field is fantastic for when I want some getaway time to relax by myself because there is so much space to roam around here.
It is fun to wander around the beach, watch the wildlife, and enjoy the over 100,000 native plants planted during the restoration in 2001. There are several paths that you can walk, jog, cycle, or scooter on.
Checking out the old buildings and visitor center is a great way to get lost in the past and learn simultaneously. I personally love going to the Warming Hut when I want to grab a cup of coffee and, understandably, warm up when it is cold.
17. Alamo Square Park and the Painted Ladies

Almost everyone knows of the "Painted Ladies" or the "Seven Sisters" since they have been photographed millions of times and were also featured on the TV show "Full House." However, not everyone knows that there is a gorgeous park directly across the street from them.
The park is Alamo Square, and it is the perfect place to have a picnic or sit in the sun and enjoy the views of the city, looking out towards the Bay Bridge and East Bay.
I like to sit at this park because it usually isn't very crowded, and I can almost always get a place in the sun or under a tree, depending on the weather.
>> More about our Painted Ladies
>> More about visiting Alamo Square
18. Lombard Street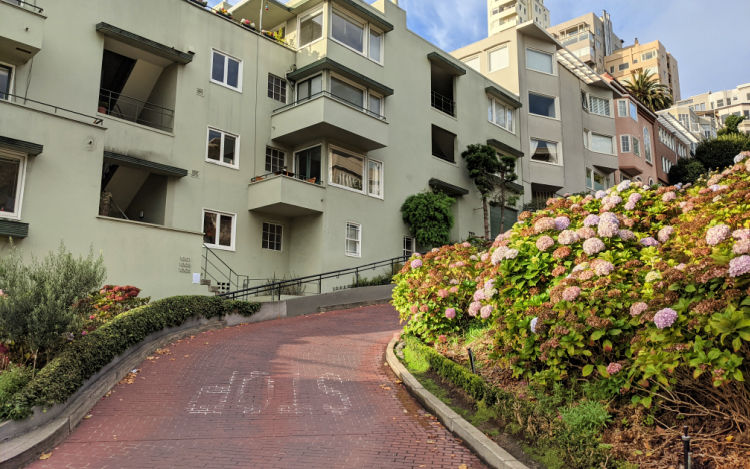 When you are in San Francisco, you have to visit Lombard Street! Known as the "Crookedest Street" in San Francisco, it is fun to walk up or down it or admire its steep, brick-lined curves from afar.
I enjoy it by myself because I can take all the time I want, check out all the flowers and trees, and not feel rushed or hurried to go anywhere else. A lovely stairway goes along both sides of the street, and the views differ depending on which one you take.
A nice treat is that if you want to take some photos of yourself there, there are always other tourists around, and they are usually very friendly and happy to help. For all you know, you might make some new friends and decide to hang out with them!
If you plan to drive down Lombard Street, you can expect a pretty long wait, yet it is fun to see everything from a driver's point of view since you get to take the tight turns yourself.
19. Angel Island

Many people, including locals, don't know they can visit Angel Island in the bay. Because of that, it is a great place for solitude since there are so few people on the island.
It's a fun day solo trip since the only way to get there is by ferry ride. It is a beautiful island to hike on, with many paths and few people. You can also rent a bike or take a Segway Tour if you want to see the island differently.
In addition to the incredible views of the bay, you'll want to stop at the island's cafe, visitor's center, and museums. Angel Island functioned as an immigration station during the Chinese Exclusion Act, and you can still see the poems the detainees wrote on the walls.
Another reason it is a great place for solo travelers is because no one lives here, so it is very safe. It truly is a beautiful place for anyone traveling on their own.
>> More about what there is to see and do when you visit
20. Napa Wine Tour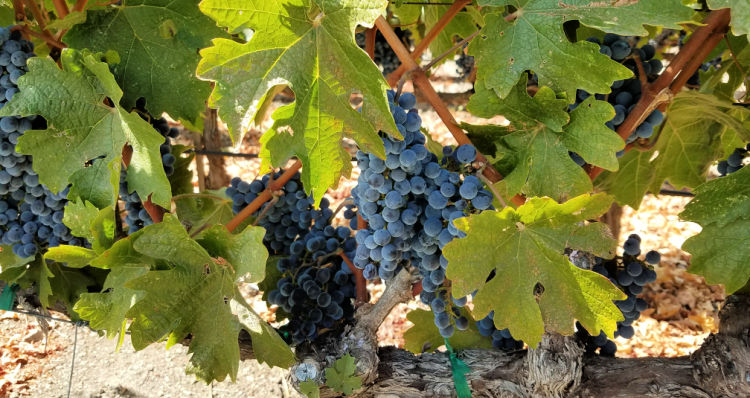 If you are on your own and want to taste a bit of Napa's finest, taking a wine tour is probably your best bet to have fun and not worry about driving anywhere.
I like doing these tours because they pick me up in San Francisco, do all the driving, and allow me to taste some wine and have a yummy lunch. I don't have to worry about anything other than ensuring I'm where I should be at a specific time.
I've also met new friends since everyone seems to loosen up after a few drinks. Therefore, I like these tours since I can either stay alone or meet new people, depending on my desires for the day.
>> Check out this highly-rated wine tour from SF
21. Haight-Ashbury

Probably one of the most, if not the most, famous districts in San Francisco is the Haight-Ashbury. It is known as the place the hippies, and psychedelic rockers hung out in the 1960s and 70s. You can still feel the "vibe" in the air when you visit it.
I love that it is easy to get to from almost anywhere in SF. The people are mellow, and you won't be bothered as you walk from store to store or pop into the cafes and record shops.
Since there is so much to see and do here, take your time. The store owners and restaurant owners are used to people just browsing, so enjoy and chill out. If you decide to check out Golden Gate Park, it is an easy walk to the Panhandle.
>> Fun things to see and do here
22. Coit Tower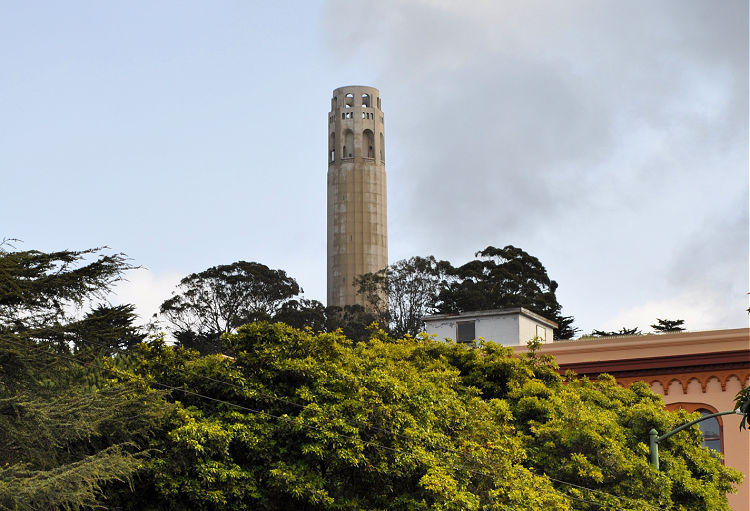 This is the place for you if you want quiet, beautiful art, and a fantastic city view. Coit Tower is a large tower on a hill between North Beach and Fisherman's Wharf, so it is also reasonably easy to access on your own if you want to take a walk.
I love going here because people are usually fairly quiet since there are historical murals on the first floor painted in the 1930s. They are very pretty and interesting to walk around and check out.
If you want to be with other people, you might find other art lovers and can converse with them.
The next part of Coit Tower I love is going up to the second level and getting the amazing 360-degree view of the city. It is the only place in the city that will give you this kind of view, and there is no time limit, so you can enjoy it and take all the time you need there.
Again, if you decide you want some company, there will be other tourists talking about their views and travels, and you can join in if you want.
23. Mission District Food Walking Tour

This is a wonderful way to be alone in San Francisco but with others and get to "take in" great food and a terrific scene. The Mission is a district focused on Latino and Latina heritage and a wonderful place to get photos of murals and art and eat some of the best food in the city.
This tour is one of my favorites since I can listen to the tour guide, hang out and people-watch while learning about the district, and also be able to interact with others depending on my feeling that day.
It usually lasts about 3 hours and, as mentioned above, you'll try some of the best Latin American food anywhere in the nation. You'll go to an Italian delicatessen and learn about how this district came to be and what it means to the city in the past and today's world.
It is a relatively small group, so you can interact as much or as little as you want.
>> More about this fun walking tour in San Francisco
24. Walking Tours with SFCityGuides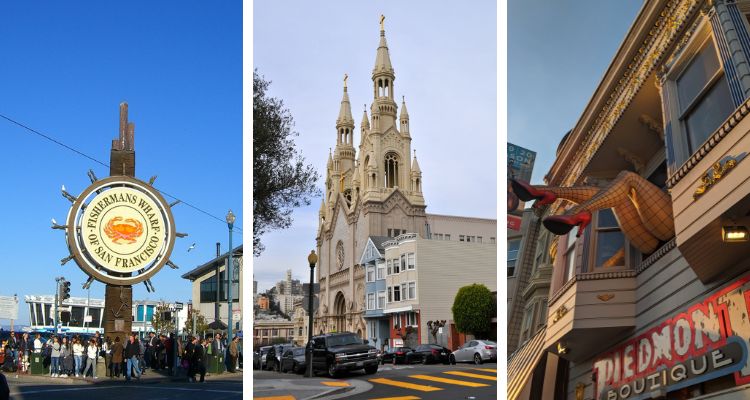 As with the Mission Food Walking Tour above, the SFCityGuide tours are a perfect way to chill by yourself, learn about the city, and not stress about anything, as the guides are usually native SFers and love to share their knowledge with everyone.
You'll learn about specific neighborhoods, the 1906 Earthquake, and other events in the history of San Francisco. They are free, but they do ask for a donation of $10 to $12 per person.
Since you are on your own and they are a couple of hours, they are one of the best deals for tours anywhere.
Just so you know, even though I'm a local, I almost always learn something new on these tours and enjoy them.
>> What to expect, top tours, and more
>> Visit their site for additional details
25. Stow Lake

Located in the gorgeous Golden Gate Park, Stow Lake is a perfect escape from the business of the City. It is a man-made lake, and they did a fantastic job incorporating the best of everything in nature here.
You are more than welcome to walk around it and enjoy the scenery. If you want to hang out and sit on a bench and take in the beauty and clean air, go for it.
However, if you want to do a bit more, here are a few suggestions.
There is a nice hike you can take to the top of Strawberry Hill, you can rent a pedal boat and go out on the lake, chill out in the Chinese Pavilion, and do my favorite, watch the Huntington waterfalls on Strawberry Hill.
There are often other people cruising around, and most are pretty relaxed, so you can enjoy time alone or interact with others who love quiet. There is also a lovely cafe if you want to grab something to eat.
>> Things to do near Stow Lake
26. SF Museum of Modern Art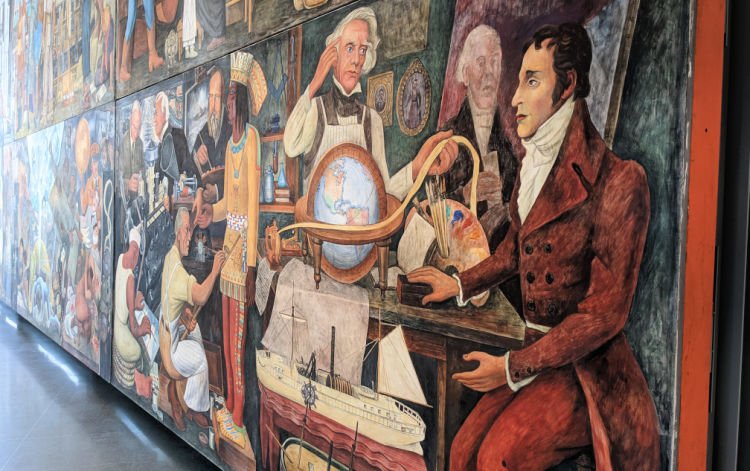 Located in the South of Market District, this famous modern art museum is just a quick walk to Union Square (a great place for people to watch or do a bit of shopping). There are several floors of artwork, which will give you ample space to spread out and find the right place for you no matter how often you visit it.
The museum has pieces from all over the world and from so many artists, it is impossible to list them. However, a few of my favorites are Henri Matisse and Diego Rivera.
They also have audio tours if you want to be in your own world. It is a great way to delve into art and peacefulness. There are also docent-led tours if you want more interactions with others.
>> What to expect when you visit
27. Biergarten

If traveling solo in SF, you wouldn't think a beer garden would be on a list of things to do. However, it is a great place to people-watch, drink a few fantastic German beers, and meet some locals if you want to engage with others.
The beer is delicious here, and the food is out of this world. I love their Pork Belly Sliders, the "Currywurst," or a simple Beet Salad.
The locals, and other tourists, are usually in a good mood since they've had a few brews and might invite you to join them, or you might invite them to join you too.
It is a lot of fun and has a lot of great food and brews.
>> More places to grab a local beer in San Francisco
>> More fun things to do in Hayes Valley
28. Guided Bike Ride over the Golden Gate Bridge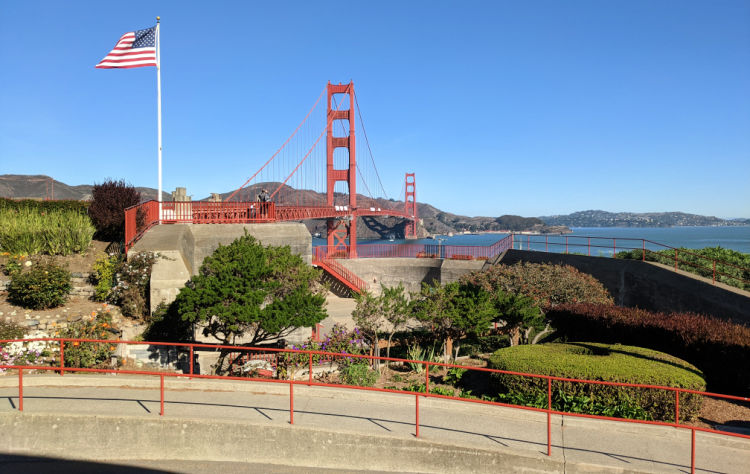 I've previously mentioned going across the Golden Gate Bridge alone in San Francisco, but I don't want to ignore going on a tour with others. It is a lot of fun seeing things through others' eyes, as you'll hear them talk about what they are seeing and doing, just as you are doing the same.
People are always friendly and in great moods on these tours, and the guides are always cheerful, friendly, and knowledgeable. The interactions are up to you since no one will push you to talk to them or ride beside them.
But I've found it fun to ride beside someone and have a little conversation. Sometimes this even grows into something bigger, and we end up hanging out...heck, maybe we even go to the Biergarten listed above!
No matter what, it is a great way to learn about our famous bridge, and you can interact or enjoy it on your own.
>> More about this fun guided tour
>> More about cycling the Golden Gate Bridge on your own
29. Hop on Hop Off Bus

The Hop on Hop Off bus tour is a perfect way to spend 24 or 48 hours doing your own thing while learning all about the City by The Bay. Since you can get on or off anywhere, you can enjoy the ride or hop off to visit a popular local attraction.
These bus tours are usually a great way to visit different areas of San Francisco and hop off in an area you might not otherwise stop at and enjoy.
People are almost always friendly, and many may be interested in places you are interested in. And, if not that, they may be locals with friends and know more about San Francisco and invite you to listen in or hang out.
>> More details about this Hop On Hop Off Tour
30. California Academy of Sciences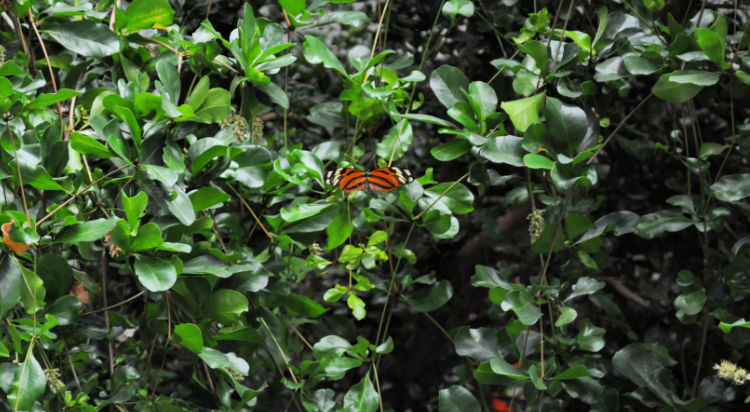 I always suggest checking out the California Academy of Sciences, whether with a group or alone and no matter how many times you've visited San Francisco, it is so amazing.
I love that it is in Golden Gate Park, which, as you've seen, gives you many chances to do things on your own, and it is another perfect place to spend time alone in San Francisco.
There is too much to do here to cover it all, but here is a quick recap: The four-story Osher Rainforest, the Morrison Planetarium, the Kimball Natural History Museum, and the Steinhart Aquarium, just for a start! Trust me, you can spend the whole day here and feel like you are in your own world.
I've never been asked anything by anyone here, so if you want to invest time and be alone, you will love it here. Of course, some kids may make noise, but they move along pretty quickly.
31. Double Decker Night Tour

This is one of my favorite tours when I want to chill out (and trust me, you'll want to bring a jacket if you are sitting on the top bus deck!) and learn about a few districts in San Francisco all in one evening.
I like this one since it is 2 hours, and depending on the seasons, it can be at night or sunset, so I always get a different "view" of San Francisco.
If I want to be by myself, I can usually find a solo seat, or if I want more interactions, I can sit beside someone else or even sit near a group. I've often found that groups will include solo people with a few "hellos" or "Where are you from?" but not be pushy or disturb me if I want to take in the views and information.
I like having that choice and a nice way of meeting new people if I'm feeling like it.
32. Ghost Tour

I love being spooked but knowing I'm safe, especially when I want to go out on my own. It's one of the reasons I think you'll love these ghost tours as much as I do. Some of them run all year round, while others are special such as the ones that only run during Halloween.
There is a nice range to choose from, starting with the well-known "Alcatraz Night Tour," which happens almost most of the year. Then you have the Nob Hill Vampire Tour, the SF Ghose Tour, and more.
You will be more than able to hang out by yourself, listen to the guide and enjoy yourself, but you might also want to make some friends just in case it gets scary. Just make sure that the friends you make are alive and not ghosts!
>> Find out more about these fun ghost tours
33. Craft Beer Walking Tour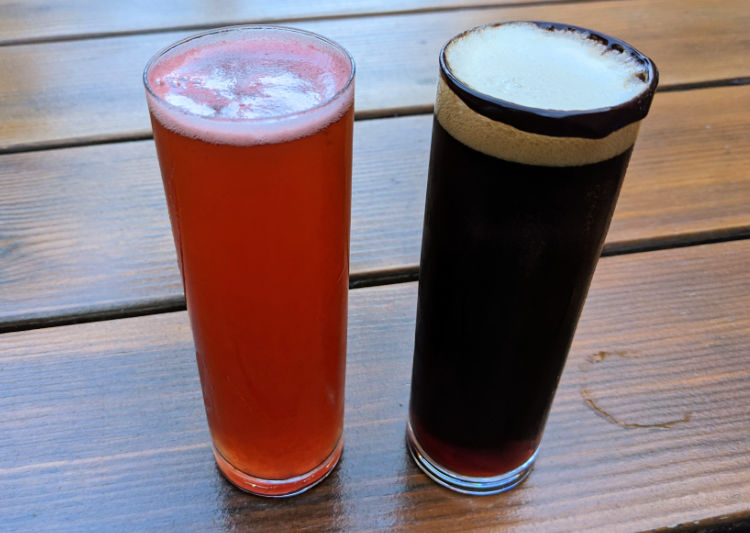 You might think that going on a craft beer walking tour is a strange way to fly solo, but you'd be wrong. I like this one because I get to meet new friends, and everyone is happy and friendly, but I can also walk off to the side when I need a break.
I love that it lasts about four hours, it goes to three breweries, and you'll get to choose what type of experience you want to have during this adventure. The guides are always friendly and have loads of fun information, and I also get to learn about San Francisco landmarks while cruising around on it.
Since you can taste four or so beers at each location, this is a good way to meet some people and connect with others while having a great time.
>> Learn more about this guided tour
34. Beach Chalet

Step back in time and grab a window seat to watch the waves break over Ocean Beach. The Beach Chalet is on the most Eastern side of San Francisco. It is a majestic building and restaurant if you want to escape the busyness of the city and enjoy some quiet.
I love that they have an on-site brewery, so you can take a few photos, or even selfies, with these one-of-a-kind brews while hanging out there. I enjoy their sampler set as I like trying several different beers instead of sticking with one.
They also have a great selection of food from clam chowder in a sourdough bread to a steak and lobster place that you won't forget!
I also usually bring a book out with me and take time doing nothing but watching the waves and the surfers doing their thing. And I can also go for a walk before or after on Ocean Beach depending on the weather.
>> More about what it's like to eat here
35. Amelie Wine Bar in Nob Hill

Amelie Wine Bar has won too many awards to mention, so I'll leave it to that. Simply stated, if you love wine, love excellent food from recipes you've never imagined, and want to enjoy an incredible atmosphere, this is the place for you.
Their wine list will make your palette happy, as they have over 60 wines on tap and close to 100 by the bottle. When I'm on my own, just like with the breweries, I love that I have so many wines on tap, as I'd prefer to taste and experience more than one type.
As stated, I'll sometimes go here by myself and chill, but I've also met others who love wine, and we can get into some fun discussions. So, as with many other things to do solo in San Francisco, you can also make friends if you choose to do so.
They often have live music, and the atmosphere is very relaxed and stylish. Being that this is San Francisco doesn't mean you have to dress up to go here, but you can if you want.
>> Find a full list of great wine bars around SF
36. Concert at the Chase Center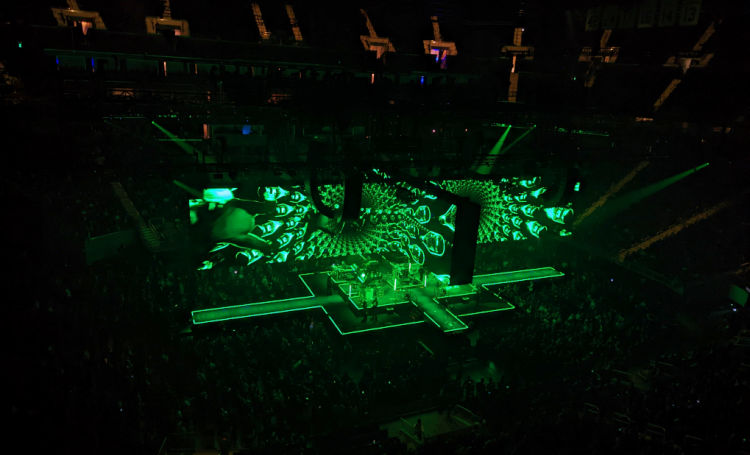 Some of the biggest names in music come to San Francisco, and when they do, they often play at the Chase Center. As you may know, this is also home to the Golden State Warriors, so every seat is fantastic.
I love going here for concerts because I can enjoy the music alone, or if I'm feeling more interactive, I can talk to the people beside me.
I am often surprised that I may start thinking of just chilling by myself but then overhear someone talking about something interesting, and we get into a conversation. It is a fun and relaxed way to meet some people and become friends, even if only for a concert, since both of you have a love for that band's music in common.
>> Upcoming shows and what to expect after you book your tickets
>> Additional upcoming shows around San Francisco
37. Presidio

Located on the Northwest side of the city, near the Golden Gate Bridge, the Presidio is one of the best places to relax, enjoy the quiet, and soak in some of the best views anywhere.
On the other hand, you can do so many things here it is incredible. Some of these include exploring the old army batteries (it used to be a fort), checking out the amazing art by Andy Goldsworthy, and taking some selfies with the Star Wars statues at the Letterman Digital Arts Building.
There is so much to do in the Presidio that capturing it all is hard. To give you an idea, this ranges from a bowling alley to a military cemetery to the Interfaith Center at the Presidio Chapel and much more.
Simply stated, you could easily spend a day here, just walking around and enjoying everything, and be able to come back the next day for more!
>> More about what there is to see and do here
38. Legion of Honor

The Legion of Honor is another of the can't miss museums in San Francisco. I love coming here to enjoy the artwork, the incredible design of the museum, and the views from it. It is located just north of the Outer Richmond District, which is not very busy.
The galleries range from the ancient art of the Greeks and Romans up until the 20th Century Neoclassical Post Impressionism. This means you'll see almost every era of art that you can imagine in every style possible. I especially love the 15th-century Spanish ceiling. If you want quiet and peacefulness, spend some time just looking at that.
Special exhibits come through often, and I try to make my way out to see them. It is usually a little busier, but since this is a highly respected museum, people are still respectful and quiet.
And the staff is incredibly knowledgeable about the art and will discuss it with you if you want to know more.
39. Church of the 8 Wheels

Yep, you read that right. There is a "Church of the 8 Wheels" right here in San Francisco. Honestly, it probably isn't anywhere else. What is this about? It is a skating rink near the Painted Ladies and Alamo Square.
This Church is beloved by all as it allows for public skating and lessons. &ou can rent everything you need right there, so you don't have to worry about bringing your gear along on your vacation.
I love this place because people are always so happy and friendly and won't bother you if you want to do your own thing. They have special events and fun skate nights. Check the schedule to see when they are open and what is happening that night.
They even have events in different parts of the city, including the famous Sunday Skaters' Showcase in Golden Gate Park. Check out if you want to see people skating as you've never seen before!
>> Visit their site for more details
40. Monterey & Carmel Guided Tour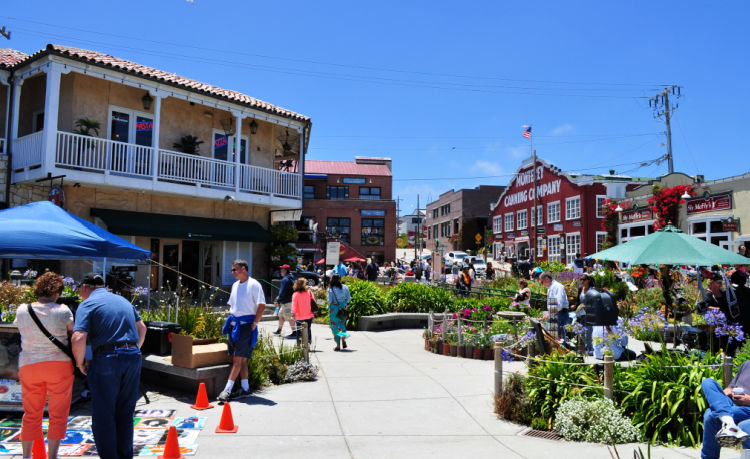 For those that want to see the beautiful cities of Monterey and Carmel, I highly suggest taking this tour. I love it since there is so much gorgeous scenery, you get to visit wonderful and lesser-known locations, and you can decide whether to talk to others or not, depending on your mood.
The tour will pick you up in San Francisco, cruise down the gorgeous Pacific Coast Highway, and visit places such as Cannery Row, Old Fisherman's Wharf, 17-Mile Drive, Pebble Beach Golf Course, and Carmel-By-The-Sea.
You can also visit the incredible Monterey Bay Aquarium if you decide, and I highly suggest you do as it is unlike any other I've ever been to anywhere.
This is the perfect tour for someone flying solo since you can choose to watch the scenery and listen to the guide, or if you are sitting next to someone, you can converse with them during it.
From what I've found, people on this tour are very respectful since it is about 11 hours long, and they won't intrude or bother you if you want to take it all in yourself.
>> More about visiting the Monterey Bay Area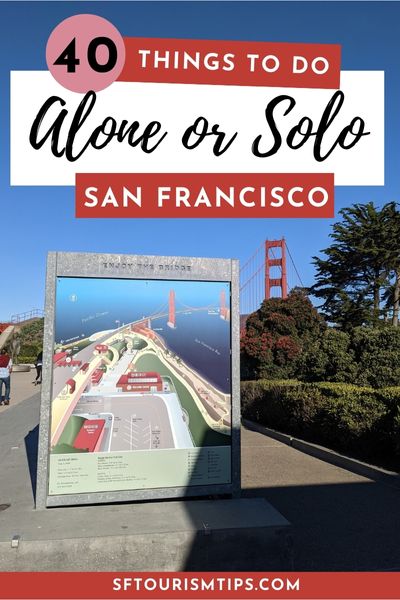 Comments? Questions? Suggestions?
I would love for you to join me in my private Facebook group! 
It's a great place to interact with me and others who know the area well.
You can ask questions, get advice for your upcoming stay, and then share your photos and advice with others when you return home. It's a great community and the fastest way to get answers to those nagging questions about your visit!