San Francisco Hills: 14 with Gorgeous Views from the Top

by Jill Loeffler  •

Published: November 15, 2022
San Francisco is one of the most beautiful cities in the world. Part of that is the number of hills with incredible vistas around the city.
SF is one of several cities to claim to be built on seven hills. The originally named seven include Nob Hill, Russian Hill, Twin Peaks, Telegraph Hill, Rincon Hill, Mount Davidson, and Lone Mountain.
Today, you will find more than 40 named peaks around San Francisco. Some have fantastic views of the surrounding area from their summit. On others, the summit is surrounded by trees so that you won't see much from the top.
My list includes just those with the most sensational vistas. It's tough to visit them all, so my guide offers you information on the 14 best that I think you will love.
Disclaimer: I receive a small commission from some of the links on this page.

1. Bernal Heights Park
A 450-foot high hilltop located in this quaint neighborhood is immediately recognizable because of its 50-foot massive microwave tower.
It may not look like much from below, but it has a fantastic ecosystem with California poppies, American Kestrels, Great Horned Owls, and more.
From the top, you also get unobstructed views of downtown SF, the Golden Gate Bridge, and the entire waterfront areas around the SF Bay.
Depending on the season, there is often a wonderful swing that gives you a fantastic view over downtown and out to Oakland.
>> Find additional fun things to see and do here
2. Buena Vista Heights

Established in 1867 and the oldest official park in SF, Buena Vista Heights is located between Haight-Ashbury and Buena Vista Heights neighborhoods. It covers almost 40 acres of land.
Buena Vista means "beautiful view," and that is exactly what you'll get of SF as you make your way to the top.
This one is 600 feet tall and is covered with trees. You'll see different views as you climb through certain lookout points along the way. The trails here are well maintained, but there are a few steeper sections.
I love that this park has a secret on its walking trails. The rain gutters are made up of broken headstones from cemeteries, so you can see people's names and more as you walk up it.
>> Find more hidden gems around SF
3. Billy Goat Hill

You'll find this gem in the Glen Park District.
It is a small park, at only about 4 acres, but is one of my favorites because it has a fantastic view of the city, including downtown SF.
I also love it because there are various wildflowers and flora here.
There are two huge Eucalyptus trees at the top, and there used to be a swing there (and sometimes locals will put it back up). It makes for a beautiful place to soak up the views.
Right next door, you will also find The Walter Hass Playground. It's a great place to stop if you are visiting with kids. The playground has a jungle gym and basketball court, and it's a fun place to have a picnic.
>> More about the Glen Park District in SF
4. Mount Davidson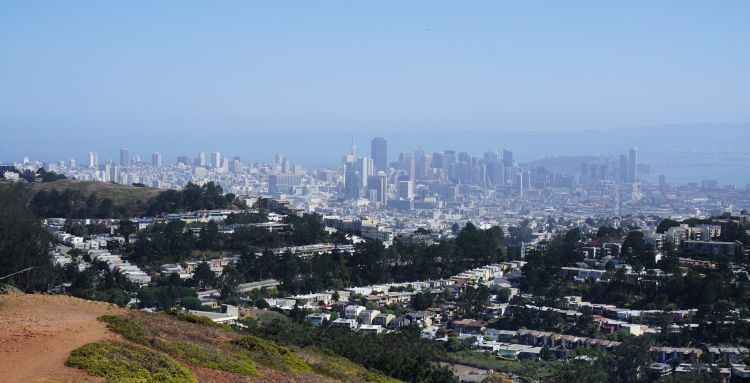 A favorite of visitors and locals alike, this 900+-foot tall cliff is the tallest in the city. It is located south of Twin Peaks and west of Diamond Heights.
One of the reasons this hilltop is so famous is the over 100-foot tall concrete cross on the top of it. It was built in 1923 to commemorate the Armenian genocide, and there is a ceremony every April 24th. Even if you aren't religious, it is incredibly impressive in person.
You'll need to climb a few short trails with rocky steps to get to the top. You'll also get some great shade as you climb.
To find the best views, head east of the cross near the summit. You'll find a wide open area with sensational views of downtown SF, the City Hall, and across the bay to Oakland.
Fun Fact: One of the scenes from Clint Eastwood's movie Dirty Harry was filmed at the cross.
5. Twin Peaks

These two peaks, sitting side-by-side, stand at over 900 feet each. "Eureka" and "Noe" are about 700 feet apart.
I love climbing to the top for the expansive views of the city and east toward Oakland.
The area is a massive park. In addition to the summit, make sure to check out the views from Christmas Tree Point.
You will find quite a few endangered species here, and you might see the Mission Blue Butterfly cruising around depending on the season.
To get here, you can drive up or take the 37 bus and then hike from its drop-off point on Crestline Drive.
>> More about visiting this top attraction
Great Tours to Check Out Around SF
6. Grandview Park

With a name like Grandview Park, this one better live up to its name!
This small park sits at about 700 feet above sea level. It offers views of downtown SF, the Pacific Ocean, the Golden Gate Bridge and Marin, and down to Sutro Tower!
So, in my opinion, it lives up to its name and more!
You'll have to climb .2 miles of steep zig-zagging stairs to get to the very top of it. It's a heart-pounding climb, but worth it!
I love this park because there is so much diversity on its 4 acres. This includes Monterey Cypress trees, Bush Monkey Flowers, the Dune Tansy, and the endangered San Franciscan Wallflower, among others.
Fun Fact: The Hidden Garden Steps and 16th Avenue and Moraga Mosaic Stairway are close by, so check them out if you visit this area.
7. Tank Hill

When you ask locals for directions here, you'll probably get an utterly blank expression from them and a "WHERE?" response since many of them don't know about this wonderful hidden gem.
It is close to Twin Peaks, and you can get a great view of downtown SF, Alcatraz, the Golden Gate Bridge, and over to Oakland.
Sitting at 650 feet and about two acres, two sets of stairs go up to the top. One is rather steep, and the other is pretty mellow.
Fun Fact: If you like to try them, the trees usually have two swings. However, the park service sometimes cuts them down, so you never know if they will be up when you arrive.
8. Corona Heights Park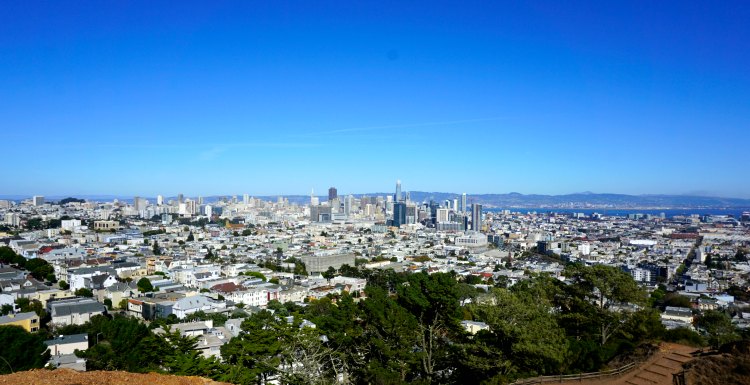 Located in the Castro and Corona Heights Districts, this park offers an incredible climb to the top with the reward of a gorgeous, unobstructed view.
The base is around 300 feet and tops out at 500 or so, so your "hike" will only be about 200 overall. However, some steps lead up to the top and do not have handrails.
The view from the top is terrific, as you'll see from the Castro District to Downtown SF. Also, there are loads of lizards, butterflies, hawks, and more around this area.
I really like this area because the Randall Museum of Science, Nature, and the Arts and a great playground is located here.
9. Nob Hill

This is another one of the originals. At the top, you will find Grace Cathedral, the Fairmont Hotel, and the InterContinental Mark Hopkins Hotel.
It was originally the home to the mansions of the Big Four, four highly influential San Francisco families in the mid to late 1800s.
At the time, getting up and down this steep incline was difficult, so the first cable car line was built to make it easier to get to the top and back down again.
Only one mansion remains. It will give you a sense of what it must have been like to live here in the city's early days.
Another cool thing about this area is the views from the intersection of Jones and Sacramento. From this intersection, you get some fascinating views of the SF Bay and a look at how steep the streets are here.
You might also recognize the building on the northeast corner of Mason and Sacramento if you are a big Vertigo fan. It's the apartment where Madeleine lived.
It may sound weird, but I love walking around here since I can check out all the mansions, boutiques, and eateries surrounding it.
>> More about what there is to see and do here
10. Pacific Heights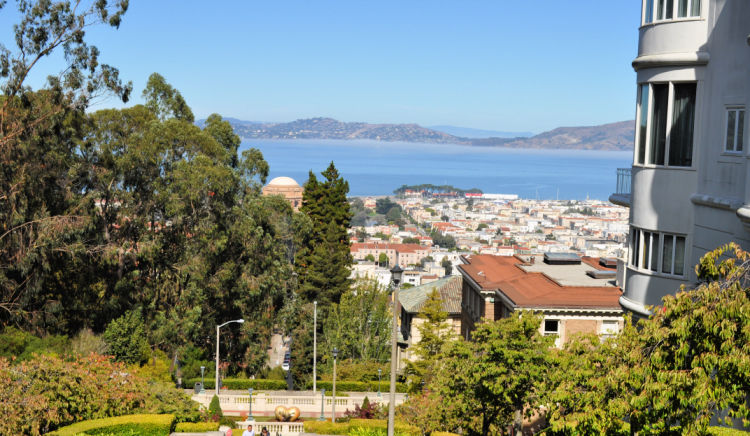 Pacific Heights is another district that sits on the top of one of the famous hills of San Francisco.
You'll also find great views in several locations around this neighborhood.
One of my favorites is Alta Plaza Park. From the top of this park, you will find some great views looking south from the steps. You'll see Twin Peaks, Sutro Tower, and downtown SF.
It's also a great place to check out some of our gorgeous historic Victorians (also called Painted Ladies).
You'll also get some fantastic views down the steep streets on both Broadway and Pacific Streets.
Another great place for views is at the top of the Lyon Street Steps. You'll be able to see the Palace of Fine Arts from above and a great look out over the SF Bay.
>> More things to see and do here
11. Russian Hill

Russian Hill is another one of the originally named peaks of San Francisco. It's the neighborhood just north of Fisherman's Wharf.
It's also where you'll find the famous crooked Lombard Street.
From the top of this crooked section, you'll get Coit Tower and Treasure Island views.
Another great place for views is along Hyde near Francisco Street. You'll see Alcatraz and the Golden Gate Bridge from this vantage point.
It's also where you can take a popular photo of one of the cable cars climbing this steep hill with Alcatraz in the background.
>> Learn more about visiting this district
More Top SF Attractions to Visit
12. Potrero Hill
Potrero Hill sits on the eastern side of SF. It's known to be one of the sunniest neighborhoods here as it doesn't see as much fog as the rest of SF.
It also has several steep streets.
Some great places to soak in the views of downtown SF are at the intersection of 20th and Rhode Island Streets. You'll also find some great views along Kansas near 20th.
Many don't realize that it is also home to our most crookedest street. You heard me right. While most people think it's Lombard Street, it's Vermont Street between 20th and 22nd (right next to McKinley Square).
It isn't as famous because it's just a regular street. It doesn't have colorful gardens and flowers like Lombard. It's also more of a hike from Fisherman's Wharf.
>> Find out more about visiting
13. Telegraph Hill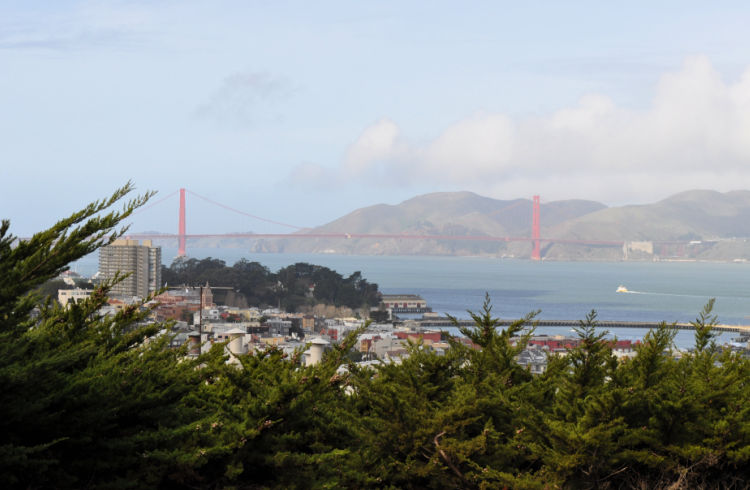 The top of Telegraph Hill is easily visible because you will find Coit Tower at its summit. The famous structure sits almost 300 feet above sea level and is easy to spot from below.
The tower's beauty is that not only do you get an easy marker to find it, but you can get beautiful views all around the bay from it too!
You can soak in the views from its parking lot or step inside for a ride up its historic elevator. Both offer great views of the Golden Gate Bridge, Alcatraz, and Lombard Street.
You can climb the Filbert Street Steps or the Greenwich Steps to get here. Both are about three city blocks long and straight up from the SF Bay. Make sure to turn around as you climb for views of the Bay Bridge, Treasure Island, and the east bay.
Another thing I love about this area is that while walking around it, you might run into the colorful "Parrots of Telegraph Hill."
This flock started when a few got loose or were let go by their owners. They bred and formed a decent-sized community. Don't worry, you'll hear them squawking if they are nearby.
>> More about visiting this district
14. Kite Hill

The final option on my list is this green space in the heart of the city. You'll find it near the Castro District and the Seward Mini Park.
It's a small area with just grass and small plants. This offers unobstructed views of downtown SF from the top.
To find it, walk along 19th Street just past Seward Street. You'll find a set of stairs with a sign saying "Clover Lane." You will hit this greenspace one block up and keep climbing to the top!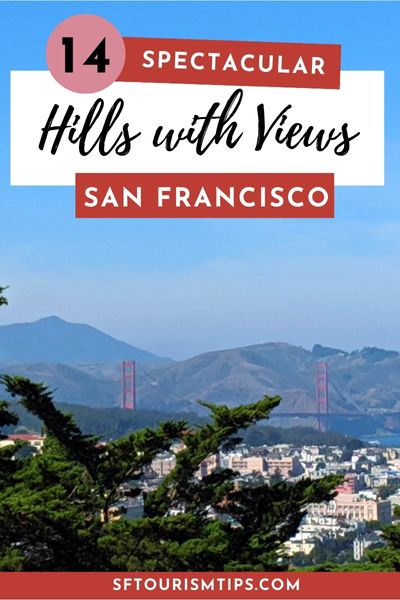 Comments? Questions? Suggestions?
I would love for you to join me in my private Facebook group! 
It's a great place to interact with me and others who know the area well.
You can ask questions, get advice for your upcoming stay, and then share your photos and advice with others when you return home. It's a great community and the fastest way to get answers to those nagging questions about your visit!