San Francisco Coloring Pages for Adults
Downloadable & Printable Books and Individual Pages
NOTE: On December 6, San Francisco (and a few surrounding counties) will once again be on a stay-at-home order. This will last indefinitely. Click here for more information.
Discover several San Francisco coloring pages for adult. These downloadable and printable activities will give you hours of time to dream about the City by the Bay!
I have several options including a book with several pages as well as many that I'm selling as individual pages. This way you can decide how many you want to try.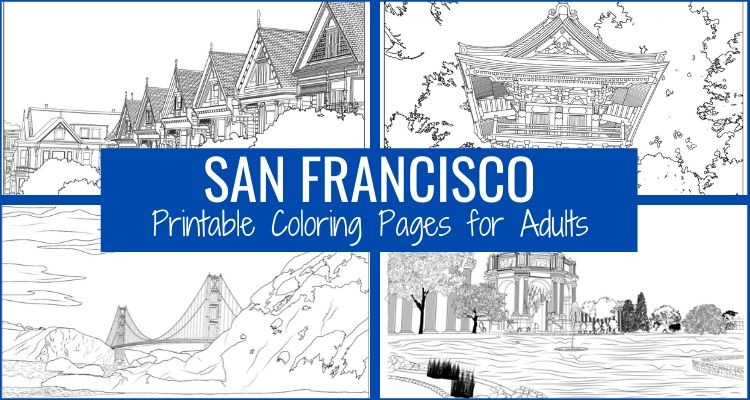 I've also included a free page, so you can get a feel for what the others are like.
You can fill them in based on their true colors or you can use whatever colors that appeal to you.
While these are for adults, you can also buy them and give them to your kids. The drawings are a bit more sophisticated, but you can check them out below and decide which ones might be right for you or your kids!
Enjoy and let me know what other scenes around San Francisco you'd like me to add to my coloring books.
Disclaimer: I receive a small commission from some of the links on this page.
Coloring Book
This coloring book offers 5 fun coloring pages. If you love coloring, this is the place to start.
The book is downloadable and printable, so you can print them over and over again if you want to start again.
Images in the book including the Golden Gate Bridge, the Palace of Fine Arts and the Painted Ladies. You will also find one from Chinatown and one from the Japanese Tea Garden.
Add the colors you would like or use the reference guide at the end to compare it to the original.
Book of 5 Coloring Pages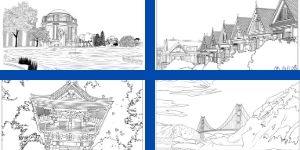 $2.99

Individual Coloring Pages
You will find most of these pages in the book above. However, I wanted to let you buy them individually in case there are pages you want to color more than others.
FREE COLORING PAGE: Add the free page to your cart. You will then add your name and email address. You will then be taken to a page where you can download this free coloring page.
| | |
| --- | --- |
| Golden Gate Bridge | Golden Gate Bridge - FREE |
| | |
| $0.99 | Free |
| | |
| | |
| --- | --- |
| Painted Ladies of Alamo Square | Palace of Fine Arts |
| | |
| $0.99 | $0.99 |
| | |
| | |
| --- | --- |
| Japanese Tea Garden | Chinatown Gate |
| | |
| $0.99 | $0.99 |
| | |
Enjoy these coloring pages and let me know what you think! Would love your thoughts on other San Francisco coloring pages for adults that you would enjoy. Thanks for stopping by my site and enjoy!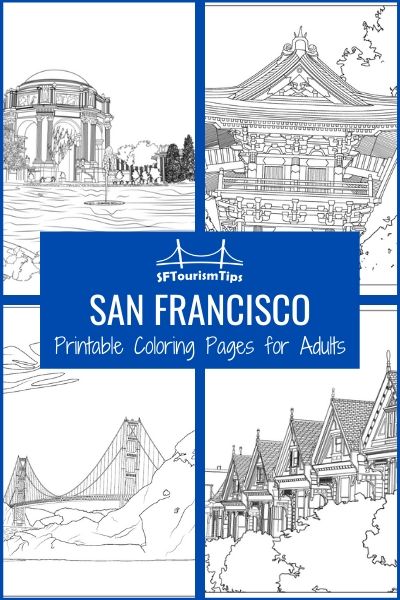 More Fun Activities for Adults

Follow SFTourismTips on Facebook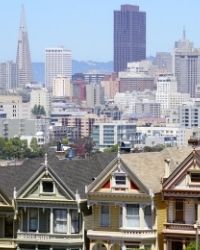 On my Facebook page, you will find more great information about planning your San Francisco vacation.
It includes tips, must see attractions, and other fun details.
Click the link below to check it out. If you enjoy the page, give us a like.