SF Opera: Calendar of Performances for 2021 - 2022
Proof of vaccination is now required for certain indoor activities. Learn more here. 
The SF Opera is the second largest company in North America. Their first performance was Tosca in 1923. Here you can see world class performances that range from dramas to comedies and everything in between.

They offer several performances each fall and winter. This season kicks off in September and runs through early December. They usually offer about a half a dozen performances this time of year.
Their second, shorter season is in the summer. This season usually offers about three shows. All start in June and end in late June to early July.
They also kick off their Fall Season with a free performance in Golden Gate Park. This free "Opera in the Park" show is the Sunday before opening night in September. This is TBD for this year because of restrictions.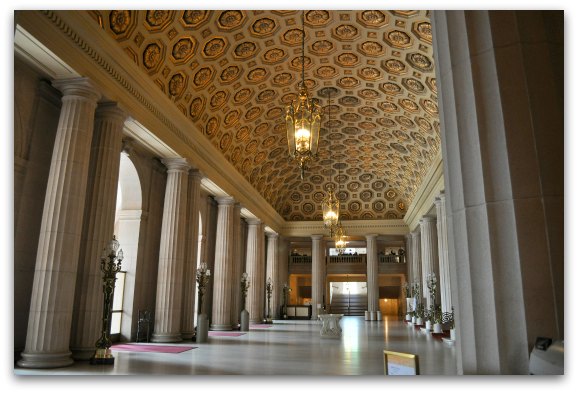 The gorgeous lobby of the War Memorial Opera House in the Civic Center district
They have called the War Memorial Opera House in October 1932. Their popular shows continue to bring in thousands of audience members every year. 
They share this space with our award winning SF Ballet Company. Neither company offers year around performances. The SF Ballet kicks off their season in December with the Nutcracker. They then use this stage for their performances from January to May.
The SF Symphony also used to share this space but built a dedicated space for their performances which is called Davies Symphony Hall.

The War Memorial Opera House in San Francisco's Civic Center District includes seating for just over 3,000 people. 

Here is the full schedule for the upcoming seasons.

2021 - 2022 Season

Live and in Concert: The Homecoming: September 10th
This one-night only event brings together three of the singers in Opera tonight. They are the soprano Rachel Willis-Sorenson, mezzo-soprano Jamie Barton and they will be led by the Music Director Eun Sun Kim. All three of these masters worked together in the 2019 performance of Rusalka. This is a special presentation to celebrate the re-opening of SF opera as COVID restrictions are removed.
Tosca: August 21, 27, 29 and September 3rd and 5th
This famed opera, written by the legendary Giacomo Puccini, is the first to multi-night shows here. This political opera is based on fictional events occurring in Rome during the year 1800. Three main characters, Rome's Diva Floria Tosca, the corrupt police chief, Baron Scarpia who is in love with Tosca, and Tosca's truelove Mario Cavaradossi.  This will be the afore-mentioned Eun Sun Kim's first full opera that she has led for SF opera. As the Baron tries to get rid of Cavaradossi and make Tosca love him, he has an evil plan that makes her either choose to kill Cavaradossi or become Scarpia's lover. Which will she choose?
Fidelio: September 12 - October 1
Based on a true story in the French Revolution the horrible Florestan has imprisoned Don Pizarro, who is married to the lovely Leonore. She pretends to be jailer so she can help him escape. Pizarro decides to kill Florestan but an official for the government, Don Fernando, arrives and chooses to kill Florestan himself almost immediately. However, Leonore wants to save her true love and will risk anything. Will she make it on time to save her lover? This is Beethoven's only opera and is not to be missed. 
Cosi fan tutte: November 21st, 23rd and 27th; December 1st and 3rd
In this classic by Mozart, the philosopher Don Alfonso tells his two friends, Ferrando and Guglielmo, that women are not to be trusted. However, Ferrando and Guglielmo both disagree and want to prove their fiancées, Fiordiligi and Dorabella are trustworthy. Alfonso has a plan to prove them wrong. The plan includes Ferrando and Guglielmo pretending to go to war while actually dressing up and wooing their lovers. Will they fall into Don Alfonso's trap, or will they prove the devious Don Alfonso correct?
Don Giovanni: June 4th, 10th, 12th, 15th, 18th, 21st, and 26th; July 2022
This hilarious comedy focuses on the irresponsible playboy Don Giovanni who thinks he can seduce any woman. He focuses his eyes on the  lovely Donna Anna. However, his past comes back to haunt him in the women he has used before return back to confront him. This wretched man finally gets his comeuppance when forced to see what he has done. It is regarded by many as Mozart's greatest opera.
Dream of the Red Chamber: June 14th, 17th, 19th, 23rd and 25th; July 1st and 3rd, 2022
This opera, taken from the 18th century novel, has become a classic tale of love and romance in China. It involves a love triangle between Bao Yu, his future wife Bao Chai, and his cousin who he truly loves, Dai Yu. However, Bao Yu is tricked into marrying another and this is found out, the emperor finds out and they are punished. Will the love between Bao Yu and Dai Yu succeed or will their relationship be destroyed?
Eun Sun Kim Conducts Verdi: June 30th, 2022
SF opera's own Music Director, Eun Sun Kim, conducts a one-night-only performance of Verdi's most famous songs. Not only will you enjoy the incredible orchestra and music, you will also love the three headliners of the show. They include Soloman Howard, who sings bass from the USA, the tenor Arturo Chacon-Cruz from Mexico, and Nicole Car, who sings soprano and is from Australia.
Free Opera in the Park 2021

DATE: TBD
Each September, the SF Opera performs one free show in Golden Gate Park to kick off their upcoming fall season. The 2020 performance is on TBD in Sharon Meadow.
At this free show in the park, you will enjoy arias al fresco from the 2021-2022 Season with music by the San Francisco Opera Orchestra.
What to Wear to a Performance

The dress in San Francisco, and most of California, is casual. At the SF Opera, you will see attendees dressed in everything from suits or dresses to jeans. 
Even though the city is casual, I recommend dressing up just a little. Smart casual (or business casual) is your best choice. 
Many people come to these shows after work or a nice dinner, so most will be dressed in this manner. This will allow you to fit in, but not be over or under dressed for the show.

Before your visit, I also recommend checking out my "What to Wear" page. Here you will find recommendations on what to pack based on the weather for the season you are visiting.

Restaurant Recommendations Nearby

The best place to find a great restaurant before the show is in the nearby Hayes Valley neighborhood. This area has some of the best new and established restaurants in the city.
Here you will find everything from the upscale restaurants to the grab and go options. Discover more of my favorites in the area here.
More FAQs for the SF Opera

Do they seat late comers? The SF Opera does NOT seat those that arrive after the performance has started. You are welcome to relax in their onsite bar/restaurant and watch the performance on a TV until intermission. 
At this time, you are welcome to enter and take your seat for the rest of the show.
How early should I arrive to the SF Opera performances? The doors open about 1-hour before the curtain. This is the earliest you can take your seat for the performance. However, their on-site restaurant opens 2-hours before each show.

I recommend making a reservation in advance if you plan to eat here before the performance. They also offer Pre-Show Talks, which start about 55 minutes before the show. It's a great way to learn more about what you are about to see.

Do the SF Opera shows have an intermission? Yes, almost all of the operas offer one (and sometimes two) intermissions. They usually last around 20 to 25 minutes, so you will have plenty of time to get back into the performance before it starts. 

They will not seat those that return after the show has already started, so please plan ahead during intermission.

What else should I know before I arrive? I always recommend reading up on each performance before you arrive. This will allow you to get the most out of each one. 

All shows not sung in English will feature subtitles, so you can follow along. This is easy to do and allows you to get the full experience.

Tips to Get Here

The War Memorial Opera House is at 301 Van Ness Avenue. Since it's right in the city center, it's easy to get to from most SF neighborhoods.
Driving: One of the most popular options is to drive. While this isn't necessary, you will find several great parking garages nearby. Many charge a $20 event fee, so make sure you are prepared for the additional charge. Here is more information on the best garages in the area.
Public Transit from Union Square

Muni buses: There are two buses from Union Square that pick up on Market Street and stop every two blocks:
21 Hayes: This bus will drop you about a block south of the Opera House at Hayes and Van Ness. It's the best option if you are having dinner before the show in Hayes Valley (stay on the bus until the Hayes and Franklin stop to get to Hayes Valley).
5 Fulton: This bus will drop you about a half a block north of the Opera House. Get off the bus at the McAllister and Van Ness Street stop.
Public Transit from Fisherman's Wharf

47 Caltrain: This bus picks up on the northern side of Fisherman's Wharf - along North Point Street. It makes stops every two blocks. Take it to the McAllister Street stop, which will put you right in front of the steps to the building.

Top Hotels Near the SF Opera

The SF Opera is easy to get to on SF Public transit and by car. However, you will also find some great hotels within walking distance. Here are just a few of my top recommendations.
Inn at the Opera: 3.5-star hotel, just a block from the SF Opera, 333 Fulton Street, read reviews from recent guests on Booking.com.
Days Inn at the Civic Center: 2.0-star motel just a couple of blocks from the War Memorial Opera House, in the Hayes Valley district, 465 Grove Street, discover recent guest reviews on Booking.com.

Holiday Inn Civic Center: 3.5-star hotel about 4 blocks away, centrally located near public transit along Market Street, 50 8th Street, see what others had to stay about their stay on Booking.com.

More hotels in the Civic Center & Hayes Valley districts.

More on the War Memorial Opera House

I love attending performances at the War Memorial Opera House. As I mentioned above, this gorgeous building opened in 1932. It was one of the last Beaux-Arts structures built in the US.
This 3,146-seat auditorium houses several events including all of the SF Opera and SF Ballet performances.
The minute you step into the lobby, you know you are in for a treat. Take some time walking around and admiring all of its features.

Also, make sure you step around to the sides. This is where you will find two tapestries from the 1700s. The picture below shows just one of these magnificent pieces.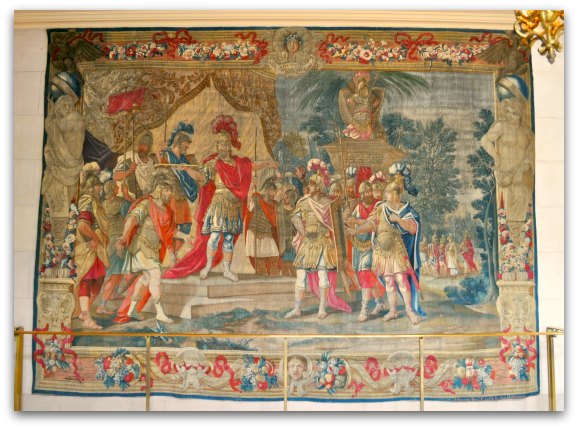 The auditorium is just as beautiful. Even though it's been remodeled over the years, they did a great job in keeping its original look.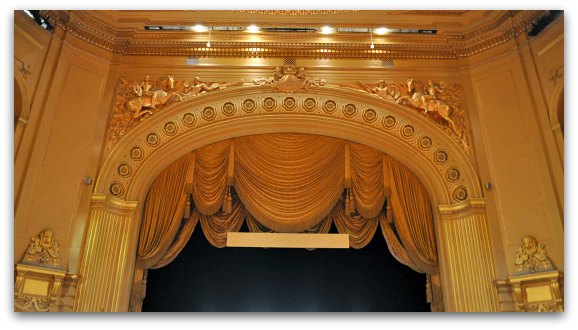 These are the fantastic finishes above and to the sides of the stage. You will find these types of finishes throughout the auditorium.

Tours of the War Memorial Opera House

While it's most fun to attend an event here, if there are no shows playing during your visit, you can also go on a guided tour for a look inside this beautiful building.
Every Monday (except holidays) at from 10am to 2pm, the War Memorial and Performing Arts Center offers a walking tour for the public. The tours leave every hour from the Grove Street entrance of the Davies Symphony Hall. 
The tours are $7 for adults and $5 for students and seniors (cash only). 

You don't need a reservation, just walk in and the volunteers will set you up for the next scheduled tour.

Other Pages You Might Like

The Perfect Day in the Civic Center & Alamo Square: These two districts sit near each other in the heart of San Francisco, so it's perfect to visit them in the same day. This self-guided tour offers you the best route to take when visiting these two districts. You can go at your own pace and see the best that these two districts offer.
Asian Art Museum: Another popular stop in this district is the Asian Art Museum. It focuses on Asian art from China, Japan, and India. It also showcases a number of gorgeous pieces from smaller Asian countries including Indonesia, Malaysia, and Nepal. It's one of my favorite museums in the city and must see when visiting this area. 
City Hall: I also love making a stop at City Hall. From Monday to Friday, they invite the public to take a look at their magnificent structure. It's free to enter (though you will need to go through security). Make sure to visit their small museum, the photo exhibit on the lower level, and the breathtaking marble staircase.