SF Opera: Calendar of Performances for 2023

by Jill Loeffler  •

Updated: January 2, 2023
The SF Opera is the second largest company in North America. Their first performance was Tosca in 1923. Here you can see world class performances that range from dramas to comedies and everything in between.

They offer about a half a dozen performances each fall and winter. This season kicks off in September and runs through early December. 
Their second, shorter season is in the summer. This season usually offers about three shows. All start in June and end in late June to early July.
The SF Opera also kicks off their Fall Season with a free performance in Golden Gate Park. This free "Opera in the Park" show is held on the Sunday before opening night in September.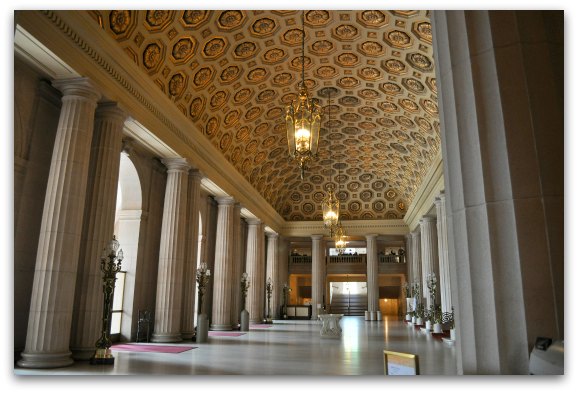 The gorgeous lobby of the War Memorial Opera House in the Civic Center district
The SF Opera has called the War Memorial Opera House home since October 1932. Their popular shows continue to bring in thousands of audience members to this beautiful venue every year. 
They share the space with the award winning SF Ballet Company. Neither company offers year-round performances. The SF Ballet kicks off their season in December with The Nutcracker and continues offering performances from January to May.
The SF Symphony used to share this space as well, but has since built a dedicated space for their performances which is called Davies Symphony Hall.

The War Memorial Opera House in San Francisco's Civic Center District includes seating for just over 3,000 people. 

Here is the full schedule for the upcoming seasons.

Disclaimer: I receive a small commission from some of the links on this page.

2023 Summer Season

Madame Butterfly: June 3, 6, 9, 18, 21, 24, and 27; July 1, 2023, find tickets
One of the most iconic and heartbreaking of modern operas, Puccini's Madame Butterfly features a Japanese woman named Cio-Cio-San, who waits longingly for her American husband, U.S. Naval officer Pinkerton, to return to Japan to meet their young son, Trouble. However, Pinkerton's return is not as expected: he has come with his newly wedded American wife. In this production, director Aman Miyamoto reimagines this work through the eyes of little Trouble. Approx. 3 hours. Sung in Italian with English supertitles.
Die Frau Ohne Schatten: June 4, 10, 20, 23, and 28, 2023, find tickets
In Strauss's rarely performed masterpiece, the Empress was created by the supernatural but needs humanity to survive. She has just three days to acquire a human shadow. If she fails, she must return to the spirit world and her husband will be turned to stone. Enjoy the magic of this touching opera. Approx. 4 hours. Sung in German with English supertitles.
El Ultimo Sueño de Frida y Diego: June 13, 17, 22, 25, and 30, 2023, find tickets
This is a new opera that takes audiences on a surreal journey into the underworld. One of the most famous artist couples in history have the chance to become more united in death than they were in life, as an ailing and lonely Diego Rivera seeks to fulfill a final wish: to see his deceased wife Frida Kahlo on the Mexican Day of the Dead holiday. Approx. 2 hours. Sung in Spanish with English supertitles.
2023 Fall Season - TBD

This year's Fall season should be announced shortly! 
Free Opera in the Park 2023

Date: TBD
Each September, the SF Opera performs one free show in Golden Gate Park to kick off their upcoming fall season. The 2023 performance is TBD in Robin Williams Meadow.
At this free show in the park, you will enjoy a variety of performances from the 2023-2024 Season with music by the San Francisco Opera Orchestra.
Doors open at 1:30 pm.
What to Wear to a Performance

The dress code in San Francisco, and in most of California, is casual. At the SF Opera, you will see attendees dressed in everything from suits and dresses to jeans. 
Even though the city is casual, I recommend dressing up just a little. Smart casual (or business casual) is your best choice. 
Many people come to these shows after work or a nice dinner, so most will be dressed in this manner. This will allow you to fit in, but not be over or under dressed for the show.

Before your visit, I also recommend checking out my "What to Wear" page. Here you will find recommendations on what to pack based on the weather for the season you are visiting.

Restaurant Recommendations Nearby

The best place to find a great restaurant before the show is in the nearby Hayes Valley neighborhood. This area has some of the best new and established restaurants in the city.
Here you will find everything from the upscale restaurants to the grab and go options. Discover more of my favorites in the area here.
More FAQs for the SF Opera

Do they seat late comers? The SF Opera does NOT seat those that arrive after the performance has started. You are welcome to relax in their onsite bar/restaurant and watch the performance on a TV until intermission. 
At this time, you are welcome to enter and take your seat for the rest of the show.
How early should I arrive to the SF Opera performances? The doors open about 1-hour before the curtain. This is the earliest you can take your seat for the performance. However, their on-site restaurant opens 2-hours before each show.

I recommend making a reservation in advance if you plan to eat here before the performance. They also offer Pre-Show Talks, which start about 55 minutes before the show. It's a great way to learn more about what you are about to see.

Do the SF Opera shows have an intermission? Yes, almost all of the operas offer one (and sometimes two) intermissions. They usually last around 20 to 25 minutes, so you will have plenty of time to get back into the performance before it starts. 

They will not seat those that return after the show has already started, so please plan ahead during intermission.

What else should I know before I arrive? I always recommend reading up on each performance before you arrive. This will allow you to get the most out of each one. 

All shows not sung in English will feature subtitles, so you can follow along. This is easy to do and allows you to get the full experience.

Tips to Get Here

The War Memorial Opera House is at 301 Van Ness Avenue. Since it's right in the city center, it's easy to get to from most SF neighborhoods.
Driving: One of the most popular options is to drive. While this isn't necessary, you will find several great parking garages nearby. Many charge a $20 event fee, so make sure you are prepared for the additional charge. Here is more information on the best garages in the area.
Public Transit from Union Square

Muni buses: There are two buses from Union Square that pick up on Market Street and stop every two blocks:
21 Hayes: This bus will drop you about a block south of the Opera House at Hayes and Van Ness. It's the best option if you are having dinner before the show in Hayes Valley (stay on the bus until the Hayes and Franklin stop to get to Hayes Valley).
5 Fulton: This bus will drop you about a half a block north of the Opera House. Get off the bus at the McAllister and Van Ness Street stop.
Public Transit from Fisherman's Wharf

47 Caltrain: This bus picks up on the northern side of Fisherman's Wharf - along North Point Street. It makes stops every two blocks. Take it to the McAllister Street stop, which will put you right in front of the steps to the building.
>> More tips for getting around SF
Top Hotels Near the SF Opera

The SF Opera is easy to get to on SF Public transit and by car. However, you will also find some great hotels within walking distance. Here are just a few of my top recommendations.
Inn at the Opera: 3.5-star hotel, just a block from the SF Opera, 333 Fulton Street, read reviews from recent guests on Booking.com.
Days Inn at the Civic Center: 2.0-star motel just a couple of blocks from the War Memorial Opera House, in the Hayes Valley district, 465 Grove Street, discover recent guest reviews on Booking.com.

Holiday Inn Civic Center: 3.5-star hotel about 4 blocks away, centrally located near public transit along Market Street, 50 8th Street, see what others had to stay about their stay on Booking.com.

More hotels in the Civic Center & Hayes Valley districts.

More on the War Memorial Opera House

I love attending performances at the War Memorial Opera House. As I mentioned above, this gorgeous building opened in 1932. It was one of the last Beaux-Arts structures built in the US.
This 3,146-seat auditorium houses several events including all of the SF Opera and SF Ballet performances.
The minute you step into the lobby, you know you are in for a treat. Take some time walking around and admiring all of its features.

Also, make sure you step around to the sides. This is where you will find two tapestries from the 1700s. The picture below shows just one of these magnificent pieces.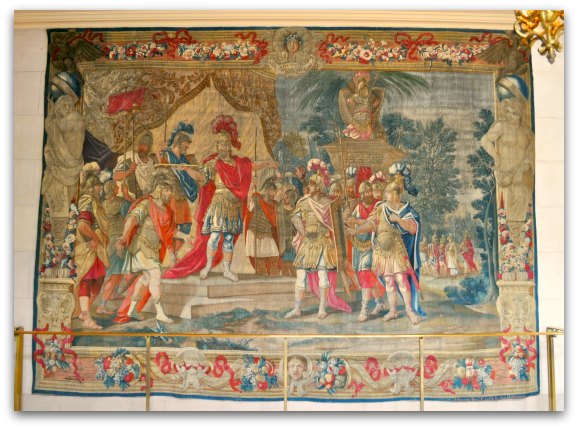 The auditorium is just as beautiful. Even though it's been remodeled over the years, they did a great job in keeping its original look.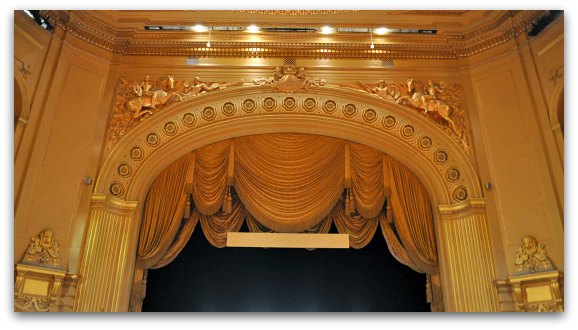 These are the fantastic finishes above and to the sides of the stage. You will find these types of finishes throughout the auditorium.

Tours of the War Memorial Opera House

While it's most fun to attend an event here, if there are no shows playing during your visit, you can also go on a guided tour for a look inside this beautiful building.
Every Monday (except holidays) at from 10am to 2pm, the War Memorial and Performing Arts Center offers a walking tour for the public. The tours leave every hour from the Grove Street entrance of the Davies Symphony Hall. 
The tours are $7 for adults and $5 for students and seniors (cash only). 

You don't need a reservation, just walk in and the volunteers will set you up for the next scheduled tour.

Other Pages You Might Like

The Perfect Day in the Civic Center & Alamo Square: These two districts sit near each other in the heart of San Francisco, so it's perfect to visit them in the same day. This self-guided tour offers you the best route to take when visiting these two districts. You can go at your own pace and see the best that these two districts offer.
Asian Art Museum: Another popular stop in this district is the Asian Art Museum. It focuses on Asian art from China, Japan, and India. It also showcases a number of gorgeous pieces from smaller Asian countries including Indonesia, Malaysia, and Nepal. It's one of my favorite museums in the city and must see when visiting this area. 
City Hall: I also love making a stop at City Hall. From Monday to Friday, they invite the public to take a look at their magnificent structure. It's free to enter (though you will need to go through security). Make sure to visit their small museum, the photo exhibit on the lower level, and the breathtaking marble staircase.