SF Ballet: 2023 Schedule & Tips to Attend a Performance

by Jill Loeffler  •

Updated: May 23, 2023
The SF Ballet is the oldest ballet company in the United States. They got their start here in 1933.

The San Francisco Ballet Company was the first to perform the Nutcracker in the US. It premiered at the War Memorial Opera House on Christmas Eve, 1944. It's turned into a tradition for this dance company and one of their most popular performances each year.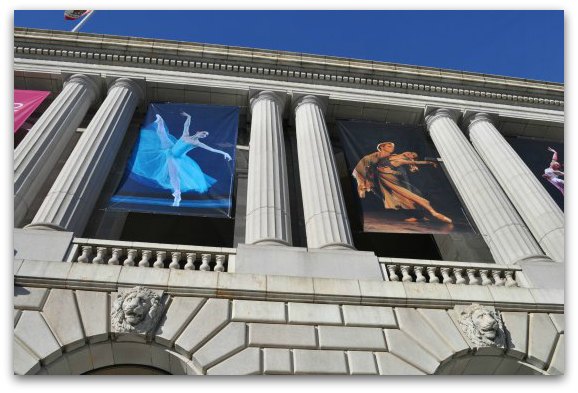 Most of the SF Ballet's performances are still held at the historic War Memorial Opera House at 301 Van Ness - right across the street from City Hall. It first opened its doors in 1932. After the 1989 earthquake, the building had to be retrofitted and is now a state-of-the-art facility.
The typical season for the SF Ballet is from January - May. They also perform the Nutcracker every December.
Disclaimer: I receive a small commission from some of the links on this page.

2023 Nutcracker
Dates: 12/13 - 12/30
Tickets: Ticketmaster | TicketNetwork
The Nutcracker Ballet in San Francisco is an annual event every December. The SF Ballet was the first to perform this popular holiday show in the US.
Today, you will find it performed all around the country. However, the one here is still one of the most popular.
This year's performances will run from 12/13 - 12/30 for 2023. This includes a show on Christmas Eve. Each performance runs for 2 hours with a 20 minute intermission.
2024 Repertory Season

The 2024 Season runs from January to May. Here are the programs for this season.
Mere Mortals: 1/26 - 1/1
British Icons: 2/9 - 2/15
Swan Lake: 2/23 - 3/3
A Midsummer Night's Dream: 3/12 - 3/23
Next@90 Curtain Call: 4/2 - 4/13
Dos Mujeres: 4/4 - 4/14
Encore A: 4/18 - 4/24
Encore Production of Swan Lake: 4/30 - 5/5
Where to Find Tickets to the SF Ballet

Here are just a few places to find tickets to the SF Ballet.
Ticketmaster: Here you will find a good selection of tickets for all performances. If they are sold out of a certain show, they will automatically redirect you to one of their resellers. Find tickets.
TicketNetwork: You will also find some great reseller tickets on TicketNetwork. These are third party sellers that are not using the tickets for each performance. They are great if you are looking for better seats or searching for options for sold out performances. Find tickets.

What to Wear to the SF Ballet

During a performance of the San Francisco Ballet Company, you will see attendees wearing everything from jeans to cocktail dresses. While you are allowed to go casual, I always think it's a fun excuse to dress up a little. 
Most people choose business casual attire as they are coming after work. If you dress in business casual attire, you will fit right in.
Kids and the SF Ballet

Is it okay to bring kids to the SF Ballet? You will find different ages will enjoy their regular season vs. their Nutcracker performances.
They recommend that you bring kids that are at least 8 years old to their regular performances. These are the shows offered from January to May each year.
For the Nutcracker shows, they recommend those that are at least 5 years old. They will enjoy the performance and it's entertaining enough to keep them happy throughout the performance.

There are a few things to consider when bringing children to the SF Ballet. All must have tickets as they don't allow children to sit on their parent's laps. They also don't allow any kids 2 and under into performances at all.

They also have a strict policy to not allow those that have left to re-enter the performance. If your child needs to head to the bathroom or needs to leave for a few minutes, the ushers will not allow you to return to your seats.

In addition, they recommend aisle seats for those younger children that might not sit still during the show. This allows other attendees to focus on the performance and for you to make a quick exit if needed without disrupting others.

What to Wear to the Nutcracker Ballet in San Francisco

In San Francisco, it's perfectly fine to attend a ballet in casual or business casual clothing. Formal attire is not required, but it's always fun to get a little dressed up for a special event like The Nutcracker ballet in San Francisco. You might want to make a day or night of this holiday treat and go out for a nice meal on the town while you're dressed to impress.
However, they welcome attendees to come in what makes you comfortable. If that is jeans, then you are welcome to attend in jeans. The environment in San Francisco is very casual and you will find people in casual wear at all types of occasions.
Family Performances, Called Passport Performances

The Nutcracker ballet in San Francisco is a classic show that both kids and adults love. If you are planning to take the whole family, consider going to one of the five performances specially designed for families.
These shows include a gift for the first 500 children (under 12) to arrive, complimentary refreshments for everyone during intermission, and a 30-minute photo session with the characters before the show (make sure to arrive early for this).

Brief Overview of the Nutcracker Story

The Nutcracker ballet in San Francisco is the classic, magical story of what happens to Clara one Christmas Eve. The story begins at her family's (the Stahlbaum's) holiday party, where the children gleefully dance and play. Clara's uncle Drosselmeyer, a toymaker, then presents her with a beautiful gift--a grand nutcracker doll--which Clara instantly loves and dances with. 
When a jealous child grabs the doll, it breaks, and the bandaged Nutcracker is left alone in the room when the party ends. 
Later that night, Clara goes back to the room to search for her Nutcracker, and falls asleep. There, in her dreams, is when the magic begins to unfold. First, the Christmas tree grows large, then the Mouse King appears and duels with the Nutcracker, who then turns into a prince. 

Clara and the Prince then continue their wondrous adventure into the land of the Snow King and Queen. From there, they continue on to the Crystal Palace, where the Sugar Plum Fairy honors them with a celebration of beautiful dances from Spain, Arabia, China, and France.

To top off Clara's magnificent dream, the Sugar Plum Fairy and Uncle Drosselmeyer grant Clara her greatest Christmas wish--becoming a beautiful ballerina and dancing in the arms of her Prince. When Clara finally awakens, it is Christmas morning, and her beloved Nutcracker doll is safe in her arms.

Restaurants Near War Memorial Opera House

There are dozens of great restaurants within a few blocks of the Opera House in Hayes Valley. To remain close, you will want to look for restaurants near Hayes and Gough Streets.
One of the great things about choosing a restaurant nearby is that the staff working at these restaurants will ensure you make it to your SF Ballet performance on time. The restaurants in this area service theater, symphony and ballet attendees all the time, so just tell them you are going to a performance and they will get you there on time.
I do recommend making reservations in advance. That way you know you will get a table quickly without having to rush through dinner.

Discover some of my favorites in the Hayes Valley neighborhood.

They do not seat latecomers while a work is in progress, so make sure you have plans ahead of time that will allow you to get to the performance before it begins.

Eating at the War Memorial Opera House

In addition to the nearby restaurants, you can also eat right at the War Memorial Opera House. They offer an elegant dinner buffet (brunch on Sundays) before every performance.
The buffet includes a number of gourmet options. They begin serving two hours before the show starts.
You can also grab a more casual meal either before the show or during intermission. There are two options: Patina's Cafe Express and Dress Circle Cafe. Both offer light sandwiches, a few salads and meat or cheese plates. They also have some fun drinks and yummy desserts.

San Francisco Hotels

You will find hundreds of great hotel options in San Francisco. Here are several recommendations based on budget, amenities and location. You will also find a few that are near the War Memorial Opera House.

Booking: Find great deals all around San Francisco for your upcoming stay! 

TripAdvisor: What's the #1 hotel in San Francisco? Read reviews & find hotel deals on TripAdvisor!
VRBO: In addition to hotels, you'll also find some great places to stay locally through VRBO. Book an apartment or a room and feel more like a local. Find some great places to stay on VRBO here. 
Getting to the SF Ballet

These performances are centrally located, so you have several great options to get here.
Driving: If you decide to drive, there are several parking garages nearby. All stay open for one hour after the performance. Many are only a block or two away, so this gives you plenty of time to get back to your car. Here are a few of the best options.
Public Transit

There are several great options that stop within a few blocks of the War Memorial Opera House. Here are your best ones based on the neighborhood you are staying in.
From Union Square
BART: The most direct route from Union Square is the BART train. The closest stop is near Market and Powell streets. From here, it's just one stop to the Civic Center station. The Opera House is about a seven or eight block walk from the station.

21 Hayes: This bus has several stops along Market Street. It will take you all the way to the Civic Center and Hayes Valley neighborhoods. If you are grabbing dinner in Hayes Valley before the performance, take the bus all the way to the Hayes and Franklin Street stop. 

If you're heading directly to the ballet performance, take the bus to the Hayes Street and Van Ness stop. This is about two blocks south of the War Memorial Building.
From Fisherman's Wharf

F Streetcar: The easiest option from Fisherman's Wharf to the Civic Center district is the F street car. It's a direct route from that district to Market and Van Ness, which is about three blocks away from the War Memorial Opera House.
47 Caltrain: Another great public transportation option from Fisherman's Wharf is the 47. This bus picks up at several places along North Point Street. This street runs along the southern end of Fisherman's Wharf. 

If you are on the eastern side of Fisherman's Wharf, pick up this bus at the North Point & Mason Street stop. 

If you are on the western side of Fisherman's Wharf, pick this bus up at the North Point & Hyde Street stop.

Take it to the McAllister stop. This will drop you just steps from the War Memorial Opera House.

Other Pages You Might Enjoy

Comments? Questions? Suggestions?
I would love for you to join me in my private Facebook group! 
It's a great place to interact with me and others who know the area well.
You can ask questions, get advice for your upcoming stay, and then share your photos and advice with others when you return home. It's a great community and the fastest way to get answers to those nagging questions about your visit!