Zinfandel Experience: Sip Amazing Zins Wines from Around the World

by Jill Loeffler  •

Updated: January 14, 2022
Do you love Zinfandel wine? If so, mark your calendars for March 25, 26, & 27, 2022 for the Zinfandel Experience wine tasting event! This event is usually in January, but is moved to March for 2022.

ZAP (Zinfandel Advocates and Producers) offers a fresh way to taste Zinfandel wines during their annual event, which is held at three venues: One Market, Palace Hotel, and other venues around San Francisco.
Over the course of three days, you get the chance to meet some of the top producers, learn more about this popular variety, and meet other red wine lovers. This premier event is one that you will never forget!
A Little About Zinfandel Wine

Before we get started with the festival details, let me give you just a few facts about Zinfandel wines. It's one of my favorite variteties and I often visit the regions just to the north of San Francisco that specialize in this amazing red.
Most Zins are powerful wines that offer fruity flavors as well as a little spice. They pair well with heartier meals such as steaks, pastas with cream sauce, or even a big juicy burger.
California is the biggest producer of Zinfandels, especially in regions within a few hours of San Francisco. Expect to find the biggest, boldest Zins from Dry Creek Valley and Rockpile Ridge in Sonoma.
The grapes in the photo below are in Dry Creek Valley. I took this in August, which is when the grapes turn blue and purple as they continue to ripen on the vine.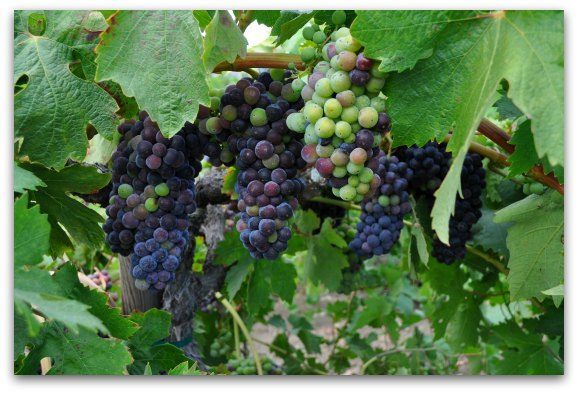 Lodi, the Sierra Foothills, and the Central Valley also produce a large number of Zin wines. Many of these are a little lighter than those produced in the regions mentioned above, but still delicious. These are the regions to buy from if you are looking for a great value wine.
During the tasting event, make sure you also sample some late harvest and old vine Zins. Late harvest wines are left on the vine longer, so they are thicker and sweet. These are amazing with a little dark chocolate. The old vine Zins are from older vines, which tend to produce heavier, more concentrated wines. They are delicious, but often a little more expensive.
Now that you know a little more about Zinfandel wines, let's head into the details for this year's event.
Schedule of Events

Friday, March 25
Welcome Reception 
6:30pm - 9pm at Choose from One of Three Options
The wine festival kicks off with a special dining experience for it's VIP ticket holders. The dinner allows attendees and winemakers to enjoy an excellent meal as they talk more about Zinfandel wines.
This year, the event will be held at three local SF restaurants: Scoma's, Town Hall, and Piperade. You get to choose which one you want to dine at this year! 
Saturday, March 26
Grand Tasting
11 am - 4 pm at One Market Pavilion
This all-day event brings together the most comprehensive variety of Zinfandels and blends in the world from over 80 different wineries, all under one roof.
Taste unique limited-production wines and sample bites from gourmet restaurants while you socialize with other Zin lovers.
Sunday, March 27
Flights! Find Your Flavor!
10:00 am -  12 pm at Palace Hotel at 2 New Montgomery
This morning seminar-style tasting is for serious Zinfandel lovers. During this professional tasting seminar, you will taste a total of 12 wines from three local wineries. 
You will learn more about each one including their history, flavor profile, and so much more. You will also learn which places to visit on the Zinfandel Trail in California Wine Country. This event is led by Esther Mobley, a Wine Critic for the SF Chronicle. 
Winemakers Auction & Dinner - Enchantment Under the Sea
6 pm - 10:30 pm at the Palace Hotel at 2 New Montgomery
This glamorous party consists of a reception with exclusive magnums and reserve offerings, an elegant dinner, and an auction. Come dressed to impress and rub elbows with celebrities of the wine world in this intimate setting.
Ticketing Information

All tickets are for sale on the official ZAP website. Click here to purchase tickets and get ready to sample some of the best Zinfandel wines on the market today!

Places to Stay Near the Event

If you are visiting SF specifically for the Zinfandel Experience, you may want to stay nearby. The three event venues are close to Union Square and Fisherman's Wharf, two districts that offer some of the best options in the city.
Click here to find a list of hotel recommendations in Union Square.
Click here to find the best places to stay in downtown SF.
You can also start by looking at the deals on TripAdvisor.com. Click here to find their current list of deals all over San Francisco.
Other Fun Events this Month

SF Ballet: Head over to the War Memorial Opera House to catch a performance from the SF Ballet. They perform a variety of works from the classics to modern pieces. Click here for the full SF Ballet calendar.
Golden State Warriors Basketball: Head over to the Chase Center to catch the Golden State Warriors in action. They play a half dozen games this month at the Chase Center. See this month's schedule of games.
SF Theater: Each month in SF, you will find a variety of theater performances. This month, large productions including shows such as Finding Neverland, The Lion King and Wicked are playing at the bigger theaters. You will also find several new or smaller shows at intimate theaters all over town. Click here for the full theater calendar for this month.