Yerba Buena Gardens Festival
Free Music & Cultural Programs in the Heart of San Francisco
Discover free music, artistic performances, and other cultural programs at the 2018 Yerba Buena Gardens Festival. This annual event offers free programming every week from May to October.
Enjoy classical, jazz, and world music, learn more about traditional and contemporary dance, watch local theater companies perform their craft, and uncover a variety of programs specifically for children and families.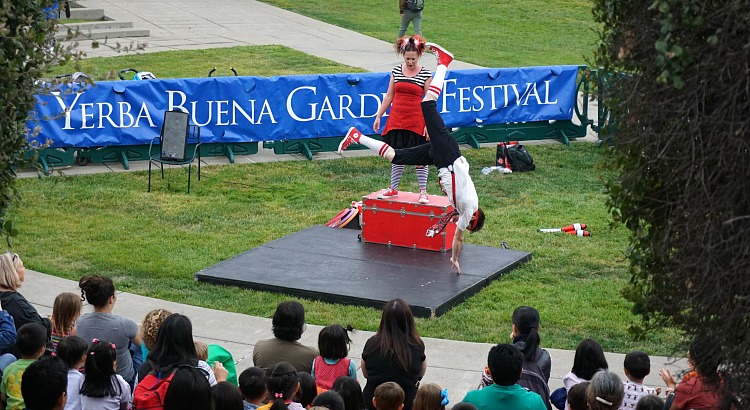 During these months, you will find several performances each week around the Buena Vista Gardens. Many are on the weekends, although some are also scheduled during the week. They also feature special Thursday lunchtime shows for those working nearby.
This is a fun event every year. It's relaxing to sit in the gardens around Yerba Buena Park catching free, live performances of both up-and-coming local artists as well as some who are recognized around the world.
Here are some additional details on what you can expect to find during this festival.
2018 Schedule
This year's events will run from May 6 - October 28. Below is the full schedule for this year.
May 2016
The Opening Event for the 2018 Season is on May 6 from 1pm - 3pm. Head over to the Yerba Buena Gardens to help kick off a great new series of live performances with Flor de Taloache + Diana Gameros.
Here are the additional performances this month:
5/8: Poetic Tuesdays at 12:30pm
5/10: New World String Project at 12:30pm
5/12: Innov Gnawa + Book of J at 1pm
5/17: Community Music Center Older Adult Choirs at 12:30pm
5/17: Cabanijazz Project at 6pm
5/19: Garba in the Gardens at 1pm
5/24: Dogon Lights at 12:30pm
5/26: Tom Rigney & Flambeau at 1pm
5/31: Kitty Pak at 12:30pm
June 2018
6/1: Non Stop Bhangra (Kids' Show) at 11am & 12:15pm
6/2 & 6/3: Yerba Buena Gardens ChoreoFest at 1pm
6/7: Latin Jazz Youth Ensemble of San Francisco at 12:30pm
6/8: Mahealani Uchiyama (Kids' Show) at 11am and 12:15pm
6/9: Gamelan Sekar Jaya at 1pm
6/12: Poetic Tuesdays at 12:30pm
6/15: Parangal Dance Company (Kids' show) at 11am and 12:15pm
6/16: Betsayda Machado y La Parranda El Clavo + VNote Ensemble at 1pm
6/17: Native Contemporary Arts Festival at 12pm
6/21: Jenny Lind Concert at 12:30pm
6/21: Bululu at 6pm
6/22: Circus Bella at 12pm
6/23: Circus Bella at 12pm & 2:15pm
6/28: Dalia & the Big Violin at 12:30pm
6/29: Unique Derique (Kids' show) at 11am and 12:15pm
6/30: Music of the Banned at 1pm
July 2018
7/5: Manring Kassin Bur at 12:30pm
7/6: Caterpillar Puppets (Kids' show) at 11am & 12:15pm
7/7: Isle of Klezbos + Fanfare Zambaletta at 1pm
7/10: Poetic Tuesdays at 12:30pm
7/12: Maikaze Daiko at 12:30pm
7/13: Chelle! & Friends (Kids' show) at 11am & 12:15pm
7/14: SF Uke Jam Summer Uke-Splosion! at 1pm
7/15: SF Mime Troupe at 2pm
7/19: Solate at 12:30pm
7/19: Pellejo Seco at 6pm
7/20: Pi Clowns (Kids' show) at 11am & 12:15pm
7/27: Alphabet Rockers (Kids' show) at 11am and 12:15pm
7/28: Yosvany Terry Sextet at 1pm
7/29: Artists Guide Exhibition from 9am to 5pm
7/29: San Francisco Lesbian/Gay Freedom Band at 1pm
August 2018
8/2: SoL DeVeloPMeNT with Mino Yanci at 12:30pm
8/3: Red Panda Acrobats (Kids' show) at 11am & 12:15pm
8/4: AfroSolo in the Gardens: David Hardiman's San Francisco All-Star Big Band at 1pm
8/9: LINES Dance Center at 12:30pm
8/11 & 8/12: Pistahan from 11am to 5pm
8/14: Poetic Tuesdays at 12:30pm
8/16: Highest Ani at 12:30pm
8/16: Annette A. Aguilar & StringBeans at 6pm
8/17: Venezuelan Music Project (Kids' show) at 11am & 12:15pm
8/18: Brazil in the Gardens: Pragandaia w/Special Guest Margareth Menezes at 1pm
8/23: Faun Fables at 12:30pm
8/24: Crosspulse (Kids' show) at 11am and 12:15pm
8/25: Van Anh Vo & The VA'V at 1pm
8/30: La Patronal at 12:30pm
8/31: Ka-Hon (Kids' Show) at 11am & 12:15pm
September 2018
9/1: Manila Disco Fever at 1pm
9/6: John Brothers Piano Company at 12:30pm
9/8: Marcus Shelby Orchestra Blackball: The Negro League and the Blues at 1pm
9/11: Poetic Justice at 12:30pm
9/20: Manny Martinez y la Rebelidia at 6pm
October 2018
10/4: Daniel Riera: Future Flutists with Electric Ensemble at 12:30pm
10/11: Rice Kings at 12:30pm
10/16: Poetic Tuesdays at 12:30pm
10/28: Halloween Hoopla (Kids' Show) at 12pm
*Schedule is subject to change at anytime.
Places to Stay Nearby
If you plan on spending quite a bit of time in or near Yerba Buena Gardens Festival, then I recommend looking at hotels in the Union Square District.
This area is centrally located and the most convenient place to stay in San Francisco for those exploring this area (or the entire city!). It's just a few blocks away from the Yerba Buena Gardens Festival and an easy bus ride to other popular attractions in SF.
Click here for my top recommendations in Union Square.
You can also find great deals on TripAdvisor.com. Click here to find the perfect hotel for your stay in SF.
How to Get to the Yerba Buena Gardens Festival
The Yerba Buena Gardens Festival performances are all in and around the Yerba Buena Gardens at 750 Howard Street. You can also enter the gardens from Mission or 3rd Streets.
The great thing about the location of the Yerba Buena Gardens Festival is that it is easy to reach from everywhere in SF and the Bay Area.
BART: If you are coming from the south or east bay, you can take BART to the Powell Street Station. Head south on 4th Street one block and make a left onto Mission. You will find the gardens about one block down on your right.
Muni Buses: All of these buses drop within a block or two of the festival: 5, 6, 8, 14, 21 30, 38, 41, 45, 54, 72, 91, 92, 93. You can also take the light rail trains to the Powell Street Station and walk two blocks to the festival.
Caltrain: If you take Caltrain from the south bay, you can either walk to the Yerba Buena Gardens Festival or take the 30 or 45 bus from the corner of Townsend and 4th Streets.
Golden Gate Transit: If you are coming from the north bay, it's an easy bus ride on Golden Gate Transit. Take the 70, 80 or 101 bus to the stop at Mission and 4th Streets.
Other Popular Annual Festivals & Events
Union Square Live: Throughout the summer, you can also catch free cultural performances just down the street at Union Square Live. Here you can also see everything from live music to local theater productions. Union Square Live offers shows most Wednesdays and Sundays from April to October. Click here for this year's calendar.
Wine Tasting Festivals: Some of my favorite events are SF's wine tasting festivals. The largest is the Chronicle Wine Tasting Event every February. You will also find other annual tastings such as Pinot Noir Days, the TAPAS Wine Tasting Event, and the Rhone Rangers Festival. Learn more here.
Street Fairs: Almost every weekend in the summer in SF, you will find a fun street fair or festival. They range from the two-day Pride Festival & Parade to the popular Haight Street Fair. Find the full list of this year's festivals.
Sunday Streets: Another free monthly event every year in SF is Sunday Streets. One Sunday a month from March to October, a specified district shuts down a number of streets to car traffic to allow pedestrians to run and play in the streets. You will also often find live music, free health screenings, and more. Click here for this month's schedule.
Savings Tip (AD): I also recommend checking out the event calendar on Goldstar.com. They feature dozens of event and tour tickets at up to half-off the full retail price. It's a great place to look before booking these types of tickets anywhere else. Click here to see their current ticket selection.
How else can I help you with your plans to attend the Yerba Buena Gardens Festival this year?
Other Pages for You