War Memorial Opera House: Home to San Francisco's Ballet, Opera and Other Fun Events

by Jill Loeffler  •

Updated: June 9, 2022
The War Memorial Opera House is a historic building in the Civic Center District. It's home to the SF Ballet, the SF Opera, and the Herbst Theater events.

It's a wonderful place to catch a show while you are in San Francisco. You will find several nice places to eat before your performance and you can easily get here on public transportation.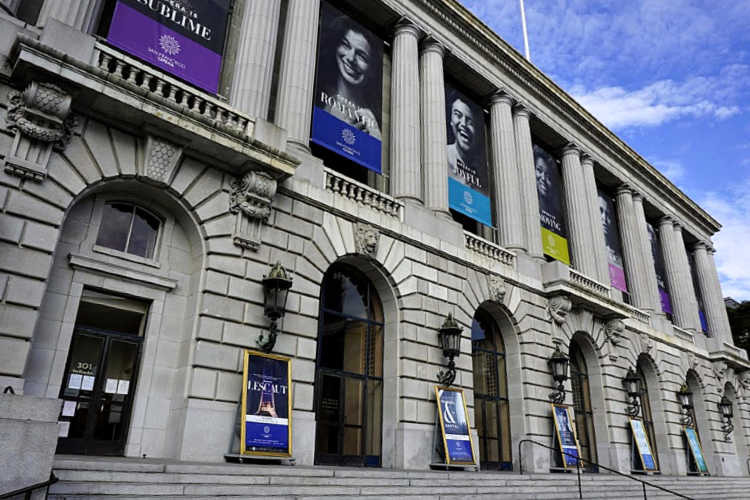 Read on to learn everything you need to know about this San Francisco performing arts gem.

Disclaimer: I receive a small commission from some of the links on this page.

SF Ballet

All performances by the San Francisco Ballet are in the War Memorial Opera House. The ballet was founded in 1933 and was the first professional ballet in the US.
Known for being extremely eclectic and one of the world's best dance companies, you will be able to see performances ranging from classical to contemporary depending on the dates you visit here. Many of the best dancers, and artistic directors, from all over the world have performed and worked here.
The season runs from January to May and the last performance is always on Mother's Day so it can be a wonderful way to surprise mom.
A special event is The Nutcracker which usually starts the second week of December and runs until Christmas Day. This show is always a fan favorite and sells out quickly so you will definitely want to plan and buy your tickets as soon as you can. It is always one of my must see events every year!
Here are just a few of the upcoming performances with the SF Ballet at the War Memorial Opera House.
SF Opera

The War Memorial Opera House has been home to the SF Opera since its opening in 1923. The first performance was La Boheme and it continues to amaze and enthrall audiences ever since.
Known for both classic and contemporary operas, it is always cutting edge and you can be sure to find something you'll love when you visit our beautiful city.
The SF Opera's summer season starts in early June and runs until early July. They usually have about 3 performances during this time. The Fall season runs from early September to the middle of December.
During this season the SF Opera usually has 4 to 6 operas for you to choose from when you come here.
Performing Arts Tour (Temporarily on Hold)

If you would love to take a look at the inside of the War Memorial Opera House, but don't have tickets to a show, you can grab a spot on their Performing Arts Tour. It's scheduled every Monday (except holidays) and leaves from the Grove Street Entrance of Davies Symphony Hall.

The tours leaves every hour between 10 am and 2 pm (currently offering only a virtual tour).
I took this tour and it was a wonderful way to get a good look at all of the performing arts building. The tour includes stops in Davies Symphony Hall (where the SF Symphony performs), the War Memorial Opera House and the Herbst Theater.
You will learn all about the groups that perform here, the history of the building and a little about their acoustics. It's a fun tour and perfect for those that love the performing arts.
>> Visit their site for details and any updates to this tour
Other Top Tours Around San Francisco

These are just a few of our most popular tours all around San Francisco.

History of the War Memorial Opera House

Originally built as a memorial to the soldiers who died in World War 1, in 1927 for 4 million dollars, this gorgeous structure has been turned into one of the most beloved opera houses anywhere.
Something that I love about the War Memorial Opera House is that there is so many performances to see here with over sixty different performances of nine operas throughout the year.
The opera house has seating for over 3,000 people and standing room for another 200 people so there is a good chance you will find just what you are looking for when you visit here.
That being stated, you will want to plan ahead as they performances usually sell out and people plan for them well in advance of the shows.
More Things to Do in the Civic Center District

You will find plenty of fun things to do in the Civic Center District. These are just a few of my favorites.
Asian Art Museum: The Asian Art Museum is one of the best SF museums. It's full of arts from countries such as Japan, China, and India. You will also find pieces from smaller countries around Asia such as Malaysia, Thailand, and Indonesia. It's a must see while you are in San Francisco.
Orpheum Theater: The Orpheum Theater hosts almost a half dozen Broadway shows each year. It's located on the eastern side of the district on Market Street. Past performances include shows such as Hamilton, Wicked, the Lion King and more.
City Hall: The crown gem of the Civic Center District is City Hall. Built in 1915, this building is open to the public Monday through Friday (except during holidays). You are welcome to step inside and explore. There is a small museum on its main level and usually a photography or art exhibit in the hallway on the lower level.
Tips to Attend a Performance at the War Memorial Opera House

The War Memorial Opera House is a wonderful place to see a performance.
What should I wear?
There is no dress code to see a show. You will a variety from more formal attire to jeans. I like to be somewhere in the middle with a business casual look. This means a nice pair of pants or a dress/skirt.
However, I've also gone to a show just in nice jeans. San Francisco is a casual place, so you will find many others just in jeans since most people come right after work.
When should I arrive? Will they seat me if I'm late?
It's always recommended that you arrive early. Some of the shows will not seat you during the performance so you do not want to be late. By not seating you during a show, they will not interrupt others that arrived on time.
If you arrive early, make sure to walk around the hallway a little to admire the art work and décor. The historic elements are amazing and get lost in the crowd when it gets too busy.
Where can I eat or grab a drink before or after a performance?
I prefer to head over to Hayes Valley for dinner before each performance. This district is on the western border of the Civic Center and an easy walk. You will find everything from French to German to American cuisine here. It's also a fun place to grab a drink before or after each show.
Where to Stay Nearby

You will find a handful of great hotels near the War Memorial Opera House. Here are just a few recommendations.
Inn at the Opera: This 3.5 star is a European-style accommodation with breakfast, small kitchenettes, a refrigerator, and more. It's quaint with Old World décor and perfect if you plan to spend quite a bit of time in the Civic Center or Hayes Valley districts. 333 Fulton Street. Check for availability and read reviews
Hotel Whitcomb: The Hotel Whitcomb is located on Market Street about 4 blocks away from the War Memorial Opera House. It's a historic hotel with a bar/lounge, free internet, and is located right in front of a Muni/BART entrance. It's a 3.5 star hotel with good prices for San Francisco. 1231 Market Street. Check for available rooms here
San Francisco Proper: About a half mile away is the San Francisco Proper Hotel. This 4-star hotel offers noise-proof rooms, a rooftop terrace, and a bar/lounge on site. It's also a quick walk away from the Muni and BART Civic Center Stations. 1100 Market Street. Check for room availability and reviews here
You will also find dozens of additional options around Union Square. It's a quick transit ride from here to the War Memorial Opera House and centrally located, so you can also easily get to other districts and events around SF. Here are my top recommendations for Union Square.
How to Get Here

You will find plenty of options to get to the War Memorial Opera House. I recommend taking public transit as it's the easiest, but you will also find several places to park if you do decide to drive.

Public Transit

Both the Civic Center and Van Ness Stations are a short walk away. The Civic Center Station is where you can get both BART and Muni. All lines run through this station.
If you are coming from Union Square, I recommend picking up any Muni line and taking it to the Van Ness Station. Take the exit the drops you at Market and Van Ness. From here, you will walk just about 5 blocks to get to the show.
You can also take a bus from Union Square that will drop you off about a block away. The 5 drops off about a block away.
Driving & Parking Near the War Memorial Opera House

If you do plan to drive, I recommend arriving a little earlier. This will allow you to find a spot easily. I don't recommend parking in the street here as most spots are hard to come by. Make sure to not leave anything in your car during a performance either to avoid any issues with break-ins.
All garages offer a set fee for performances. They range from $20 to $50 per garage. The closer you park, the more you will pay.
Performing Arts Garage is just a block away. It's one of the first to fill up. It's at 360 Grove St.
Civic Center Garage is another option. It's about two blocks away and is an underground garage. It's large with over 800 spots. It's at 355 McAllister Street.
Fox Plaza is another indoor parking garage. It's about two and a half blocks away. It's valet only parking and offers more than 400 spots. It's at 1390 Market Street.
>> Find additional SF parking options for each district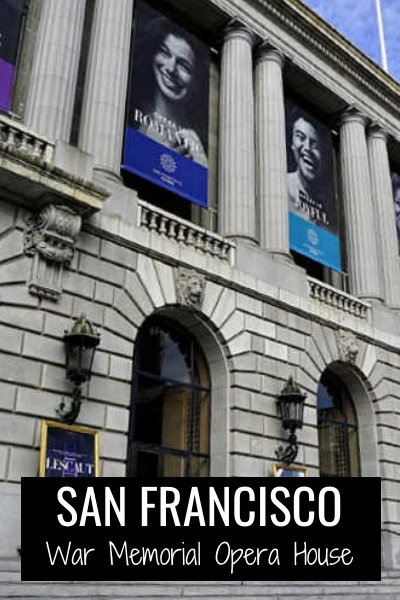 Comments? Questions? Suggestions?
I would love for you to join me in my private Facebook group! 
It's a great place to interact with me and others who know the area well.
You can ask questions, get advice for your upcoming stay, and then share your photos and advice with others when you return home. It's a great community and the fastest way to get answers to those nagging questions about your visit!