SF Indie Fest
Discover Intriguing Independent Films from Around the World
NOTE: Click here to stay up-to-date with what's open and opening soon.
SF Indie Fest is heading into its 21st year! This year's event is from January 31 - February 14, 2019.
This large film festival allows talented directors to showcase their independent, alternative, and subversive films.
You have the opportunity to watch nearly 80 films over the course of the two-week event.
All movies will show at one of three locations: Brava Theater, Roxie Theater, and Alamo Drafthouse in SF.
San Francisco hosts nearly 50 film festivals every year. Click here for a full calendar of this year's SF Film Festivals.
2019 Details
All films start on time. The box office opens 30 minutes before each showing. They recommend you arrive no later than 15 minutes before each film to guarantee seating.
In addition to the opening night bash, there are also several other parties included with tickets to the corresponding night of films.
Click here for a full schedule of films this year.
Tips to Attend Performances
Brava Theater
The Brava Theater is in the Mission District at 2781 24th Street (between York and Hampshire Streets).
Places to Grab a Bite or Drink Nearby
The 24th Street corridor around the theater offers a number of great food and beverage options. These are some of my favorites:
Pig and Pie: This small local eatery offers great comfort food. Some of my favorites include their chicken and bratwurst sausage plate, their fall gratin (a vegetarian delight), and the Kobe bacon burger. 2962 24th Street, $$


Saint Francis Fountain: This old-school ice cream parlor also offers some great comfort food, including burgers, sandwiches and soups & salads. 2801 24th Street, $$


Local's Corner: This is another favorite just a few blocks from the theater. Their menu includes an oyster/raw bar, a wonderful cheese plate, and a handful of other seafood options. It's a great light meal before a show. 2500 Bryant Street, $$
How to Get Here
A few Muni buses drop off within a block of the Brava Theater. The best options are the 27, 33 or 48.
You can also take BART from Downtown or Union Square to the 24th Street Station. From there, walk east about a half mile to the theater.
Roxie Theater
The Roxie Theater is also in the heart of the Mission at 3117 16th Street. This historic theater shows the majority of the films during the SF Indie Fest.
Places to Grab a Bite or Drink Nearby
Here are a few of my favorites near this theater:
Sunflower Restaurant: This is a little Vietnamese restaurant right next door. The food is cheap and the portions are large. Make sure you try their amazing garlic noodles! 3111 16th Street, $


Pica Pica Maize Restaurant: I love this little place. The shrimp ceviche, plantain chips, and pulled pork platter are three of my favorites. 401 Valencia Street, $$


Elixir: This famous SF bar is just a block away. It's the perfect place to grab a beer or a Bloody Mary before or after your film. 3200 16th Street, $$


Little Star Pizza: This pizza place serves up some of the best pies in the city. They are a little pricey, but worth every cent. They also have some great beers on tap and some well priced glasses of wine. 400 Valencia Street, $$


Monk's Kettle: This upscale pub offers an amazing variety of craft beer alongside their New American cuisine. I enjoy their grilled flatbread, mushroom risotto, and meat and cheese tray. I've been told their burgers are amazing, too! 3141 16th Street, $$
How to Get Here
You can take one of several buses that drop within a few blocks of the Roxie Theater. Your best options are the 14, 22, or the 49. You can also take BART to the 16th Street Station.
Alamo Drafthouse
The Alamo Drafthouse is a newly renovated theater in SF's Mission District at 2550 Mission Street. You will find several films here during SF Indie Fest.
What I love most about this movie theater is that they serve food and drinks right inside. Their full service kitchen offers burgers, pizza, salads, wraps, and more.
There are other great places within a block of this theater, but I'd recommend checking out the Alamo Drafthouse menu first.
How to Get Here
The Alamo Drafthouse is in the heart of the Mission and you will find several options to get here. You can take the 14 or 49 buses, which will drop you off just a block away. You can also take the BART train to either the 16th Street or the 24th Street Stations. Both are just a few blocks from the theater.
More Fun Events in February

Follow SFTourismTips on Facebook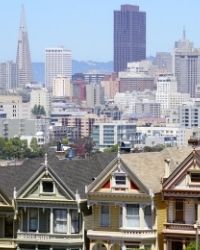 On my Facebook page, you will find more great information about planning your San Francisco vacation.
It includes tips, must see attractions, and other fun details.
Click the link below to check it out. If you enjoy the page, give us a like.