SF Bay Area Super Bowl 2016
Tips to Enjoy this Popular Event in Santa Clara, CA
Super Bowl 50 is on February 7, 2016 in Santa Clara, CA. It will be held at the new home to the San Francisco 49ers, Levi's Stadium. The stadium is about an hour south of San Francisco and about 15 minutes north of San Jose.
While the game will be played in Santa Clara, you will find a variety of events all around the SF Bay Area.
SF Bay Area Super Bowl: Schedule of Events
There are dozens of events leading up to and on the day of the game. Here are just a few of the activities already scheduled.
Super Bowl City
This family-friendly event will be held in San Francisco's Justin Herman Plaza from January 30 - February 7. It will feature interactive games that showcase the region's technology focus, sections that show off the Bay Area's culinary diversity and excellence, and celebrate Super Bowl 50.
This is also where you will find CBS broadcasting live on the days leading up to the big event.
Justin Herman Plaza is on the eastern side of San Francisco, across the street from the Ferry Building on the Embarcadero and Market Streets.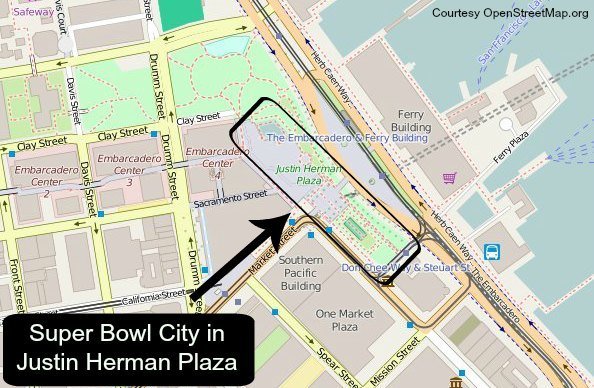 NFL Experience
The NFL Experience is pro football's interactive theme park. This will also be located in San Francisco in the Moscone Center in the SOMA District.
Inside, you will find interactive games that teach you how to throw like a professional football player or give you a chance to show how far you can kick a ball. You will also get the chance to meet some of your favorite players and get autographs.
The NFL Experience will feature previous winners' rings and a chance to take your picture with the Vince Lombardi Trophy. There will also be a huge Super Bowl 50 shop where you will find authentic NFL gear.
Here are the hours for the NFL Experience:
Saturday, January 30: 10am to 10pm
Sunday, January 31: 10am to 8pm
Monday, February 1: 3pm to 10pm
Tuesday, February 2: 3pm to 10pm     
Wednesday, February 3: 3pm to 10pm
Thursday, February 4: 3pm to 10pm
Friday, February 5: 3pm to 10pm
Saturday, February 6: 10am to 10pm
Super Bowl Sunday (Feb 7): 10am to 2pm
Taste of the NFL
In 2016, the Taste of the NFL celebrates its 25th year with their event in San Francisco. This food focused event will be hosted by Andrew Zimmern. Chefs from all 32 NFL cities will be on hand serving their most popular local cuisines.
In addition to the food, NFL Hall of Fame players will be walking around greeting the crowd. There will also be live music and a silent action of sports memorabilia, vacations, and more.
The event will take place at the Cow Palace on the evening of Saturday, February 6.
Rolling Stone Magazine Super Bowl Party
This famous Super Bowl party is full of famous celebrities and internationally recognized platinum selling artist. It's a Super Bowl party like no other and one you know will be special since it's thrown by Rolling Stone Magazine.
The party is at the San Francisco Design Center. It's also the night before the big game and starts at 9pm.
About Levi's Stadium
The San Francisco 49ers moved south to Levi's Stadium at the beginning of their 2014 season. This new stadium offers seating for more than 68,000 spectators. It also has 165 luxury suites, as well as, 8,500 club seats.
It's located at 4900 Marie P. DeBartolo Way and Tasman Avenue in Santa Clara.
The stadium is easy to get to by public transit or car. There are also plenty of places to stay nearby.
Tickets
Tickets for the game are already on sale. They will be pricey, but it's a fun way to cheer on your favorite team in the most important game of the year.
How to Get Here
The best way to get to the stadium of Super Bowl 50 is to take public transit. You will find that parking will be really expensive and trying to get in and out of the stadium will be a nightmare.
From San Jose, Mountain View, Sunnyvale, and Milpitas, your best option is to take the VTA light rail train. Exit at the Great American Station, which is on the northern side of Levi's Stadium.
For those coming from San Francisco, you will need to first take Caltrain south to Mountain View. You will then transfer to the VTA light rail train at the Mountain View Transit Center. It is located at Evelyn Avenue and Castro Streets. You will need a ticket for both the ride on Caltrain and the VTA light rail train. As mentioned above, the VTA stop is just to the north of the stadium.
If you plan to arrive from places such as Stockton, Tracy, Vasco, Livermore, Pleasanton, or Fremont, you will want to take the ACE train. It provides direct service right to the stadium.
For those arriving from Oakland, Sacramento, Davis, Richmond, Berkeley, or Emeryville, your best option is to take the Amtrack Train. It picks up in several locations in the East Bay and offers direct access to Levi's Stadium.
If you do plan to drive, you will find that several major highways are nearby the stadium including 101, 237, 880, as well as, the Lawrence Expressway and San Tomas Expressway. Due to a heavy volume of cars during this event, I recommend arriving hours before the game. The traffic will be routed to offer the fastest entry and exit times as possible. I would also make sure to purchase parking tickets well before the game to ensure you find a spot to park.
---
Where to Stay Nearby Levi's Stadium
You will find several great places to stay nearby the stadium. I recommend booking early to get a room. Some of the top options include:
Hyatt Regency Santa Clara: 4-star


Hilton Santa Clara: 3.5-star
Hyatt House San Jose: 3-star


Santa Clara Marriott: 3.5-star


Avatar Hotel, a Joie de Vivre Hotel: 3-star
You may need to search around for hotel rooms as they are already filling up quickly. Click the links below to start your search for hotels in and around Super Bowl 50.
Where to Stay in San Francisco
Since most of the Super Bowl 50 activities, except the game itself, are in San Francisco, this is also a great place to stay for the event. The city has more than 300 hotels and thousands of rooms available. Again, I'd book early to avoid missing your chance to stay near the action.
Here are my recommendations for top hotels:
---
Other Fun Things to Do in SF
Make sure you spend some time exploring San Francisco while you are here. In addition to the Super Bowl activities, you will find dozens of fun things to do here. These are just a few of my favorites to get you started.
Alcatraz Island
If this is your first visit to San Francisco, then I recommend heading out to Alcatraz Island for the day. It was once a maximum security prison that housed infamous prisoners such as Al Capone, Machine Gun Kelly, and Robert Stroud (the Birdman of Alcatraz). They start selling tickets about 90 days in advance, so book your tickets as soon as you set your plans.
Tickets are already on sale for the dates around the Super Bowl, so pick yours up today on the official Alcatraz Island Ticketing site. You can also click here to learn more about what it's like to visit Alcatraz before booking your tickets.
Golden Gate Bridge
This Golden Gate Bridge is one of the most famous bridges in the world. This colorful beauty connects Marin County with San Francisco and locations to the south. It's a must see during your visit to SF.
Visiting the bridge is free. You will find a small outdoor museum on the southern side (San Francisco side) of the bridge that you can enjoy at your own pace. You are then welcome to walk as far as you want across the bridge.
It's 1.7 miles long and there is no public transit to return from on the other side. Make sure you only walk across as far as you are willing to walk back. Most people only walk to the southern tower which is about one fourth of the way across.
On the southern side, you will also find a couple of small cafes, as well as, a gift shop.
Walking Tours
The best way to get a great overview of San Francisco is by taking one of its walking tours. There are several a day and they range from the free tours offered by the public library to guided food walking tours of specific districts.
The free tours are wonderful and offer a great look at the history or a specific district or attraction. The downside is that they are more crowded and sometimes it is harder to hear the guide (unless you visit during a less busy time of year).
The guided tours are great too as they are given by knowledgeable guides. They take you to hidden gems and tell you stories you won't hear anywhere else. Since you are paying, they limit the number of walkers, so you will be able to better enjoy the experience.
Click the links below to find out more about each type of walking tour offered.
SF Bay Cruises
While you are here, make sure you spend a few hours cruising around the SF Bay. You will find several different types of tours from the standard 60-minute Bay Cruise to the three to four hour dinner and sunset cruises. Click here to find a list of my favorite cruises around the bay.
---
Other Activities You Might Enjoy