San Francisco Coronavirus (COVID-19): Plans to Reopen SF

by Jill Loeffler  •

Updated: May 10, 2022
Here you will find updates for museums, attractions, conferences, and other events impacted by the Coronavirus (COVID-19). I'll keep this page as updated as possible to keep you posted on what is happening in San Francisco and the surrounding communities.

Please reach out to me with additional changes, updates or questions. 
Updates as of May 10, 2022
The city of San Francisco no longer requires masks or proof of vaccination in most places in the city limits.
Even though it isn't required, you will find a variety of individual policies throughout the attractions, bars, and restaurants. 
I recommend bringing a mask along with you everywhere you go. Otherwise, you might need to buy one and many places charge quite a bit for a small, surgical mask. So, it's best to just bring one with you.
I also recommend bringing along your vaccination card, if you have one. If you aren't vaccinated, double check the places you plan to eat or explore to ensure they don't still require you be vaccinated to enter (as some large attractions still require this). 
Update on Coronavirus Reopening Dates/Plan

Where Proof of Vaccination Required
San Francisco is requiring proof of vaccination for certain indoor establishments. This includes:
Restaurants
Bars
Large indoor events of more than 500 (proof of booster will be required for large indoor events starting on February 1, 2022 - more details of this change below)
Outdoor settings with more than 5,000 people
A few museums and attractions are also starting to require vaccination. Some museums are requiring proof of vaccination to eat at their cafes only, so you'll see different rules for certain activities.
For those 12 and under, you will need a negative test result at this point.
I highly recommend you bring along your vaccination cards with you at all times, just in case someone changes their policy at the last minute. 

Upcoming Changes to Requirements
All of these rules are around large events in San Francisco. This includes sporting events, festivals, and any indoor or outdoor large gathering.
Changes starting February 1, 2022
All attendees of events in SF over 12 will be required to show proof of completed vaccination, which means your last dose was at least two weeks ago
Everyone over 16 must show proof of a booster (where eligible) at least one week prior to the event as well
Changes starting March 1, 2022
All event attendees between 12 and 15 must provide proof a booster that happened at least one week prior
Children between 5 and 11 must provide proof of vaccination or a negative test result one to two days before the event (some places will only allow proof of vaccination for those 5 to 11)
Those between 2 and 4 must also start following the testing rules
Restaurants Requiring Proof of Booster to Eat Inside
On Tuesday, December 21, the first restaurant announced it will only allow people to eat inside if they can show proof of a booster shot as well as the vaccine. A second was announced the next day. I'll do my best to add as many restaurants that make this same announcement as I can below.
Zuni Café at 1658 Market St.
Cassava at 3519 Balboa St.

Masks
Masks are now required at all indoor locations around San Francisco. 
You are also required to wear your masks on public transportation. This is a federal mandate which runs through March 18, 2022. 
Older Updates
SF Reopened on June 15
On Tuesday, June 8, the mayor announced that the city would fully reopen starting June 15. What this means for you is that capacity will increase at bars, restaurants, and attractions. Alcatraz is currently adding more tours and you will find other organizations increasing their capacity as well.
Even though they are allowed to reopen and masks are not required in most situations, you will find that some places will remain at a lower capacity and will require masks. I would recommend brining a mask with you at all times, so you can wear it where it is required. 
Here are a few more details:
Vaccinated individuals will not be required to wear masks in most situations.
Social distancing requirements will mostly go away.
Everyone must still wear masks on public transportation (this is a federal mandate) through September.
Masks will be required for indoor activities with more than 5,000 people or outdoors with more than 10,000.
Other than that, businesses are allowed to do what they want moving forward. 
Previous Update from May 6
Here's the latest news on the reopening plan.
San Francisco moves to the yellow tier on May 6, which means expanded opens for bars, restaurants (indoors and out), sporting events, and more. Outdoor mask requirements are also being relaxed. 

Outdoor and indoor dining capacity allowed at 50%
Indoor museums, zoos and aquariums increase to 50% capacity
Open air bus and boat tours allowed to increase to 50% capacity
Bars and breweries are allowed to open
Outdoor arts, theater, music performances, and festivals capacity is increased
Outdoor sporting events capacity is increased
*Even though museums, aquariums, and zoos are allowed to reopen right now, expect some to delay their reopening for a little while longer as they need time to prepare, ramp up staff, etc. This is why you won't see dates listed below for estimated reopening for all attractions at this time. I'll update these individually as each attraction announces their reopening plans.

Hotel Reservations: Hotels are now able to take new reservations.
Masks are only required indoors above a certain number of people or where required by that indoor facility. You are allowed to go without a mask outdoors when running, walking, biking, and you no longer need to pull up your mask when passing others on the street.
Bay Cruises: Many of the SF Bay cruises are back on the water. They are offering limited capacity as well as increased cleanings to help keep you safe. Masks are required.
Sports: Both the SF Giants and Oakland A's baseball teams will allow fans at their games starting with their home openers in April. The Giants capacity will move to 100% on June 25. Learn more about the SF Giants here. Oakland moves to 100% on June 29. Learn more about the Oakland A's here.
Streetcars: The F Streetcar line between Fisherman's Wharf and the Castro restarted on May 15. It runs seven days a week! 
Open Attractions

Some outdoor attractions and activities are open. Most have limited their capacity to allow visitors to maintain a safe distance. 
Alcatraz Island: Reopened with indoor cellhouse tours on 3/15, night tours and behind the scenes tours are still on hold for now.
Aquarium of the Bay: Opened 3/4
Asian Art Museum: Opened 3/4
Beat Museum: Open
Botanical Gardens: Open
Cable Car Museum: Open
California Academy of Sciences: Opened 3/17
Cartoon Art Museum: Reopened 3/7
Coit Tower: Open
Conservatory of Flowers: Opened 3/5
Contemporary Jewish Museum: Opened 4/17

de Young Museum: Opened 3/6
Disney Museum: Reopened 4/22
Exploratorium: Reopened July 1
The Ferry Building: Open with limited capacity in stores.
Ghirardelli Square: Open with limited capacity in stores.
Golden Gate Bridge: Access to bridge sidewalks is open to pedestrians and cyclists.
Hyde Street Pier: Open
Japanese Tea Garden: Open
Legion of Honor: Open
Lombard Street (Crooked Street): Open
Mission Murals: Open
Muir Woods: Open with reservations only.
Museum of Modern Art (SF Moma): Reopened 3/7
Painted Ladies of Alamo Square: Open
The Palace of Fine Arts: Open
Pier 39: Limited capacity in stores, most attractions open.
Twin Peaks: Open
USS Pampanito: Open
SF Zoo: Reopened to the public on 1.30
Other Details

Broadway Shows: Broadway SF moved all of their Broadway shows to August 2021, this is for both the Orpheum and Golden Gate Theaters. The first show will be Hamilton on August 10, 2021. Learn more here. 

Harry Potter at the Curran: Performances are set to start again on January 11, 2022.

Cable Cars: Muni announced that cable cars will be back on their tracks in August. You can ride them for free this month as they are working to adjust the lines and make sure everything is running properly. They will not run on a regular schedule. They will begin their standard service (with fees) in September.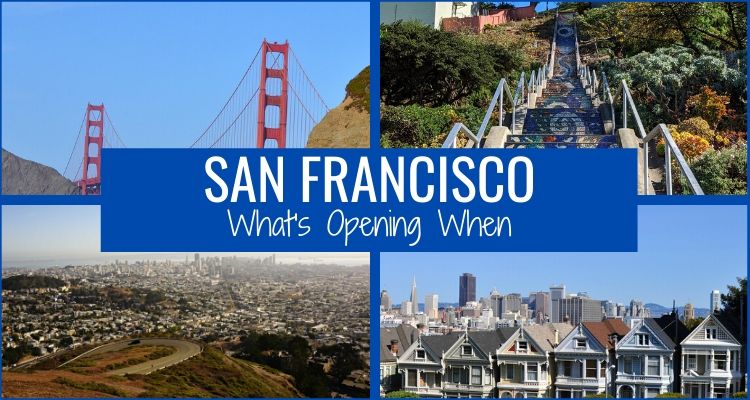 Older Posts

Posted On: 5/28 at 3:13 p.m. (PT)
On May 28, San Francisco released their reopening plan. It will be done in four phases. Here is what you can expect to open and when. Everyone is required to wear masks when outside.
Phase 2A: June 1 

*Child care

*Botanical gardens

*Outdoor museums and historical sites

*Outdoor curb side retail for services with minimal contact 

Phase 2B: June 15 

*Most indoor retail 

*Outdoor dining

*Summer camps 

*Sports with no fans 

*Private household indoor services 

*Religious services

*Outdoor exercise classes 

*Non-emergency medial appointments

Note: On the Alcatraz website, they announced they will start tours again on June 15, 2020.

Phase 2C: July 13 

* Indoor dining 

*Hair salons and barbershops

*Real estate open houses 

Phase 3: Mid-August

*Schools

*Bars

*Nail salons, tattoo parlors and massage parlors

*Gyms

*Swimming pools

*Playgrounds

*Indoor museums 

Phase 4: To be determined

*Concert venues

*Nightclubs

*Festivals

*Hotels and lodging for leisure and tourism 

Note from the San Francisco Department of Public Health

After the first two cases were confirmed in San Francisco on March 6 (both due to community spread), the San Francisco Department of Public Health (SDPH) and city of San Francisco have decided to take an aggressive approach to slow down the spread of this virus. 
If you do go out, you are now required to wear a mask and only go out if you need groceries or other essential services.
Visit their site to learn more about what's going on right now with the Coronavirus in San Francisco. 

Current Status

Posted On: 5/1 at 3:25 p.m. (PT)
Museums & Attractions

California Academy of Sciences: Museum is closed.
de Young & Legion of Honor: Closed.
Disney Museum: Closed.

Exploratorium: Closed.

San Francisco Museum of Modern Art: Closed.

SF Asian Art Museum: Closed.

Contemporary Jewish Museum: Closed and will monitor the situation for how long they stay closed.

Randall Museum: Closed.

Pier 24: Closed.

Alcatraz: Closed.

Beyond San Francisco

Cantor Arts Center and Anderson Collection at Stanford University has canceled all public tours.
Children's Discovery Museum in San Jose: Closed.
Festivals & Other Community Events

Hamilton: All shows at the Orpheum Theater are canceled.
Harry Potter and the Cursed Child: Performances suspended.
Bill Graham Civic Auditorium: All shows postponed.

Warfield: All shows are canceled or postponed.

San Francisco Cherry Blossom Festival: Planned for April is canceled.

San Francisco Warriors: All games are suspended indefinitely. 

Chase Center: All concerts and games canceled.

San Francisco Giants: All games postponed.

Golden Gate Park 150th Anniversary Celebration: Scheduled for April 4 is postponed with no new date announced.

San Francisco International Ocean Film Festival: Originally scheduled for March 12 to 15 is postponed and a new date will be announced soon.

Reboot Ideas Festival: March 26 - 29 is postponed and will be rescheduled for a later date.

San Francisco Symphony is closed.

Venues at the San Francisco War Memorial and Performing Arts Center are closed.. This includes the War Memorial Opera House, the Davies Symphony Hall, Herbst Theatre, The Green Room, the Taube Atrium Theater, the Bryan Education Studio and the Veterans Meeting Room.

SF Ballet: Canceled all performances.

New Conservatory Theatre: Closed. 

Beyond SF

SAP Center: No events scheduled. They will review each event after that date to determine if they will need to postpone/cancel based on direction from the County of Santa Clara's Public Health Department.
San Jose Sharks: All NHL games are canceled until further notification.
Earthquakes: They will postpone their games until further notice.

Conferences: San Francisco

Amazon Web Services Summit: Scheduled for April 14 is canceled.
American Educational Research Association annual meeting: Scheduled for April 17 - 21 is canceled.
Bitcoin 2020: March 27 & 28, will be rescheduled for Q3.

Gucci's Cruise 2021 Show: Planned for May 18 is canceled.

The Game Developers Conference: San Scheduled for March 16 - 20 has been postponed to another date later in the summer. The new date will be announced soon.

Facebook Global Marketing Summit: March 9 - 12, canceled

Intel Labs Day: Scheduled for March 12 at the Palace of Fine Arts is cancelled.

Lead 2020: Scheduled for March 5 - 7 at the Moscone is canceled.

Rev2020: Scheduled for March 9 - 11 is canceled.

Oktane 2020: Originally scheduled to be at the Moscone Center March 30 - April 2 will now be a virtual conference online.

Red Hat Summit by IBM: Show was scheduled for April 27 - 29 and has been canceled.

Google Cloud Next '20: April 6 - 8 is canceled.

Lesbians Who Tech Summit: Rescheduled for August 6 - 8

IBM Think 2020: May 5-7 is canceled.

Conferences: Beyond SF
Women of the Vine & Spirits Global Symposium 2020: Napa was scheduled for March 9 - 11, postponed but no new date announced.
SaaStr Annual 2020: San Jose, March 10 - 12 is postponed and rescheduled for September, but new dates have not been announced. 
Facebook F8 Conference: San Jose, May 5 - 6 is canceled.

Google I/O: Mountain View, May 12 - 14 is canceled.

Nvidia GPU Technology Conference: San Jose, March 22 - 26, canceled.

Airline Updates

Many airlines are offering you the chance to reschedule or postpone your flights at no additional cost. I'll do my best to keep these updated also, but please confirm all details with your airline directly.
Alaska: Fees waived for any tickets purchased on or before February 26 with dates through December 31, 2020. If you purchased between February 27 and May 31, 2020 (with original travel dates between February 27, 2020 and April 30, 2021), you can change or cancel them based on the fare level selected.
American: Bought your ticket before May 31, 2020, for travel between March 1 and September 30, 2020, you can rebook without change fees (some restrictions apply). If you buy a new trip between March 1 and May 31, 2020, for all future travel, you can also change it a later date without change fees. Plus, if you have a ticket that is expiring between March 1 and September 30, 2020, the value of your unused ticket can be used for travel through December 31, 2021. You may owe any difference in ticket price.

Jet Blue: Will waive change fees for all flights through January 4, 2021, must be booked before May 31, 2020 and fly again before January 4, 2021.

Southwest: Follow their regular policy which includes no change fees.

United: Change or cancel your flights with no fees before May 31, 2020.

AirBnB Updates

They will follow their standard cancellation policy for most bookings, so check your reservations to see what your host's policy is for cancellation.
However, in areas that travel is impacted by government regulation, they will use their "extenuating circumstances policy." This will be in effect for any area that is under containment, has a travel warning, or travel restrictions due to the Coronavirus (COVID-19).