Renegade Craft Fair 2019
Discover Unique Pieces from Hand-Selected Artists
NOTE: On December 6, San Francisco (and a few surrounding counties) will once again be on a stay-at-home order. This will last indefinitely. Click here for more information.
Uncover amazing pieces of art at the Renegade Craft Fair, an annual event that features works from 300 talented artists who are specially selected to participate.
This year's April fair will take place at the Fort Mason Center on the weekend of April 13 & 14. They are scheduled to return to SF in the summer on July 13 & 14 and in the fall on November 16 & 17.
For each event, the market will be open from 11am to 6pm on both days. Admission is free.
The timing of this fair is perfect for anyone doing some spring cleaning and looking for fresh redecorating ideas for their home. There will also be DIY workshops for crafty individuals seeking new ideas to create themselves.
You will find thousands of handmade goods from jewelry to stationery, trendy clothing, shoes, and other accessories. There are also pieces for the home, including eco-friendly furniture, housewares, and prints and posters.
As you shop, don't miss out on all the goodies to nibble on. You will find gourmet samples from Jicama (California street food), Tante's (everything from sausages to vegan dishes), and the Post Street Creamery (frozen treats).
When you need a break from shopping, head to the mezzanine level to listen to DJs Nick and Dillon. While you are there, make sure to rest your tired feet at the Yellow Leaf Hammocks rest stop.
How to Get to the Festival
The Renegade Craft Fair will once again be held in the Festival Pavilion at the Fort Mason Center. This wonderful event venue is between Fisherman's Wharf and the Marina District, right along the waterfront.
You can walk, drive, or take public transit to get here.
It's a quick (and beautiful) walk from Fisherman's Wharf. Walk from Aquatic Park west toward the pier. Right before you enter the pier, you will see a path that takes you up and over the hill. The Fort Mason sign will be on your left as you enter this trail.
The best public transit options include the Powell/Hyde Street streetcar and the 19, 28, 30, 47, 49, 90 and 91 Muni buses.
You can also drive to the event. I don't recommend this, as parking is tight in this area, but if you have the patience, you should be able to find some street parking four to five blocks away.
Click here for additional details on how to get to the Fort Mason Center.
Places to Stay Nearby
If you are looking for the best places to stay nearby, I recommend either Fisherman's Wharf or the Marina District. At Fisherman's Wharf, you will find options from 2-star budget friendly motels to higher-end 4- and 5-star hotels. Discover my recommendations for Fisherman's Wharf.
In the Marina, you will find a number of budget friendly motels and a handful of boutique hotels. Check out my recommendations for the Marina.
You can also find great deals for hotels in these districts and all over San Francisco on TripAdvisor. Before you book, check out their special offers today!
Other Fun Events This Year
SF Festivals: Every year, you will find dozens of street fairs and festivals all around San Francisco. They range from the large Cherry Blossom Festival in April to the colorful Castro Street Fair in October. Click here for a list of annual festivals by month in SF.
Wine Events: SF is also a hot spot for wine events and activities. All year long, you can sample both local and international wines. Click here for a list of wine events this year.
Savings Tip: Find great savings on SF tours, events, and other activities on Goldstar. They often feature a limited number of tickets to the top things to do in San Francisco and the Bay Area every day at up to 50% off. Click here to check out their current selection of deals!
Film Festivals: This year you will also find several film festivals, including the American Indian Film Festival, the South Asian Film Festival, and the Dance Film Festival. Each one offers the best independent films that showcase real life experiences of these communities. Click here for the full schedule of film festivals every year in SF.

Follow SFTourismTips on Facebook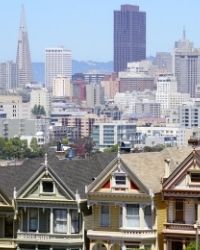 On my Facebook page, you will find more great information about planning your San Francisco vacation.
It includes tips, must see attractions, and other fun details.
Click the link below to check it out. If you enjoy the page, give us a like.

Other Great Events in SF