Oktoberfest by the Bay

Update: Dates and times for the 2021 festival are still TBD. I'll update this as soon as I learn more. 
Join other beer lovers on San Francisco's Pier 35 for Oktoberfest by the Bay. This annual Munich tradition features German beer, food, music, and fun.

This year's festival lasts from Friday, September 20 to Sunday, September 22, 2019. In order to manage demand and the crowd, this three-day event is set up as four different sessions. You can attend on Friday night from 5pm to 12am, Saturday from either 11am to 5pm or 6pm to 12am, or on Sunday afternoon from 11am to 6pm.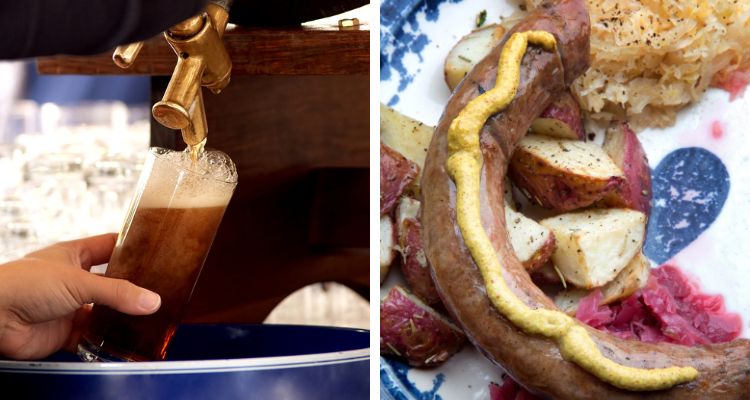 General admission tickets to all four sessions include entrance into the event as well as the entertainment. Food, beer, and souvenirs come at an additional price. Food and dessert items range from around $3 to $12 each. Beer and wine is $6 a glass. You can also look at buying a VIP ticket which includes additional benefits.
This year, you will be entertained all weekend long by the Chico Bavarian Band and the Internationals. 
Buy Tickets

You can either buy your tickets online in advance, or at the door. The most popular sessions (Friday and Saturday nights) will sometimes sell out in advance, so keep this in mind when considering your options.
For all four sessions, you can buy either general admission tickets or VIP tickets. The general admission tickets include just your entrance into the event and the live music. The VIP tickets include a food buffet, a commemorative mug, your first beer (not unlimited), a private bar, guaranteed seating in a private area, and private restrooms. 
The general admission tickets start at $25 per person (plus an online service fee). The VIP tickets are $75 per person (plus a service fee).

For a limited time only, they are offering small discounts when you purchase in advance. Make sure to check out the instructions at the top of the ticketing page before you buy your tickets.

How to Get to Pier 35

This year, you will find Oktoberfest by the Bay on SF's Pier 35, near Pier 39 and Fisherman's Wharf.
Here are some of your best options.
Streetcars: The E & F Streetcars will drop you off less than a block away from the event. You will find a stop at Embarcadero and Bay, right across the street from the event.

Lyft/Uber/Cab: You can also take a ride sharing or taxi service to get to the event. They are usually readily available and it's an easy and inexpensive way to get around.

Disclaimer: I receive a small commission from some of the links on this page.

Best Places to Stay

The two best places to stay in SF during Oktoberfest by the Bay are Fisherman's Wharf, Union Square and downtown SF. All three offer a variety of options from budget friendly two-star hotels to high-end luxury suites. 
I also recommend checking out the discounts offered on TripAdvisor.com. At anytime, you will find a few ways to save on your stay. Click here to check out their current deals for this weekend.

Other Top Events this Month 

This month in San Francisco is full of fun, colorful events. Here are just a few others I think you will enjoy checking out.
A Taste of Greece: Enjoy Greek food, wine, and music at this year's A Taste of Greece. This annual event is at the Annunciation Cathedral in SF's Mission District. Stop by Friday, Saturday, or Sunday.
Craft Spirits Carnival: If you are looking forward to Oktoberfest by the Bay, you might also enjoy the Craft Spirits Carnival. It offers you the chance to try spirits from up to 100 distilleries. Samples include whiskey, absinthe, rum, vodka, and more. 
Latino Film Festival: Another fun way to enjoy this weekend is to stop by the Latino Film Festival. At this event, you get the chance to check out films created by independent filmmakers from the US, Latin America, Spain, and Portugal.

History of Oktoberfest 

Oktoberfest is a German celebration and one of their biggest festivals in the world ever year. The German festival is always in Munich. It starts on the third weekend in September and runs until the first Sunday in October. This is why you will see most Oktoberfest celebrations, including Oktoberfest by the Bay, in late September.
The event started in 1810 as a wedding celebration for the royal family. It was so much fun, they had the celebration again in 1811. This started a tradition that has lasted for more than 200 years.