Nutcracker Ballet in San Francisco 2019
Celebrate the Holidays with the SF Ballet
NOTE: As of July 30, San Francisco and Bay Area counties are slowing the reopening process due to a spike in cases. Many large events, theater performances, and concerts are cancelled or postponed. Click here to stay up-to-date with what's open and opening soon.
The Nutcracker Ballet in San Francisco is an annual event every December. The SF Ballet was the first to perform this popular holiday show in the US.
Today, you will find it performed all around the country. However, the one here is still one of the most popular.
This year's performances will run from December 11 - 29, 2019. This includes a show on Christmas Eve. Each performance runs for 2 hours with a 20 minute intermission.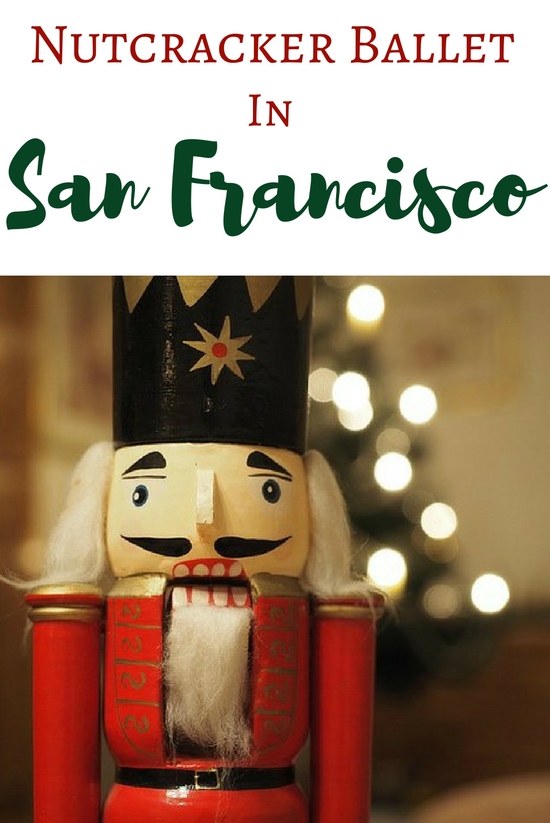 Disclaimer: I receive a small commission from some of the links on this page.
Schedule for the Nutcracker Ballet in San Francisco
Here is the schedule of upcoming performances for 2019.
Nutcracker San Francisco Tickets
You will find tickets to the show in a variety of places. Here are my recommendations.
Goldstar
You will find a handful of Nutcracker ballet in San Francisco tickets at up to 50% off on Goldstar. There are usually around three or four dates that don't sell out and this is where they sell the extra tickets. Click here to visit their Nutcracker page to see if tickets are available.
TicketLiquidator
Since these sell out almost every year, you can still pick up tickets for hard to get shows on TicketLiquidator. These are tickets sold by those that bought tickets and no cannot go. It's also a great place to find better seats than what is available elsewhere. They have a guarantee with the tickets so you know you are safe buying through them.
SF Ballet Site
If you are really lucky, you might be able to find first run tickets on the SF Ballet's website. Click here to see what tickets they still have available.
What to Wear to the Nutcracker Ballet in San Francisco
In San Francisco, it's perfectly fine to attend a ballet in casual or business casual clothing. Formal attire is not required, but it's always fun to get a little dressed up for a special event like The Nutcracker ballet in San Francisco. You might want to make a day or night of this holiday treat and go out for a nice meal on the town while you're dressed to impress.
However, they welcome attendees to come in what makes you comfortable. If that is jeans, then you are welcome to attend in jeans. The environment in San Francisco is very casual and you will find people in casual wear at all types of occasions.
Family Performances, Called Passport Performances
The Nutcracker ballet in San Francisco is a classic show that both kids and adults love. If you are planning to take the whole family, consider going to one of the five performances specially designed for families. These shows include a gift for the first 500 children (under 12) to arrive, complimentary refreshments for everyone during intermission, and a 30-minute photo session with the characters before the show (make sure to arrive early for this).
Here are the 2019 Nutcracker Ballet in San Francisco family performances:
Wednesday, December 11, 7 pm
Thursday, December 12, 7 pm
Friday, December 13, 7 pm
Sunday, December 15, 7 pm
Wednesday, December 18, 7 pm
Thursday, December 19, 7 pm
How to Get to the Ballet
All Nutcracker Ballet in San Francisco performances are at the War Memorial Opera House in the Civic Center District. The address is 301 Van Ness Street.
Public Transit
The best way to get to the War Memorial Opera House is by public transit. It's located right across from SF City Hall, so you have plenty of options to get here from all over town.
If you take the BART subway system from the Peninsula or the East Bay, get off at the Civic Center station and walk west three blocks along Grove Street, past the plaza and City Hall.
The easiest way to get here from Union Square is to take the underground light rail train. Board any outbound Muni train at the Powell Street station and ride a couple of stops to the Van Ness station. Exit and walk north along Van Ness for three blocks to reach the Opera House.
From Fisherman's Wharf, you have two options. You can take the #47 Muni bus from the corner of North Point and Jones Streets directly to Van Ness and McAllister (less than one block away from the Opera House). Or, a slightly longer but more interesting ride is on the F street car, which will take you from Fisherman's Wharf along the waterfront and down Market Street all the way to Van Ness, where you will get off and walk three blocks north.
Parking
If you do decide to drive to see The Nutcracker ballet in San Francisco, you have a few options for parking nearby.
Performing Arts Garage: 360 Grove Street, just one block west of the Opera House


Civic Center Garage: 355 McAllister Street, on the opposite (east) side of City Hall


City Park Garage: 601 Van Ness Avenue, on the same street as the Opera House, but three blocks north of the entrance
Brief Overview of the Story
The Nutcracker ballet in San Francisco is the classic, magical story of what happens to Clara one Christmas Eve. The story begins at her family's (the Stahlbaum's) holiday party, where the children gleefully dance and play. Clara's uncle Drosselmeyer, a toymaker, then presents her with a beautiful gift--a grand nutcracker doll--which Clara instantly loves and dances with.
When a jealous child grabs the doll, it breaks, and the bandaged Nutcracker is left alone in the room when the party ends.
Later that night, Clara goes back to the room to search for her Nutcracker, and falls asleep. There, in her dreams, is when the magic begins to unfold. First, the Christmas tree grows large, then the Mouse King appears and duels with the Nutcracker, who then turns into a prince.
Clara and the Prince then continue their wondrous adventure into the land of the Snow King and Queen. From there, they continue on to the Crystal Palace, where the Sugar Plum Fairy honors them with a celebration of beautiful dances from Spain, Arabia, China, and France.
To top off Clara's magnificent dream, the Sugar Plum Fairy and Uncle Drosselmeyer grant Clara her greatest Christmas wish--becoming a beautiful ballerina and dancing in the arms of her Prince. When Clara finally awakens, it is Christmas morning, and her beloved Nutcracker doll is safe in her arms.
History of Nutcracker Performances
The Nutcracker ballet has been delighting audiences since 1892 with its wonderfully memorable score by Tchaikovsky. It first debuted in St. Petersburg and was not very successful at first, but productions have picked up enormously since the 1960s and it is now performed by ballet companies all over the world.
For many American ballet companies, The Nutcracker is their most popular show every year, generating about 40 percent of their annual ticket revenues. In San Francisco in particular, it has become one of the most coveted performances, as a treat for all each holiday season.
Other SF Ballet Performances
Did you know that the SF Ballet is the oldest ballet company in the entire US? Since 1933, they have been performing beautiful pieces from classic to modern. You can choose from numbers like Swan Lake to familiar stories like Cinderella.
While The Nutcracker ballet in San Francisco shows through December, the regular SF Ballet season is from January to May, when you can really get an idea of their breadth of talent. Click here to find out more about attending other performances of the SF Ballet.
Other Performing Arts Shows in SF
Theater: In addition to the Nutcracker ballet in San Francisco, you will find a full calendar of holiday shows on stage at local theaters. They include favorites such as a Christmas Carol and SantaLand Diaries. You can also catch a Broadway performance or a show at a small, local theater. Find a full calendar here.
Opera: December is a great time to head to the SF Opera. Every year, they are running two to three different shows with more than a dozen performances. Find their schedule this year here.
Cirque du Soleil: During the holidays, Cirque du Soleil comes to town and offers performances Under the Big Top near Oracle Park (formerly AT&T Park). Each year, the show is new and they include high energy acrobatics along with colorful costumes. Get details for this year's show.
All Shows: Are you looking for additional shows in SF? This is the place to find them!
Additional Things to Do in SF