Film Night in the Park
2019 Schedule & Tips for Viewing
NOTE: Click here to stay up-to-date with what's open and opening soon.
Summer is here, which means it's time to enjoy movies in the park! This year, Film Night in the Park will show movies at several locations around SF.
All films are free of charge and begin just before dark, usually between 8pm and 9pm. They recommend that you arrive at least an hour early for music and pre-film drawings.
This year's season starts on July 12 and runs through October 18.
It's a great opportunity to gather with friends and neighbors to enjoy top-rated films from the last few decades.
San Francisco Schedule (2019)
Star Wars (1977), Friday, July 12, Dolores Park
Hook (1991), Thursday, July 25, Alamo Square Park
Spiderman: Into the Spiderverse (2018), Fri, Aug. 23, Union Square
Bohemian Rhapsody (2018) Fri., Sept. 6, Jerry Garcia Amphitheater
Space Jam (1996) Fri., Sept. 27, India Basin Shoreline Park
Mean Girls (2004), Thursday., Oct. 3, Marina Green
People's Choice (Title TBD), Fri., Oct. 18, Dolores Park
Click here for a full schedule of festivals this year in San Francisco!
Other Film Night in the Park Details
No chairs or seating areas are provided so make sure you bring along a blanket, towel or low chairs to sit on. They discourage you from bringing chairs to sit on during the event as it's too hard for those behind you to see the movie.
They encourage you to come early and bring along the picnic. This will allow you to get a great area to watch the movies before other moviegoers arrive.
Film Night in the Park organizers recommend that you leave your pets at home as to not distract other movie watchers.
Disclaimer: I receive a small commission from some of the links on this page.
Other Free Events in San Francisco
In addition to Film Night in the Park, you will also find a number of other free festivals and events in SF every year. These are some of the top events every summer.
Yerba Buena Gardens Festival: This summer-long event offers three to six cultural performances every week between May and October. They range from family friendly performances to free concerts featuring classical, jazz, and world music. Click here to find this year's schedule.
Sunday Streets: On Sundays between May and October, head out to SF's Sunday Streets. This monthly event features streets closed to traffic for an entire afternoon. You can run, walk or bike for blocks without worrying about car traffic. Each event also features activities, community booths and more. Click here for details.
Union Square Live: Another event this summer that offers free performances is Union Square Live. These events are on Wednesday and on Sunday. All are right in the heart of the city in Union Square. Click here for this year's schedule.
Save Today: One of the best places to find great deals on tickets and tours this summer is on Goldstar.com. On any day, you will find tickets for up to 200 events in SF and the Bay Area at up to half-off the full retail value. It's a great way to see and do more this summer! Click here to take a look at their current selection.
More Top Events This Summer
Stern Grove Festival: Every summer, you will find free summer concert series in Stern Grove Park. They last from mid-June to mid-August. All concerts start at 2pm and last for a couple of hours. Click here for this year's line-up!
Outside Lands Music Festival: The Outside Lands Music Festival is one of the largest each summer in San Francisco. For three days in August, local and world-renowned artists take over Golden Gate Park. Click here for details on this year's event.
Giants Baseball: One of my favorite summer activities is hanging out at Oracle Park (formerly AT&T Park) to watch the Giants play. It's a fun way to spend an afternoon or an evening. Click here for this year's schedule.
More Pages You Might Enjoy

Follow SFTourismTips on Facebook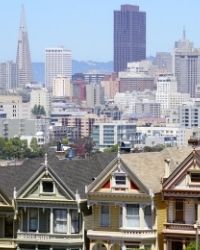 On my Facebook page, you will find more great information about planning your San Francisco vacation.
It includes tips, must see attractions, and other fun details.
Click the link below to check it out. If you enjoy the page, give us a like.