Cirque du Soleil San Francisco

Excite your senses and spark your imagination at this year's Cirque du Soleil San Francisco performances of Amaluna. All shows will take place Under the Big Top in the parking lots near Oracle Park (formerly AT&T Park). The show runs from November 14, 2019 to January 12, 2020.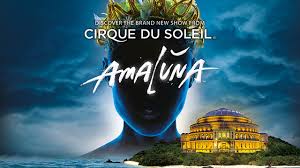 Amaluna is the story about an island were only women live. The queen performs a coming of age ceremony for her daughter. It's all about femininity and the stregnth of women.
After the ceremony, the queen creates a strom and several young men wash ashore. Her daughter falls in love with one of the young men.
The story follows the passion and challenges of their blooming love. They are tested at every turn.

This show is popular for it's colorful characters and the 70% female cast.

All Cirque du Soleil San Francisco shows feature gorgeous costumes and talented acrobats. Both combine for an experience you will never forget!

Disclaimer: I receive a small commission from some of the links on this page.

More Show Details

Dates & Times

Performances run Tuesday - Sunday. In November, you can catch one performance most Tuesday, Wednesday and Thursday nights at 8pm. There are two performances on Thursday, Friday and Saturday at 4:30pm and 8:00pm. On Sunday, the two performances are at 1:30pm and 5:00pm.
The schedule is almost the same in December with some differences are you get closer to the holidays. There are a few Monday shows added with no performances on Christmas Eve or Day.
The schedule for January is similar. The final performance is on Sunday, January 12, 2020. 

Find tickets for all performances below.

Location & How to Get Here

All performances are in a large tent in the parking lots on the southern side of Oracle Park (formerly AT&T Park). Here is a map showing the location of the event.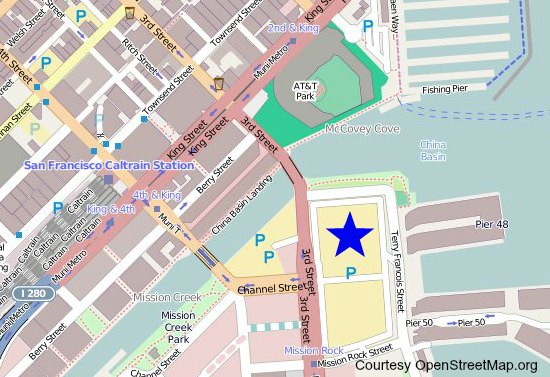 Public Transit

The big top holds more than 2,600 people per performance. This makes parking a nightmare. I recommend taking public transit to get to and from the performances. 
From Union Square
The best way to get here from Union Square is to take either the 30 or the 45 bus south to 3rd and Brannan Streets. This drops you about two city blocks from the tent. Walk south on 3rd Street, over the bridge and you will see the tent as you are crossing.

From Fisherman's Wharf

The easiest way to get to the Cirque du Soleil San Francisco performances from Fisherman's Wharf is the E Street Car. This picks up at Jones and Beach and will drop you off in front of Oracle Park. You can then walk over the bridge to the show. It's about a 3 to 4 block walk once you get off the street car.

Driving

If you do decide to drive, be prepared to pay $30 to $40 for parking. The meters here are expensive and only last for about two hours. This won't give you the time to see the performance and return without getting a ticket (yes - they LOVE to ticket during these times). 
You can either park in one of the lots right next to the tent. These might run more than the prices mentioned above. You can also find parking garages and lots on Townsend and Brannan Streets. 
Taxi/Uber or Lyft

Taking a taxi is another great way to get here. From Union Square, it will cost you around $15 to $20 + tip. From Fisherman's Wharf, it will cost around $20 to $25 + tip. 

Places to Stay Nearby

If you plan to grab a hotel room the night of the performance, I recommend that you stay either downtown or in Union Square. Both offer a wide selection of hotel rooms that are conveniently located to public transportation which will easily get you to the Cirque du Soleil San Francisco performances. 
Dinner Recommendations Nearby

This area in the SOMA district has several great restaurants. I recommend enjoying a nice dinner in this neighborhood either before or after the show. Here are just a few recommendations.
21st Amendment: The 21st Amendment is a brew pub with American dishes such as burgers, sandwiches and pizza. My favorites are the BBQ pork sliders, the buffalo chicken pizza and the Reuben sandwich. They also brew their beers on-site, so you can sample one of their latest creations. They are at 562 2nd Street between Brannan and Bryant.
MOMO's: If you are looking for a place that is a little nicer, then I recommend MOMA. They feature dishes such as gnocchi, wild local king salmon and USDA prime New York steak. They also offer small plates, salads and wonderful thin crusted pizzas. This is to the north of Oracle Park at 760 2nd Street at King.
District: This isn't really a dinner place, but it's a great place to sample some yummy wines and a few appetizers before or after the show. They offer more than a dozen wines by the glass from around the world. It's one of my favorite wine bars in the city. They are near 3rd Street at 216 Townsend.
Tres Agaves: This tequila lounge and Mexican kitchen serves up Mexican dishes with flare. You will find the traditional dishes such as quasadillas and tacos with fresh ingredients such as adobo-marinated chicken, roasted wild mushrooms and grilled mahi mahi. They also offer a decent number of vegetarian dishes. They are on the corner of Townsend near 2nd Street at 130 Townsend Street.
Pete's Tavern: Pete's is a sports bar with casual dining. On their menu, you will find typical pub food including sliders, burgers and other sandwiches. They also serve up pizzas and salads. They are north of Oracle Park at 128 King Street.
Other Frequently Asked Questions

1. How long does the performance last? The estimated show length is just over 2 hours.
2. When can we arrive and grab our seats? The entrance gates open 45-minutes before the show. The tent doors open 30-minutes prior to the opening act.
3. Can I enter after the show starts? Cirque du Soleil San Francisco has a strict policy of only allowing later comers to head to their seats during a reasonable break in the action. Late comers in wheel chairs will only be permitted to enter during intermission.

4. Do you have food and beverages on site for purchase? Yes, you can purchase popcorn, candy and a few other snacks at the food stand. They also serve beer, wine and soft drinks.

5. What types of chairs are inside the structure? This is a temporary tent, but all seats have padding and backs for optimal comfort.

6. What should I wear? Cirque du Soleil San Francisco does not have a formal dress code. You will see everything from jeans to semi-formal wear.

7. Will it be cold inside the tent? The temperature inside the tent is controlled. Once you step outside to grab a beverage or to go to the restrooms, you will need to bring your jacket as you are outside the temperature-controlled areas.

8. Can I take pictures or videos of the performance? No, cameras and video recorders are prohibited.