Hyde Street Pier: Pictures of & Tips to Visit This Popular Fisherman's Wharf Tourist Attraction

by Jill Loeffler  •

Updated: July 19, 2023
The Hyde Street Pier is a popular San Francisco tourist attraction in the Fisherman's Wharf neighborhood. It's one of several museums along the waterfront in this bustling district.

The pier was originally built in 1922 for car ferries that shuttled passengers back and forth between San Francisco and Marin County. For several years, this ferry route was officially part of Hwy 101 until the Golden Gate Bridge opened in 1937.

Today, it's a floating museum that houses several ships. Five of the vessels on the pier are officially National Historic Landmarks.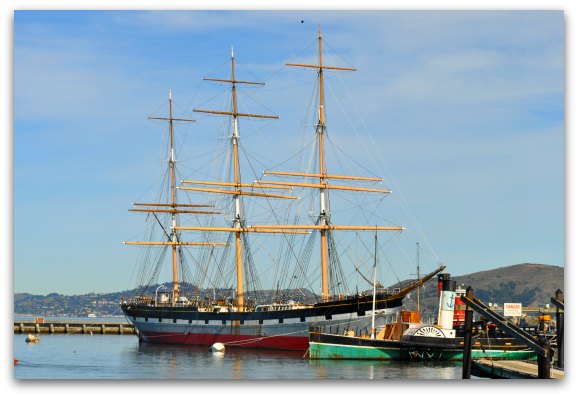 Here are a few pictures from my last visit and a little more about the historic ships on display

Eppleton Hall

This is the Eppleton Hall. It's an old steel tugboat built in 1914 in South Sheilds England. It crossed the Atlanta under its own power in 1969.
You used to be able to board this ship for a visit. However, it is no longer open to visitors.
Here is another view of it from the Aquatic Park beach. It is the smallest boat at the Hyde Street Pier.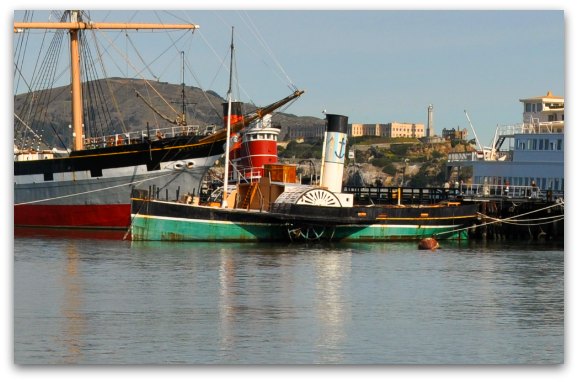 Balclutha

The Eppleton Hall's next-door neighbor is the largest ship that lives at the pier. It's called the Balclutha.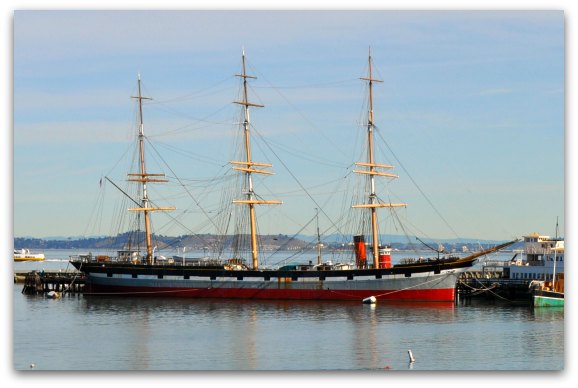 This square-rigged ship was built in 1886 in Glasgow, Scotland to haul wheat to California.
When the Balclutha was in use, they had to sail all the way around the southern end of South America on a grueling trip that lasted months, just to reach the West Coast.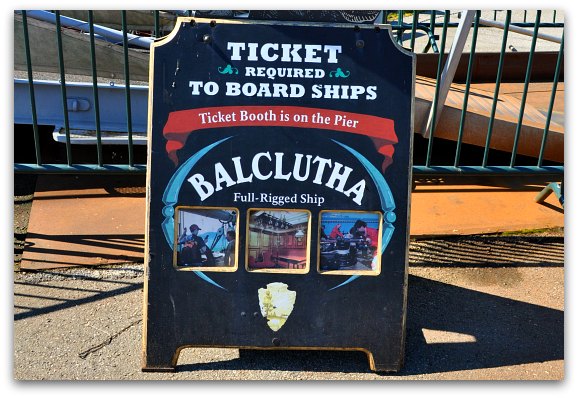 The Balclutha is one of the ships you can board. During your visit, you'll get a good sense of what it was like to live on this boat for months, along with dozens of other people.
Typically, there are guided tours of the Balclutha every day. It's an interesting tour that tells you all about the ship and the people who worked on it. Check the tour schedule at the ticket counter to find tour times on the day of your visit.
 Hercules (Currently Undergoing Maintenance in Alameda)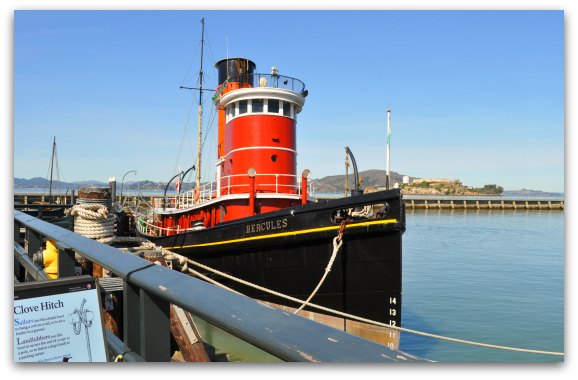 The Hercules is currently in Alameda undergoing some maintenance. It was moved in mid-July 2023 with no specific date for its return, but once the maintenance is finished, it will return to the Hyde Street Pier.
Across the Hyde Street Pier from the Balclutha is the Hercules. This is a steam-powered tugboat. It was built in 1907 in Camden, New Jersey.
This power horse did a lot of work in its time. Its most famous job was moving many of the large structures needed to build the Panama Canal.
The Hercules is another one of the ships that you can visit. It's much smaller than the Balclutha but is worth a visit.
Eureka

Right next to the Hercules is the Eureka. This is one of the car ferries that carried passengers back and forth from the Hyde Street Pier to Sausalito.
It was originally built in 1890 in Tiburon, California as the Ukiah. It was refitted in 1922 and renamed the Eureka.
This is the third ship on the pier that you can visit. Make sure you also stop on the main level to check out the classic cars and trucks on display.
C.A. Thayer
The last of the five ships it the C.A. Thayer. This sailing ship is a schooner and one of the last ones still around.
Originally build in 1895, it received extensive repairs and opened in its current home in 1963.
It was designated as a National Historic Landmark in 1966.
Over the years, it's been restored a few times in order to keep it in great shape and allow people to view it at the Hyde Street Pier.
Visiting Details
The Hyde Street Pier is a fun stop while at Fisherman's Wharf. I've visited several times and always learn something new about these historic ships.
The pier is open every day of the week. Here are details for visiting:
Open: 10 am to 5 pm, last entry at 4:30 pm
Closed: Thanksgiving, Christmas Day, and New Year's Day
Free admission days: Visit my National Parks page for a full list of upcoming free days.
Ranger-led tours and demonstrations: These change daily, so check the schedule at the ticket booth when you arrive.
You can purchase tickets at the gate. They are usually around $15 per person and it is good for seven days. Anyone under the the age of 15 is free. These tickets are valid for up to 7 days. Visit their website for pricing details.
Note: You can get in for free if you own the "America the Beautiful - The National Parks and Federal Recreational Lands Pass." It costs $80 per year and allows you to enter more than 2,000 parks and areas around the USA.
Visit their website as there are numerous options for age, military, and more at this link.
Disclaimer: I receive a small commission from some of the links on this page.

Where to Eat in Fisherman's Wharf
If you plan to visit the Hyde Street Pier or the Fisherman's Wharf area, you will find lots of great places to eat. My guide offers ideas for breakfast, lunch, and dinner. I also included some great seafood spots all around the district.
>> Visit this page to find all of my recommendations and where to eat in this district
Fisherman's Wharf Hotels

Are you planning to stay in Fisherman's Wharf? This is a popular neighborhood among tourists for lodging in San Francisco because many of the hotels are close to the waterfront.
There is a large selection to choose from. Read about some of my favorites so you can find the right one for you!
Learn More: Fisherman's Wharf Hotels
San Francisco Maritime Museum

Another entertaining museum in Fisherman's Wharf is the San Francisco Maritime Museum, right across the street from the Hyde Street Pier.
After visiting the pier, you can head over here to learn even more about the history of Fisherman's Wharf. This museum is free and has some outstanding educational, hands-on displays.
Learn More: San Francisco Maritime Museum
Other Top Fisherman's Wharf Attractions and Activities

What else is there to do in Fisherman's Wharf? This San Francisco neighborhood is packed full of activities, tours, and attractions. Here you can pick up a city tour, visit the famous Pier 39, or even catch a boat for a ride around the bay.
Learn More: Top Fisherman's Wharf San Francisco Attractions and Activities
Other Fun Pages

Comments? Questions? Suggestions?
I would love for you to join me in my private Facebook group! 
It's a great place to interact with me and others who know the area well.
You can ask questions, get advice for your upcoming stay, and then share your photos and advice with others when you return home. It's a great community and the fastest way to get answers to those nagging questions about your visit!