San Francisco with Kids eBook 2022: Everything You Need to Plan the Perfect Vacation with Your Family
Are you traveling to SF with kids? Are you looking for the best activities for them and the entire family? If so, then look no further than my eBook San Francisco with Kids.

It's filled with top attractions, activities, and museums for kids of all ages. You will also find recommendations on where to stay, eat, and find a babysitter if you need a night out on the town.

Disclaimer: I receive a small commission from some of the links on this page.

What's Inside this eBook 

Inside my 90+ page eBook, you will find:
Tips on which attractions, museums, and activities are best for kids of certain ages
A list of the top tours for the entire family
Where to stop along the way for breakfast, lunch, or dinner
A dedicated section for kids within three age groups: 0 - 5, 6 - 11, & 12+
Ideas on how to save during your stay
Top babysitting services that come to your hotel to watch your kids
Bonus section: I've also added some fun kids activities including a maze, word search, crossword puzzle, and a coloring page to get them excited about their upcoming visit.
My eBook will save you time and money as you will find everything you need in one location. The best part is that it's only $4.99!


Sample Pages

Here are just a few sample pages in my San Francisco with Kids eBook: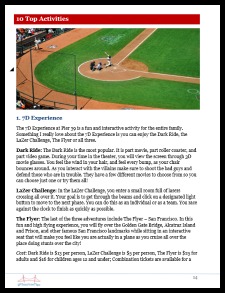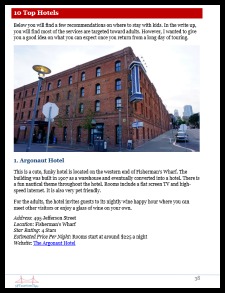 eBook vs. Hard Copy Book

San Francisco with Kids is offered in a PDF format. This means that you will be able to access it immediately after payment. Here are a few other benefits of a a PDF eBook:
You don't need a specific eReader to access the book. You can read the PDF version on your computer, phone, or many other eReaders.
You can print out just the pages you need. This will save you space during your visit. 
It's available at a substantially lower price than hard copy books. 
You can easily print out and share pieces of the book with those traveling with you.
How Is It Different vs. SFTourismTips.com?

You will find some great information about traveling with kids on SFTourismTips.com. The difference with this book is that each attraction, activity, museum, and tour offers a "Best For" age range. This allows you to quickly see which things to do in SF are perfect for your kids (or maybe not so perfect).
In addition, you will find a wonderful section for each of three age ranges: 0-5, 6-11, and 12+. All three offer you a quick look at the top 10 things to do for each age range. It's a great way to start your planning and what there is that your kids might enjoy the most.
I've also included some great tips to save money and a few recommendations on babysitters. All of this is quickly accessible in the PDF download and you don't have to search the site for everything you need.

Purchase Your Copy Today

Did I mention that this book is more than affordable? San Francisco can be expensive and my goal is to get you what you need at a very reasonable price.
My San Francisco with Kids eBook is just $4.99! For less than $5, you can get everything you need to get started your planning today!
To buy the book, simply click the red button below. You can then pay by credit card or Paypal. Once you pay, you will receive two emails. The first is a receipt. The second is an email with a link to download your eBook (check junk mail if it doesn't arrive a few minutes after you purchase).


Once you download your first copy, right click on the PDF file to easily save it to your computer or mobile device. This way it's readily available when you need it!