Golden Gate Bay Cruise: Details on the Most Popular Boat Ride Around the San Francisco Bay
The Golden Gate Bay Cruise is the most popular San Francisco Bay Cruise. It's a 60-minute tour that gives you a great overview of the SF attractions along the waterfront.

On this tour, you get amazing views of the Golden Gate Bridge, Alcatraz Island and the shoreline of San Francisco. It is popular because it runs several times a day and is the least expensive ride around the bay.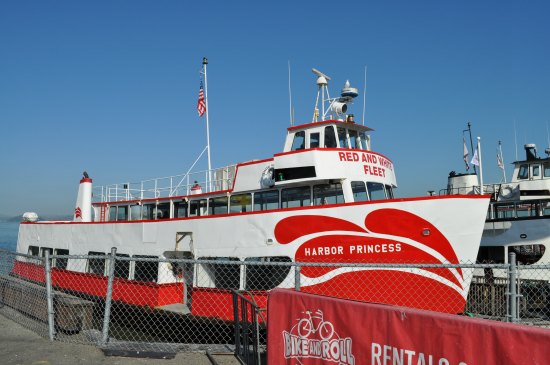 In addition to the beautiful views, it also offers a narrated audio tour. It's featured in many languages, so you can hear all about San Francisco and its famous attractions in your preferred language.
This one leaves from Pier 43 1/2 in the Fisherman's Wharf district.
My Experience on this Cruise

I've taken the Golden Gate Bay Cruise a few times. Here are a few pictures and some additional details from my most recent tour.
The day I took the cruise was a beautiful, clear day in February. It was low season, so it wasn't too crowded.
Since I booked my ticket online, I had a printed voucher. Once I arrived, I stopped by the ticket booth to turn this into a ticket.
If you book online, make sure you bring along your voucher. You will also need to exchange it for a ticket. It only takes a few minutes, but you will want to add some time to your journey for this exchange. I recommend allowing an additional 15 to 20 minutes in the busy summer months.

Here is the ticket you will receive. The ticket is valid for 365 days from the purchase date.

If it happens to be raining on the day you originally booked, you can exchange your voucher that day, but then go on your cruise on a day that is nice and sunny.

Narration on the Cruise

This Golden Gate Bay Cruise also includes audio. You will get your audio once you board the boat.
This is the audio box. It comes with a pair of headphones and a clip, so you have two free hands to take your amazing pictures.
The audio is also available in a number of languages. This sign is in several locations in case you can't remember the channel you need to be on for the audio.

Cruise Departs

Once everyone boards and has their audio, the cruise departs. After leaving Fisherman's Wharf, you head out along the northern SF waterfront.
You'll cruise past the boats on the Hyde Street Pier and the Fort Mason Center. In the background, you'll get some amazing views of the city and its steep streets.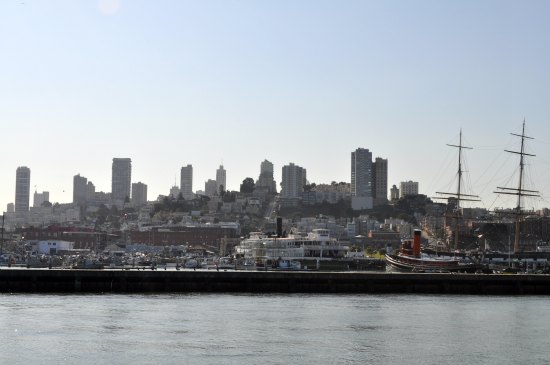 This cruise continues along the waterfront. You'll pass Crissy Field and get some great views of the beautiful Palace of Fine Arts.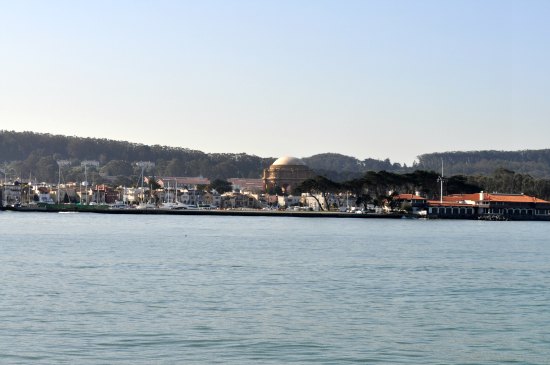 As you cruise along the waterfront, you are getting closer and close to the Golden Gate Bridge.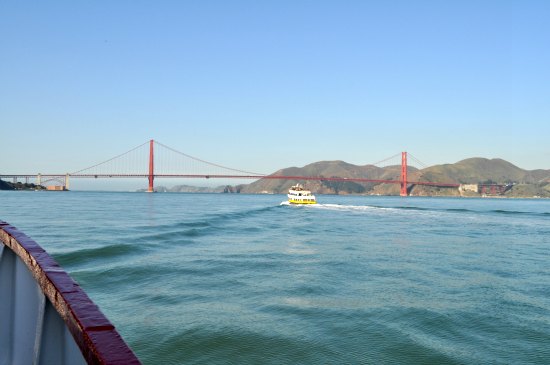 Before you reach the Golden Gate Bridge, you get a clear view of Fort Point National Historic Site. This old army building was set for destruction with the original bridge building plans.
After quite a bit of protesting, new plans were designed in order to save this landmark building. Your ride on the Golden Gate Bay Cruise gives you a great view of how they build around Fort Point.
From here, you will head under the bridge. These are just a few pictures I took as we got closer and rode under the bridge.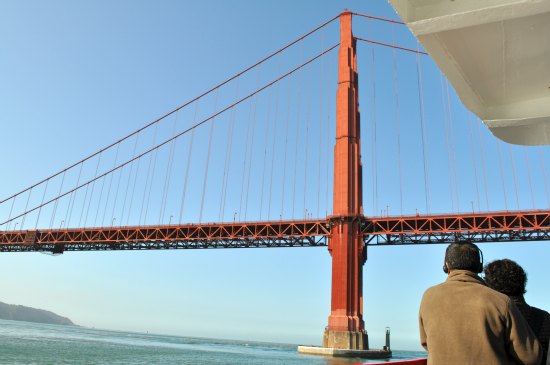 After you ride under the bridge, you make an immediate turn and head back under the bridge one more time. You are now on your way to see Angel Island and Alcatraz. Here is a photo looking back at the bridge.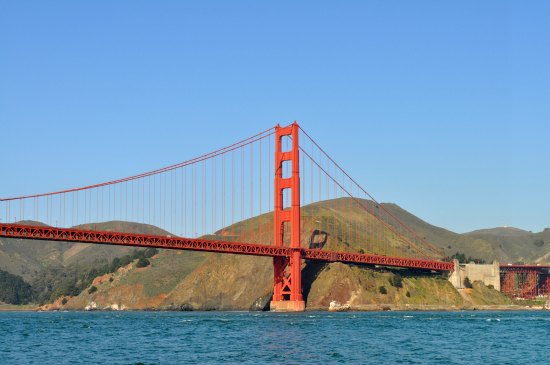 Angel Island is now a national park. This wasn't always its purpose. It has an interesting history which you will learn all about on the journey.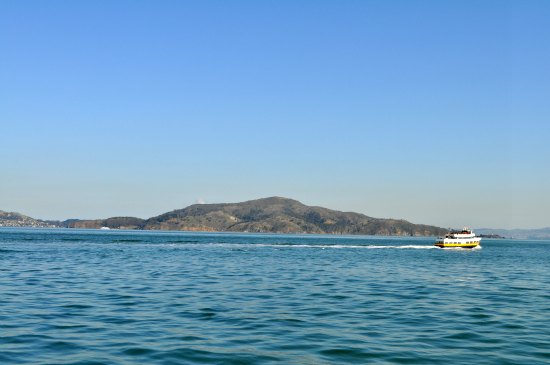 After passing by Angel Island, you are almost at Alcatraz Island. On this cruise, you will get really close to Alcatraz. It also rides around it, so you get the chance to see it from all sides.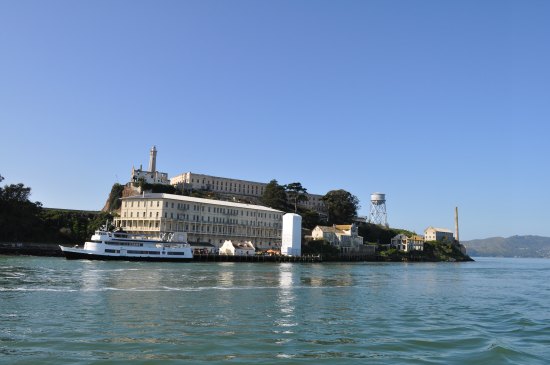 Once you pass by Alcatraz Island, your trip is almost over. From here, you can get one last look back at the Golden Gate Bridge and the San Francisco skyline.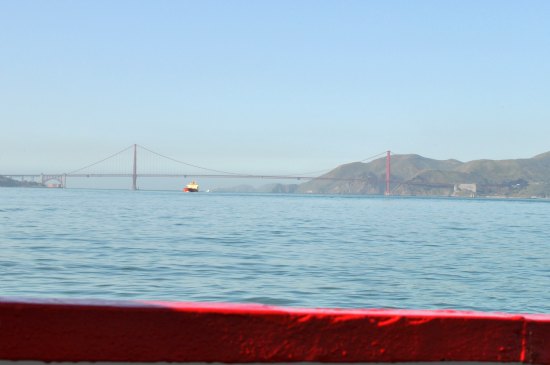 Your journey will end again in Fisherman's Wharf. Here is a map that shows the entire route for this cruise.

Are you ready to book this tour? Find tickets for your trip online today!

Disclaimer: I receive a small commission from some of the links on this page.

A Look Around the Ferry

The Golden Gate Bay Cruise has both indoor and outdoor seating. On the top deck, there is outdoor seating all along the boat. There is also quite a bit of seating in the back.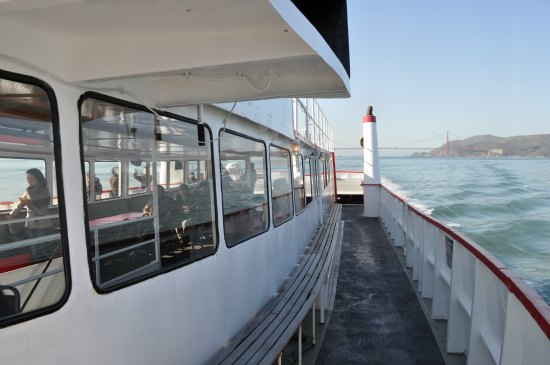 You will also find plenty of seating inside.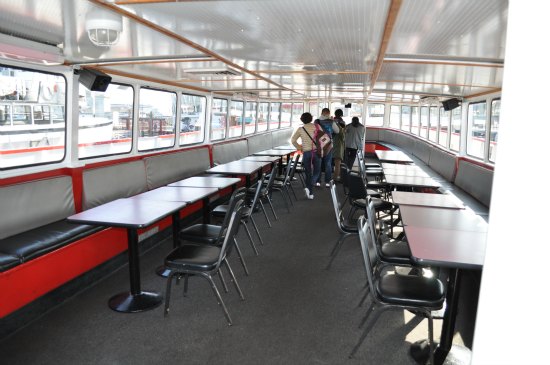 Even when you are inside, you can get some great views of the SF attractions on this tour.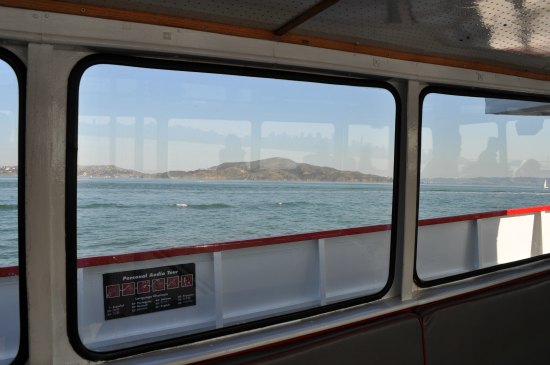 Overall, you will find plenty of seating. Many people roam around the boat looking at all the different waterfront attractions along the way.

Additional Tips

Here are just a few other tips for your Golden Gate Bay Cruise journey.
First Tour: If possible, I recommend heading over for the first trip of the day. This is when the lines are the shortest. This will be key in the busy summer months.
Audio: I noticed my audio player worked best at the front of the boat. If you are having a hard time getting a signal, head to this area of the boat.
Protect Your Camera: You'll want to protect your camera on this trip. The water can come up (saltwater!) and ruin your camera. Be aware of this while taking photos on this cruise.
Tour Times: If you happen to forget the times for the tour, you can walk over to Pier 43 1/2 to get the times. The sign below is posted at all times, so you can quickly determine which one fits your schedule the best.
Seasick Passengers: The waters of the San Francisco bay are usually pretty calm. If you get seasick on boats, you shouldn't have too much trouble on this journey. You can also stay on solid ground until just a few minutes before the boat leaves. There is a little waiting area right before you board that you can stand in (let them know what you are doing), so you can wait until the last second to get on the boat. You can also get off right away by heading down, turning in your audio and then standing by the doors until you arrive.
Booking Your Tickets

You can either book your tickets in advance or once you arrive. Both offer the same level of service and allow you the chance to take this tour any day during your visit.
When you book online, you'll select a specific day for your tour. However, as I mentioned above, this ticket still offers you the chance to take the tour for 365 days after the purchase date.
I recommend changing your voucher into a ticket once you arrive. Then you can just hop on any Golden Gate Bay Cruise that works for you.
Get additional details on this tour and buy your tickets online.
Escape from the Rock Cruise

Another cruise that is similar to this one, but includes an extra 30 minutes about Alcatraz is the Escape from the Rock Cruise. It's a 90 minute journey that leaves from Fisherman's Wharf and is offered once a day by the Blue and Gold Fleet.
The first 60 minutes mirrors the Golden Gate Bay Cruise outlined above. Once you reach Alcatraz, this is where the cruises differ.
Instead of just cruising past the island, as you do with the Golden Gate Bay Cruise, you will do a full circle of Alcatraz. The audio during this portion also goes into much more detail including information on some of the buildings you can see, facts about some of its most famous prisoners and what it was like living on the island.
Note: This tour does NOT stop on Alcatraz Island for a visit, but rather gives you a great close up view from the water. If you are interested in visiting the island, visit my Alcatraz Prison Tours page for more booking details.

You learn a little more about Al Capone and the reasons why no one is known to have escaped the island. You also learn a little about the Birdman of Alcatraz, Robert "The Birdman of Alcatraz" Stroud and a few lesser known criminals such as Billy Cook.

The Escape from the Rock Cruise is the only ferry to make a complete loop around the island. This gives you great views from each side. This is also what sets it apart from the standard bay cruise.
After you take a full loop around, you then head back around the north and east sides one more time before heading to your starting point near Pier 39.
This tour runs just once a day at 11:15am. You can buy your tickets online in advance or once you arrive at Fisherman's Wharf.
Comments? Questions? Suggestions?
I would love for you join me in my private Facebook group! 
It's a great place to interact with me and others that know the area well.
You can ask questions, get advice for your upcoming stay, and then share your photos and advice with others when you return home. It's a great community and the fastest way to get answers to those nagging questions about your visit!