14 Best Playgrounds in San Francisco

by Jill Loeffler  •

Published: September 4, 2023
Are you visiting San Francisco with your kids? Check out this list of 14 of the best playgrounds. Each one will offer your family hours of entertainment.
They feature a variety of things to do for kids, including playground equipment, climbing ropes, slides, and basketball courts. You'll find them all around the city, including some near Fisherman's Wharf and others in local districts.
Read on for more details about each one.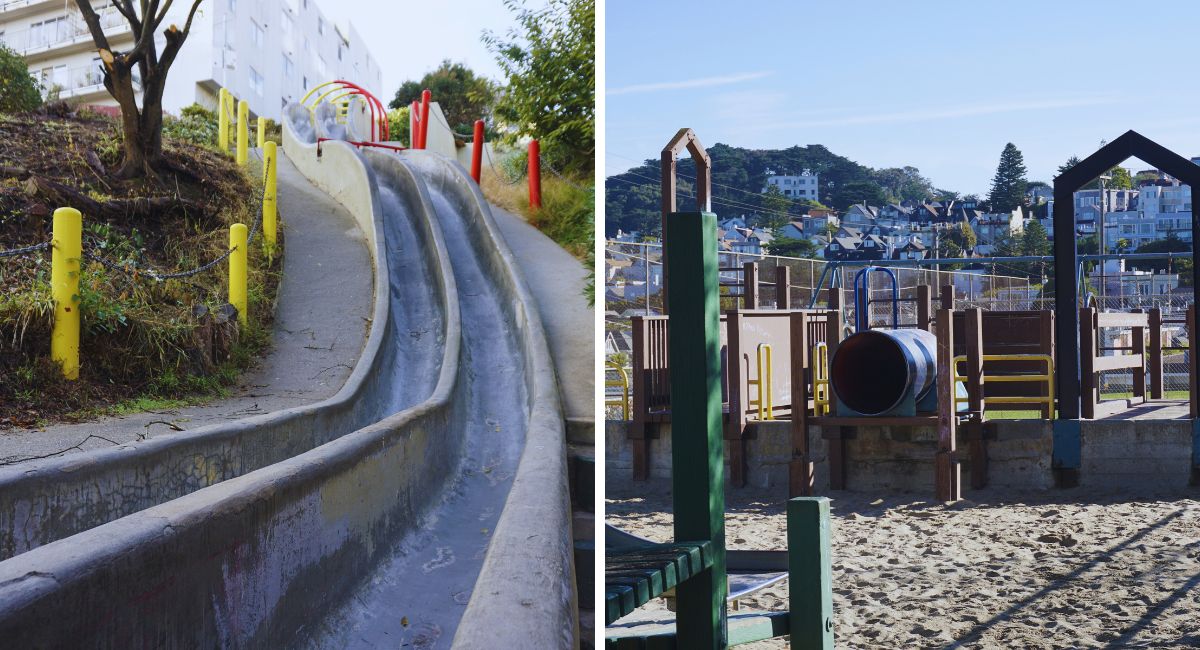 Disclaimer: I receive a small commission from some of the links on this page.

1. Dolores Park
District: Near the Castro and Mission Districts
Address: Dolores and 19th Streets
If you're looking for playgrounds in San Francisco with recreation facilities for young and old, you must check out Dolores Park. This 16-acre green space was established in 1905 and offers plenty of lush grass and beautiful palms for shade. It's popular with locals who like to hang out here on sunny days, walk their dogs, or play tennis, soccer, and basketball.
It's the perfect place for a family day out, as the kids will love the brilliant playground equipment. I love that getting to Dolores Park is easy since the Muni Metro J-Church Line runs along the edge.
The park is worth a visit for the simply stunning views of the San Francisco skyline alone. Dolores Park is used for festivals and performances, and many cultural events are organized here, so keep an eye out for what's on during your visit.
>> More about visiting the Mission Dolores District
2. Francisco Park
District: Russian Hill
Address: Bay and Larkin Streets
New parks rarely come along, especially in a thriving city such as San Francisco. With the San Francisco Reservoir site standing empty and unused, the City of San Francisco allowed the local community to develop what is now Francisco Park Conservancy, a stunning green space overlooking some of the most iconic sights in and around the city.
There is also a wonderful outdoor are for kids to climb, slide and play around in.
Four neighboring communities oversee the 4.5-acre site and offer a central green lawn space perfect for a family picnic with amazing views of the Bay, a dog park for exercising your four-legged friend, a playground for kids, and much more.
It is rare to find a space such as this being created from scratch, yet Francisco Park will be here for the use of locals and tourists thanks to the foresight of the city and the local community groups.
This one is also great for visitors since it's just steps away from Fisherman's Wharf.
>> More about visiting Fisherman's Wharf
3. Seward Mini Park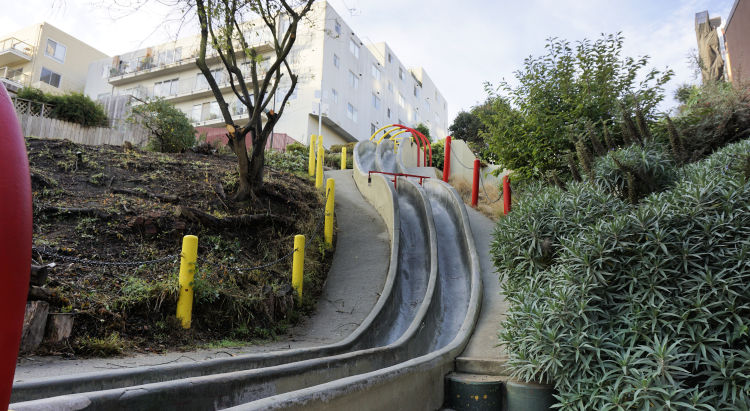 District: Ashbury Heights
Address: 70 Corwin Street
Seward Slides mini-park is a hidden gem in San Francisco—a community garden with beautiful flowers and plants. The main attraction is the two long concrete slides designed by a local 14-year-old who won a competition!
Now be aware these slides are long and are not for younger children. Many adults may find them daunting, but you have to have a go at least once! I suggest not going down in just your pants or shorts, as it can be painful.
Instead, bring some cardboard (or use some that are usually found around the park), and you'll find these slides a blast to go down.
There is little else here in this charming and very pleasant community park, but I still recommend a visit. Located on Seward Street near the Castro District and easy to find, the park closes at sunset, and while the official description reads, '"children must accompany adults," we're not sure whether that's a mistake or not!
Enjoy the slides, and ride on!
>> More fun things to do with kids in San Francisco
4. Joe DiMaggio Playground
District: North Beach
Address: 651 Lombard Street
The recently renovated Joe DiMaggio Playground turned one block of Mason Street into a public playground and park space. Opened in 2015, the result is a beautiful city center play park popular with locals and tourists seeking recreation while in the city.
For just that reason, locals were heavily involved in the design and development of it.
This is an excellent choice for a family day out, with facilities including an indoor pool, tennis courts, other sports courts, and a brilliant kid's playground area.
Landscaping makes this a beautiful place to walk around, and there is plenty of seating in the park, while the new bocce courts and a great picnic area add to the appeal.
Suitable for younger children, this is an excellent example of how communities can work with San Francisco Recreation and Parks to create usable and sustainable green spaces in the city.
>> Details to visit North Beach
5. Playground at Washington Square
District: North Beach
Address: Filbert and Stockton Streets
Washington Square Playground has been recently renovated to provide improved facilities. The park was reopened in 2019 and is an impressive space with plenty to enjoy.
Not only have disabled facilities been upgraded to required standards, but the park has also been refurbished with balancing discs, monkey bars, a nest swing, park furniture for small children, a slide, and more.
The park has been planted with a fine array of flowers and shrubs, drainage has been improved, and it has become a popular destination for local families and tourists. Interactive and playful art installations are also part of the improvements to the park.
Take a picnic and let the children entertain themselves while mom and dad have quality time in a beautiful and welcoming San Francisco park. Washington Square is also easy to reach by public transport, so put this one on your list.
More Fun Things to Do with Kids in SF
6. Willie "Woo Woo" Wong Playground
District: Chinatown
Address: 830 Sacramento Street
Visiting the Willie 'Woo Woo' Wong playground is a must for playground equipment with a difference. Catering to the Chinese community in San Francisco and welcoming all to this recently refurbished garden, kids will find the Chinese myth-inspired furnishings amusing and exciting.
The massive Chinese Water Dragon feature is a climbing tower and slide that will keep youngsters occupied for hours, while the basketball court, tennis court, and other hard courts, coupled with the comfortable clubhouse, are there for parents to take on each other in a leisurely game. An athletics court on the clubhouse's roof was also part of the renovations.
The Chinese community in San Francisco plays an essential part in this multi-cultural city, so make time to visit this charming and fully equipped playground and park where you will be welcomed.
>> My favorite things to do in Chinatown
7. Alamo Square Playground
District: Alamo Square
Address: Hayes and Steiner Streets
Among the most picturesque playgrounds in San Francisco, Alamo Square is a favorite with both locals and tourists. A popular film and TV location, visitors get a fabulous view of some of the most famous San Francisco sights from the hilltop, including the wonderfully evocative 'Painted Ladies' houses of Postcard Row.
The playground in the park is a great choice for kids of all ages, with a split-level design and plenty of choices, while the off-the-leash dog area is a welcome bonus for families with pets.
Alamo Square also has a full tennis court, walking trails, a picnic area, and restrooms.
Easily accessible and worth a visit for the views alone, it's a wonderful choice for families so parents can relax and enjoy the surroundings. At the same time, the kids get plenty of exercise on the well-presented play structures.
>> Details to visit Alamo Square
8. Moscone Playground
District: Marina District
Address: 1800 Chestnut Street
This charming park, between Laguna and Chestnut Streets, is easy to reach and features an excellent playground for younger children. Moscone Playground is another of the many San Francisco playgrounds and parks that have undergone recent renovations.
With lovely green areas ideal for picnics, a recreation center, and a new dog play area, this popular park with locals who enjoy a green space where they can walk their dog safely and with many fine sports facilities may also appeal to visitors.
Newly resurfaced tennis courts, basketball courts, a putting green, and a mini driving range are among the many attractions, and with four ball fields and a choice of children's play areas, this is an ideal family day out.
There are hard paths for younger children to cycle around in safety, and access to the park has been greatly improved during the renovation.
>> Fun ideas to explore the Marina District
9. Playground at Portsmouth Square
District: Chinatown
Address: 745 Kearny Street
Known to locals as the 'Heart of Chinatown' is Portsmouth Square. This historic square was not only the place where the US flag was first raised in the city in 1846 but also where - just two years later - the announcement that gold had been discovered, leading to the ensuing Gold Rush of legend.
Now entirely within the lively, colorful, and welcoming San Francisco Chinatown District, the square offers two playgrounds suitable for children of all ages and a pleasant and vibrant place to visit.
Portsmouth Square is popular with locals who use the space to meet and socialize and with tourists who can observe and indulge in the fascinating Chinese culture in San Francisco—the square benefits from a large underground parking complex as this is a heavy traffic area.
Portsmouth Square is easy to reach using public transportation or walking to it from other local districts.
More Great Resources for Traveling to SF with Kids
10. Presidio Heights Playground
District: Presidio Heights
Address: 3437 Clay Street
Easily reached and located on Clay and Walnut Streets, Presidio Heights Playground and Picnic Area is a fine choice for a family picnic in pleasant surroundings. There are two separate picnic areas, each offering the choice of an 8-foot or 4-foot table - or both, should you wish to book them together.
Tables are bookable between 9 am and 1 pm, and then 2 pm to 6 pm, making this a great place for groups or larger families to spend time together. The playgrounds are brilliant for children of all areas, and a basketball court is provided for recreation.
There is a well-presented clubhouse with restrooms included. While the basketball court is the only recreation facility, I recommend this park as a place where adults can meet and catch up while the kids enjoy the excellent playground equipment.
The picnic tables must be booked in advance as they are quite popular.
11. Duboce Park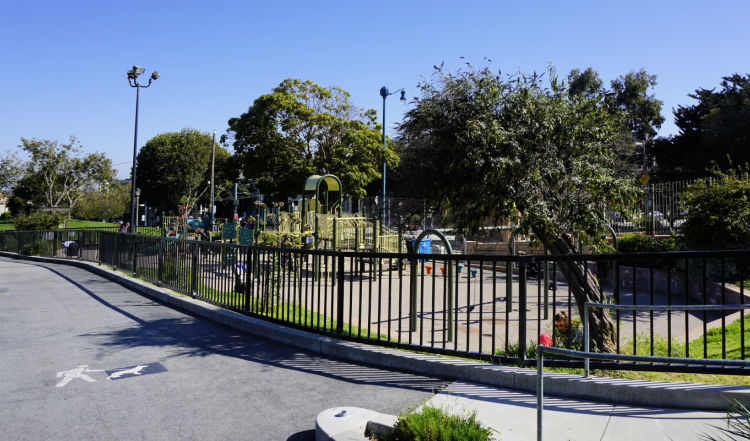 District: Lower Haight
Address: Duboce and Scott Street
Duboce Park Picnic Area offers the opportunity to book a perfect picnic location for large groups and families. With a basketball court for recreation and a wealth of green areas, this is a prime choice for families with kids and a dedicated dog walking area.
Located at Duboce and Scott Streets, this is one of the playgrounds in San Francisco with a nice area for the kids to climb, slide, and jump around.
The playground area here also has a fence around it to make it easier to keep an eye on your little ones.
12. Helen Diller Playground in the Civic Center
District: Civic Center
Address: 55 Larkin Street
Among an extensive 21st-century program to improve and renovate many parks and playgrounds in San Francisco, undertaken by the city's Recreation and Parks Division, was a plan to restore and enhance the two playgrounds at the Civil Center.
These playgrounds serviced a very busy area in the city center and were 20 years old. Work finished on renovating and replacing playground equipment, thanks to a generous funding gift from the Helen Diller Foundation, in 2018, and the result is a pair of fabulous facilities now named the Helen Diller Playgrounds.
The central location means local families, visitors, daycare institutions, and schools use these facilities.
This vital renovation program has been a resounding success, and children of all ages can now enjoy the wonderful playgrounds once more.
I recommend using public transport to reach the Helen Diller Playgrounds.
>> More things to do around the Civic Center District
13. Koret Children's Playground
District: Golden Gate Park
Address: Martin Luther King Jr. Drive and Bowling Green Drive
One of the most magnificent and spellbinding sights in San Francisco's stunning parks and playgrounds is the amazing Herschel-Spillman Carousel. You can find it in the Koret Children's Playground, a superb kids' facility within the famous Golden Gate Park, one of the oldest in San Francisco.
The current carousel dates from 1914 and was installed in Golden Gate Park in 1940. It was lovingly restored in 1977 and is now among the most popular attractions in the park.
Lavishly decorated and fun even for adults, the playground located in the park is also home to a historic concrete slide, climbing structures in both wall and rope form, and much more to keep the kids happy while parents relax.
Tables in the picnic area next to the carousel can be booked, and we strongly recommend doing so as this is a very popular spot.
>> More things to see and do in Golden Gate Park
14. Grattan Playground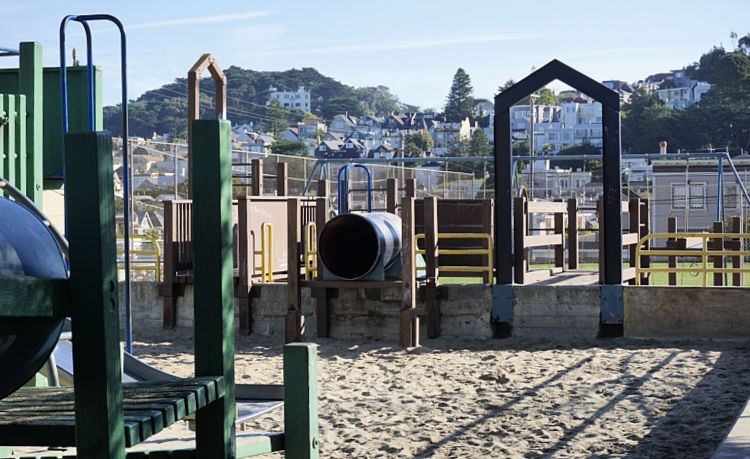 District: Cole Valley
Address: 201 Alma Street
Grattan Playground is located in the Inner Green Belt region off Stanyan Street and combines recreational facilities with a children's play area that is among the best in San Francisco. The wooden play structure is great fun for kids of all ages and offers a variety of activities.
There are also swings for the youngsters to enjoy and a community clubhouse on site.
With a choice of basketball and tennis courts, an athletics field, and restrooms within the park, this is ideal for a family to spend a few fun hours during your visit to San Francisco.
It is also popular with locals, so it is often busy during the holiday seasons.
The picnic area is pleasant, but there are no booking facilities, so it is on a first come, first served basis.
Put this one on your list for when the kids get restless, and you'll have a place to go!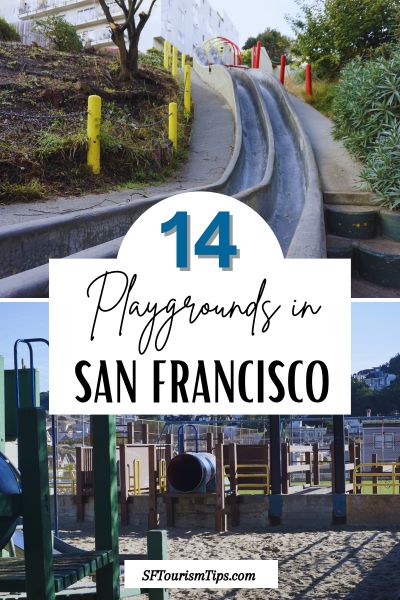 Comments? Questions? Suggestions?
I would love for you to join me in my private Facebook group! 
It's a great place to interact with me and others who know the area well.
You can ask questions, get advice for your upcoming stay, and then share your photos and advice with others when you return home. It's a great community and the fastest way to get answers to those nagging questions about your visit!