San Francisco Zoo: What You'll Find at this SF Attraction

by Jill Loeffler  •

Updated: August 21, 2023
The San Francisco Zoo is a great SF attraction for kids of all ages. It's located next to the Pacific Ocean on the western side of the city.

The zoo is full of interesting animals, including everything from giraffes to endangered snow leopards. At the zoo, you can also ride the carousel, take a trip on the little puffer steam train, and hear stories about the animals.
How big is the SF Zoo? They currently house around 2,000 animals with about 250 different species. The grounds cover around 100 acres.
Due to its size, I recommend setting aside at least 3 to 4 hours to cover the entire attraction.
You can get through it in just a couple of hours, but it's more fun to spend additional time just admiring the animals here.
Admission Tickets
Disclaimer: I receive a small commission from some of the links on this page.

You may purchase your tickets either on-site or online. If for some reason you are unable to visit the San Francisco Zoo at the date and time of your pre-purchased ticket, you can still use it for up to 30 days from that original date. 
Ticket Prices
Adults (12 - 64): $25
Seniors (65+): $20
Children (2 - 11): $18
Children (under 2): Free
Active and retired Military members receive $3 off the usual ticket price.
Hours
The SF Zoo is open 365 days a year, including Easter, Thanksgiving, Christmas, and New Year's Day. Their regular hours are:
Mid-March to October: 10 am to 5 pm
November to Mid-March: 10 am to 4 pm
Parking at the San Francisco Zoo
There is one main parking lot for the San Francisco Zoo. It has two entrances, one coming off Sloat Boulevard at 47th Avenue and the other off the Great Highway. However, there is only one exit, and it drops you off onto the Great Highway.
Another thing to note is that there is a parking fee at the zoo. It's $11 per car on weekdays and $13 on weekends and holidays. 
They also have valet parking on holidays and weekends for $25.
San Francisco Zoo Exhibits

The San Francisco Zoo is organized into seven different areas. Within each one, you will find several exhibits dedicated to a specific group of animals. Click the links below to jump ahead to each section and learn more about the animals you will find there.

African Region

One of the first areas you will encounter when you enter the San Francisco Zoo is the African Region, which includes the Savanna, the Aviary, and the Gorilla Preserve.
The Savanna is a large complex full of giraffes, zebras, and kudu (antelope). The area is very open with a lot of great spots to see the animals along the meandering pathway. You'll also be able to see ostriches and crowned cranes sharing this space. 
Towards the back of the African Region, the African Aviary features critically-endangered species, such as the Waldrapp ibis and the hamerkop. At the Gorilla Preserve, you'll be able to observe the world's largest primates in a setting that resembles their natural habitat with climbing rocks, tall trees, and grass.
Here are just a few photos from my last visit.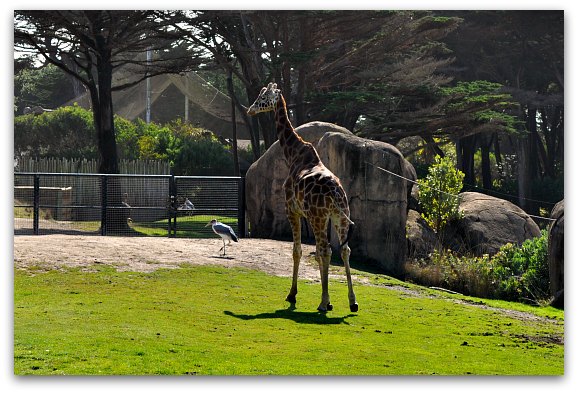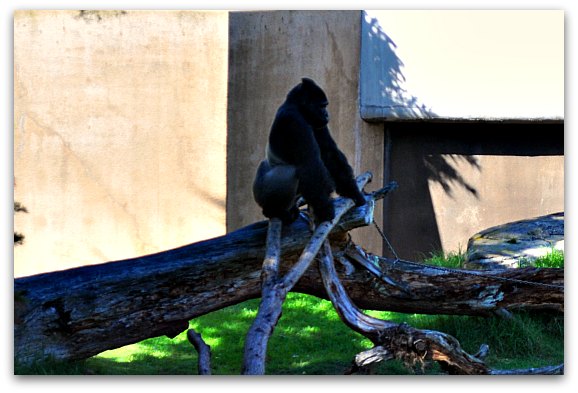 Lemur Forest (previously the Primate Discovery Center)

The Primate Discovery Center, renowned since the 1980s for housing over a dozen species of some of the most endangered primates in the world, is undergoing a transformation into the country's largest outdoor habitat for lemurs. 
The Lemur Forest will encompass the new Madagascar exhibit and seven different lemur species that you can watch from various vantage points leaping from tree to tree. 
You can still find other primate species in this area of the zoo, too, including colorful-faced mandrills, sifakas, orangutans, and chimpanzees. 
Next to this San Francisco Zoo exhibit you can take a break at the Leaping Lemur Cafe.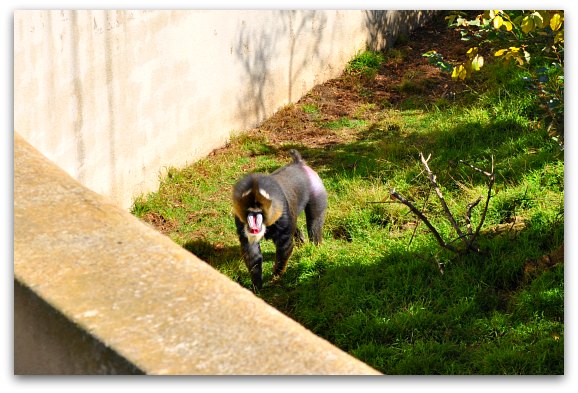 Cat Kingdom

The Cat Kingdom, which marks the center of the park, is another highlight of the San Francisco Zoo. It is a historical landmark that originally opened in 1940 as a WPA project to house lions and tigers.
It has since undergone many renovations to accommodate other large cat species and provide more naturalistic environments for them than the original outdoor grottoes.
Apart from the lions, tigers, and snow leopards, you will also find Penguin Island and sections for the rhinos, bongos, and komodo dragons.
Most of the large, endangered (and dangerous!) cats are behind glass and fences, so it's tough to get a photo of them. However, here are a couple of photos of the penguins.
Bear Country

Heading toward the very back of the zoo from Cat Kingdom, you'll encounter Bear Country, where there are currently four bears that call the San Francisco Zoo home. You will find two black bears as well as two grizzly bears.
While you're here, you can also check out Wolf Canyon, the Chacoan Peccary area, and Pelican Beach at the Lower Lake. 
The Station Cafe is located in this section for visitors who want to refresh before hitting the second side of the zoo, and the Little Puffer Steam Train Depot is right next to it. That's where you can board the short ride that kids love around these back two sections, Bear Country and South America.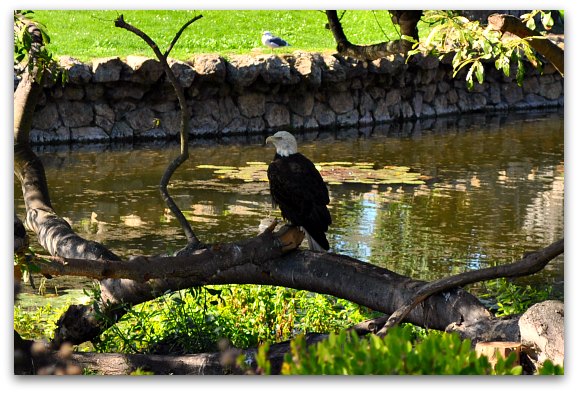 South America

Making your way back toward the San Francisco Zoo entrance from Bear Country, you'll pass through the South America exhibit. Like Africa, South America is a huge continent with a very diverse range of species.
You will find the sloths, a 15-foot-long anaconda, free-flight birds, rare tree frogs, turtles, snakes, and more in the enclosed and newly renovated South American Rainforest and Aviary.
On the other side of this section is Puente al Sur, where you'll find giant anteaters, black-neck swans, and guanaco (distant relatives of the llama).

Outback Trail

The Outback Trail features several animals from Down Under. In the large, open habitat toward the back, visitors can enjoy a peaceful setting of native Australian flora while observing the marsupials from an overlook. 
Here, the red kangaroos and wallaroos—some with babies called "joeys" in their pouches—share the space with an emu, and just beyond this are the cassowaries, large birds distinguished by their bright, colorful heads.
My favorite part of this area is Koala Crossing. That's where I saw this little guy taking a nap.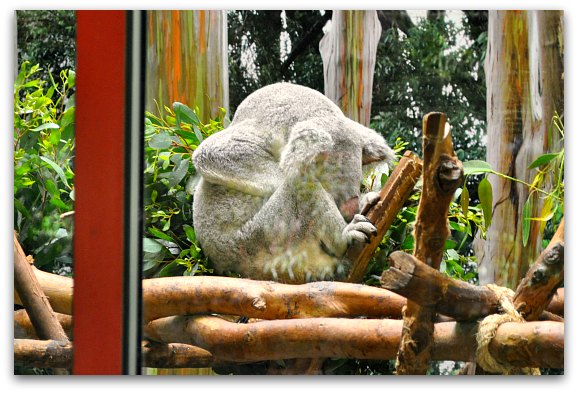 What I learned when I was at the zoo is that koalas are nocturnal. This means they sleep during the day and stay awake all night. So, all of the koalas were sleeping during my visit, but it gave me a chance to get a close-up view of them in their little bedrooms.

Exploration Zone, Also Called the Children's Zoo

On your way back toward the entrance from the Outback Trail, you'll pass a playground area before getting to the Exploration Zone, also known as the Children's Zoo, where you can learn even more about the animals. They have several interactive displays and exhibits designed for educating visitors.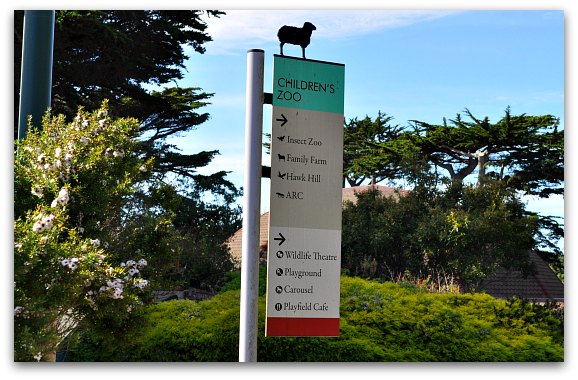 Here you can watch communities of meerkats and prairie dogs interact. You can also step inside the Insect Zoo, observe the red pandas in their treehouse, visit Hawk Hill, stop by the Animal Resource Center, and learn more at the Family Farm.
Another popular stop is Carousel Plaza, where you can ride the newly restored Dentzel Carousel.
Animal Talks and Feeding Schedule*

Although subject to change, this is the current schedule for weekend feedings and animal connections:
10:45 am: Penguins Feeding at Penguin Island
11 am - daily: Family Farm opens
11:00 am: Savanna Aviary Keeper Talk

12:00 noon: Snow Leopard & Jaguar Keeper Talk

12:30 pm: Anteater Keeper Talk at Puente al Sur

2:30 pm: Lion Keeper Talk at the Lion Habitat

3:00 pm: Aviary Talk next to California Conservation Corridor
3:30 pm: Penguin Feeding at Penguin Island
*NOTE: These can change or be cancelled at anytime. We offer this list as a way to give you an idea on what to expect during your visit. Please ask at the front desk to confirm these times and locations for the day of your visit.
More Ways to Enjoy Your Experience

Little Puffer Steam Train: This fun train ride will take you past the animals and around the San Francisco Zoo. The train is almost 100 years old and is a fun treat for kids of all ages. You can buy tickets for the train upon arrival.
Dentzel Carousel: Take a spin on the carousel seat of your choice: a horse, cat, rabbit, or giraffe. This historic 1921 gem has entertained generations of visiting families for over a century. You will find it near the Children's Zoo. You can buy tickets upon arrival.
Elinor Friend Playground: Spend some time goofing around at the Elinor Friend Playground. Access is free with your San Francisco Zoo admission ticket. There are three distinct areas modeled after distinct habitats. The River Play Area is for toddlers, the Polar Zone for preschoolers, and the Banyan Tree climbing structure for ages 5 to 12.
Zoo Keys: One of the things I love about this zoo are the interactive Storybooks that you can activate with Zoo Keys. The keys come in unique, colorful animal designs, to be carried with you to each station as you explore the zoo. They cost $5 each.
Tours: The San Francisco Zoo also offers four different walking and informational tours. They are offered at different times and dates depending on the season. Visit their website for details and to sign up for one of these fun tours. Zoo admission is included in the prices of some of these tours.
BikeAbouts: Enjoy a 60-minute bike ride through the zoo as your guide teaches you everything you wanted to know about all the amazing animals. Participants bring their own bikes (no strollers or scooters). The cost is $35 per peddler, which includes zoo admission. Make sure you check the calendar, as these tours are available on some weekends during part of the year only. 
Senior Stroll: If you are 65 or older, you are in for a treat! For an added $10, you will be able to take this tour with almost no one else in the zoo since it is early in the morning (9 am). These run on the first Thursday of the month.
Zen at the Zoo: As people come to zoo to connect with nature and perhaps their inner animal, it's no wonder why these yoga sessions in the Donga are a success. Check the zoo calendar to reserve ahead of time, as they only run on some Sundays throughout the summer months. The cost is $50 and includes zoo admission.

Annual Events at the San Francisco Zoo

In addition to all of the fun happening every day here, the zoo also offers several fun annual events and activities. Here are just a few of the most popular ones each year.
Boo at the Zoo: For a different kind of Halloween experience, head to Boo at the Zoo. This annual event features a costume parade and competition, haunted houses, a beer garden, and more. One of the crowd favorites every year is the Pumpkin Chomp N' Stomp where the animals get their chance to have some fun. Find dates for this and other fun kids' activities for Halloween.
Zoo Lights: Celebrate the holidays with Zoo Lights. This annual event is in the evening and features plenty of activities. Not only will the zoo be lit up, but Santa will visit and it will be snowing in certain areas. Find dates for this year and additional details.
My Review of the San Francisco Zoo

Is the San Francisco Zoo worth it? You can't beat a day full of fun for the little ones at the San Francisco Zoo. You could spend hours on end just watching the animals playing around. I think it's absolutely worth it if you are traveling with kids.
As an adult, I really enjoy it too. I typically spend about 3 hours here each time I visit. My favorite areas are Bear Country and the Primate Discovery Center. It's so interesting to watch these animals in a setting that is safe and enjoyable.
Plus, I love learning more during the talks they offer. There are several a day and they are free with admission, so make sure to check them out when you arrive.
I also often interact with the trainers or employees when I see them. Even if it isn't during an official talk, I've learned quite a bit from them over the years.
Hotels Near San Francisco Zoo

If you are interested in staying nearby, there are a couple of great options just a few blocks away.

Ocean Park Motel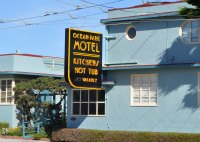 The highest rated lodging option near the zoo is the Ocean Park Motel. This art deco motel is about two and a half blocks from the entrance to the zoo.
It's warm, comfortable, and an exceptional value for the money. Here are just a few of the amenities you'll find at the Ocean Park Motel:
Free parking
Pets allowed
Some offer full kitchens
Entirely smoke-free facility
This is a quiet, secluded motel to relax in after a long day of sightseeing in San Francisco.
It's also right across the street from the L-Taraval Muni stop, which gives you easy access to downtown San Francisco.
Find the best deal and book your room today at the Ocean Park Motel.
Other Top SF Hotels

Booking: Find great deals all around San Francisco for your upcoming stay! 

TripAdvisor: What's the #1 hotel in San Francisco? Read reviews & find hotel deals on TripAdvisor!
VRBO: In addition to hotels, you'll also find some great places to stay locally through VRBO. Book an apartment or a room and feel more like a local. Find some great places to stay on VRBO here. 
Getting to the Zoo

The two best ways to get to the San Francisco Zoo are by public transportation and by driving.
Public Transportation: The best way to get to the SF Zoo from downtown San Francisco is by taking the L-Taraval train. The final stop for the L train drops you off about a block from the zoo entrance.
You can pick up the L train at any underground Muni station along Market Street. It will take you about 30 minutes to get to the SF Zoo from downtown San Francisco.
Note: The tracks for the L train are under repair, so part of this route is being offered by bus. Please allow for additional time on this route.
Driving: There is plenty of parking both on the street and in the parking lot at the San Francisco Zoo. As I mentioned above, there is a charge for parking in the official zoo parking lot. If you park on the street, you'll want to check the permit parking signs to see how many hours you can stay before getting a ticket.

Weather at the San Francisco Zoo & What to Wear
The San Francisco Zoo is on the far western side of the city. This part of town is often much cooler and windier than on the eastern end. On some days, it will be up to 10 degrees cooler on this side of SF.
I highly recommend coming prepared for a cool, windy day. Since our temperatures are mild, you will find it ranges from around 50 degrees to the mid-60s here most of the year. 
In the summer, expect this area to be covered in fog for a good portion of the day. This will make the temperatures feel cool and it's usually in the mid- to lower-60s here in the summer months.
In the winter, expect it to be partly overcast with cool breezes from the Pacific Ocean. You will also want to prepare for some rain during these months.
Spring and fall are both mild with a bit more sun and slightly warmer temperatures. 
To prepare, make sure to wear and bring along layers. You'll want to bring along light jackets that you can add and remove as the temperature changes. I'd also wear long pants and comfortable walking shoes. 
Restaurants Nearby
Brothers Pizza: The Sangha brothers have been running their amazing pizza parlor for over 30 years! Along with the "usual" pizzas, pastas, salads, and everyday fare, their food is unique in that they've mixed Indian food in with it.
If you are adventurous, you might want to check out some items like the chicken tikka masala, tandoori Chicken, or the "Indian Style" vegetarian pizzas. We love places that experiment and try something new. If you do also, make sure to check out Brothers Pizza. 3627 Taraval Street
Chalos: We love going to Chalos since eating somewhere different is in our blood. While you will find many restaurants in SF that serve food from Mexico, Chalos features food from Argentina.
Some of their specialties include their yummy churros, empanadas, and our favorite drink, the Dulce de Leche Latte! The place is run by a husband-and-wife team that wanted to spread their enjoyment of this delicious food with everyone else. 2240 Taraval Street
Cypress Grill: If you want some classic San Francisco treats, such as clam chowder or crab cakes, and want an amazing view of the golf course, then this is the place for you. One of my other favorites is the spicy fried chicken on a brioche bun.
This is a great place to stop before or after a game of golf since it is right there. They also have a great happy hour, and they have both indoor and outdoor dining. An added bonus is that parking is free. 99 Harding Road
History of the San Francisco Zoo
Established in 1929, it was originally named the "Herbert Fleishhacker Zoo" after its founder. It officially took the name of the "San Francisco Zoological Gardens" in 1941 because Fleishhacker suggested it as he'd rather it be known as a zoo for the whole city.
The first two directors were a wild animal collector named George Bistany, and then a famous zoologist named Edmund Heller. As they slowly built the zoo, there were a lot of restrictions, and the animals were kept in very small enclosures.
It originally only had 10 buildings and animals such as birds, elephants, lions, an island for monkeys, and a small lake for water animals like otters or beavers. There was also a restaurant but not much more.
However, as new leaders took over and people learned more about the natural habitats where these animals live in the wild, the zoo adapted and began to expand, providing more realistic homes and more care also. As you can see now, especially compared to the early incarnation of the zoo, it is much more impressive and expensive!
Something that every visitor loves is that, even after all these changes, there are still bits of history left here at the San Francisco Zoo. Some of these touches include the handmade wooden Dentzel Carousel from 1921, the Little Puffer miniature steam train from 1904 (this is so fun to ride!), and a few other special buildings and sites.
The zoo continues to update and change to be helpful to the animals who live there and to the people who visit them each day.
Comments? Questions? Suggestions?
I would love for you to join me in my private Facebook group! 
It's a great place to interact with me and others who know the area well.
You can ask questions, get advice for your upcoming stay, and then share your photos and advice with others when you return home. It's a great community and the fastest way to get answers to those nagging questions about your visit!