San Francisco Tourism Information
Downloads & Other Tools to Help You Plan Your Trip
NOTE: On December 6, San Francisco (and a few surrounding counties) will once again be on a stay-at-home order. This will last indefinitely. Click here for more information.
Are you planning a trip to San Francisco? Are you looking for a few tools to help ease the planning process? If so, you are in the right place!
On this page, you will find free downloadable San Francisco tourism information tools. They range from simple planning guides to self-guided itineraries for key districts. You can also compare the top discount passes and explore a list of SF attractions with hours, prices and more.
Planning Guides
The printable scheduling tools allow you to easily plan each day of your visit. Click on the links to download each guide. Print as many as you like.
Simple Planning Guides
The simple planning guides feature an area for you to write in your activities and attractions for the day. You will find separate areas for each morning, afternoon and evening.
The large writing areas also allow for you to add in other details for your day such as addresses, directions or the bus you need to use in order to get to your destination.
---
Detailed Planning Guides
The detailed planning guides offer you the chance to plan each hour of the day. They are set up by morning, afternoon and evening. Each section, offers plenty of room to add in your itinerary.
Do you need to add in which bus to take? What about the address of the attraction? The notes pages in the back offer additional writing space.
List of SF Attractions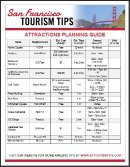 This downloadable document features a list of all of SF's top attractions. For each one, you can view their standard hours, location and an estimated cost.
In the far right column, you can indicate your interest in visiting this attraction.
This document will allow you to determine which places you want to visit before your stay. You will also be able to create an estimated budget for each day of your visit.
Click the link below to download this two-page document.
Discount Passes
The best way to save money during your visit is to look into SF's two most popular discount passes. Both passes include admissions to top San Francisco events as well as other discounts.
The first one is the Go Card. You can purchase it for 1, 2, 3, 5 or 7 days. It includes access to almost 50 attractions and activities around the SF Bay.
The second one is the CityPass. This is the most popular and includes admission to three of SF's top museums. You also receive a 7-day Muni pass and a ticket to a 60-minute bay cruise
Download the comparison chart below to help you determine which pass is the right one for you. Since the Go Card offers so many options, I also created a sample itinerary to help you understand how you can make the most out of this card.
Self-Guided Walking Tours
I love taking guided tours as it's a way to learn so much more about a certain city or district. However, some days I also enjoy venturing out on my own.
I created these self-guided tours to allow you to do that. Each download offers a one day self-guided walk through a specific neighborhood.
You can visit all the hot spots in Chinatown, hang out near the water in Fisherman's Wharf or learn about the Summer of Love in the Haight Ashbury.
The list below is just a few I've created. Click on each link to download a specific itinerary. You can also click on the "Find More" link for a full list of self-guided itineraries.
Chinatown | Fisherman's Wharf | Haight Asbury | Marina
Annual Event Calendars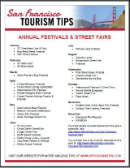 Thousands of people flock to SF every year for our amazing festivals and street fairs. Almost every weekend, you will find a festival.
The most popular include our film festivals, wine festivals and summer street fairs.
The easiest way to wrap your head around what is going on in SF is to download one or more of these calendars. They show a list of annual events each month.
They also offer links back to this site to view the specific dates for this year's events.
Airport Distance Chart
Are you not sure which SF airport is right for you? Use this handy airport distance chart to help you decide.
San Francisco is near three major, international airports. All three cater to a specific part of the Bay Area. Even though you can use any of them for your destination, it might add quite a bit of travel time to your journey.
The comparison chart on this download includes both distance and estimated time between these airports and more than a dozen SF Bay Area cities.
Other Pages You Might Enjoy
---
More Fun Pages to Explore
Chinatown Shopping: The best place to shop for inexpensive goods is in Chinatown. Thousands of people visit this district every month to check out the great deals and bargain for the best price. This page also includes a downloadable map to help you find your way around once you arrive.
Best Hotel Deals: San Francisco is an expensive place, but you can find hotel deals all year long. On this page, find a list of current promotions. Many offer discounts off your room. Other feature discounts on parking or other amenities during your stay.
Free SF Walking Tours: Every day of the week, the SF Library offers up to a dozen free walking tours around the city. They range from walking over the Golden Gate Bridge to a tour of the colorful Mission Murals. Visit this page for a full schedule by day.

Follow SFTourismTips on Facebook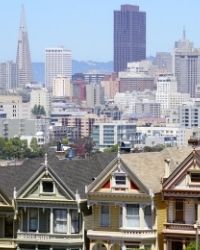 On my Facebook page, you will find more great information about planning your San Francisco vacation.
It includes tips, must see attractions, and other fun details.
Click the link below to check it out. If you enjoy the page, give us a like.