San Francisco Sights
Tips for Using the Go City Pass
to Save Money on Attractions, Tours & Other Activities
NOTE: On December 6, San Francisco (and a few surrounding counties) will once again be on a stay-at-home order. This will last indefinitely. Click here for more information.
Are you looking for a way to save on San Francisco sights? You can save quite a bit of money with the Go City discount pass.
It includes tickets to more than 25 attractions and tours. If you use it to its full potential, you will see most of San Francisco at a fraction of the cost.
This San Francisco discount pass is flexible. You can buy it for one, two, three, or five days. During each day, you can visit as many attractions and take as many tours as you want.
To help simplify your planning process and fully understand the benefits of it, I pulled together some suggested itineraries for you. I grouped together the attractions that are close to each other, so you won't lose time getting from one place to the next each day.
This allows you to see as many San Francisco attractions as possible and maximize your savings with the Go City discount pass.
Overview
Before we get started, take a look at the San Francisco sights, attractions, and tours offered with the pass. I've grouped them both by type of activity and location. You will also see the full retail value of each one so you can calculate your savings.
You won't be able to do them all, nor I did attempt to squeeze all of them into the suggested day plans below, but if something on the list catches your eye that I didn't select for one of the sample itineraries, simply substitute it.
The Go City pass gives you lots of freedom to pick and choose depending on the activities and attractions that most interest you.
Activities in San Francisco
All of these San Francisco sights are either right in the city or else the ticket includes transportation out of and back to the city.
Tour/Attraction

Neighborhood

Full Adult Retail Value

Cruises
Angel Island Round-trip Ferry
Fisherman's Wharf
$19.50
Bridge 2 Bridge Cruise (Red & White Fleet)
Fisherman's Wharf
$44.00
Escape from the Rock (Blue & Gold Fleet)
Fisherman's Wharf
$42.00
Golden Gate Bay Cruise (Red & White Fleet)
Fisherman's Wharf
$34.00
Museums
Aquarium of the Bay
Fisherman's Wharf
$28.25
Madame Tussauds Wax Museum & Dungeon Combo
Fisherman's Wharf
$56.00
Ripley's Believe It or Not!
Fisherman's Wharf
$23.00
Exploratorium
Embarcadero
$29.95
SF Museum of Modern Art (SFMOMA)
South of Market (SOMA)
$25.00
Asian Art Museum
Civic Center
$15.00
de Young Museum
Golden Gate Park
$15.00
California Academy of Sciences
Golden Gate Park

$39.95

The Walt Disney Family Museum
Presidio
$25.00
San Francisco Zoo & Gardens
Ocean Beach
$23.00
USS Pampanito
Fisherman's Wharf
$20.00
Tours
Hop-On Hop-Off Big Bus 2-Day Tour
All Major SF Neighborhoods
$55.00
Panoramic Night Tour
All Neighborhoods
$35.00
Oracle Park Tour
South of Market (SOMA)
$22.00
Other Activities
All-Day Bike Rental from Blazing Saddles
Fisherman's Wharf, Embarcadero, Union Square (bike pick-up locations)
$32.00
30-Minute GoCar Rental
Union Square (car pick-up location)
$34.18
Subpar Miniature Golf
Fisherman's Wharf
$25.00
The Flyer & 7D Experience
Fisherman's Wharf
$38.00
Wattle Creek Winery Reserve Tasting
Ghirardelli Square
$25.00
Fisherman's Wharf Walking Tour
Fisherman's Wharf
$35.00
1-Day Muni Pass
All Districts
$23.00
The Escape Game
Union Square
$45.56
California's Great America
Santa Clara
$62.00
K-1 Speed Indoor Karting
South San Francisco
$30.99
As you can see, there is a LOT to choose from with this pass. It's a great package because you will get to see so many San Francisco sights.
However, this does make it a little overwhelming. So, how will you plan out your days? Check out my suggested itineraries below.
1-Day Suggested Itinerary
My recommendation for Day One is to visit the San Francisco tourist attractions at Fisherman's Wharf. From here, you will also embark on a one-hour cruise of the SF Bay.
It is a busy day, but still gives you time to rest between visits to the San Francisco sights. All of these are within just a few blocks of each other, so it will be quick to get from one San Francisco tour or attraction to the next.
2-Day Suggested Itinerary
If you decide on the two-day pass, I'd keep Day One as outlined above. On Day Two, I'd head over to Golden Gate Park, one of my favorite San Francisco sights and a must-see stop that's full of museums and attractions.
There, you'll visit the most popular museum in San Francisco, the California Academy of Sciences. Right across the way is the de Young fine arts museum, another favorite that always has great traveling exhibits.
From Golden Gate Park, you can then head north to Lincoln Park in the Lands End neighborhood to check out the Legion of Honor, another renowned art museum known for its stunning views.
This may seem like a lot of museums for one day, but because they are all located within the beautiful parks of San Francisco's west end, you can always take breaks for fresh air, explore the trails around them, and admire their exquisite settings.
3-Day Suggested Itinerary
Can you believe there are still some great San Francisco sights to see with the Go City San Francisco pass? If you choose the full three-day option, here's how I'd spend the extra day of great benefits.
On day 3, I'd head back to the museums. There are still some very popular museums left on the list. The bottom three are all within a block of each other in SOMA and the Asian Art Museum is only a short mile-long walk or Muni ride away.
I'd end the day with a nice Panoramic Night Tour with Big Bus.
Disclaimer: I receive a small commission from some of the links on this page.
Are you ready to book? Find out more about booking a one-, two- or three-day pass.
5-Day Suggested Itinerary
On day 4, I'd use the one-day Hop On Hop Off pass. This way you can see some of our other sights such as the Golden Gate Bridge, Lombard Street, and Alamo Square.
You can also walk around Chinatown and the Haight-Ashbury district.
San Francisco Sights
Full Adult
Retail Value
Estimated Time for Each
Hop On Hop Off - 2 Day Pass
$55.00
2.5 Hours (All Day)
Total Retail Cost - Day 4
$55.00
On day 5, I'd head back to the San Francisco tourist attractions near Fisherman's Wharf for a fun adventure day.
The "Escape from the Rock" cruise takes you onto the bay and provides great close-up views and stories of Alcatraz Island. When back at the wharf, head out on the Fisherman's Wharf Walking Tour. You can then head to Pier 39 to enjoy the 7D Experience and the Flyer.
You can finish out the day with a relaxing wine tasting at Wattle Creek in Ghirardelli Square.
San Francisco Sights
Full Adult
Retail Value
Estimated Time for Each
Escape from the Rock (Blue & Gold Tour)
$39.00
1.5 hr
Fisherman's Wharf Walking Tour
$35.00
1 hr
The Flyer & 7D Experience
$38.00
2 hrs
Wattle Creek Winery Reserve Tasting
$25.00
1 hr
Total Retail Cost - Day 5
$137.00
Total Retail Cost - Days 4 & 5
$192.00
Total Retail Cost - Days 1 - 5
$451.20
Cost 5-Day Go City
$214.00
The savings with this pass are fantastic. The number of days you decide to purchase depends on how you like to travel.
You can mix and match the above itineraries to suite your own needs. You can also change a few things around to make it the right trip for you.
In addition to the savings mentioned above, you will also receive a San Francisco coupon booklet that includes even more savings on restaurants and shops around the city.
Costs for the Go City San Francisco Pass
As a quick recap, here is a chart that shows you side by side the cost for all options with the Go City San Francisco pass.
| | |
| --- | --- |
| Days | Adult Price |
| 1-Day | $92 |
| 2-Day | $137 |
| 3-Day | $172 |
| 5-Day | $214 |
Are you ready to see some of the best San Francisco sights and save? Find your dates and book the Go City pass.
Disclaimer: All prices, estimates, and attractions are subject to change without prior notice.
Top Hotels for Your Visit

Follow SFTourismTips on Facebook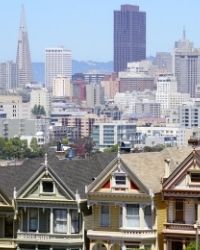 On my Facebook page, you will find more great information about planning your San Francisco vacation.
It includes tips, must see attractions, and other fun details.
Click the link below to check it out. If you enjoy the page, give us a like.