Your Insider's Guide to San Francisco 2017
Everything You Need to Plan Your Visit to the City by the Bay
NOTE: Click here to stay up-to-date with what's open and opening soon.
Are you looking for an easy way to find everything you need for your upcoming visit to San Francisco? Have you been spending a lot of time on different websites printing out exactly what you need for your visit?
To make it easier for you, I've created Your Insider's Guide to San Francisco. This 300+ page eBook will save you time, money, and the frustration of looking in dozens of places to find everything you need.
What's Inside the eBook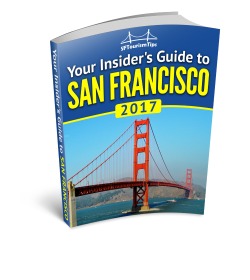 Inside my PDF downloadable eBook, you will find information on SF's top attractions, activities, and tours. You will also find recommendations for restaurants, hotels, and nightlife options.
Here are a few additional details on what you will find in Your Insider's Guide to San Francisco:
Attractions: Discover details on visiting SF's top attractions and hidden gems, including some of my favorite free attractions.


Events & Festivals: Uncover the top festivals and other cultural events in San Francisco including details on the Cherry Blossom Festival, the Chinese New Year Parade, and top holiday events.


Hotels: Get tips for selecting the right hotel for your stay based on budget, locations, and amenities.


Museums: Learn more about what you will see in SF's top museums. Plus, find museum lists by interest (art, history, etc.).


Restaurants & Nightlife: Find the best places by district and some of the places locals love.


Tours: Identify the best walking, biking, and other guided tours all around SF.


Itineraries: Use my self-guided tours to set off on your own and explore specific districts in detail.


Ways to Save: Determine the best ways to save on your trip based on your interests using my knowledge and know-how.


And SO much more...
In addition, you will find the eBook organized by both category AND by district. This will allow you to search for the things you want to do and also learn more about what other fun activities are nearby!
The best part is that you can grab it up today for only $3.99! That's right, for less than $4 you will get access to tons of wonderful information about San Francisco!
Click here to scroll down and purchase your copy today!
Sample Pages
With a simplified layout and detailed table of contents, you will be able to easily find what you need for your trip. Here are just a few sample pages from the eBook.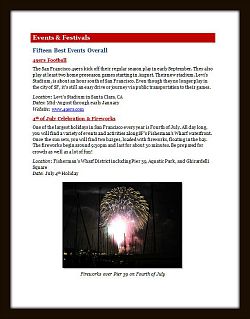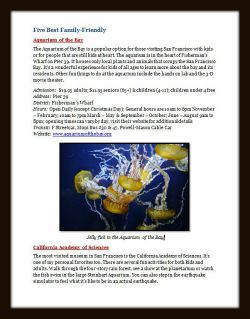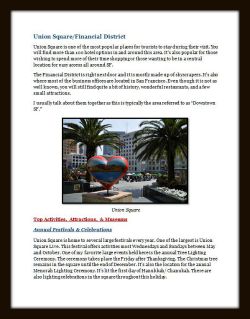 Why an eBook Rather than a Hard Copy Guide?
There are many benefits to using a PDF downloadable eBook over a hard copy guide for your visit.
First, you will get your copy IMMEDIATELY, so you can start planning right away.


You can print out only the pages you need. This lessens the load, as you will only need to carry a handful of pages.


And, if you want to be truly mobile, you can easily download it to your e-reader, tablet, or mobile phone, so you don't have to print out any pages at all!


You can buy it at a substantially lower price than a hard copy book.


You can print out certain pages to easily share them with those traveling with you!
How is it Different from Other San Francisco Guide Books?
My book offers an insider's view of San Francisco. Being that I've lived here for more than a decade, you will find that my book offers the latest information on the best places to visit, when to visit, and how to get there. You will also find many hidden gems as well as recommendations for places that locals love!
My book also includes a LOAD of information you will not find anywhere else. As far as I know, it's one of the least expensive, yet most robust books you will find about San Francisco.
Is it Different from SFTourismTips.com?
There are a few differences between SFTourismTips.com and Your Insider's Guide to San Francisco. You will find some of the information in the eBook on my site. However, you will also find additional tips and recommendations not currently available on my site.
The eBook is the perfect option for those who are too busy to dig through my site for information. It's also great for those who have spent a lot of time on my site and want an easy and portable version for their visit. And, if you decide you want to print some of the pages out, they are in the right format so you don't waste paper or space.
It's also perfectly priced, so you can quickly get a copy without worrying about your budget.
Your Insider's Guide to San Francisco is primarily focused on activities, events, and attractions right in San Francisco. It includes limited information about other activities in the greater Bay Area, such as Napa, Sonoma, Monterey, and Sausalito.
Purchase Your Copy Today!
Pick up this great eBook for just $3.99 today! It includes everything you read about above and so much more. Click the button below to pick up your copy today!

By clicking on the button above, you will be sent to your shopping cart. To purchase, you will automatically be sent to Paypal for payment. You can pay via Paypal, debit card, or credit card.
After you submit your payment, you will receive two emails about my eBook. The first is your receipt from Paypal. You can keep that for your records.
In a second email, you will receive a link to download the book. If you don't see this second email, it might have ended up in your junk folder, so check there as it usually arrives less than a minute after payment.
When you download the book, right click on it in order to save it to your computer, phone, etc. This way, you can access it again and again.
Other Ways to Stay in Touch with SFTourismTips
If you would love to stay in touch with me, then make sure to sign up for our email and/or follow us on these popular social media platforms.
Comments, Questions, Ideas: Tell Me What You Think!
Do you have a question you would like to ask before buying my eBook? Did you have a comment or idea for me about the eBook? If so, please fill out the form below! Thank you, and I will get back to you as soon as I can!