Excelsior Arts and Music Festival 2017
Family-Friendly Fun on the Southern Side of SF
NOTE: Click here to stay up-to-date with what's open and opening soon.
Discover family-friendly entertainment and activities at this year's Excelsior Arts and Music Festival. Heading into its 15th year, this event features art, live music, delicious food, crafts, kids activities, and more.
This annual festival celebrates the diversity of those that live in this district from small children to seniors that have lived here all of their lives.
This year's event is on Sunday, October 1. All activities take place between 11am and 4pm on Ocean Avenue and San Juan Avenue at Mission Street.
They are partnering with Sunday Streets again this year which is along the Mission, so there will be additional streets blocked for those wanting to bike, run, or walk on car free streets.
This is a huge event that usually draws up to 10,000 people a year! It's a great place to bring the family and enjoy a number of activities and events.
More Festival Details
Live Entertainment
This year's event will once again feature live music and entertainment. All entertainment is by local artist and is family-friendly.
Other Activities
Since this district has a large concentration of kids, you will find many activities at the Excelsior Arts and Music Festival designed for those in elementary school and younger.
In addition, you will find dozens of arts and crafts booths where you can enjoy the work of local artists.
You will also find a diverse mix of food including standard street fair food to gourmet treats from local restaurants.
Tips to Get to the Excelsior Arts and Music Festival
You have a few options to get to this district from the heart of San Francisco.
BART: Take BART to the Balboa Park Station. You will find the Excelsior Arts and Music Festival just 15 minutes away.
Light Rail: Take the J light rail train to the Ocean Avenue and San Jose Avenue stop. From here, head straight east on Ocean Avenue to find the event.
Here is a map showing the location of both of these stops in relation to the Excelsior Arts and Music Festival location. The red star is the festival, the blue star is the light rail stop, and the yellow star is the BART stop.
Disclaimer: I receive a small commission from some of the links on this page.
Places to Stay in SF
If you plan to stay in San Francisco this weekend, I recommend staying in Union Square. It's an easy light rail or BART ride away from the Excelsior Arts and Music Festival. It also has the largest selection of hotels in San Francisco.
Click here to read about my recommendations in Union Square.
You can also start your search on TripAdvisor.com's Special Offers section. It features discounts in Union Square and other hotels throughout the city. Click here to check out TripAdvisor's deals today.
Other Top Events this Month in SF
Kids Activities for Halloween: SF is full of family friendly activities and you will find a variety of things to do with the kids on Halloween. This year, you can head over to Japantown for their annual event or enjoy Boo at the Zoo. Click here for a full list of details on this year's kids activities for Halloween.
Fleet Week: Another popular October event is Fleet Week. This large festival usually takes place the second weekend of October. All activities are along the waterfront near Fisherman's Wharf. They include a large airshow with the Blue Angels, the chance to step aboard several military ships, and more. Click here for details on Fleet Week.
Discounted Tix: If you are like me and love saving money, then check out the event tickets on Goldstar. They offer several at up to half-off the full price. You will also find tickets for guided walks, cruises, and Segway tours. Click here to check out their selection today!
Open Studios: If you love art, then make sure you visit SF during Open Studios. During this event, you get the chance to step inside local artists' studios to see their works. Many of them are also on hand to answer questions and teach visitors about their work. Click here for details.
Other Fun Family-Friendly Activities
Free Walking Tours: Did you know that the SF Public Library offers dozens of free walking tours every day throughout SF? They offer guided walks across the Golden Gate Bridge, tours of SF's Haight Ashbury District, and more. Click here to check out their daily schedule.
Aquarium of the Bay: One of my favorite attractions in SF is the Aquarium of the Bay. This family-friendly living museum offers you the chance to discover all the plants and animals that live in the SF Bay. You will see jellyfish, a large Pacific Octopus, and even get the chance to touch a starfish. Click here for pictures and to learn more.
Randall Museum: The Randall Museum is a hands-on kids museum. Here you will find several exhibits that discuss local topics including the winds of San Francisco, local birds, and more.
Other Family-Friendly Activities: In addition to these, you will find several other fun things to do with kids in SF. I created a list of all of them and included those that are not just fun for the kids, but for the entire family. Check out my full list here.
Other Top Pages

Follow SFTourismTips on Facebook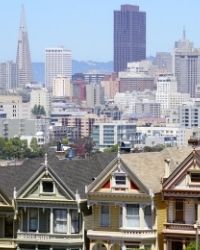 On my Facebook page, you will find more great information about planning your San Francisco vacation.
It includes tips, must see attractions, and other fun details.
Click the link below to check it out. If you enjoy the page, give us a like.