Ice Cream in San Francisco
My Five Favorite Spots in SF
Where can you find the best ice cream in San Francisco? If you love this sweet creamy dessert like me, you will be excited to check out some of my favorite places in SF.
Many of them offer homemade options created from fresh ingredients. Some offer more traditional flavors such as chocolate or vanilla. However, you will also find some fun, new flavors such as Irish coffee, chocolate malt, and cinnamon brittle.
Read on for a list of the five places I frequent when I have a craving!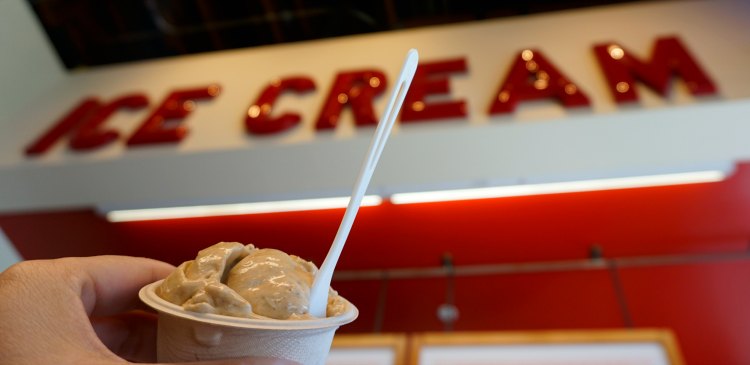 1. Mitchell's Ice Cream
Mitchell's is a family owned ice cream shop in SF's Mission District. This popular stop makes small batches of creamy goodness everyday in their store. They offer many standard flavors such as chocolate, chocolate chip, and vanilla. They also serve up interesting flavors such as toasted almond, peanut butter indulgence, and Kahlua mocha cream.
In addition to the variety of the flavors they serve daily, they also make special seasonal treats. These include flavors such as peppermint candy (winter), pumpkin (fall/winter), and Irish coffee (spring).
The only downside to Mitchell's is that there is almost always a line. However, it's worth the wait!
Mitchell's only has one store, but they do sell their ice cream in many local restaurants, stores, and shops.
Address: 688 San Jose Ave. in the Mission District at 29th Street
Hours: Daily from 11am to 11pm

2. Bi-Rite Creamery
Another one of my favorite places for tasty ice cream in San Francisco is Bi-Rite Creamery. They make small batch, organic ice cream in their Mission District store. Right next door in their bakery, they also make all of the sweet goodies that go in their ice cream.
They offer flavors such as salted caramel, TCHO chocolate, and cookies & cream. They also sell delicious ice cream sandwiches, pies, and cakes.
The line here is also usually long, but it usually doesn't take too long to get your ice cream.
For a long time, they had just one location in the Mission. A few years ago, they opened a second location near Alamo Square. The Alamo Square location is a full grocery store, so make sure you find the secondary door, which is the line for ice cream.
Mission District
Address: 3692 18th Street
Hours: Sunday - Thursday from 11am to 10pm; Friday and Saturday from 11am to 11pm
Divisadero (Near Alamo Square)
Address: 550 Divisadero
Hours: Daily from 9am to 9pm
3. Swensen's Ice Cream
Swensen's Ice Cream shop opened in the Russian Hill District at Hyde and Union in 1948. They were the first to offer premium ice cream with natural ingredients.
Today, their original store still serves up amazing ice cream dishes. They've also expanded and serve up their delicious treats through the US and the world. In fact, during our last visit to Malaysia, we entered an ice cream store that served Swensen's. It's was a nice piece of home in a far away land!
Even though their ice cream is served in many locations, I recommend stopping by their original store for a walk through ice cream history.
Address: 1999 Hyde Street
4. Three Twins Ice Cream
Three Twins Ice Cream is another local brand that's made it big in the area. They currently have three stores in San Francisco. In addition to their three stores in SF, you will also find their products in several local stores.
They have only been around since 2005, but have made a name for themselves in the Bay Area and beyond.
My favorites from Three Twins include their sea salted caramel, mint confetti, and chocolate malt.
Fisherman's Wharf
79 Jefferson Street
San Francisco - Fillmore Street
254 Fillmore Street

San Francisco International Airport
Terminal 1, Boarding Area C
5. Humphry Slocombe
Humphry Slocombe is a must try for serious ice cream lovers. They offer several unusual flavors that you will not find anywhere else.
Their flavors include options such as Hibiscus Beet Sorbet, Tahitian V*n!ll@, and Carrot Mango Sorbet. Other popular flavors include Cinnamon Brittle, Blue Bottle Vietnamese Coffee, and McEvoy Olive Oil.
They are also newbies and started their business in 2008. However, they bring in crowds from all over San Francisco and the Bay Area.
Their main shop is in the Mission District. You will also find a second store in the Ferry Building.
Mission District
Address: 2790A Harrison Street
Hours: 1pm to 10pm Monday - Thursday, 12pm to 11pm Friday - Saturday, 12pm to 10pm on Sunday
Ferry Building
Address: One Ferry Building
Hours: 11am to 7pm Monday to Friday, 8am to 7pm Saturday, 11am to 7pm Sunday
My Favorite Places to Eat In SF
There are hundreds of places to enjoy a meal in San Francisco. These are just some of my favorites.
Burgers: If you love burgers, you will find several amazing options in San Francisco. Some of my favorites are casual drop in diners and others I frequent are higher end restaurants. Click here to check out where I go when I'm craving a burger.
Pizza: I LOVE pizza and could eat it every day. In SF, you will discover a long list of great places for pizza. I've narrowed down my list to my top 10 favorites. Some of them only sell by the slice, some only sell full pies, and others offer both options. Click here to check out my favs.
Italian: You can't talk about top restaurants in San Francisco without including some of our top Italian Restaurants. Many of them are in or near North Beach. You will also find some great options in Nob Hill and Pacific Heights. Click here for just some of my favorites.
Clam Chowder: On a cool day in San Francisco, nothing beats a warm bowl of clam chowder in a sourdough bread bowl. Most SF restaurants offer New England Clam Chowder (the creamy white soup) with a few offering Manhattan Clam Chowder (the red, tomato based soup). My list includes the best of both options. Click here for the best places for Clam Chowder in SF.
Other Fun Tips for Your Visit
Disclaimer: I receive a small commission from some of the links on this page.
Fisherman's Wharf: This popular district sits on the northern end of the city along the waterfront. This is where you will find several top attractions such as Pier 39, Ghirardelli Square, and the Aquarium of the Bay. You can learn about this district's history, enjoy a variety of foods, and more. Click here to learn more about what there is to see and do in this famous district.
Alcatraz Island: One of the must see attractions in SF is Alcatraz Island. It's a historic gem and an experience you will not find anywhere else. During your visit, you will see what it was like for the prisoners here and listen to stories from both prisoners and guards. Make sure you book this as soon as you can as spots fill up quickly. They sell tickets 90 days out. Click here for details and to pick up your tickets today!
Save with Goldstar: One of the best ways to save on your visit is to buy your tour, event, and activity tickets through Goldstar. They offer discounts at up to 50% off! It's a great deal that allows you to stretch your dollar and see more during your stay. Click here to check out their current deals!
California Academy of Sciences: Can I also call this a must see attraction? This is really a great option for the entire family as it's four museums in one. Under one roof, you can visit an aquarium, see a show at the planetarium, learn more about natural history, and walk around a four-story rainforest. You can also step inside the earthquake simulator to feel what it's like to be in an earthquake and stop by to say hi to Claude, the rare white alligator. Book your tickets in advance for skip the line privileges. Click here to learn more.
Self-Guided Itineraries: Do you love to explore on your own? Do you wish you could see as much as possible during each day of your visit? Now you can, with my self-guided itineraries. You will find options to explore all of SF in one, two, three, or more days. You can also get an in-depth look at each of SF's top neighborhoods including North Beach, Fisherman's Wharf, and Chinatown. Click here to check out all of my self-guided itineraries.
Other Fun Things to Do in SF