Ice Cream in San Francisco: My Ten Favorite Shops in SF

by Jill Loeffler  •

Updated: July 2, 2023
Where can you find the best ice cream in San Francisco? If you love this sweet creamy dessert like me, you will be excited to check out some of my favorite places in SF.

Many of them offer homemade options created from fresh ingredients. Some offer more traditional flavors like chocolate and vanilla. However, you will also find lots of fun, creative flavors such as Irish coffee, chocolate malt, cinnamon brittle, and many more.
Read on for a list of the ten places I frequent when I have a craving!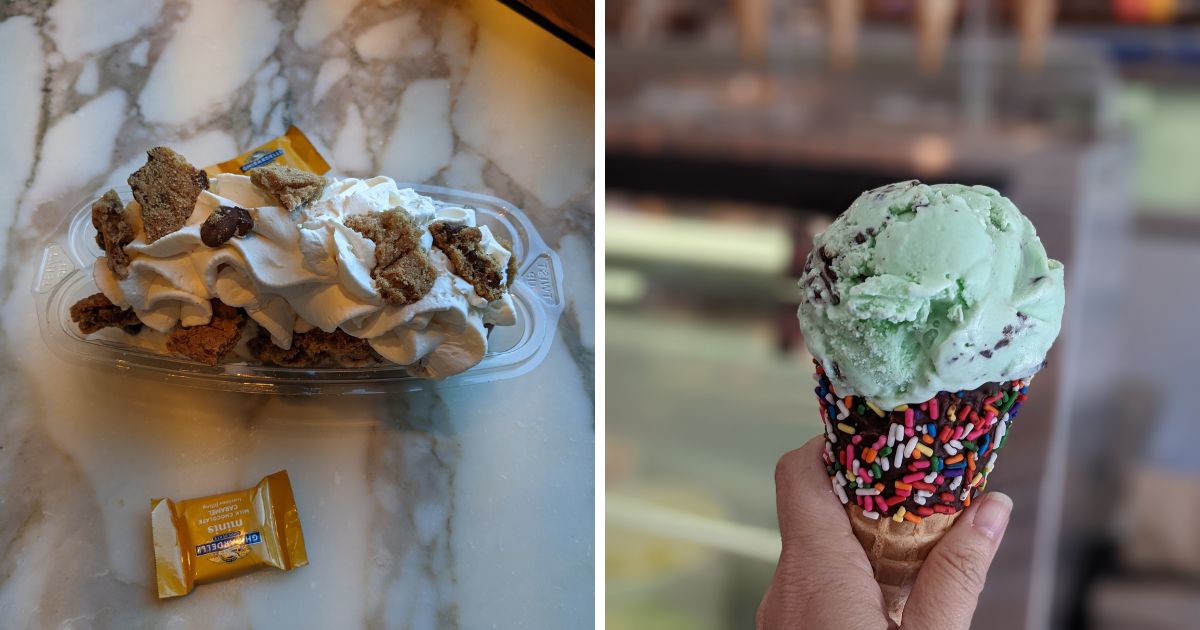 1. Mitchell's Ice Cream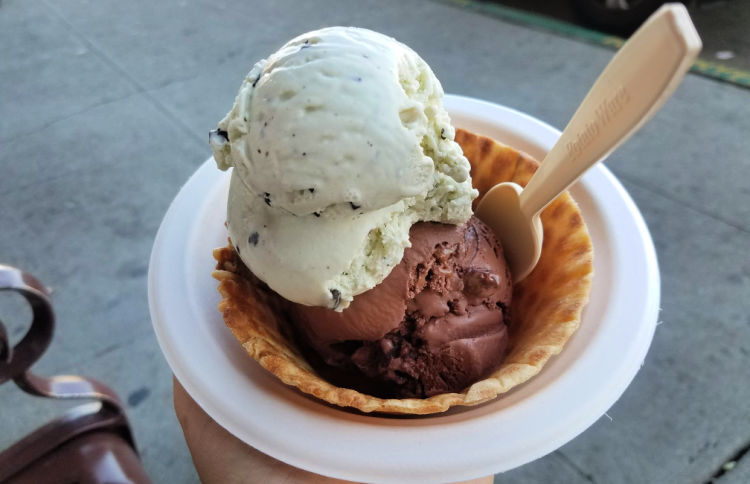 Mitchell's is a family owned ice cream shop in SF's Mission District. This famous ice cream shop in San Francisco makes small batches of creamy goodness every day in their store. They offer many standard flavors such as chocolate, chocolate chip, and vanilla. They also serve up interesting flavors such as toasted almond, peanut butter indulgence, and Kahlua mocha cream.
In addition to the variety of the flavors they serve daily, they also make special seasonal treats. These include flavors such as peppermint candy (winter), pumpkin (fall/winter), and Irish coffee (spring).
The only downside to Mitchell's is that there is almost always a line. However, it's worth the wait!
Mitchell's only has one store, but they do sell their ice cream in many local restaurants, stores, and shops.
Address: 688 San Jose Ave. at 29th Street in the Mission District 
Hours: Daily from 11 am to 11 pm 
2. Bi-Rite Creamery

Another one of my favorite places for tasty ice cream in San Francisco is Bi-Rite Creamery. They make small batch, organic ice cream in their Mission District shop. Right next door in their bakery, they also make all of the sweet goodies that go in their ice cream.
They offer flavors such as salted caramel, TCHO chocolate, and cookies & cream. They also sell delicious ice cream sandwiches, pies, and cakes.
The line here is also usually long, but it usually doesn't take too long to get your ice cream.
For a long time, they had just one location in the Mission. A few years ago, they opened a second location near Alamo Square. The Alamo Square location is a full grocery store, so make sure you find the secondary door, which is the line for ice cream.
Bi-Rite Creamery Mission District
Address: 3692 18th Street

Hours: Every day from 12 pm to 9 pm (this is just for the creamery, the grocery store is open from 8 am to 9 pm)
Bi-Rite Creamery Divisadero (Near Alamo Square)
Address: 550 Divisadero
Hours: Daily from 8 am to 9 pm
3. Swensen's Ice Cream

Swensen's Ice Cream shop in San Francisco opened in the Russian Hill District at Hyde and Union in 1948. They were the first to offer premium ice cream with natural ingredients.
Today, their original store still serves up amazing ice cream dishes. They've also expanded and serve up their delicious treats through the US and the world. In fact, during our last visit to Malaysia, we entered an ice cream store that served Swensen's. It's was a nice piece of home in a faraway land!
Even though their ice cream is served in many locations, I recommend stopping by their original store for a walk-through ice cream history.
Address: 1999 Hyde Street
Hours: Noon to 10 pm Tuesday through Sunday, Closed on Mondays
4. Salt & Straw

Salt & Straw is another one of the local San Francisco ice cream shops that's making it big in the Pacific Heights and Hayes Valley Districts. It's rare to find them open without a line!
Several of their handmade treats include some type of chocolate, but you will also find some unique flavors with vanilla, strawberry, and other tasty flavors. Some of my favorites include their Salted, Malted, Chocolate Chip Cookie Dough; Chocolate Gooey Brownie; and the Strawberry Tres Leches.
They change their flavors regularly and you are free to sample a couple before you choose. Salt & Straw will not disappoint!
Pacific Heights

Address: 2201 Fillmore Street

Hours: 11 am to 11 pm daily
Hayes Valley

Address: 586 Hayes Street

Hours: 11 am to 11 pm daily 
5. Humphry Slocombe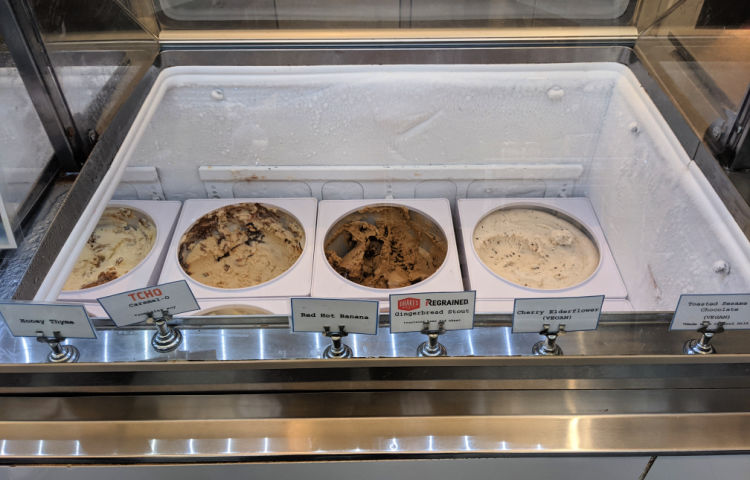 Humphry Slocombe is a must try for serious ice cream lovers. They offer several unusual flavors that you will not find anywhere else.
Their flavors include options such as Hibiscus Beet Sorbet, Tahitian V*n!ll@, and Carrot Mango Sorbet. Other popular flavors include Secret Breakfast, Cinnamon Brittle, Blue Bottle Vietnamese Coffee, and McEvoy Olive Oil.
They are also relative newbies and started their business in 2008. However, they bring in crowds from all over San Francisco and the Bay Area.
Their main shop is in the Mission District. You will also find a second store in the Ferry Building.
Mission District

Address: 2790 Harrison Street

Hours: 1 pm to 11 pm daily
Ferry Building

Address: One Ferry Building

Hours: Sunday through Thursday, 11 am to 9 pm; Friday and Saturday, 11 am to 10 pm
Dogpatch

Address: 699 22nd Street (at Third Street)

Hours: 3 pm to 9 pm daily (soft hours)
6. The Baked Bear
This ice cream shop is part of a small chain that actually began in San Diego and now has a treasured smattering of extremely popular locations around California all the way to the East Coast. Their San Francisco store is in North Beach.
They are known for their ice cream sandwiches more than anything, although you can get scoops of your favorite flavors on their own, or in a hot fudge sundae. The fun lies in mixing and matching flavors to build your own treat. There are also options for those on a vegan or gluten-free diet!
You begin by choosing from a variety of cookies and brownies for the top and bottom of the sandwich, including the classic Chocolate Chip, Gooey Butter Cake, White Chocolate Macadamia Nut, and more. Then you choose your ice cream filling from a delicious selection ranging from Mud Pie and Toasted S'mores to Blackberry Crumble and others. 
Finally, you can add fun toppings and even ask to get your sandwich warmed up! They pride themselves on serving fresh homemade cookies from that day only, and super-premium ice cream churned with love and creativity. 
Address: 303 Columbus Ave.

Hours: Sunday through Thursday, 11 am to 11 pm; Fridays and Saturdays, 11 am to 1 am!
7. Garden Creamery
If you're walking through the already colorful and lively Mission District, it's hard to miss the bright neighborhood ice cream shop on the corner of 20th and Lexington Streets. This place just beckons for you to walk in and grab a refreshing sweet treat. 
Garden Creamery is especially impressive for their extensive menu that offers at least nine vegan sorbet flavors made from coconut milk and agave. This is a local operation that makes their traditional ice cream treats with organic Straus dairy from northern California. 
They offer original and "exotic" flavors such as Thai Tea, Mexanilla Mango, Butter Mochi Toasted Sesame, and many, many more. In addition, they offer fun semifreddo pops dipped in chocolate, including Strawberry Pretzel, the Monkey Pop, and the Crunch Daddy Sandwich. 
Address: 3566 20th Street 

Hours: Wednesday and Thursday, 6 pm to 10 pm; Friday, 6 pm to 11 pm; Saturday, 12 pm to 11 pm; Sunday 12 pm to 9 pm
8. The Ice Cream Bar
If you're looking for a real experience more than just a cold treat, visit the Ice Cream Bar in Cole Valley, just two blocks from the southeastern corner of Golden Gate Park.
Rather than grabbing a cone or a cup to go, you'll want to take some time to sit down at this retro ice cream parlor and soda bar. The second you walk in, you'll be blown away by the authentic 1930s decor, the friendly service, and the extensive menu. 
This is also a fun date spot if you want to share a banana split with a choice of three different scoops, or if you want to have some boozy milkshakes or old-fashioned floats to mix things up a little. 
Some of their delicious flavors include Morello Cherry, Salted Caramel Turtle Pecan, Banana Puddin', and Caramelized Honey.
Address: 815 Cole Street

Hours: Wednesday and Thursday, 3 pm to 9 pm; Friday and Saturday, 2 pm to 10 pm; Sunday, 2 pm to 9 pm; closed Mondays and Tuesdays
9. Miyako Old Fashion Ice Cream Shop
In addition to the extremely friendly service of long-time owner Tom, Miyako has the familiar atmosphere of your neighborhood mom-and-pop corner store, complete with an old-fashioned candy counter and deli sandwiches. As far as ice cream goes, this place prides itself on offering more than 100 distinct flavors!
The ice cream is not made in-house, but includes all the trusty, classic flavors of local Dryers and Mitchell's, as well as more exotic tastes like ube, avocado, lucuma, and green tea. Ask for a sundae, banana split, or a milkshake for something extra special served up with a smile.
One of the great things about this place is that the prices are extremely affordable; just make sure to bring cash. You'll find this simple, no-frills ice cream shop in Japantown. 
Address: 1470 Fillmore Street

Hours: 9 am to 8 pm daily
10. Ghirardelli Square Chocolate Shops
This entry is a little different from the others on this list as it focuses on the tasty sundaes at Ghirardelli Square, the original location of the city's famed chocolate brand. You'll find some of the best ice cream in San Francisco at the four different chocolate shops around the square. 
These huge desserts feature a variety of Ghirardelli ingredients including their chocolate squares, brownies, and chocolate sauce. The one in the picture above is the Crissy Field. My other favorites include the Painted Ladies - Mint Bliss Sundae and Lands End - Salted Carmel Brownie Sundae (also named after famous SF sites and attractions). 
What I love about this shop is that you also get amazing views of the Bay. You can see Alcatraz, Sausalito and other parts of Fisherman's Wharf. 
If you love chocolate, ice cream, or both, I highly recommend indulging in one of these sundaes here. 
Address: 900 North Point Street (at the western end of Fisherman's Wharf)
Hours: Sunday through Thursday, 9 am to 11 pm; Fridays and Saturdays until 12 am
My Favorite Places to Eat In SF

There are hundreds of places to enjoy a meal in San Francisco. These are just some of my favorites.
Burgers: If you love burgers, you will find several amazing options in San Francisco. Some of my favorites are casual drop in diners and others I frequent are higher end restaurants. Click here to check out where I go when I'm craving a burger.
Pizza: I LOVE pizza and could eat it every day. In SF, you will discover a long list of great places for pizza. I've narrowed down my list to my top 10 favorites. Some of them only sell by the slice, some only sell full pies, and others offer both options. .
Italian: You can't talk about top restaurants in San Francisco without including some of our top Italian Restaurants. Many of them are in or near North Beach. You will also find some great options in Nob Hill and Pacific Heights. Click here for just some of my favorites.
Clam Chowder: On a cool day in San Francisco, nothing beats a warm bowl of clam chowder in a sourdough bread bowl. Most SF restaurants offer New England Clam Chowder (the creamy white soup) with a few offering Manhattan Clam Chowder (the red, tomato based soup). My list includes the best of both options. Click here for the best places for Clam Chowder in SF.
Other Fun Tips for Your Visit

Disclaimer: I receive a small commission from some of the links on this page.

Fisherman's Wharf: This popular district sits on the northern end of the city along the waterfront. This is where you will find several top attractions such as Pier 39, Ghirardelli Square, and the Aquarium of the Bay. You can learn about this district's history, enjoy a variety of foods, and more. Click here to learn more about what there is to see and do in this famous district.
Alcatraz Island: One of the must see attractions in SF is Alcatraz Island. It's a historic gem and an experience you will not find anywhere else. During your visit, you will see what it was like for the prisoners here and listen to stories from both prisoners and guards. Make sure you book this as soon as you can as spots fill up quickly. They sell tickets 90 days out. Click here for details and to pick up your tickets today!
California Academy of Sciences: Can I also call this a must see attraction? This is really a great option for the entire family as it's four museums in one. Under one roof, you can visit an aquarium, see a show at the planetarium, learn more about natural history, and walk around a four-story rainforest. You can also step inside the earthquake simulator to feel what it's like to be in an earthquake and stop by to say hi to Claude, the rare white alligator. Book your tickets in advance for skip the line privileges. Click here to learn more.
Self-Guided Itineraries: Do you love to explore on your own? Do you wish you could see as much as possible during each day of your visit? Now you can, with my self-guided itineraries. You will find options to explore all of SF in one, two, three, or more days. You can also get an in-depth look at each of SF's top neighborhoods including North Beach, Fisherman's Wharf, and Chinatown. Click here to check out all of my self-guided itineraries.
Comments? Questions? Suggestions?
I would love for you to join me in my private Facebook group! 
It's a great place to interact with me and others who know the area well.
You can ask questions, get advice for your upcoming stay, and then share your photos and advice with others when you return home. It's a great community and the fastest way to get answers to those nagging questions about your visit!