San Francisco Italian Restaurants: Top Places in Union Square, North Beach & Around Town

by Jill Loeffler  •

Updated: October 12, 2022
You will find dozens of San Francisco Italian restaurants all around the city. The largest concentration of them are in North Beach and you will find several others not too far away in Union Square.

I've included some of my top picks in these two districts as well as a few other top finds in other districts around town. You will also find options for every budget from casual, less expensive grab and go pizza joints to higher-end restaurants with the best wines from Italy.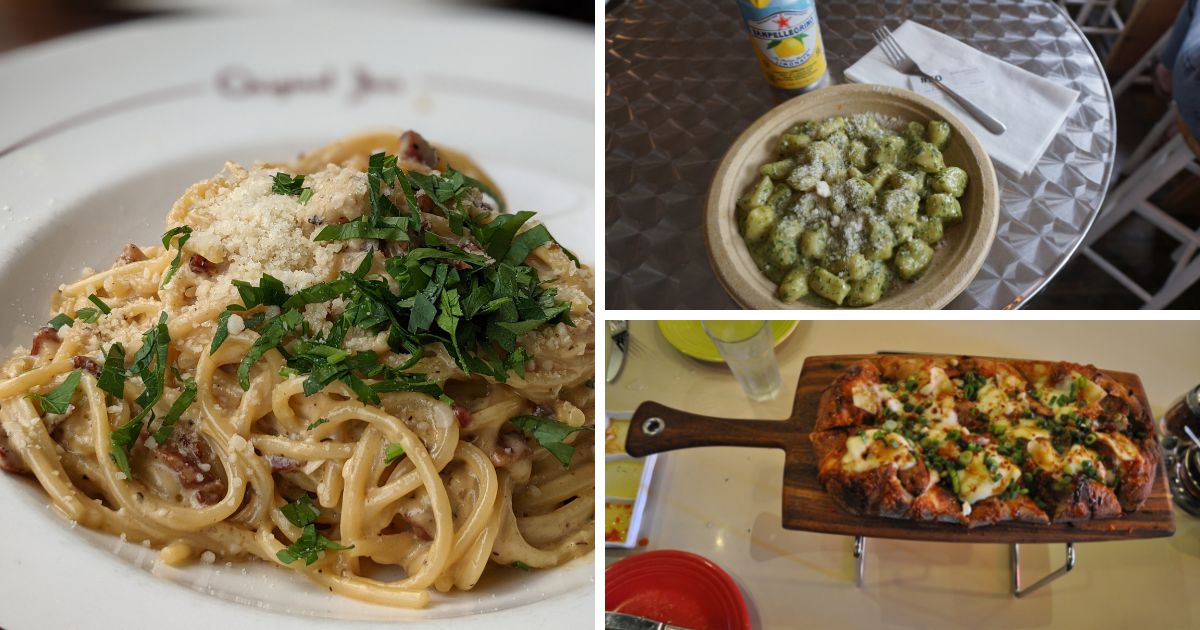 Disclaimer: I receive a small commission from some of the links on this page.

Best Italian Restaurants in Union Square San Francisco

You will find dozens of San Francisco Italian Restaurants in the Union Square District. Many of them are middle of the road with a few stand outs. Here are just a few of my top picks that have never let me down.
Delarosa
This casual spot is one of my favorites. It's a Roman style pizzeria with several pizza and pasta options. My favorites include the spicy fennel sausage, mozzarella, onion pizza, their meatball appetizer and the risotto.
Prices are reasonable and I love their cocktails. They are open daily for lunch and dinner.
37 Yerba Buena Lane
54 Mint
The best option for fine dining San Francisco Italian restaurants in Union Square is 54 Mint. Everything here is handmade from the pastas to the breads.
I also love their risotto and their tonnarelli. Make sure to leave a little room for dessert too.
16 Mint Plaza
Tratto
Another one of the casual San Francisco Italian restaurants near Union Square is Tratto. This cute place is where I go when I'm in the mood for pasta.
I usually order their Baked Orecchiette or the Butternut Squash Ravioli. Most dishes are under $20. Once your meal is done, don't miss a chance to try their Italian donuts. YUM!
501 Geary Street

You can also find some additional places to eat in the Union Square neighborhood.
Best Italian Restaurants in North Beach

The North Beach district is where the Italians settled in the early 1900s. Today, this district is also known as Little Italy and has the largest concentration of San Francisco Italian restaurants.
You will find both high-end and casual options from pizza by the slice to some of the best handmade pasta around. Here are just a few of my top picks and some other popular options.
Tony's Pizza Napoletana
My all-time favorite place to splurge on pizza is at Tony's. The owner of this Italian restaurant in North Beach was the first American to win one of the top pizza championships in Italy.
Their kitchen has seven different types of pizza ovens so you will find a variety of pizza styles from Sicilian to New York to Neapolitan. They also have a smaller grab and go pizza place next door.
Both are fabulous.
1570 Stockton Street
Molinari Deli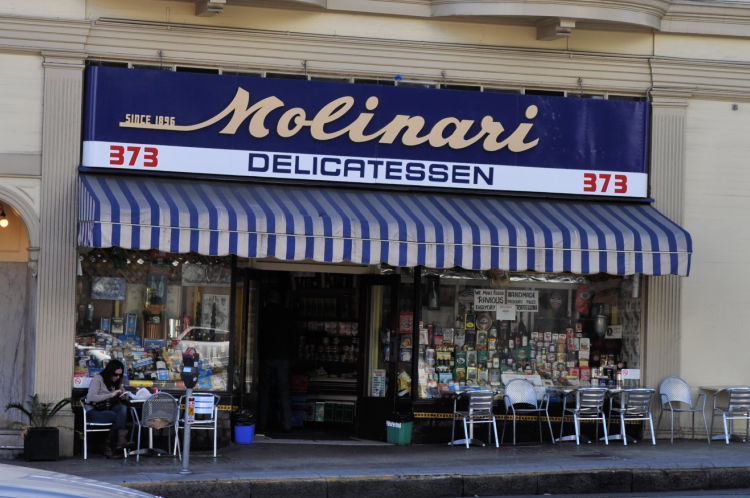 Molinari is a classic Italian deli with an amazing selection of sandwiches and salads. It's more of a grab and go deli, but it's by far one of the best budget-friendly San Francisco Italian restaurants.
They have just a few seats outside, so it's best for those that are on the go. Average prices for their sandwiches are $7 to $11 each and this will vary based on what you add to it.
373 Columbus Avenue
The Italian Homemade Company
The Italian Homemade Company is one of the best casual San Francisco Italian restaurants. All of their pasta is handmade. You select the type of pasta and the type of sauce you want on it when you order.
My fav is their ravioli with Bolognese sauce. I also love their lasagna and almost everything else I've tried. The food is amazing, but very casual as all meals are served on paper plates.
They are open for both lunch and dinner until around 9pm. Dishes are around $12 to $14 each.
716 Columbus Avenue
The North Beach Restaurant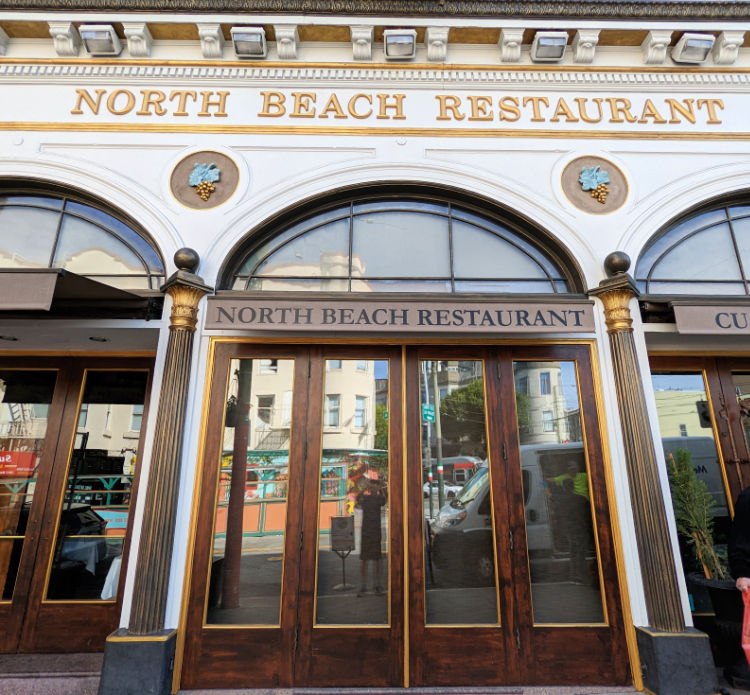 One of the staples in this district is the North Beach Restaurant. They serve up traditional Tuscan dishes in an upscale environment.
Their dishes are tasty and a little more expensive than most of the other San Francisco Italian restaurants on my list. Average prices are around $24 to $42 for their main dishes.
1512 Stockton Street
The Stinking Rose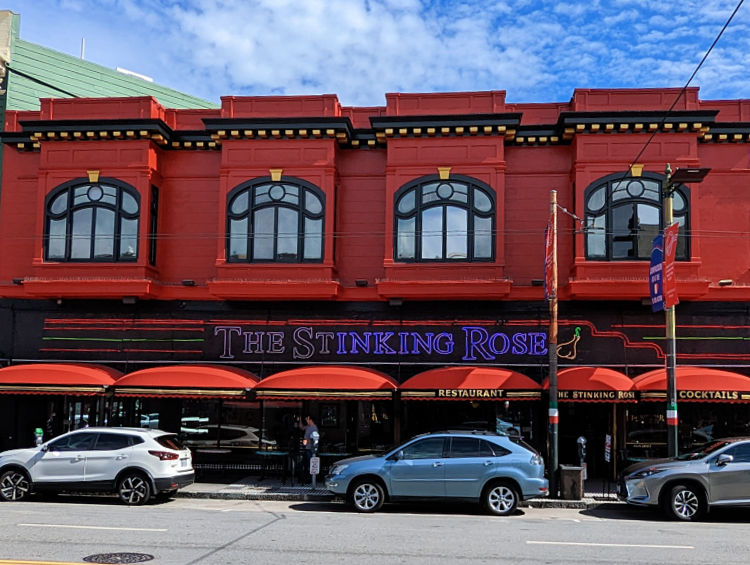 If you are looking for a fun, funky experience, then I recommend the Stinking Rose. This is one of the San Francisco Italian restaurants that is really popular with tourists.
They serve up traditional pizza and pasta dishes and perfect for those that LOVE garlic. It's a bit kitschy, but I've never had a bad meal here.
430 Columbus Avenue
Golden Boy Pizza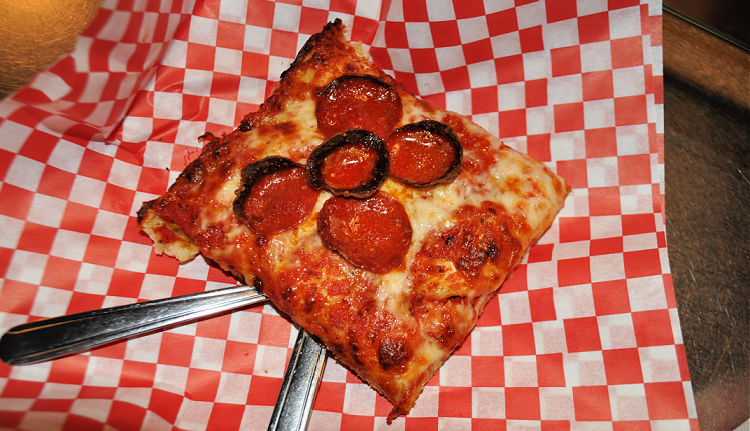 My final recommendation in North Beach is the one that I frequent the most, Golden Boy Pizza. This small pizza by the slice joint pulls you in with their window display.
All of their slices are deep dish and flavorful. What you see in the window is what is ready for you to order. You will walk in; order your slice and they will serve it piping hot within minutes.
There isn't much seating, but you can usually grab a spot right after you order. They also have a few simple beers on tap too.
542 Green Street

Restaurant Discounts

If you are looking to save a little on your visit, make sure to check out some of the top restaurant deals around.
Groupon: You will find some of the best deals on Groupon. They feature discounts on dining establishments around SF and the entire Bay Area. You buy a coupon that you can then apply to the amount of your purchase at that specific restaurant. Your coupon will be worth more than what you paid on Groupon. They also have some restaurant cash back deals at places around town that don't cost anything. Check out their selection of deals in San Francisco.
Other Great San Francisco Italian Restaurants

Here are a few other top San Francisco Italian restaurants in other district around town.
Acquerello
This two Michelin star restaurant offers a fine dining experience. Set inside an old church, it has old world charm and incredible food. They are only open for dinner and offer both a Prix-Fixe menu and a Seasonal Tasting Menu.
The menu items change frequently and feature classic Italian flavors using modern techniques. It's a high-end experience that you won't soon forget.
Prix-Fix Menu ranges from $95 to $140 (based on the number of courses you select), the Seasonal Menu is around $120 with an additional $115 for the wine pairing menu, 1722 Sacramento Street in Nob Hill
Jackson Fillmore
Jackson Fillmore is another one of my favorite San Francisco Italian restaurants. It's located on Fillmore Street at Jackson Street in the Pacific Heights district.
This is another small, local Italian restaurant that is a favorite of many of the locals. You can either make a reservation for a table (highly recommended!) or wait for an opening at their bar.
The food is great, and the price is right, usually around $50 or less per person (plus wine!).
2506 Fillmore Street
Beretta
Head over to the Mission District for another one of my favorite San Francisco Italian restaurants. Beretta is a mid-range option with some great pasta, pizzas (with a different special each day) and a great cocktail menu.
1199 Valencia
Delfina
Another favorite is also in the Mission District. Delfina focuses more on their hand made pasta as well as specialty dishes such as their chicken, quail and hanger steak.
They also have a great wine list with many top Italian varietals from local wineries as well as several great finds from top regions around Italy.
3611 18th Street

Food Walking Tours

Another way to sample some of our best dishes is to head out on a food walking tour. They are great for those wanting to sample a variety of dishes, but also learn more about them as well as the restaurants that make them.
You have the chance to sample from a variety of San Francisco Italian restaurant in North Beach or try different cuisines in districts such as Chinatown or the Mission.
>> Check out some of the best food tours here.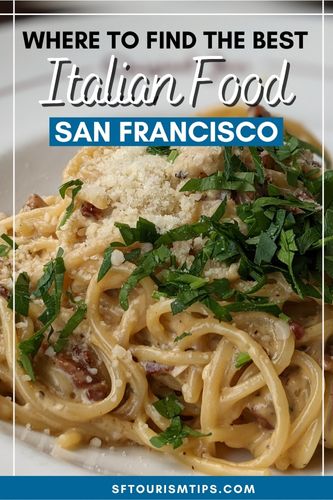 Comments? Questions? Suggestions?
I would love for you to join me in my private Facebook group! 
It's a great place to interact with me and others who know the area well.
You can ask questions, get advice for your upcoming stay, and then share your photos and advice with others when you return home. It's a great community and the fastest way to get answers to those nagging questions about your visit!