Best Burgers in San Francisco: 10 Places to Find the Tastiest Burger in SF

by Jill Loeffler  •

Updated: January 3, 2023
SF is a food lover's paradise and you will find dozens of places to savor some of the best burgers in San Francisco.
Some of my picks are simple and classic, while others come with unique toppings or sides. My list includes options for all budgets.

You will find great deals at places like the Bean Bag Cafe or Pearl's Deluxe Burgers. You will also find higher-end experiences at NoPa and Wayfare Tavern.
Read on to find 10 great places to pick up one of the most flavorful burgers in town.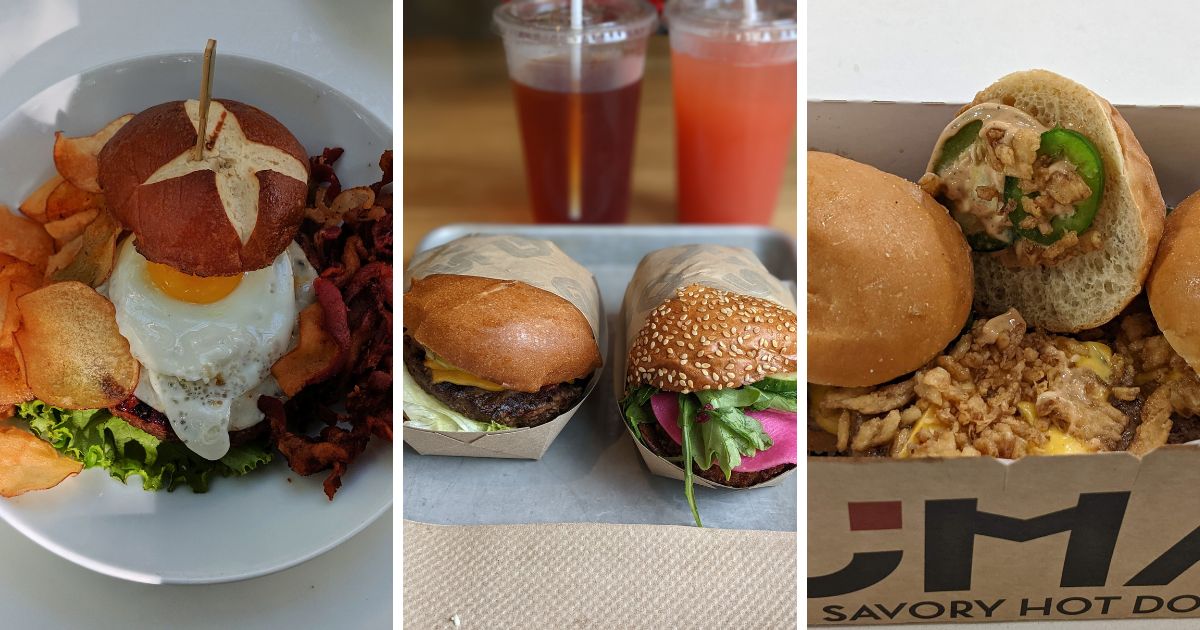 Disclaimer: I receive a small commission from some of the links on this page.

1. Garaje

If you want a traditional cheeseburger with no fuss, then head over to Garaje in the SOMA District. This cool urban spot has a car theme with a Mexican twist, and their menu is as much of a mix of fun and classic as is the atmosphere.
I recommend the Drive-In Cheeseburger. It has American cheese, grilled onions, and homemade Thousand Island dressing.
You will also love their selection of beers, as well as their tasty tacos.
Average Price: $12 for the single burger, $15 for the double, other items range from $4 to $18 each
Address: 475 3rd Street
District: SOMA
2. WesBurger 'N' More

This Mission district gem is known for their classic burgers with fun twists. The patties come in two different sizes, 3 and 6-ounce, and flavors range from smoky to spicy to peanut butter and jelly!
For those who want even more variations, you can add Bulgogi bacon or chili, or substitute the meat for an Impossible patty.
They also serve some delicious Southern treats, including crispy fried chicken in sandwiches, burritos, and buckets. Other sides include tots, collard greens, brisket beans, and mac n' cheese.
Average Price: 3-oz burgers starting at $8; 6-oz at $15
Address: 2240 Mission Street
District: Mission
3. Pearl's Deluxe Burgers

Pearl's Deluxe Burgers is another casual burger joint just a few blocks away from Union Square. The inside is small and there is usually a line, but it's worth the wait.
They serve Kobe Beef and Buffalo Burgers. You can substitute any burger with chicken, turkey, or a veggie burger. You also get to select from the 1/4-pound and 1/2-pound burger options.
I usually order the Prized Pearl or the Pesto Burger. I also love their "spries," which is an order of half sweet potato and half regular fries.
Average Price: $8 for the 1/4-pound, $11 for the 1/2-pound
Address: 708 Post Street
District: Union Square
Fun SF Food Tours
4. Roam Artisan Burgers

Roam Artisan Burgers offers some of the truly best burgers in San Francisco because that's the focus of their simple menu.
The price is reasonable for the amount of food you get, but it's an even better value knowing that all the ingredients are locally and sustainably sourced.
You start by selecting the type of meat you want for your burger (beef, bison, turkey, or veggie). You then select the style, or your own toppings.
My favorites are the French n' Fries, Tejano (I dream about this one!), and BBQ.
If you are really hungry, you can also add on fries, a salad, or some veggies. Their shakes are also incredibly rich and hit the spot!
Average Price: Set style burger prices are $10 to $14, they price it by item for the "make your own" option which starts at $8
Locations: 
5. Super Duper Burgers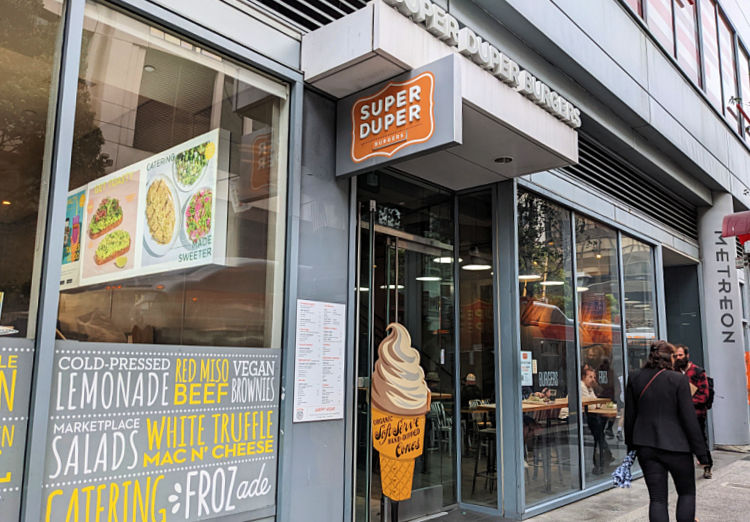 When I head out for a burger, I love the more casual places. Super Duper Burger is the least expensive and most casual place on my list. It's actually a small chain restaurant in the Bay Area.
You will find seven in SF, two in the North Bay, and two in the South Bay.
Their gourmet burgers are cooked to medium and are both flavorful and juicy.
You can choose to order their 4-ounce burger (which is what I choose because I LOVE their fries) or the 8-ounce burger (which is two 4-ounce burgers on top of each other).
You can then choose what you want on top. Most toppings are free, but there is a small charge for others.
Average Price: $6 to $8 for the base burgers
SF Locations:
The Metreon at 783 Mission Street (SOMA, near Union Square)
2304 Market Street (Castro)
346 Kearny Street (Financial District #1)
98 Mission Street (Financial District #2)
117 New Montgomery Street (Financial District #3)
721 Market Street (Downtown)
2201 Chestnut Street (Marina District)
6. Sliders Diner
If you're looking for a classic diner experience for burgers in San Francisco, look no further than Sliders Diner. It's the whole package, complete with bar stools and black-and-white checkered decor. 
Here, your burger choices include options with mushrooms, avocado, bacon, and of course, sliders. They also offer other yummy diner classics, including fish and chips, hot dogs, grilled cheese and BLT sandwiches.
They cook their meat on a rotating flame grill, which gives your burger that extra touch. 
Average Price: $9 - $12 for a burger
Address: 1202 Sutter Street
District: Lower Nob Hill

7. Gott's Roadside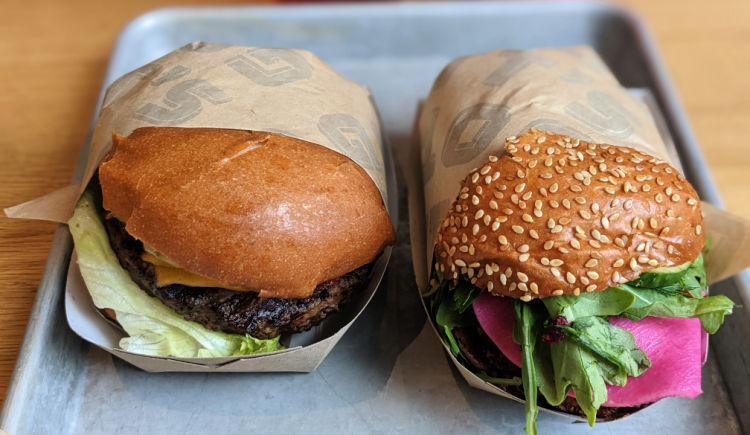 Gott's is one of my favorite places to eat at San Francisco's historic Ferry Building, especially on nice days when you can really enjoy the outdoor seating on the embarcadero.
This SF location is an expansion of the original Napa Country restaurant founded by the Gott brothers, and it stays true to its roots with locally sourced ingredients and a great selection of local wines and beers.
They offer some fun twists on burgers, some including onion rings, kimchi, blue cheese, or bacon. The California Burger captures the essence of fresh cuisine with arugula, balsamic onions, and a fried egg.
Average Price: $9 - $15 for a burger
Address: 1 Ferry Building
District: Embarcadero
Fun Tours Around SF
8. Wayfare Tavern
The Wayfare Tavern is a pricier place for a burger, but so worth it if you're looking for a classy sit-down meal. The dimly lit wood and brick interior create a cool tavern-like ambiance. 
There is only one burger on the menu, but the Tavern Burger is amazing.
It includes Marin brie, red onion marmalade, and smoked bacon on a brioche bun. You can add avocado or a sunny-side up egg. 
Average Price: starts at $22 per plate
Address: 558 Sacramento Street
District: Financial District
9. Mo's Grill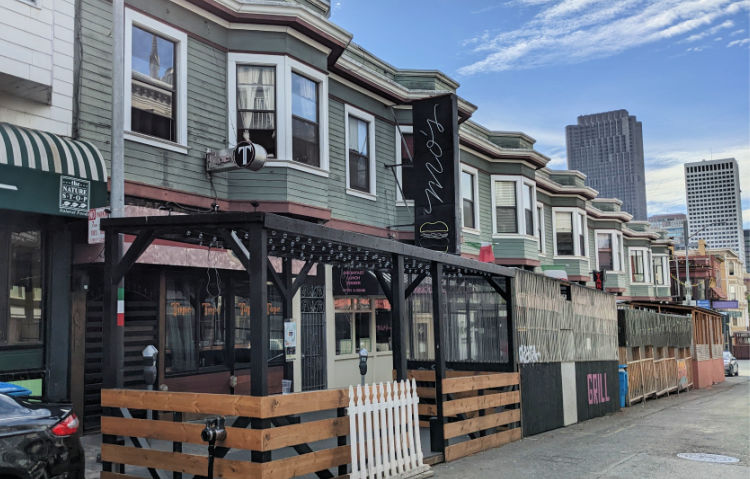 Mo's Grill is a great budget-friendly option in North Beach, as the portions are large and the prices are reasonable. This place has been a neighborhood institution for decades!
They grill their burgers over volcanic rocks for that perfect smokey flavor. As an alternative to the regular sides of fries or salad, you can choose from a cup of chowder, chili beans, or cole slaw.
They've also got some unique menu items like the apple pie shake. 
Average Price: Burgers start at around $10
Address: 1322 Grant Avenue
District: North Beach
10. Flippin Burger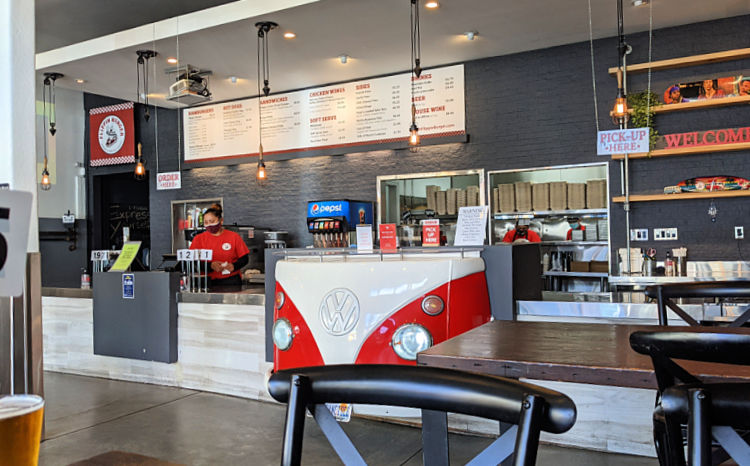 This place is the perfect stop if you're looking for a classic burger and yummy fries. But they're not just about the burgers!
One of their most popular items is actually the fried chicken sandwich. They also offer Philly sandwiches, soft serve, and milkshakes.
Flippin has a cool retro diner vibe, and another unique feature is that they've got local beers on tap.
Average Price: $8 - $10
Address: 1419 Haight Street
District: Haight-Ashbury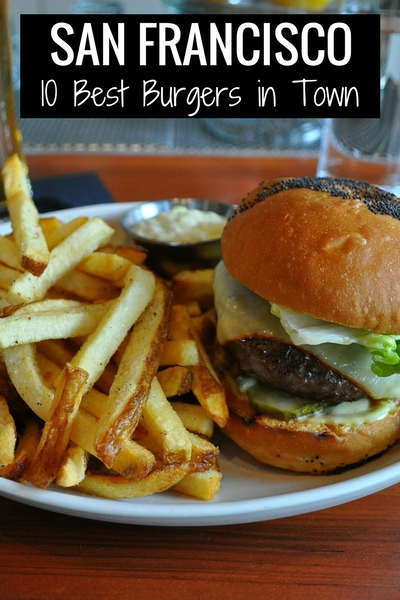 Comments? Questions? Suggestions?
I would love for you to join me in my private Facebook group! 
It's a great place to interact with me and others who know the area well.
You can ask questions, get advice for your upcoming stay, and then share your photos and advice with others when you return home. It's a great community and the fastest way to get answers to those nagging questions about your visit!