San Francisco Seafood Restaurants: 14 Top Dining Recommendations

by Jill Loeffler  •

Updated: October 14, 2022
Located right on the water, it is easy to find great San Francisco seafood restaurants. You will find popular spots in Fisherman's Wharf, Union Square and some of our more local neighborhoods.

They range from high-end spots to top of the line, but casual, sushi restaurants. My list of the top 15 offers a variety of options so you are sure to find one that works for you.

Disclaimer: I receive a small commission from some of the links on this page.

San Francisco Seafood Restaurants in Fisherman's Wharf

The largest concentration of seafood restaurants is near the Fisherman's Wharf district. They have both high-end and casual options with a variety of dishes to suit every visitor.
1. Scoma's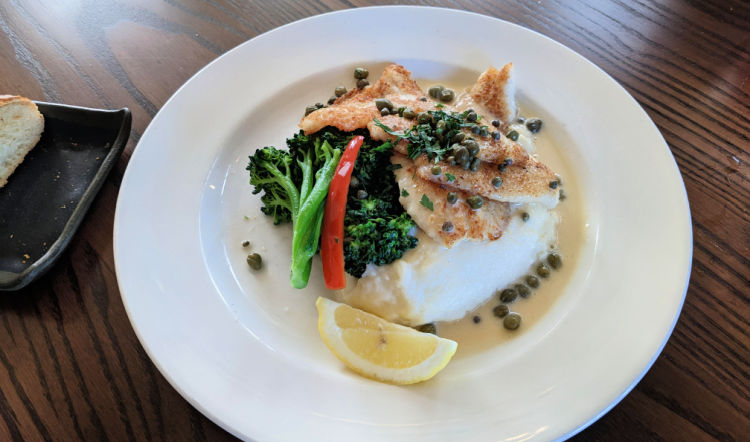 This popular San Francisco seafood restaurant is in the heart of Fisherman's Wharf. It is located right along the water at Pier 47 on Al Scoma Way. The food here is great and they offer everything from lobster bisque to locally caught Dungeness crab.
They are open daily for both lunch and dinner. Meals range from around $23 to $55 per person with a great kids' menu.
Al Scoma Way at Pier 47
>> Discover more great places to eat around Fisherman's Wharf
2. Fog Harbor Fish House
The Fog Harbor Fish House is perfect for seafood lovers who are spending most of their time in Fisherman's Wharf. This cute restaurant is located on Pier 39 and is a great place for either lunch or dinner.
I love their Dungeness crab cakes and also their award-winning clam chowder. Other favorites include their ahi tuna dish and their fish and chips. The food here is great and the restaurant also has some amazing views of SF Bay.
Prices start at $12 and up to $70.
3. The Codmother Fish and Chips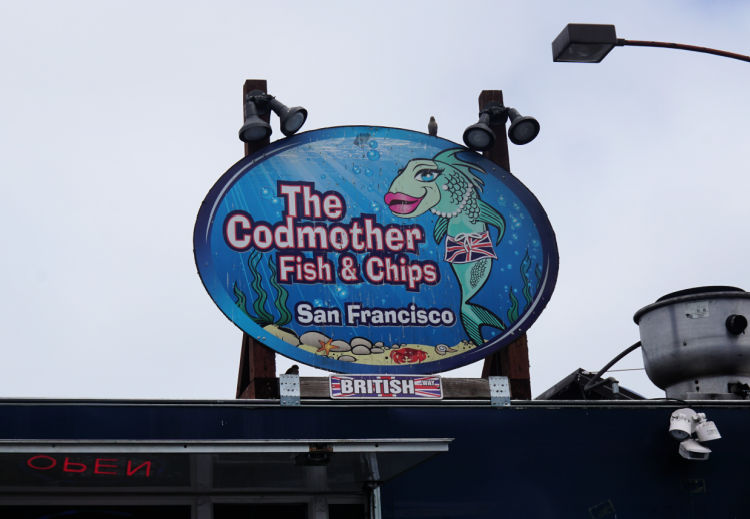 One of the best casual seafood spots in Fisherman's Wharf is The Codmother Fish and Chips. This small, outdoor food truck and restaurant serves up some of the best fish and chips in town.
I also love their Baja Tacos. The prices are great for this area and the food is amazing. The prices are great for this area and the food is amazing ranging from $8 to $18.
2824 Jones Street
4. Boudin Bakery
My list of the top seafood restaurants in Fisherman's Wharf would not be complete without Boudin Bakery. While they are a bakery, they serve up some of the best clam chowder in a sourdough bread bowl.
They turned this dish into one of the most talked about cool weather treats for visitors from around the world.
Prices range from $10 to $35.
160 Jefferson Street
>> Find more of my favorite clam chowder spots
5. Fisherman's Wharf Chowder and Crab Sidewalk Stands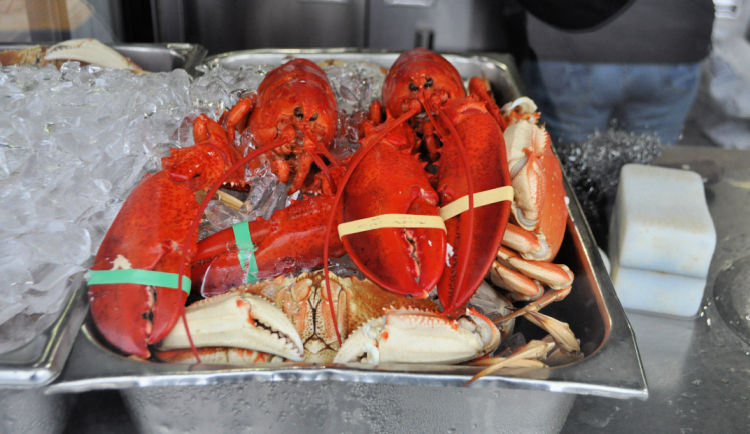 A fun way to experience some of the fresh local San Francisco seafood is to stop by for a quick meal at the sidewalk stands near the famous Fisherman's Wharf sign.
You can pick up clam chowder, lobster, shrimp cocktail and a variety of other dishes.
You can either walk and eat or grab a seat near the waterfront. Prices are usually around $10.
Taylor at Jefferson
6. Buena Vista
Another spot for tasty, local San Francisco seafood is at the world-famous Buena Vista Cafe. They have some of the best local Dungeness crab dishes.
Pair it with their popular Irish Coffee cocktail and you may not want to leave.
$10 to $40 with lots of menu item around $20.
2765 Hyde Street
Fun Food Walking Tours Around San Francisco

Would you love to have a local guide show you some of the best places to eat around SF's top districts? You will find a number of top-rated food tours in North Beach, the Mission, and Chinatown. 
It's the perfect treat for food lovers wanting to sample a variety of dishes and learn more about each location.
Chinatown Culinary Walking Tour: This is one of the most popular food walking tours in SF. On this tour, you'll stroll through Chinatown, learn more about this city within a city, and sample several dishes from local restaurants. The tour price includes tastings. Find out more on GetYourGuide.
Secret Food Tours: This walking food tour takes you through the Mission District. You'll sample foods from Latin America. You'll also see some of the best murals around this district and learn about its eclectic history. Find out more about this tour on GetYourGuide.
More Fun Food Tours
San Francisco Seafood Restaurants in Union Square and Downtown

These are some of the best San Francisco seafood restaurants near the Union Square district.
7. Akiko's Restaurant
This nondescript place is another great option in Union Square. They serve up tasty sushi and Japanese dishes for both lunch (Monday - Friday) and dinner (Monday - Saturday).
The secret is that there is no sign out front, but you will find them next to the Irish Bank. Ask around when you arrive if you can't find the entrance.
Prices range from $5 to $13.
431 Bush Street
>> More great places to eat around Union Square
8. John's Grill
This classic steak and seafood restaurant is one of the best places to get seafood in San Francisco. It's a historic spot that opened in 1908. Some of my favorites on their menu include the Maine Lobster Ravioli, Jumbo Prawns Dijonnaise, and their Grilled Pacific Red Snapper.
You'll also find plenty of non-seafood items on their menu as well.
Oh...if you can, leave room for dessert! 63 Ellis Street.
>> More top steakhouses around SF
>> Additional fine dining restaurants I love
9. Sam's Grill and Seafood Restaurant
This great spot offers a variety of local and fresh seafood options. You'll find oysters on the half shell, grilled octopus, and crispy calamari. I also love the Sam's class cioppino and their fried Tempura Oysters and chips.
They also have Mesquite grilled fish dishes such as Petrale sole, Ora King salmon, and Yellowfin tuna steak with some yummy sides.
374 Bush Street.

Other Great San Francisco Seafood Restaurants

10. Swan Oyster Depot
This is not your typical San Francisco seafood restaurant, but it's one of the most popular with both locals and tourists. This lunch and early dinner spot has a few tables and the line starts the minute the doors open.
They offer fresh, locally caught seafood and dishes that do not disappoint. They are open Monday - Saturday from 8am to 5:30pm.
I notice that 2:30pm to 4pm is usually their least busy time.
Nob Hill at 1517 Polk Street
11. Ozumo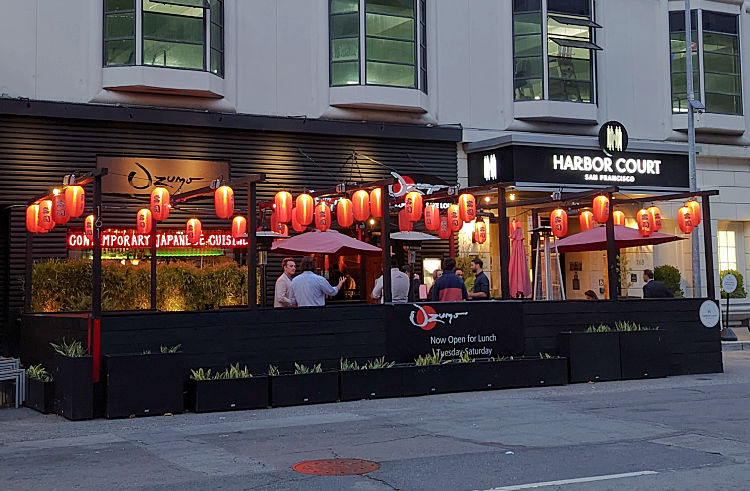 If you are looking one of the higher-end San Francisco seafood restaurants, then I recommend you try Ozumo on the Embarcadero. They feature both sushi and Japanese dishes with a few seats offering amazing views of the San Francisco Bay and the Bay Bridge.
They aren't far from Union Square and offer a great option for a fun night out on the town.
161 Steuart Street
12. Pacific Catch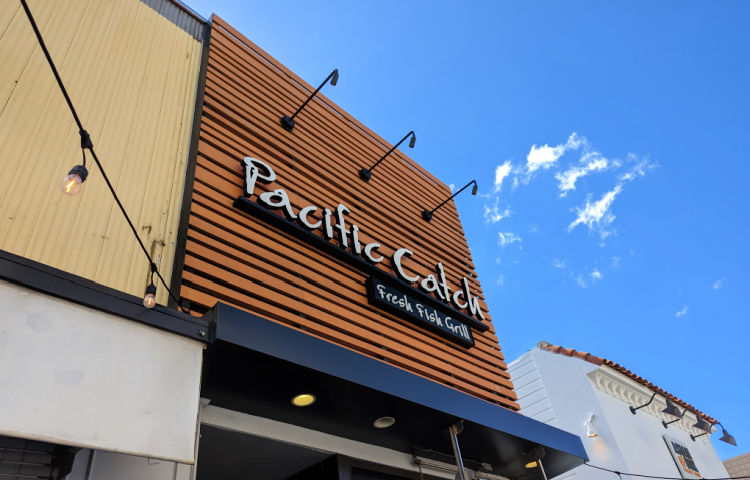 Pacific Catch is another one of my favorite, casual San Francisco seafood restaurants. It is a great option because prices are reasonable, and the service is usually fast.
They are open for both lunch and dinner. The seafood dishes here have Pacific Rim influences including dishes such as Cabo Calamari, Thai Coconut Shrimp and California Salmon.
Their Marina location is at 2027 Chestnut Street.
13. Hog Island Oyster Company
The Hog Island Oyster Company is an oyster bar in SF's Ferry Building. They offer fresh oysters from their farm just north of San Francisco. They also serve oysters from small farmers from several other local locations.
For non-oyster fans, they also have some of the best clam chowder in San Francisco.
You will also get some great views of the Bay Bridge and the SF waterfront.
14. Sotto Mare Oysteria & Seafood
Head over to North Beach for another one of the top San Francisco seafood restaurants. The menu here includes oysters, seafood cocktail dishes, clam chowder, sautéed fish + shellfish, and pasta dishes.
Prices are reasonable and they are open for lunch and dinner daily.
552 Green Street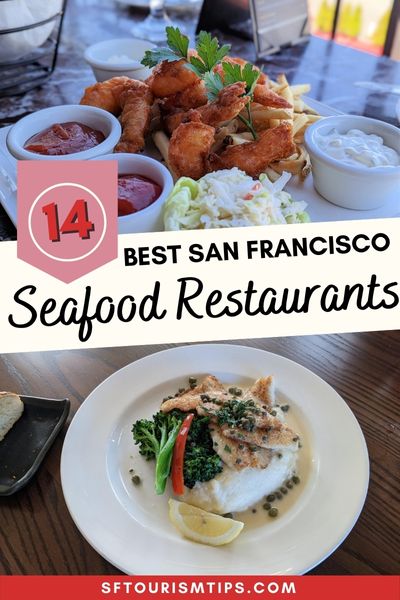 Comments? Questions? Suggestions?
I would love for you to join me in my private Facebook group! 
It's a great place to interact with me and others who know the area well.
You can ask questions, get advice for your upcoming stay, and then share your photos and advice with others when you return home. It's a great community and the fastest way to get answers to those nagging questions about your visit!