San Francisco Steakhouses: Seven Top Options All Around SF

by Jill Loeffler  •

Updated: May 8, 2022
Are you looking for the top San Francisco steakhouses? Are you craving top-of-the-line steak during your stay?

If so, then you are in luck! SF has a number of amazing places to savor a tasty, aged, perfectly cooked steak. Some of these places have been around for years, while others are newer to the scene. Read on for several options for a special evening out on the town.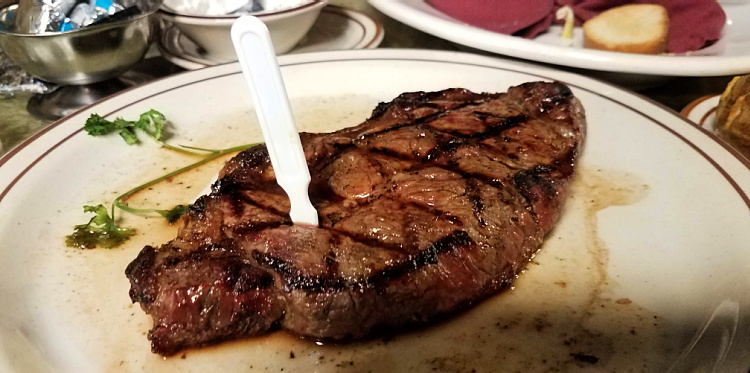 Disclaimer: I receive a small commission from some of the links on this page.

1. Alexander's Steakhouse

Alexander's Steakhouse offers a high-end dining experience near SF's Oracle Park. It's a take on a classic American steakhouse with some Japanese influences. They offer traditional options such as rib eye, T-bone, and New York steaks.
You will also find a number of dry-aged steaks on their menu. I love their shichimi fries and can never decide between their macaroni and cheese or the mashed potatoes, as they are both delicious!
This is a wonderful place for that special occasion dinner or those looking to splurge on their night out on the town.
Average Price: Prix-fixe menu is $230 a person, their main dishes range from $48 to $145 each
Hours: 5:30 - 9 pm daily
Address: 448 Brannan Street
District: SOMA
2. House of Prime Rib

The House of Prime Rib in SF's Nob Hill district is a landmark restaurant that opened in 1949. Since that time, they have been pleasing customers with their marvelous dinners, which feature some of the best prime rib you will ever taste in your life.
A fun part about eating here is that you choose your cut, and they slice your prime rib right at the table after they take it off a massive rolling metal container. It is hard to explain what it looks like, but you will never forget it once you see it.
The downside is they are VERY popular, so I recommend booking your table at least two to three weeks in advance.
Average Price: $40 to $50 for their prime rib dinner, which includes a side dish
Hours: 5 - 10 pm daily
Address: 1906 Van Ness Avenue
District: Nob Hill
3. Harris' Restaurant

Another popular high-end San Francisco steakhouse is Harris' Restaurant, also in Nob Hill. It's a little pricier than the House of Prime Rib, but the food is amazing.
The menu offers classic cuts including filet mignon, bone-in New York, and porterhouse steak, as well as authentic wagyu. The historic location also boasts a full bar and piano lounge.
Average Price: $55 - 70 for most main dishes
Hours: Tuesday - Sunday, 5 - 9 pm (until 10 pm on Fridays and Saturdays); closed Mondays
Address: 2100 Van Ness Avenue
District: Nob Hill
4. Original Joe's

Original Joe's is a San Francisco institution. This moderately priced, family-owned restaurant has been around for more than 80 years, offering steaks and chops, as well as veal, seafood, and chicken.
Like any good Italian restaurant in North Beach, they also offer a large selection of pasta dishes, including their house made baked lasagna. They make a mean cocktail and feature a great selection of beer and wines by the glass.
Average Price: $25 - 40 for main dishes 
Hours: Monday - Thursday, 3 - 10 pm; Fridays, noon - 10 pm; weekends, 10 am - 10 pm (with brunch served 10 am - 2 pm)
Address: 601 Union Street
District: North Beach
5. Tad's Steak House

This is an excellent option for hungry tourists craving a good steak and other American comfort foods at accessible prices. Unlike most of the other San Francisco steakhouses, Tad's is very casual and affordable, and still great quality. 
You'll also find that the portions here are generous, making it the perfect place to enjoy a filling meal after a morning, afternoon, or evening full of shopping or sightseeing. It's located right in all the action of the Union Square District. 
Average Price: $15 - 25 for main dishes
Hours: Monday - Thursday, 9 am - 8 pm; Friday - Saturday, 9 am - 9 pm; Sunday, 10 am - 8 pm
Address: 38 Ellis Street
District: Union Square
>> More great places to eat in Union Square
6. EPIC Steak

One of the newer kids on the block is EPIC Steak. I recommend this place for two reasons: they are located in a beautiful setting right along the water, and they also have amazing food.
The spacious industrial design not only features great views of the Bay Bridge, but also a wood-burning oven and fireplace. You might even be lucky enough to grab one of the tables outside, which is a rare find here.
Average Price: Steaks start at $60
Hours: Monday - Thursday, 4 - 9 pm; Friday - Saturday, 11:30 am - 9:30 pm; Sundays 11:30 am - 9 pm
Address: 369 The Embarcadero
District: Embarcadero
7. Espetus Churrascaria

Since Espetus opened in San Francisco in 2003, a few other Brazilian steak houses have opened up in the region, but this is the original restaurant that brought rodizio-style, all-you-can-eat meat to the city. 
Guests pay a fixed price to enjoy constant table service as waiters cruise around them carrying different types of grilled meats on skewers taken straight from the fire. You have the opportunity to try up to 14 cuts of steak, pork, lamb, and more, sliced fresh right before your eyes.
Average Price: Weekday lunch is $42, Saturday lunch is $60, dinner and Sunday all day is $71 (children under 12 are half-price, under 6 free)
Hours: Monday - Friday, 11:30 am - 2:30 pm, 5 - 10 pm; Saturdays, noon - 3 pm, 5 - 11 pm; Sundays noon - 9 pm
Address: 1686 Market Street 
District: Hayes Valley
Restaurant Savings (AD): If you want to try and save a little on your meals in SF, then check out the special offers on Groupon.com. They feature deals from around 200 restaurants in SF and the Bay Area. You can save on your meal or get a free add-on. Click here to check out their food and drink specials today!

Other Places to Try