San Francisco Steakhouses: Seven Top Options All Around SF
Are you looking for the top San Francisco Steakhouses? Are you craving top of the line steak during your stay?

If so, then you are in luck! SF has a number of amazing places to savor a tasty, aged, perfectly cooked steak. Some of these places have been around for years, while others are brand new to the scene. All of them are amazing and perfect for a special evening out on the town.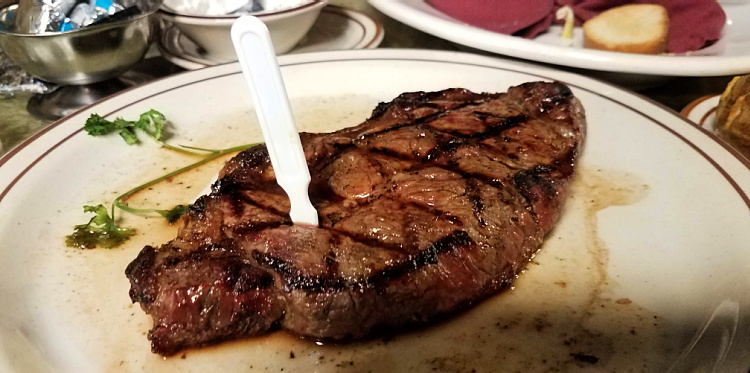 1. 5A5 Steak Lounge

5A5 Steak Lounge is a great find in SF's Financial District. It's a medium to high-end restaurant that is classy and not pretentious. You will find a number of traditional steak options including the filet mignon, New York strip steak, and prime rib. You will also find a number of tasty Japanese Miyazaki Wagyu steaks on the menu.
While I love their steaks, you must try their truffle fries. They are sooooo tasty and something you must not miss when eating at 5A5 Steak Lounge.
Average Price: Meals range from $18 to $55, the Japanese Miyazaki Wagyu is market price, so ask for details when you arrive
Address: 244 Jackson Street
District: Financial District
2. Alexander's Steakhouse

Alexander's Steakhouse offers a high-end dining experience near SF's Oracle Park (formerly AT&T Park). It's a take on a classic American steakhouse with some Japanese influences. They offer traditional options such as rib eye, T-bone, and New York steaks.
You will also find a number of dry-aged steaks on their menu. I love their shichimi fries and can never decide between their macaroni and cheese or the mashed potatoes as they are both delicious!
It's another great place for that special occasion dinner or those looking to splurge on their night out on the town.
Average Price: Pix-fix menu is $230 a person, their main dishes range from $48 to $145 each
Address: 448 Brannan Street
District: SOMA
3. House of Prime Rib

The House of Prime Rib in SF's Nob Hill district is a historic restaurant that opened in 1949. Since that time, they have been pleasing customers with their marvelous prime rib dinners. A fun part about eating here is they slice your prime rib right at the table after they take it off a massive rolling metal container.
It is hard to explain what it looks like, but you will never forget it once you see it. Something nice about the House of Prime Rib is their menu is very simple: Just prime rib and the tasty side dishes, and yet it's some of the best prime rib you will ever taste in your life.
The downside is they are VERY popular, so I recommend booking your table at least two to three weeks in advance.
Average Price: $40 to $50 for their prime rib dinner, which includes a side dish
Address: 1906 Van Ness Avenue
District: Nob Hill
4. Harris Restaurant

Another popular, high end San Francisco steakhouse is Harris Restaurant, also in Nob Hill. It's a little pricier than the House of Prime Rib, but the food is amazing.
Harris is open Monday through Sunday for dinner and is at 2100 Van Ness Avenue, cross street is Pacific Avenue.
Average Price: $18 to $88 per dish
Address: 2100 Van Ness Avenue
District: Nob Hill
5. Original Joe's

Original Joe's is a San Francisco institution. This restaurant has been around for more than 75 years.  This medium-priced restaurant offers a large selection of steaks ranging from $21.95 to $44.95.
The second thing I love about Original Joe's is they also offer a large selection of other dishes including lasagna, pastas, and both chicken and seafood. They also make a mean cocktail and feature a great selection of beer and wines by the glass.
Original Joe's is open daily for both lunch and dinner.
Average Price: Main dishes for dinner range from $12.50 to $44.95 each
Address: 601 Union Street
District: North Beach
6. Ruth's Chris Steak House

Ruth's Chris is another great steakhouse. Located in the Pacific Heights District, this restaurant offers delicious, tender steaks every night of the week. Some of the favorites here include the filet mignon, rib eye, T-bone, New York strip, and a porterhouse big enough for two.
Their menu also features a handful of other options from chicken to fish. I love the fact they have a great selection of wines by the glass and tasty desserts (although I rarely have any room left to try them).
Average Price: The steaks here are also pricey and the entire meal (per person) will probably run you around $75 to $100 per person
Address: 1601 Van Ness Avenue
District: Pacific Heights
7. Epic Steak

One of the newer kids on the block is the Epic Steak. I recommend this for two reasons, they are located in a beautiful setting right along the water on the Embarcadero, near Folsom Street, and they also have amazing food.
You might even be lucky enough to grab one of the tables outside, which is a rare find here.
Epic Steak is open only for dinner Monday thru Friday. They are open for both lunch and dinner on Saturday and Sunday.
Average Price: Main dishes for dinner range from $30 to $70
Address: 369 The Embarcadero
District: Embarcadero
Restaurant Savings (AD): If you want to try and save a little on your meals in SF, then check out the special offers on Groupon.com. They feature deals from around 200 restaurants in SF and the Bay Area. You can save on your meal or get a free add-on. Click here to check out their food and drink specials today!

Other Places to Try