Mediterranean Restaurants in San Francisco: 10 Top Options in SF

by Jill Loeffler  •

Updated: October 14, 2022
You will love the selection of Mediterranean Restaurants in San Francisco. You will find everything from fine dining to casual spots in cozy, local districts.

It's one of my favorite cuisines, so I stop by these places frequently, especially Palmyra.
Read on to uncover a list of my 10 favorite places for Mediterranean food.
Disclaimer: I receive a small commission from some of the links on this page.

1. Kokkari Estiatorio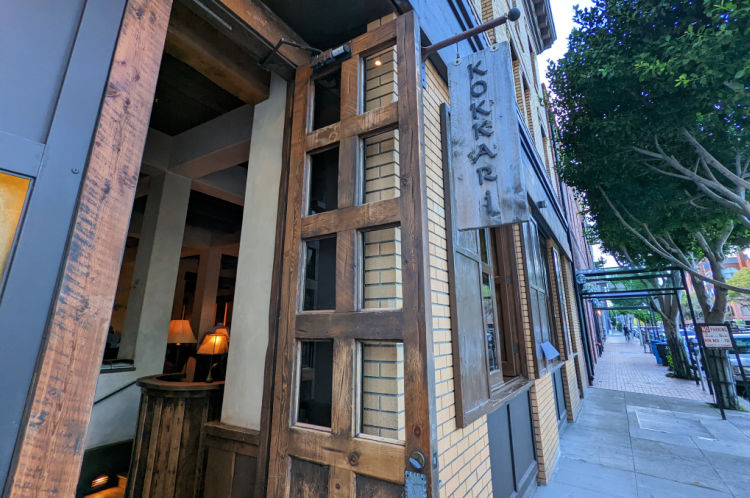 One of my favorite Mediterranean restaurants in San Francisco is Kokkari. It's a fine dining option that has the tastiest lamb chops. I'm also a huge fan of their Spanakotiropita (filo pie with spinach, feta, leeks, and dill).
I think you will also enjoy their other popular dishes including the Pacific Halibut, the Lamb Burgers, and Moussaka.
They also offer a lunch special every weekday.
Kokkari is often rated as one of the top restaurants in both San Francisco and in the US. It's a top fine dining option in SF and one I know you will love if you are a fan of Mediterranean food.
Average Price: For lunch, it's around $25 to $30 a person. For dinner, it will be around $35 to $55 per person
Address: 200 Jackson Street
District: Financial District
2. La Mediterranee

At "La Med" in San Francisco, you'll be greeted with a warm and welcoming atmosphere that feels like a home. In fact, it is family-owned and operated, and the recipes are inspired by their Lebanese and Armenian roots.
You can't beat the light and airy crispiness of their fillos, either the chicken or the spinach and feta. Their lamb kebabs over rice are also excellent.
Average Price: $6.50 to $15 a plate
Two locations: 2210 Fillmore Street and 288 Noe Street
District: Pacific Heights and the Castro, respectively
3. Old Jerusalem Restaurant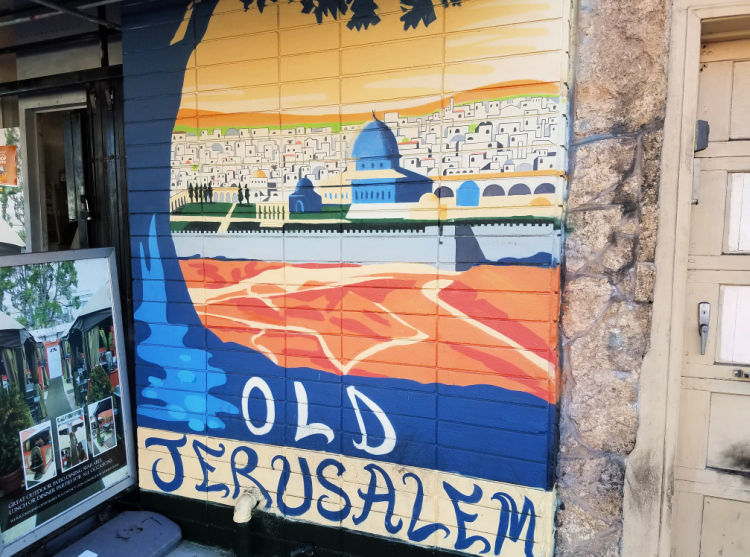 Medium priced, traditional, tasty Mediterranean cuisine is what you will find at the Old Jerusalem Restaurant. When you walk in the door, this place looks like a little hole in the wall. However, you will be blown away by the food. Their falafel sandwiches remind me of the ones I ate while visiting Jerusalem and their hummus is beyond delicious.
Make sure you leave room for dessert too as their kunefe is out of this world!
Average Price: Main dishes are $4.95 to $14.95
Address: 2966 Mission Street
District: Mission District
4. Palmyra

Honestly, I'm a little hesitant to add this option to my list as I don't want to give away my secret, favorite Mediterranean spot in San Francisco. However, you MUST try Palmyra. This small, unpretentious place has the best falafel, hummus, and tahini in the city. For the price, it's also such a great deal you can try several of their dishes.
Their menu is the same for lunch and dinner. You walk up to the counter, order your meal, and then grab a seat. The owner is usually there handing out water and serving your meals. He's super friendly and I love talking to him while I eat (unless he is too busy).
They also deliver, so if you are staying nearby, it's a great option if you decide to stay in for the night.
Average Price: Meals run from $4.95 to $10.99, they also serve a limit number of beers and local wines by the glass
Address: 700 Haight Street
District: Lower Haight
5. Souvla

Souvla is a Greek restaurant that has exploded in popularity over the last few years. They offer fresh ingredients with tasty, but simple menu items.
They offer three meat options plus one vegetarian option on their menu. You can add each option to either a sandwich (wrap) or have it in a salad. It makes ordering really easy.

They also have a few tasty sides such as Greek Fries (they are delicious), soup, and pita bread.
They currently have five locations around San Francisco: Hayes Valley, NoPa, the Mission, the Marina, and Dogpatch.
Average Price: $15 to $17 for their main items, side dishes are $5 to $7 a piece
6. Tuba Authentic Turkish Restaurant

Of the Mediterranean restaurants in San Francisco, this one moderately priced. The delicious food is well worth it, and it really does taste authentic. In addition, you can share many items on their menu. 
For vegetarians, I really recommend the signature meze plate for a sampling of tasty, hearty dips, including spinach, eggplant, walnut, hummus, and dolmas. For meat lovers, their kebabs are especially gourmet and you will savor every bite!
Average Price: $12 for appetizer plates and salads; $25 for main dishes
Address: 1007 Guerrero Street
District: Mission District
7. Sens Restaurant
This option is a bit more up-scale, but the atmosphere makes the experience well worth it. They offer plenty of outdoor dining with beautiful views of the Bay Bridge and Ferry Building.
The Mediterranean fare here is more eclectic, drawing on the diverse cuisines within the region. You'll find innovative plates and favorites that range from lamb burgers to paella, crispy olives to grilled octopus.
Average Price: $8 to $25 per plate
Address: 4 Embarcadero Center
District: Financial District
8. Gyro King
Rather unassuming from the outside, this casual hole in the wall is a great spot for a quick and tasty Mediterranean meal in San Francisco. It's also right around the corner from the Orpheum Theater, making it convenient to grab a bite before or after a show.
The gyro wraps are an obvious choice thanks to the restaurant's name and the enticing meat spinning on the rotisseries. But they also offer some yummy plates like the homemade spinach and feta pies and fresh salads. 
Average Price: $4 to $7 per item
Address: 25 Grove Street
District: Civic Center
9. Lavash
This cozy place will envelope you with earth tones and flowers, and the hearty aromas will transport you to an authentic Persian living room. Start with the roasted eggplant appetizer and follow it with one of their delicious meats or veggie kabobs accompanied with lavash bread and basmati rice. 
It's a bit more on the pricey end, but the value is excellent. The service here is very friendly, so settle in and enjoy selections from the wine bar with what feels like a home-cooked meal.
Average Price: $6 to $28 per item, $24 to $54 for combination plates to share
Address: 511 Irving Street 
District: Inner Sunset
10. Beit Rima
Opened in 2019, this is one of the newer Mediterranean restaurants in San Francisco, but has earned a following with the tasty "Arabic comfort food" they offer. The chef actually drew inspiration from both his father's popular burger joint, Burgermeister, and their Palestinian heritage. 
The simple menu lets you know that everything they make is fresh and done well. Try the mezze sampler for a taste of all their authentic appetizers.
Average Price: $7 to $29 per item
Address: 138 Church Street 
District: Castro
Save on Restaurant Costs (AD): Are you looking for some restaurant deals? If so, then check out the selection of discounts on Groupon. They offer special restaurant deals including discounted meals and free addons. It's a great way to save! Click here to check out their list of deals today!

More Great Pages on SF

The Perfect Day in Chinatown: Do you want to see Chinatown in just one day without the hassle of having to plan it all yourself? If so, then check out my one-day self-guided tour of this colorful district. You will stop by historic temples, grab some dim sum, and learn more about this fascinating culture at the local museum.
Why I Love SF: There is so much to love about the City by the Bay. However, there are ten things that I just can't get enough of each day. Read this page to learn more about my favorite things about this lovely place!
Food Festivals: If you love to sample a variety of food, then check out these food festivals. They offer a day or weekend of specialty foods, entertainment, and a lot of fun.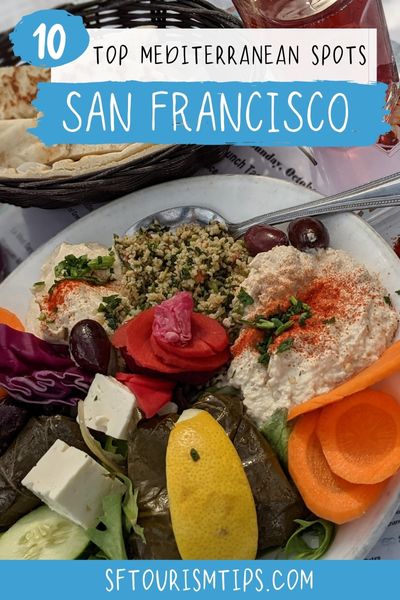 Comments? Questions? Suggestions?
I would love for you to join me in my private Facebook group! 
It's a great place to interact with me and others who know the area well.
You can ask questions, get advice for your upcoming stay, and then share your photos and advice with others when you return home. It's a great community and the fastest way to get answers to those nagging questions about your visit!