Vegetarian Restaurants in San Francisco: 10 Best Options from Casual to Fancy

by Jill Loeffler  •

Updated: October 11, 2022
Are you looking for the best vegetarian restaurants in San Francisco? My list includes 11 of the most popular options in the city.
They range from casual options to those with gorgeous views around the SF Bay.

Disclaimer: I receive a small commission from some of the links on this page.

1. Greens Restaurant

Greens Restaurant is one of the first places I think of when my husband and I want vegetarian and vegan options. They offer a creative menu with options such as Brentwood Corn & Zucchini Enchiladas, Roasted Knoll Farm Fig Tartine, and (one of my favs) the Green Gulch Little Gem Wedge Salad.
A gorgeous restaurant inside the Fort Mason Center, Greens sits along the waterfront and has great views of SF Bay and Golden Gate Bridge. If you get there at just the right time, you can also watch the sun set behind the Golden Gate Bridge. All of the tables have this view, but I suggest asking for a window seat for the best views as you dine.
In addition to the amazing views, they have some of the best vegetarian cuisine in San Francisco. And if you are vegan, they can easily adapt many of their menu items.
The menu changes with the seasons and the portions are the perfect size, so you will not leave hungry. They also have an excellent selection of beers, wines, and mixed drinks.
Hours:  
Lunch: Tuesday - Friday from 11:30 am to 2:30 pm

Dinner: Tuesday - Thursday from 5:30 pm to 9:00 pm, Friday - Sunday from 5 pm to 9 pm

Brunch: Saturday and Sunday 10:30 am - 2:30 pm
Average Price: $6 - $15 for small plates; $11 - $18 for first course; $21 - $32 for main course
Address: 2 Marina Boulevard, Building A at Fort Mason
District: Marina
2. Loving Hut

The Loving Hut is one of the best budget-friendly vegetarian restaurants in San Francisco, and actually they only serve vegan food. 
They are part of a worldwide chain of Loving Huts, but each franchise offers a unique menu, as they are family-owned and inspired by local ingredients. This one features a variety of Asian dishes from seaweed tofu soup to Chinese broccoli delight.
Their portions are large, so you will get plenty to eat for your day of touring San Francisco or nearby Golden Gate Park.
Hours: Every day except Tuesday from 11 am - 9 pm
Average Price: $13 for rice plates, $15 - $17 for main dishes to share
Address: 524 Irving Street
District: Inner Sunset
3. Thai Idea Vegetarian

Thai Idea Vegetarian is one of my favorite Thai and vegetarian restaurants in San Francisco.
This place offers all the classic Thai dishes and authentic flavors you could want, from curry to pan fried noodles, fried rice, and several other entrees.
Some of my favorites here include the garlic & pepper over steamed veggies, the Panang curry, and the Pad Kee Mow. They also do a great job with plant-based meats, including duck and beef.
Hours: Weekdays 11 am - 3 pm and 5 - 10 pm; weekends 12 noon - 10 pm

Average Price: $12 - $16 for main dishes to share
Address: 710 Polk Street
District: Civic Center / Tenderloin
4. Curry Up Now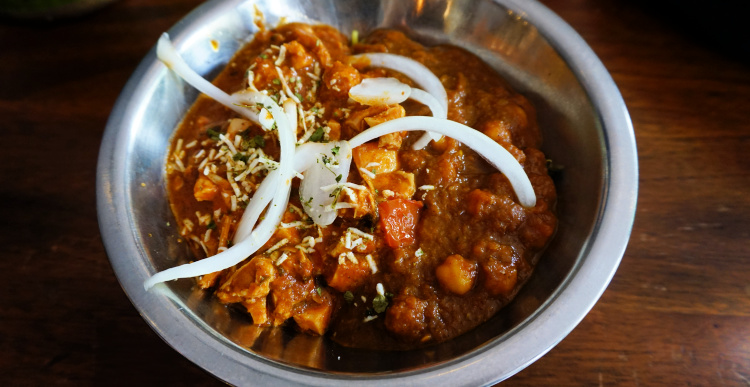 What began as a popular food truck became an even more popular restaurant in San Francisco for vegetarians. Their colorful, tasty street food-style meals can now be found in locations all over the country.
Curry Up Now serves up fast, fun Indian-fusion dishes, including their tikka masala burritos, Sexy Fries (sweet potato fries topped with their famous creamy curry sauce), and Naughty Naan (flatbread with cheese, caramelized onions, and jalapeños).
Hours: Every day, 11:30 am - 9 pm (until 10 pm on Fridays and Saturdays)
Average Price: $12 for a meal
Address: 659 Valencia Street
District: Mission
5. The Plant Cafe Organic

The Plant Cafe Organic is a great choice for vegetarians, though the menu is not strictly veggie. They offer all organic and local ingredients from Bay Area farms, taking care to see that their meats have the lowest carbon footprint possible. 
Their menu is a showcase of fresh, colorful contemporary California cuisine with Asian-inspired flavors. It's the perfect place for vegetarians that are traveling with non-vegetarians.
The most popular items here are their smoothies, salads, and sandwiches. The Plant Burger is delicious and very filling.
Hours: Weekdays 10 am - 8 pm; closed weekends

Average Price: $9 - $15 per meal
Address: 2335 3rd Street
District: Dogpatch / Potrero Hill
6. Udupi Palace

Udupi Palace in the Mission District is my favorite vegetarian Indian restaurant in San Francisco. It's popular, reasonably priced, and very tasty.
They serve up South Indian cuisine and are famous for their large selection of dosas, a type of stuffed thin pancake served with yummy sauces.
I also love their curries and their vegetable biryani. If you're into spice, you can also try their rasam soup.
Hours: Every day from 11:30 am - 10 pm (until 10:30 pm on Fridays and Saturdays)
Average Price: $10 - $13 per dish
Address: 1007 Valencia Street
District: Mission
7. Ananda Fuara

For vegetarians looking for some good American comfort food, Ananda Fuara will hit the spot. They've got an extensive menu of burgers, baked potatoes, soups, salads, and more.
You'll also find a sprinkling of Indian dishes, including samosas, curries, and teas with different fragrant spices. 
On weekends, they also offer a special brunch menu that includes the Wild Mushroom Benedict and the Orange Blossom French Toast. 
Hours: Tuesday - Saturday, 11 am - 8 pm; Sundays 11 am - 3 pm; closed Mondays
Average Price: $11 to $14
Address: 1298 Market Street
District: Civic Center
8. Enjoy Vegetarian Restaurant
Historically, San Francisco Chinatown was not known for vegetarian food, but Enjoy Vegetarian Restaurant changed that. This local family-owned place became popular for the variety of tasty dishes they serve.
Inspired by Buddhist tradition, the menu offers fresh, healthy meals with more than 100 different choices. 
Their food will satisfy any craving you have for Chinese cuisine, but without any onion, garlic, or MSG.
Hours: Every day, 11 am - 2:30 pm, 5 - 9 pm. The Sunset location is closed on Mondays.
Average Price: $14 - $17 for main dishes
Locations:
839 Kearny Street (Chinatown)
754 Kirkham Street (Sunset)
9. Cha-Ya
Cha-Ya is another awesome vegetarian restaurant in San Francisco's Mission district. They specialize in Japanese cuisine and have great vegan sushi. 
They base their menu on a Zen Buddhist diet with healthy, fresh veggies. The stuffed eggplant tempura is delicious, as are their noodle soups and sukiyaki dishes. 
It's a great spot for a vegetarian meal! 
Hours: Wednesday - Friday, 5 - 8 pm; weekends, 12 noon - 8 pm; closed Monday - Tuesday

Average Price: $14 - $16 
Address: 762 Valencia Street
District: Mission
10. Beit Rima
This delicious Mediterranean restaurant is another great place for vegetarians who are dining with meat eaters because, while there are some meat dishes on the menu, the majority of what they serve is indeed vegetarian. 
The shakshuka is excellent, and everything that comes out of the kitchen is made of fresh, high quality ingredients that fill their Arabic cuisine with flavor. 
Hours: Tuesday - Sunday, 11 am - 8:30 pm; closed Mondays

Average Price: $7 to $29 per item
Address: 138 Church Street 
District: Castro
Other Places to Grab a Bite to Eat

Other Pages to Explore

The Perfect Day in San Francisco: Are you visiting San Francisco but only have a day or two to explore? If so, then check out my perfect day in San Francisco itinerary. It allows you to see as much as possible in a short period of time.
Food Festivals: If you love to sample a variety of foods, then check out these top food festivals in San Francisco. At each one, you will get the chance to savor the best local cuisines as well as meet with the chefs and mingle with other food lovers.
25 Fun San Francisco Facts: Are you curious about San Francisco's history or love hearing more about it? If so, you will love this page. It will answer many questions about Alcatraz Island, the Gold Rush, and more.