San Francisco Mexican Restaurants: Enjoy Delicious Tacos, Burritos, & Other Specialties

by Jill Loeffler  •

Updated: October 14, 2022
You will find a large variety of Mexican restaurants in San Francisco. Options range from casual grab-and-go to high-end gourmet.
A large portion of them are in the Mission District. However, you will find other great options throughout SF including in Union Square, the Financial District, and South of Market (SOMA).
Read on for my go-to places for the best Mexican food in San Francisco.
Disclaimer: I receive a small commission from some of the links on this page.

1. Californios

Californios is one of the best high-end San Francisco Mexican restaurants. They have a simple menu and use only the freshest ingredients. Try out their tasting menu, which includes a variety of dishes all for a single price.
Their food is creative and tasty, and you won't leave hungry. I highly recommend this place for those who love to experiment with their food choices and are not on a tight budget.
Average Price: Around $100 per person for the tasting menu, with an additional $45 to $50 per person for drinks
Address: 355 11th Street
District: South of Market
>> Find additional fine dining options around SF
2. Tacolicious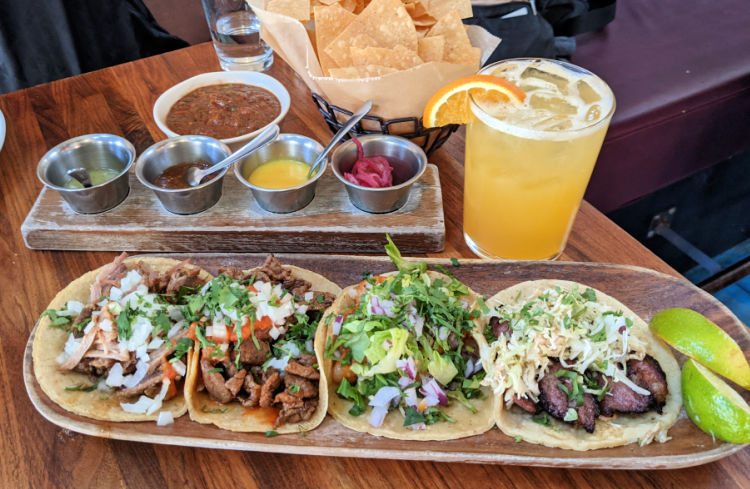 Tacolicious has to be on your list of "must eats" when you want to check out some of out top San Francisco Mexican restaurants. The original one opened in 2009 and has expanded to two areas in San Francisco.
Their food is very fairly priced and the portions are large and the taste is outstanding. They have tacos, burritos, and some yummy sides. They sometimes have specials, like "Taco Tuesday," so make sure to check what is happening and make your taste buds happy.
My husband and I also love their margaritas and mixed drinks.
Average Price: $7 to $10 for entrees
Locations:
2550 Chestnut Street (Marina District)
741 Valencia Street (Mission District)
3. El Farolito

On the opposite end of the budget scale, you will find El Farolito. They offer some of the best inexpensive Mexican food in San Francisco. You will find the standard options including tacos, burritos, and quesadillas.
They've become so popular that they now have three locations in San Francisco. They are conveniently open late, but make sure you bring cash.
Average Price: $3.50 to $7.50 for main dishes
Locations:
2779 Mission Street (Mission District)
2950 24th Street (Mission District)
4817 Mission Street (Outer Mission)
4. La Taqueria

Another popular budget-friendly Mexican restaurant is La Taqueria. Locals go crazy for anything made here with their carne asada (marinated beef steak). The meat is juicy and has just the right flavors.
La Taqueria offers the standard Mexican fare including burritos, tacos, and quesadillas. They also have a number of great vegetarian options.
Average Price: Less than $8 per dish
Address: 2889 Mission Street
District: Mission
5. Taqueria Vallarta

Taqueria Vallarta is another inexpensive, yet delicious Mexican restaurant in the Mission. They have two locations, and both offer a great variety of standard Mexican dishes. I love this place as they have a wonderful taco bar and some of the freshest salsa in town.
They also cook their meat to perfection, so you will be delighted with everything you order. They are also open late, so it's a great stop after a night out on the town.
Average Price: $3.50 to $7.50 for main dishes
Locations:
3033 24th Street (Mission District)
4697 Mission Street (Outer Mission)
Best Food Walking Tours
Want to learn even more about San Francisco's restaurant scene? If so, then check out one of these fun walking tours. 
You'll find several in the Mission District (which is where many of the restaurants on this list are located) and in popular neighborhoods such as Chinatown and North Beach.
Here are a couple of my favorites.
Secret Food Tours: This one takes you to some of the best spots in the Mission District. You'll sample dishes from many cultures and get to know the best places to eat in this district. The tour is about three hours and includes six stops. Find out more here on GetYourGuide.
SF Chinatown Culinary Walking Tour: Another district that is great for samples is Chinatown. On this tour, you'll sample dim sum, learn more about their cooking techniques, and a history of the area. Find out more on GetYourGuide.
Additional Great Food Tours
6. Tropisueño

Tropisueño is one of the best medium-priced San Francisco Mexican restaurants in the SOMA district. People flock here for their flavorful margaritas and salsas. This place is interesting as it's more of a simple taqueria at lunch, but a full-service restaurant at night.
At lunch, you will find the basic tacos, burritos, and nachos. At night, you will find some of the best margaritas and a menu full of specialty items, such as ceviche dishes, molotes de elote y barbacoa (a BBQ corn dish), and empanadas de hongos (savory mushroom pastries).
Average Price: Lunch menu $7 to $11; evening menu $9 to $20
Address: 75 Yerba Buena Lane
District: SOMA
7. Garaje

Garaje features a fun, urban twist on the traditional Mexican fare: in addition to creative burritos, they offer delicious fries, burgers, and sandwiches that go perfectly with the automotive drive-in theme.
It might sound strange, but their original "zapatos" (crispy pressed burritos) even give you fries IN your burrito! You'll find crab cake options like the Maverick and vegetarian options like the Surfer Mermaid. 
A bit pricier than your usual San Francisco Mexican restaurant, but worth it for people feeling a little adventurous. They open Monday through Friday for lunch (12 - 2 pm) and dinner (5 - 9 pm), and on weekends just in the evenings.
Average Price: $8 - $18
Address: 475 3rd Street
District: SOMA
8. Street Taco

Street Taco prides itself on bringing Mexico City street food to SF, and has gained such a following that they now have three locations spread across different districts. 
For a quick snack, you can grab a plate of two tacos with your choice from a variety of meat options, including classics like al pastor and carnitas, to nopales (cactus), chorizo, shrimp, or veggie. The "super burritos" are also yummy and very filling.
Average Price: $8 to $12 a dish
Locations:
9. The Little Chihuahua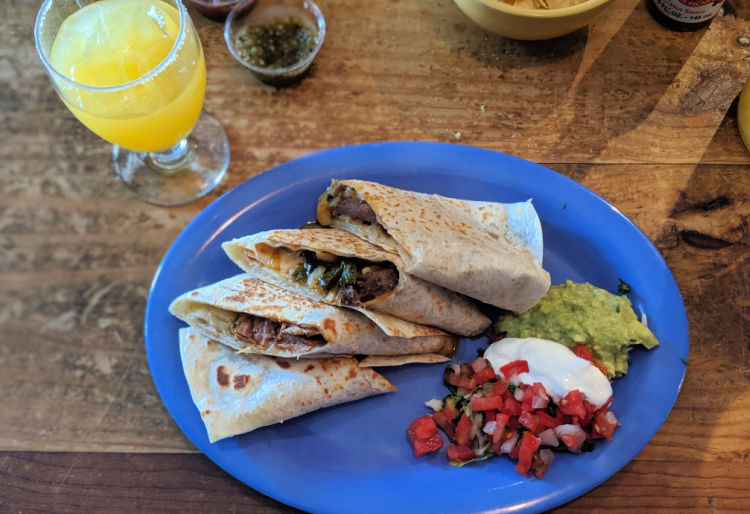 The Little Chihuahua offers a broader selection of Mexican dishes on their menu, expanding beyond the tacos, burritos, and quesadillas to include enchiladas, tostada salad, pozole (a pork stew), and tortilla soup.
They offer some tasty protein options, including carne asada, chile verde tofu, shrimp, and salmon. Vegans will be delighted to find most of the menu items can come with fried plantains and organic refried black beans instead of animal products.
Average Price: $5 to $15 per item
Locations: 
10. Nopalito

You can tell this authentic Mexican fare is made from the heart by the friendly staff of Nopalito, whose chef won a James Beard award for Best International Cookbook based on this menu. 
The original location in the Lower Haight is a full sit-down restaurant that offers delicious margaritas, Mexican beer, and sangria in addition to the variety of plates. Their mole and birria de res are melt-in-your-mouth good.
The Mission District location is a takeout window where you can order tacos, totopos, or rice bowls and enjoy them across the street in Dolores Park. They also serve coffee and Mexican sweet breads for dessert, in addition to Bi-Rite's soft serve ice cream, which originally occupied this window.
Average Price: $7 to $21 per plate
Locations: 
306 Broderick Street (Lower Haight/Alamo Square)
Taco Window: 3690 18th Street (Mission District)St.
11. Don Pistos

Don Pistos is more up-scale and features a simple, elegant menu from starters like queso fundido, to seafood plates like ceviche verde, to their house specialties including their exquisite chile verde pork shank.
On their drink menu, you'll find yummy margaritas, wine, beer, and other cocktails. Unlike most San Francisco Mexican restaurants, Don Pistos serves brunch on weekends with unique options like Puerto Nuevo lobster and Mexican sashimi. 
Average Price: $8 to $25 per dish
Address: 510 Union Street
District: North Beach
More Interesting Pages

Hidden Gems: If you've have been to SF before and are looking for some new places to explore, then check out my hidden gems page. Highlights include a Buddhist Temple in the Mission, the Columbarium in the Inner Richmond, and a reservation only museum.
California Academy of Sciences: This museum offers four completely different experiences - all with just one ticket. It has a four-story rainforest, a natural history museum, a planetarium, and an aquarium. You can also see a rare white alligator and step inside the earthquake simulator to feel what it's like to be in an earthquake.
Mission District: While you are in the area, check out these fun things to do. This historic district is home to the oldest building in SF, hundreds of colorful murals, and more.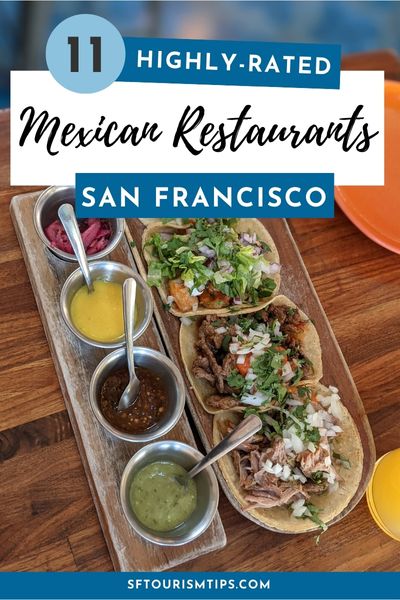 Comments? Questions? Suggestions?
I would love for you to join me in my private Facebook group! 
It's a great place to interact with me and others who know the area well.
You can ask questions, get advice for your upcoming stay, and then share your photos and advice with others when you return home. It's a great community and the fastest way to get answers to those nagging questions about your visit!