San Jose CA Airport: What You Need to Know to Fly into SJC
The San Jose CA Airport is on the southern side of the San Francisco Bay. This is the perfect one to choose if you are staying in the city of San Jose or anywhere in Silicon Valley. It's also the best one if you are staying in Monterey, Santa Cruz or Carmel.

The San Jose CA airport is officially known as the Mineta San Jose International.
The San Jose airport address is 1661 Airport Blvd., San Jose, California 95110.
The official code for this airport is SJC. It's sometimes confused with the San Jose airport in Costa Rica which is SJO. Double check your flights before booking to make sure you are landing at SJC in San Jose, CA.

Disclaimer: I receive a small commission from some of the links on this page.

This airport is smaller than San Francisco International (SFO). With about a hundred flights a day, this airport is similar in size to Oakland International (OAK).
This one is serviced by the following sixteen airlines. A is for Terminal A and B is for Terminal B.
AeroMexico (A)
Air Canada (A)
Air China (A)
Alaska Airlines (B)
American Airlines (A)
ANA (A)
British Airways (B)
Delta Airlines (A)
Frontier (A)
Hainan Airlines (B)
Hawaiian Airlines (A)
Jet Blue Airways (A)
Lufthansa (B)
Southwest (B)
United Airlines (A)
Volaris (A)
While it does have a few international flights each day, most flights are to or from US airports. Southwest has the largest number of flights per day, many of those are short flights to and from other west coast locations.
Top non-stop destinations include Austin, Baltimore/Washington, Beijing, Burbank, Cabo San Lucas MX, Chicago, Dallas, Denver, Frankfort, Guadalajara, Houston, Las Vegas, Los Angeles, Portland, San Diego, Seattle, and Vancouver.
This is a small one and easy to navigate. Most of the flights land in Terminal A. Southwest and Alaska airlines as well as the international flights land in Terminal B.
It's also just two miles from downtown. It's also close to all of the Silicon Valley companies such as Google, Apple, Yahoo and Facebook.
Top Transit Options

This airport has a number of transportation options. Here are the top options available.

Car Rental

My recommendation when flying here is to rent a car. It's a little harder to get around this part of the bay area without having your own car. This will shorten your travel time between destinations and allow you the flexibility to stop along the way. You can also save money when you book your flight and rental car at the same time.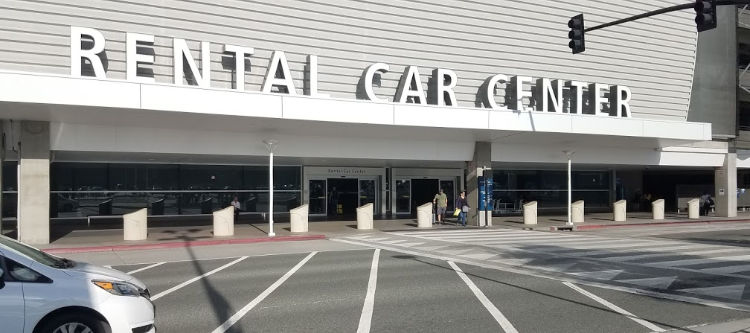 There are 10 different companies to choose from here. The companies that service this location include:
Advantage
Alamo
Avis
Budget
Dollar
Enterprise
Fox
Hertz
National
Thrifty
Once you land, you need to go to the Rental Car Center.
If you arrive in Terminal B, the pick-up location is a quick walk from the baggage claim area. After you pick up your luggage, walk across Airport Drive to get there.
If you arrive in Terminal A, you'll need to take the shuttle. Follow the signs to find the blue shuttle bus. It's a quick trip and will only take you a few minutes to get to the vehicle center.
The office hours here vary. Avis is the only company that is open 24 hours a day.
If you happen to arrive later than planned and the company you rented from is not open, you can still pick up your car. Just call 408.970.9623 and they will help you.
When you return to the airport, you will again head to the Rental Car Center. You can drop off your car in the designated area.
If you are leaving from Terminal B, you can just walk to your terminal after dropping it off. If you are heading to Terminal A, your best bet is to catch the blue shuttle.
Shuttle

Shuttles from SJC can take you to a number of destinations around the bay area. From here, you can simply grab a shuttle to downtown. You can also get a shuttle to Santa Cruz, Monterey and locations in the east bay.

Taxi, Uber, or Lyft

If you are heading to downtown, you can also grab a taxi or a Lyft. Since it's only two miles from downtown, a taxi or Lyft are both cost effective and easy San Jose CA Airport transfer options.
Taxis at SJC pick up at Terminal A, Stop 3 and Terminal B, Stop 11.
Lyft (& Uber) drivers will pick up at Terminal A Ground Transportation Island at stop 1 or at Terminal B Ground Transportation Island, stops 8 & 9.
Tips to Get to Top Destinations from San Jose

You can rent a car or use Lyft/Uber for all of the locations below. Here are a few additional options for each location.

Downtown San Jose: The downtown area is close to the San Jose CA Airport. You can take a shuttle from airport for about $20. Other areas around San Jose will cost between $25 and $50. It must be booked in advance as they don't offer shared ride services. Most hotels also have their own shuttle service, so check with your hotel before you arrive for details on their airport transportation service.
San Francisco: The city of San Francisco is about 45 miles or over an hour north of the San Jose CA Airport. You can get to SF on Caltrain for easy access. You will find take the 10 Santa Clara Caltrain bus at the airport over to the Santa Clara Caltrain Station. This ride is about 15 minutes. You will then pick up the Caltrain and head north to SF. Depending on the time of day, this will take between one to one and a half hours. Caltrain will drop you in the South of Market district where you can then use SF's public transit system to get to top neighborhoods such as Fisherman's Wharf and Union Square.
An easier way to get to the heart of SF from SJC is to take the Monterey Air Bus (picks up only in terminal A) and then take BART to downtown SF. The ride is $23 and then head over to the BART Station in the International Terminal when you arrive at SFO. BART will take you to the heart of SF including just steps away from Union Square and all of our great public transit options.
Oakland: The heart of downtown Oakland is about 45 minutes away from SJC. You can take a door-to-door shuttle which is about $79 with San Jose Express Shuttle. You can also take public transit which takes about two hours and includes three transfers. Your best bet is driving or taking a Lyft to avoid any hassles.
Levi's Stadium: The stadium where the San Francisco 49ers play is about 6 miles north of the airport. You can get there by public transportation by taking the light rail (10) from Terminal A to 1st & Metro @ LR Station. From here, you will take the 902 towards Mountain View and get off at the Lick Mall stop. From here, the stadium is less than a half mile walk. This ride takes about 45 minutes. I recommend using Lyft instead.
Monterey: The best way to get to Monterey from the San Jose CA Airport is by using the Monterey Airbus. This scheduled bus offers 12 departures every day from SJC. It starts at 7:30 am and does it's last pick up around 11:20pm. The ride is about an hour and a half with just a couple of stops before you arrive in Monterey. I recommend booking in advance, so you can save on your ticket. It's $43 when booked in advance or $48 on the day of service.
Santa Cruz: There is no longer a scheduled shuttle that runs between SJC and Santa Cruz, so you'll either need to drive or take public transit. The transit takes two hours and includes a couple of transfers. You can take the 60 and then the 22, which will drop you off near the San Jose Diridon Station. You would then walk over to the station to catch the 17 to Santa Cruz. 
I'd recommend cutting out the first two buses and taking a cab, Uber or Lyft to the Diridon Station and then grabbing the 17. It will save you quite a bit of time and hassle.
Hotels Near the San Jose CA Airport

You will find more than a dozen hotels all within a mile radius of the San Jose CA Airport. Here are three options that include free transit to and from SJC.
Courtyard by Marriott: 3-star hotel with free transit to SJC, free parking, pool and restaurant on-site, less than a half mile away, read recent guest reviews here
Fairfield Inn & Suites by Marriott San Jose Airport: 3-star hotel about a mile from the San Jose CA Airport, free wifi, parking, breakfast and a pool, read recent guest reviews from others
Residence Inn: 3-star hotel and one of the highest rated, about a mile away, free transit to the airport, pool, breakfast and parking, read reviews and make reservations
>> Find additional nearby hotels, get prices and read recent reviews
Airport Parking at the San Jose CA Airport

You will find quite a few options for parking right at the San Jose CA Airport. There are a total of 6 lots with slightly different pricing.
The Economy Lot is the furthest away but offers the best daily rates. It's still easily within walking distance and has more than 1,600 spaces. The daily flat rate is $18.
There are three hourly lots. Rates start at $2 for 20 minutes and range from $24 to $38 per day.
The two daily lots are also right by the terminals at the San Jose CA Airport. The two lots are $30 per day or $2 per 20 minutes.
Comments? Questions? Suggestions?
I would love for you to join me in my private Facebook group! 
It's a great place to interact with me and others who know the area well.
You can ask questions, get advice for your upcoming stay, and then share your photos and advice with others when you return home. It's a great community and the fastest way to get answers to those nagging questions about your visit!