San Francisco Performing Arts Calendar

The San Francisco performing arts calendar is full of fun shows. You can catch a theater performance, head to the opera, or see the ballet. You can also enjoy the symphony.

You will find something to do all year long, as two or three of these performing arts groups will be offering shows at any given time. Read on to learn more about each one, including some of the best discounted tickets available.

San Francisco Performing Arts Calendar: Upcoming Shows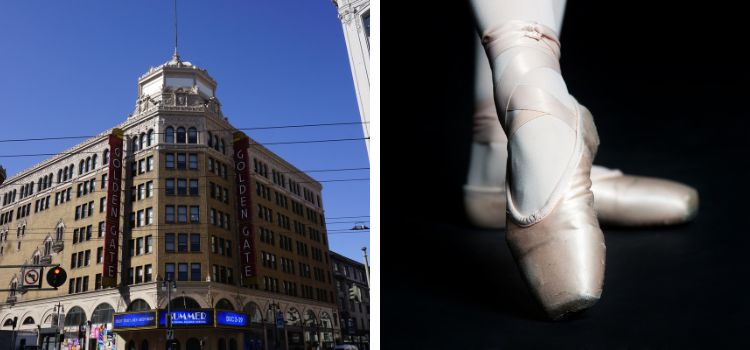 Disclaimer: I receive a small commission from some of the links on this page.

Theater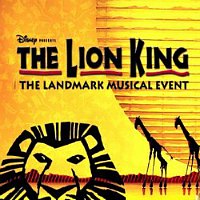 Plays are some of the most coveted events on the San Francisco performing arts calendar. Enjoy a wide variety of hundreds of theater performances every year, from dramas to comedies, 
Broadway musicals to experimental pieces. You'll find favorites like The Lion King and RENT, as well as original works by local up-and-coming playwrights. The centrally located Theater District has several large and small live theater venues.
As for theater companies, you'll see a lot of local talent from all over the diverse Bay Area, as well as visiting casts and crews from New York and the rest of the world.

>> Click here for a full list of the top upcoming theater shows 

Opera

San Francisco is home to the second largest opera company in the world, which entertains thousands at the elegant War Memorial Opera House near City Hall. The SF Opera performs during two seasons each year, in the fall (from September to early December) and in the summer (from May to July). 
Every season, you have the opportunity to see some of the greatest opera classics ever produced, including La Boheme, Madame Butterfly, Rigoletto, and more.
A great way to introduce your family and friends to opera is by attending their annual free show in Golden Gate Park. 
>> Read more about attending an SF Opera performance
Ballet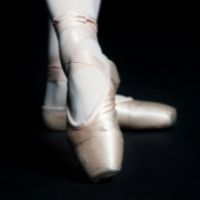 The SF War Memorial Opera House also has the distinction of being home to the country's oldest ballet company. The SF Ballet has been performing stunning pieces since 1933.
Its talent and range bring to life such varied works as Swan Lake, Cinderella, and Frankenstein. 
The SF Ballet's regular season lasts from January through May each year, offering about eight different programs of one to three acts each.
However, one of their most popular shows is actually in December, with the annual Christmas presentation of The Nutcracker. 
>> Find out which SF Ballet shows are in the works this year
Symphony

The renowned SF Symphony performs several shows a month, all year round, at the beautiful Davies Symphony Hall in the Civic Center district. Catch a performance with well-known conductor Michael Tilson Thomas or one of the many guest performers. 
Philharmonic orchestras frequently visit from around the world, including China, Germany, and Russia. In addition to concerts of specific classical composers, the SF Symphony also offers live orchestra performances with screenings of films like Casablanca or 2001: A Space Odyssey. 
Shows at the Orpheum Theater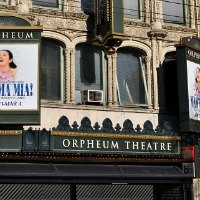 SHN's Orpheum Theater is one of the largest theater venues in SF, with a capacity of more than 2,200 people. A San Francisco historical landmark, the outside is looks like a 12th-century French cathedral and the inside boasts an ornate vaulted ceiling. 
Many of the large Broadway and pre-Broadway musical productions in SF show here, some for extended periods. The Orpheum has hosted such famed acts as The Phantom of the Opera, Hamilton, Wicked, and Mamma Mia!
Shows at the Golden Gate Theater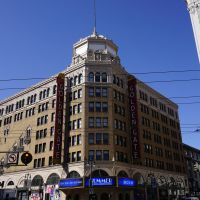 The Golden Gate Theater is another large venue owned by SHN that hosts the most popular musicals on the San Francisco performing arts calendar.
It originally opened in the 1920s as a vaudeville house, then served as a concert venue for artists like Frank Sinatra and Nat King Cole, and later as a cinema before its beautiful art deco architecture was restored in the 1970s. 
The Golden Gate has welcomed several big acts straight from Broadway, including Jersey Boys and Avenue Q.
Shows at the Palace of Fine Arts Theater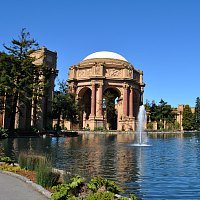 The historic Palace of Fine Arts Theater in the Marina District also hosts a variety of live shows each year on the San Francisco performing arts calendar.
You can see everything from ballet performances and hip-hop dance festivals to comedy shows and talks with renowned authors and filmmakers.
The best part about going to a show here is taking in your surroundings, the picturesque Roman-inspired architecture that has been an SF icon since 1915.
>> Find out more about attending a show at the Palace of Fine Arts

San Francisco Theater District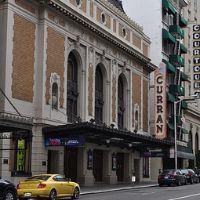 Located in the heart of the city, the Theater District encompasses the dozens of live theater venues within the Union Square, Tenderloin, and Civic Center neighborhoods. 
Click the link below to find out about the most popular theaters in this district, including their history, capacity, types of shows, and address.
As you plan your trip to see a fantastic SF play, check out my recommendations on great hotels and restaurants in the area, as well as details about how to get here on public transportation or where to park.
Bay Area Theater Calendar

From SF to San Jose to the North Bay, the entire metropolitan area surrounding San Francisco is rich in theater culture. You will find a huge variety of theater companies, venues, and types of performances in all regions. 
Click the link below for a summary of upcoming shows all over the Bay Area, including discounted tickets to some performances. This way, you can see the wide range of theater offered throughout the year, and you can choose the shows that most interest you from a multitude.
>> Find out about all Bay Area theater performances

Comments? Questions? Suggestions?
I would love for you to join me in my private Facebook group! 
It's a great place to interact with me and others who know the area well.
You can ask questions, get advice for your upcoming stay, and then share your photos and advice with others when you return home. It's a great community and the fastest way to get answers to those nagging questions about your visit!