Corona Heights in San Francisco: What to See & Do in this Mini-Neighborhood in the Heart of SF
Corona Heights in San Francisco is a small sub-district that is part of both Ashbury Heights and the Castro. Here you will find some cool things to do including visiting a children's museum, soaking in the views at the summit of its largest park, and climbing some hidden stairs.

It won't take you long to visit, but its a fun addition if you are close by and interested in visiting other nearby attractions.
Read on for more about some of this SF neighborhood's best things to do.
Disclaimer: I receive a small commission from some of the links on this page.

Corona Heights Park

Corona Heights Park is the gem of this district. The park is small but has amazing views all around the SF Bay. It's a steep climb to the top, but when you get here you will have unobstructed views of downtown San Francisco, Twin Peaks, and other places all around the SF Bay.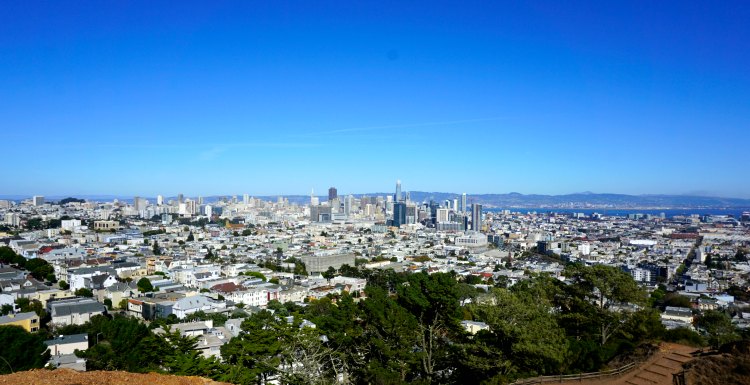 The park is just under 14-acres. It's famous for its red rock outcrop, which you can see from all over the city.
The very top of the summit reaches up to 540 feet. Most of the trails around the park are considered challenging, so take your time and don't wear yourself out. You will need to climb steep stairs and rocky trails to get to the summit. It isn't a long climb but will get your heart pumping.
You can enter the park via Flint Street, Beaver Street, 15th and Roosevelt Way.
The park is open all year long from 5 am to midnight.
Randall Museum

Another top attraction in Corona Heights in San Francisco is the Randall Museum. This free kids' museum sits on Museum Way and is surrounded on three sides by Corona Heights Park.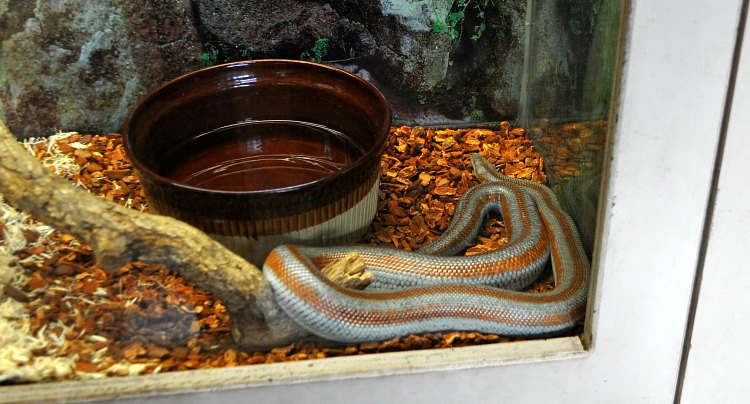 This recently remodeled SF museum features exhibits for kids of all ages.
The Live Animal Exhibit is a popular option. Here you will see rescue animals that are primarily species that are local to the areas around here. The exhibit is set up by habitat, so you can learn more about both the animals and where they commonly live.
Riding the Rails is also a hot spot in this museum. It's a hands-on railroad themed exhibit. Here your kids and you can hop aboard the scale model of a caboose. You can also check out a train model exhibit that features many of SF's largest buildings set up around the train tracks.
The Randall Museum is open from Tuesday to Saturday from 10 am to 5 pm. It is closed on Sunday and Monday.
Mount Olympus

Mount Olympus is another interesting stop in Corona Heights in San Francisco. The spot used to be considered the center of San Francisco. At the top, it featured a large sculpture of named the Triumph of Light. It was gifted to the city by Adolph Sutro, who was a mayor of SF and built the Sutro Baths out near Ocean Beach.
Today, the sculpture was removed at one point, and sadly has been lost, but its stone pedestal is still on display. You can climb the stairs to this tiny park and check out the views. You can also imagine what it was like here when it featured a massive sculpture on the top.
While you are here, make sure to check out the real estate all around it. It's one of the pricier districts in SF and many of the houses and condos here offer amazing views all around the SF Bay.
Hidden Stairways

The city is full of fun, colorful, and interesting stairways. Corona Heights in San Francisco also has some cool staircases to check out. Here are a couple of my favorites.
Vulcan Street Stairs: The Vulcan Street Stairs run for about two blocks. The top starts at Levant Street and you will exit at Ord Street. Both sides of the stairs offer beautiful flowers and plants. There are also several houses on the north side of the stairs. You will quickly see that their only entrance to their home is via the staircase. The stairs are open 24-hours a day, 7-days a week.
Saturn Stairs: The Saturn Stairs are a shorter set of stairs that run from Saturn Street down to Ord Street. They are also well manicured with lovely plants and flowers. If you visit at the right time, you might also run into one of our sets of wild parrots pictured below (they are most famously found on Telegraph Hill).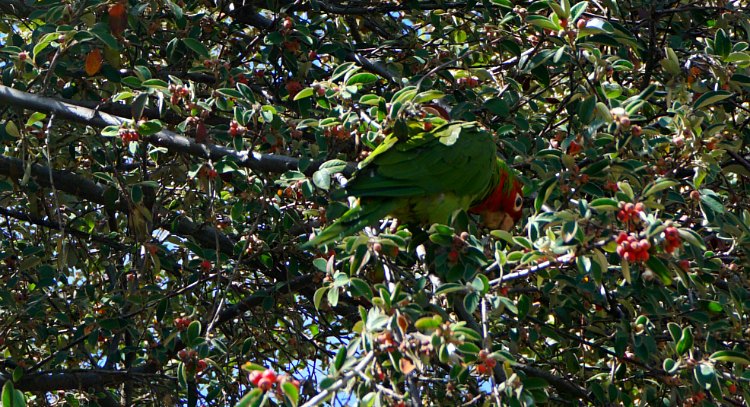 Fun Ideas for Your San Francisco Stay

Weather in Corona Heights in San Francisco

This area of town offers moderate temperatures throughout the year. You will see fog cascading over the hills part of the year, but the area is often protected by larger hills to its west.
During the summer, you will find temperatures in the mid-to upper 60s during the day. At night, expect it to cool off to around the mid-50s. September and October are usually the sunniest and warmest time of the year. You will find temps in the 70s with it dipping down into the upper 50s at night.
You can learn more about the temperatures each month by clicking on the links below. You will also find some tips on what to pack for your upcoming visit.
How to Get Here

The best way to get to Corona Heights in San Francisco is by taking a Muni light rail train to the Castro Street Station. The trains that stop at this station include the K, L, and M. They will drop you off about three blocks from this district.
This is a great option for those along Market Street. You can easily find a station if you are in Union Square, downtown SF, and the South of Market Districts.
If you are coming from Fisherman's Wharf, you have a couple of options. You can take the F Streetcar to the Embarcadero Station and transfer to one of the Muni lines listed above. You can also just stay on the F Streetcar and take it to its final stop at Castro and Market.
The first option will save you about 10 to 15 minutes. The second option is above ground, so you can see more of the city as you travel to this destination.
Hotel Deals

What to See & Do Nearby

Haight-Ashbury: The Haight-Ashbury District was where the height of the hippie generation happened in the 1960s. Today, you will still see remnants of this era inside its shops, restaurants, and on its buildings. Fun things to do here include shopping, grabbing a bite to eat, and checking out one of the best independent bookstores. Make sure to walk around its streets also so you can see some of the most beautiful and colorfully painted historic Victorian homes.
Buena Vista Park: Another place to find amazing views is Buena Vista Park. This small park features several steep trails that take you to the top. From here, you can see views of the Golden Gate Bridge and all around the SF Bay.
Mount Sutro Open Preserve: If you want to get away from the chaos of the city, head over to Mount Sutro Open Preserve. This lovely park offers more than five miles of hiking trails. You will be surrounded by Eucalyptus trees, which will make you feel like you are far away from the hustle and bustle of the big city and just in its peaceful wilderness.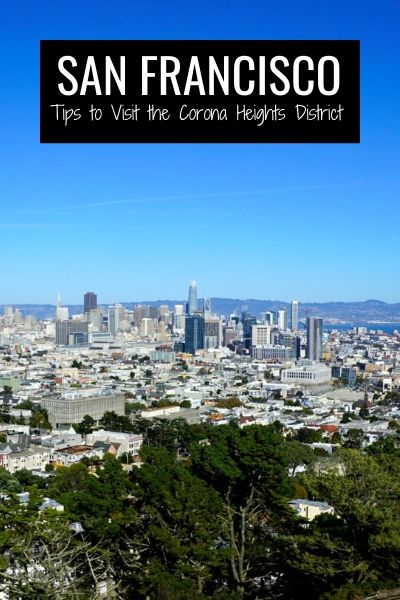 Comments? Questions? Suggestions?
I would love for you to join me in my private Facebook group! 
It's a great place to interact with me and others who know the area well.
You can ask questions, get advice for your upcoming stay, and then share your photos and advice with others when you return home. It's a great community and the fastest way to get answers to those nagging questions about your visit!