Cow Hollow in San Francisco: Tips to Visit this Small, Affluent District

by Jill Loeffler  •

Updated: June 8, 2022
Cow Hollow in San Francisco is a small neighborhood tucked in between the Marina and Pacific Heights. It's home to boutique shops, a variety of restaurants and bars, and one of SF's famous octagon houses.

It's only about a mile long and a half mile wide. Its borders are Van Ness on the east and the Presidio on the west. To the north, it ends at Lombard Street and the southern border is Green Street.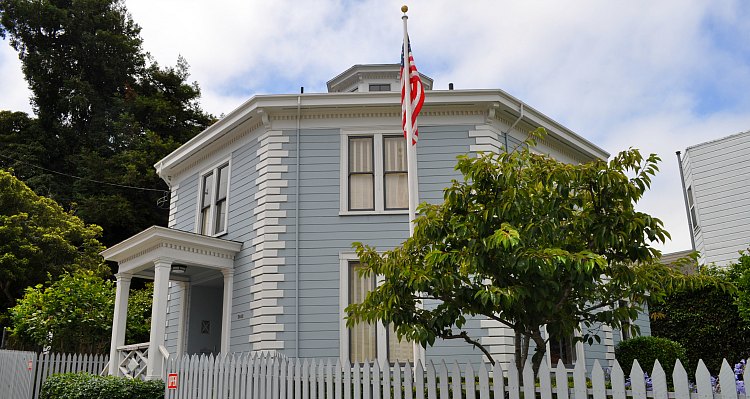 In the late 1700s, this area offered vast open spaces with wildlife, freshwater springs, and grassy meadows. It wasn't until the mid-1800s when people started to settle in this district.
Some of the first inhabitants were dairy farmers and that's when its name changed from Spring Valley to Cow Hollow.
Today, this area is popular with younger residents and is a fun place to hang out at night.
Disclaimer: I receive a small commission from some of the links on this page.

Shopping

Union Street is the main shopping area in Cow Hollow in San Francisco. You will find boutique shops as well as name brand stores. There are lots to choose from, and these are just some of my favorites.
Closet 1951: This cute consignment shop offers mostly clothes for women. They are picky about what they sell here, so you will always find stylish clothing at a discounted price. It's at 1951 Union Street.
Dantone Boutique: Need a new pair of high-end European shoes? Head to Dantone Boutique! You'll find shoes, sandals, boots, and sneakers. You can also pick up a matching purse or some accessories. 1784 Union Street.
Fenzi Uomo: This is a great shop for men's cloths. You'll find high end items including shirts, pants, and sweaters. You'll find them at 1801 Union Street.
Sephora: My next stop in Cow Hollow in San Francisco is always Sephora. I love their make-up and skincare products. It's fun to even just cruise through the aisles to see what's new and test some unique products. They also offer consultations and will help you find the right items for your skin and lifestyle. It is at 2083 Union Street.

Ambiance: Another one of my favorites on Union Street is Ambiance. They offer trendy women's clothing. I love their selection of jeans, shirts and dresses. Items are often organized by color, so you can quickly go directly to a section and find something quickly to try on. It is at 1858 Union Street.
>> Find additional places to go shopping around SF
Top Brunch, Lunch and Dinner Spots

Cow Hollow in San Francisco is also a popular place to grab a bite to eat. They have plenty of options and most of them are also along Union Street.
These are just a few of my favorites.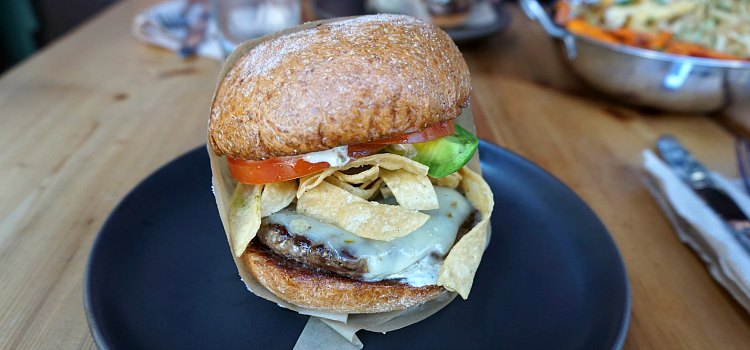 Roam Artisan Burgers: If you are looking for a quick, casual meal, then stop in at Roam Artisan Burgers. They offer gourmet burgers where you can choose the meat you want and then the toppings you would like to add. They do have some pre-created options, so you don't have to make too many decisions. I also love getting the Fry-Fecta to share. It's all three types of fries in one dish. You will find it at 1785 Union Street.
The Italian Homemade Company: This spot is a perfect find for lunch or dinner. They offer handmade pasta in a cozy atmosphere. It's made to order as you select both the type of pasta you want and your favorite sauce to top it off. It is located at 1919 Union Street.
Perry's on Union: One of the staples in this district is Perry's on Union. They offer American dishes and are popular for brunch, lunch and happy hour. You can grab a burger, salad or just some appetizers as you mingle with the locals. It is at 1944 Union Street.
Urban Remedy: This organic spot offers fresh ingredients with grab and go meals. This healthy option offers readymade meals, so you can quickly grab a sandwich, salad or fresh juice to go. It is located at 1957 Union Street.
Atelier Crenn: This high-end French restaurant serves up dinner five night a week from Tuesday to Saturday. This is a great find for those looking for a special night out on the town, a birthday, or a place to treat yourself for no reason. They only have eight tables with a pre-set menu each night that usually starts at around $300+ per person. You must make reservations in advance and the spots fill up quickly. You will find it at 3127 Fillmore Street.
>> Find additional places to grab a bite to eat by cuisine and district
Free Walking Tour of Cow Hollow in San Francisco

If you want to get to know the history of this district, I recommend checking out this free walking tour offered by SF City Guides (part of the SF Public Library).
They will take you through the timeline of this neighborhood as you walk around it. You will learn all about its early days as a green space and how it turned into an area popular with dairy farms. You will also find out how it moved from being a farm area to the lively district it is today.
This walking tour leaves from the Holy Trinity Cathedral at Van Ness and Green twice a month. Visit the SFCityGuides site for more information and upcoming dates for this tour.
These are a few other popular walking tours around SF.
Nightlife in Cow Hollow in San Francisco

Another draw to Cow Hollow in San Francisco is their nightlife. They have a number of bars that draw in a younger crowd. Here are a few places to check out during your visit.
Bus Stop: One of the bars that has been around for a long time is the Bus Stop. It's a sports bar that offers beers on tap and several games on TV. It's also low key and kind of a fun dive bar. You will find it at 1901 Union Street.
The Blue Light: Another fun, casual sports bar is the Blue Light. They offer strong drinks, a few bar bites, and plenty of TVs to watch the games. They are at 1979 Union Street.
West Coast Wine & Cheese: If you want to sip on some fantastic wines, then head into West Coast Wine & Cheese. They feature some great local options as well as wines from both Oregon and Washington. You can also grab a cheese or Charcuterie (meat) plate or one of their small appetizers. You will find them at 2165 Union Street.
Black Horse London Pub: Squeeze into the Black Horse London Pub for a beer and some small bites. It's SF's smallest bar and a local favorite. Make sure to bring some cash as they don't take credit cards. It's on the eastern side of the district just a half block off Van Ness at 1514 Union Street.
>> Find some of my other favorite bars around SF
McElroy Octagon House

Cow Hollow in San Francisco is home to one of the original octagon houses that used to be common in this area. An octagon house is a unique structure that usually has two floors and eight sides.
The McElroy Octagon House sits on the eastern end of the district. It was originally built across the street from its current location and was completed in 1861.
Over the years, it fell into disrepair and little was known about it. In 1951, The Colonial Dames of America in California decided to buy it and renovate it for public use. During the renovations, an electrician found a time capsule inside that revealed its history including the date it was completed and more about the family that built it, the McElroys.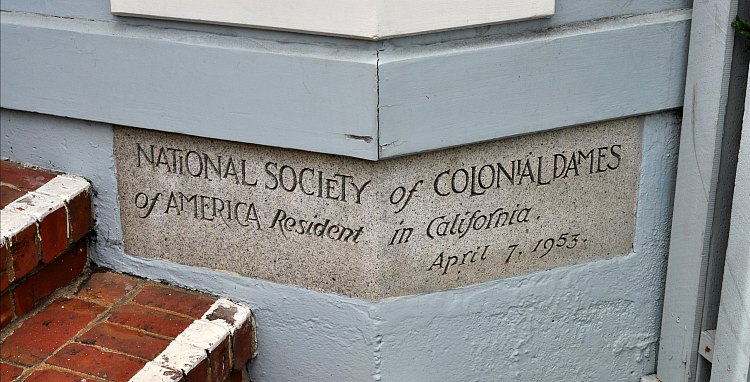 The Colonial Dames of America in California did an amazing job of rehabilitating the house. They kept most of the layout other than they moved the stairs for ease of access to visitors.
Today, you can step inside this fabulous house to visit its museum. The first floor showcases a variety of pieces from the Colonial and Federal periods. The second floor offers some interesting pieces including documents signed by most of the men who also signed the Declaration of Independence.
It's open just three times a month and is free to visit. Head to my full page about this house here to learn more and to find tips for your visit.
Where to Stay

You will find a number of motels and hotels at Cow Hollow in San Francisco. Some of them offer free parking, which is rare in the city. They are not as centrally located as others, but usually offer a better price point especially for those traveling with families.
There are more than a dozen budget-friendly options here. These are a few of my favorites.
Hotel del Sol: This 2.5-star hotel is an old motor lodge that was recently renovated. It has a boutique feel with colorful décor and a swimming pool out front. It's a popular pick for those traveling with kids. They have parking on-site, but you do have to pay for it. They also offer free breakfast and Wi-Fi. Pets are welcome. You will find them at 3100 Webster Street. Visit here for current room rates and availability.
Coventry Inn: This is one of the highest rated lodging options in Cow Hollow in San Francisco. They have spacious rooms with a small seating area. They also offer covered free parking on-site. It's a 2.5-star hotel that is well loved by guests. It's at 1901 Lombard Street. Click here more details and to check for room availability.
Travelodge by Wyndham at the Presidio: This 2-star hotel is off the main streets and in a little more of a quiet location than the other two listed above. It's right near the Lombard Gate to the Presidio, so the perfect pick if you plan to spend some time in this attraction. It offers free parking and easy access to public transportation to get around SF. You will find it at 2755 Lombard Street. Visit here for more details and booking information.
Find additional places to stay around SF.
What's Nearby

Cow Hollow in San Francisco is bordered by four other districts (Pacific Heights, the Marina, the Presidio, and Russian Hill) with lots of fun things to do. Here are a few addition activities and attractions nearby.
Golden Gate Bridge: One of the most visited SF attractions is the Golden Gate Bridge. You can drive over it, stroll along on its walking paths, or ride your bike across to Marin. There is also a great little outdoor museum on the southern side of the bridge that will tell you more about its history and fun facts about this colorful structure.
Palace of Fine Arts: Just a few blocks north is the Palace of Fine Arts. It's one of the few structures that remained after the Panama Pacific Exposition of 1915. It's free to visit and to admire its lovely decor. It's also the perfect place for a picnic.
Lombard Street: One of the crookedest streets in the world is just a few blocks east in Russian Hill. This one block long section of Lombard offers several hairpin turns along with beautiful gardens. You can drive down or walk down its sidewalk. Don't forget to look back at the bottom for that picture-perfect view.
Lyon Street Steps: The Lyon Street Steps are also not too far away. This hidden gem is a two block long set of steps where it was too steep to build a street. You can enter from the bottom or start at the top and make your way down.
Here are a few additional ideas on fun activities around San Francisco.

How to Get Here

You will find plenty of transit options to get to Cow Hollow in San Francisco.
From Union Square, you can take either the 30 or 45 buses. Both will drop you within a few blocks of the main sites in the district.
From Fisherman's Wharf, you can either walk or take the 49 which has stops along North Point Street.
Comments? Questions? Suggestions?
I would love for you to join me in my private Facebook group! 
It's a great place to interact with me and others who know the area well.
You can ask questions, get advice for your upcoming stay, and then share your photos and advice with others when you return home. It's a great community and the fastest way to get answers to those nagging questions about your visit!