Mission Bay in San Francisco: Things to Do & See in this Lively District

by Jill Loeffler  •

Updated: March 26, 2023
Mission Bay in San Francisco is a small neighborhood just north of the Dogpatch and south of Oracle Park. It's also nearby Potrero Hill, the South of Market District (SoMa) and is right along the SF Bay.

You would never imagine it now, but even just a couple of decades ago, this area wasn't very exciting nor desirable for anyone living or visiting San Francisco. It was home to a few old warehouses and was mostly undeveloped land. This area covered just more than 300 acres but was prime real estate for development.
The first big organization to start to build here was the University of California at San Francisco. They opened the doors to their new medical facility in 2003. Over the next few years, they expanded more and more. Today, they cover about one-third of this district.
As the facility continued to grow, this area of town started to develop even more. Something that really put this area on the map was the purchase of land along the waterfront in 2014 by the Golden State Warriors. They bought it to build their new home, the Chase Center.
Read on for more about what there is to do and see here.
Disclaimer: I receive a small commission from some of the links on this page.

Chase Center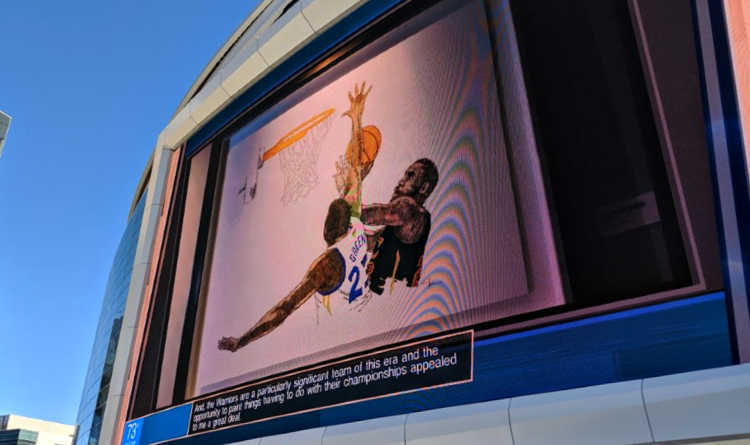 The large screen outside the Chase Center.
Mission Bay in San Francisco expanded in September 2019 with the opening of the Chase Center. This multi-purpose facility is the home of our Golden State Warriors NBA Basketball team.

It's used frequently for concerts from international stars such as Metallica, Cher, and Celine Dion. You will find about three or four big concerts here each month.
It also draws in other performers such as comedians. The facility will host other large events and festivals throughout the year.
Here are just a few of the games coming up for the Golden State Warriors at the Chase Center.
Mission Bay in San Francisco Weather

Since Mission Bay in San Francisco is on the eastern end of town, you will find that it is a little warmer and sunnier than most of the city. It's protected by the large hills on its western end, so the fog usually doesn't reach this far over for as many hours during the day.
The weather is usually in the mid-60s during the summer, spring and fall. It's cools down into the mid-50s during the winter months. All year long, the temperatures drop about 10 degrees a night as the sun sets.
Click the links below for more details on what to expect from the weather in SF for each month of the year.
Parks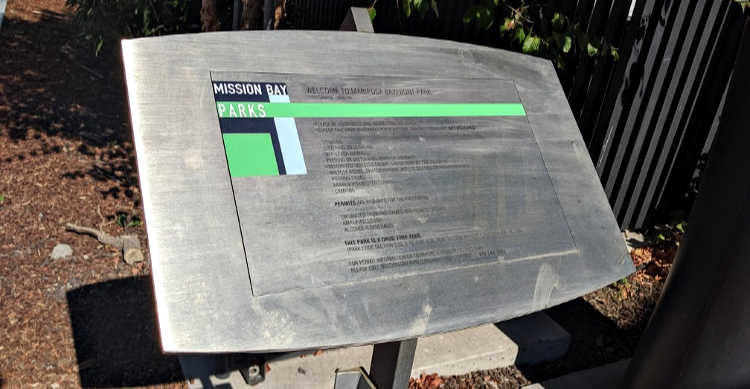 You will find several small parks around Mission Bay in San Francisco. Some are near the waterfront, so you can enjoy the views. Others offer small areas for the kids. You can also bring along a picnic lunch and spend some time chilling and unwinding in the parks.

Here are just a few to check out during your visit.
Parklab Gardens
One of my favorite things about this district is Parklab Gardens. This small park area offers mini-golf, a bar, and a rotating schedule of food trucks.
They also have several events throughout the year.
It's mostly outdoors and is a fun place to hang out.
Bay Front Park
This small park sits between the Chase Center and the waterfront. It offers views along the SF Bay and it's a great place to spend some time before or after a game or event.
Mariposa Park
You will find this park at the corner of Mariposa and Owens Streets. It's a small grassy area with a few sidewalks throughout.
Mission Bay Commons Park
This park in Mission Bay in San Francisco is two blocks long. It starts at 3rd Street and runs to the waterfront. Here you will find a grassy area and several benches.
Mission Bay Kids Park
You will find this triangle park at the corner of Long Street Bridge and China Basin Street. The park features a small kid's playground with some slides, climbing areas, swings and benches.
Mission Creek Park
This park sits along the Mission Creek Channel. It's about three blocks long and one block wide.
You will find it at 4th and Channel Streets.

Top Places to Eat in Mission Bay in San Francisco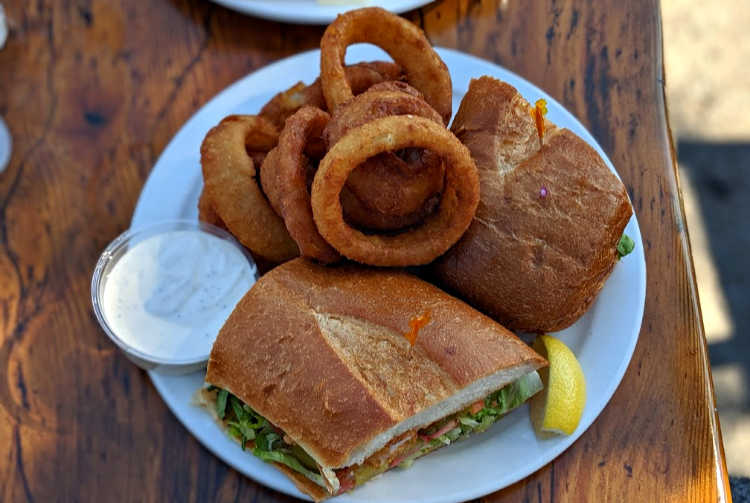 The fish sandwich with onion rings at The Ramp.
The Ramp
The Ramp is an old school SF restaurant that I've loved for years. It offers mostly outdoor patio seating right along the water.
It's mostly American comfort food with sandwiches, salads, and several seafood dishes. The portions are huge, so you will be full when you leave.
The bar is also open late, so it's the perfect place to end your evening.
Location: 855 Terry A Francois Blvd.
More great places to eat outdoors.
Parklab Gardens
This area just north of UCSF along Mission Bay Boulevard South offers a rotating selection of food trucks throughout the week. There are also a handful of food trucks that are permanent.
You will find everything from tacos to donuts to ramen. You will also find a cool bar that is open throughout the week from 11am to 9pm with a happy hour menu on Monday through Friday from 4 pm to 7 pm.
Location: 1379 4th St.
Mission Rock Resort
Another great waterfront restaurant is the Mission Rock Resort. It offers two-levels of dining.
Most tables have great views of the water. They focus mostly on seafood and some of my favorites here include oysters on the half shell, Ahi Tuna, and the Bay Shrimp Louie salad.
I also love their The Dungeness Crab Roll and the Fish Tacos. They also have an amazing selection of tasty cocktails.
Location: 817 Terry A Francois Blvd
ATWater Tavern
Located on the northern end of the district is ATWater Tavern. It's another waterfront bar and restaurant with an outdoor deck and views around the SF Bay.
My favorites here include their Tuna Poke, the Tavern Burger, and the Crab Cakes. They also have some great vegetarian items on their menu.
They are open for lunch and dinner during the week as well as brunch on the weekends.
295 Terry A Francois Blvd.

>> Find additional place to eat during your stay in SF

More About UCSF

A large portion of Mission Bay in San Francisco is dedicated to the University of California at San Francisco Medical Center. It's also home to other UCSF Medical Facilities including the Benioff Children's Hospital, Smith Cardiovascular Research Building, and some other teaching facilities.
UCSF and all of its medical facilities and research centers covers around 60 acres. All around it you will find parking, parks, and plenty of places to eat.
How to Get to Mission Bay

Mission Bay in San Francisco is easy to get to from all around town.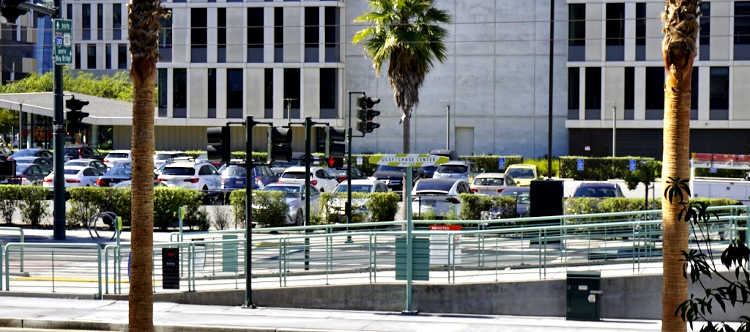 The K/T Lightrail stop outside the Chase Center and UCSF.
K or T Light Rail
The K and T light rail lines rolls right through the middle of the district. They runs down 3rd Street, which is a great jumping off point for UCSF, the Chase Center, and the restaurants here.
They will take you from Union Square and Market Street. You can also hop over to the K Muni line from the F Streetcars from Fisherman's Wharf at the Embarcadero stop.
Caltrain
The main SF Caltrain Station is just across the 4th Street Bridge from Mission Bay in San Francisco. You can either walk here or pick up the K or T Light Rail at 4th and King Streets.
It's only two stops to get to the heart of the district.
I-280
If you are planning to drive here, you will find its convenient to access via I-280. The main exit for the district is Mariposa Street.
This will put you on the southern end, where you can easily find parking near UCSF or the Chase Center.

>> More about getting around in San Francisco
Where to Stay Nearby

Mission Bay in San Francisco is a small district with no hotels. However, you will find some great places to stay that are within a mile or two. You will also find plenty of great options right along the K/T Light Rail line, so you can easily get to and from this area.
Here are just a few of my favorites.
Hotel Via
This 4-star hotel is the best option if you plan to spend lots of time in Mission Bay in San Francisco. It offers soundproof rooms and a minimalist style.
It also has an amazing rooftop bar and restaurant with views all around the SF Bay.
Check for availability and reviews here
Hyatt Place Downtown
Just a block away from the Hotel Via is the more budget-friendly Hyatt Place Downtown. This 3-star hotel offers clean rooms, free wifi, and easy access to Oracle Park, China Basin and Mission Bay in San Francisco.
Check for room availability here
Hotel Vitale
Closer to Market Street and near the Ferry Building, you will find the 4-star Hotel Vitale. This modern hotel offers rooms with views of the water and Bay Bridge. Their in-house spa has rooftop soaking tubs which offer the ultimate in luxury and relaxation. Check for availability and reviews here.

Here are a few other recommendations for your stay
More Things to See & Do Nearby

Oracle Park
The home of the SF Giants is just across the 4th Street Bridge from Mission Bay in San Francisco. Many people park in this area and then walk across the bridge to the games.
Find out more about the SF Giants and their current schedule here.
Potrero Hill
This district is just across I-280. It's home to dozens of restaurants and shops. It's steep hills also offer some amazing views from its hilltop parks.
Learn more about what you will see when you visit.
China Basin
Across the 4th Street Bridge, you will find China Basin. This small sub-district is part of the larger South of Market District.
Here you will find quite a bit of nightlife, Oracle Park, and lots of fun things to do.
Dogpatch
Just to the south of Mission Bay in San Francisco is the Dogpatch District. It's a small sub-district of Potrero Hill but has also been revived and redeveloped over the last couple of decades.
Here you will find some top breweries, a winery, shops, and restaurants. It's also home to the Minnesota Street Project, where you will find modern art from up-and-coming artists.
The commercial area for this district is centered around the 3rd Street corridor which is where you will find the K and T Light Rail stops.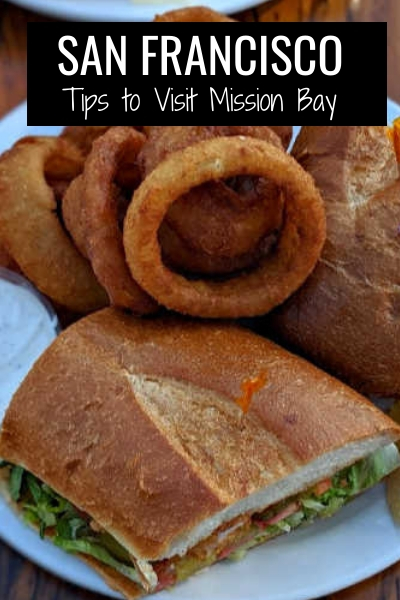 Comments? Questions? Suggestions?
I would love for you to join me in my private Facebook group! 
It's a great place to interact with me and others who know the area well.
You can ask questions, get advice for your upcoming stay, and then share your photos and advice with others when you return home. It's a great community and the fastest way to get answers to those nagging questions about your visit!